Visualizing the World's Largest Airline Companies
Through most of its history, the commercial airline industry has had a somewhat turbulent relationship with investors.
For example, during the span of 2003-2011, the three major U.S. carriers (American, United, and Delta) all filed for bankruptcy, and this was subsequently after merging with other large airlines (US Airways, Continental, and Northwest) that each had their own solvency issues.
Despite the rough ride a decade ago, just last year the industry raked in $35.6 billion in profits – a record-setting amount according to the International Air Transport Association (IATA). Even legendary investor Warren Buffett is flying high on airline stocks at the moment, and he's recently floated the idea of buying a whole carrier for Berkshire's portfolio.
Comparing Airlines
Today's graphic comes from Reddit user /u/takeasecond and it uses data from the Forbes Global 2000 list to plot the world's largest publicly-traded airlines in terms of revenue, profit, assets, and market value.
It provides some interesting insights on the industry, showing some unexpected carriers leading the way.
There are four companies that stand out instantly on the chart. Air France-KLM and Cathay Pacific are both easy to spot, but for the wrong reasons. They are to the left of the $0 profit line, and Forbes has their most recent net incomes listed as -$309 million and -$162 million respectively.
In the upper right corner, Delta Air Lines appears to be one of the healthiest companies by many measures. It ranks second in sales ($42B) and profitability ($3.5B), and comes out on top in terms of assets ($54B) and market value ($37B).
Finally, to the bottom right is Southwest Airlines – it has the highest profitability ($3.6B) but is able to do it at far higher margins than the rest of the pack.
Ranking Profitability and Sales
Here are two of the most important metrics – revenue and profit – for the 10 publicly-traded airlines with the most sales:
| Rank | Airline | Revenue ($B) | Profit ($B) | Margin |
| --- | --- | --- | --- | --- |
| #1 | American Airlines | $43.0 | $1.9 | 4.4% |
| #2 | Delta Air Lines | $42.1 | $3.5 | 8.3% |
| #3 | Deutsche Lufthansa | $41.5 | $2.8 | 6.7% |
| #4 | United Continental | $38.3 | $2.2 | 5.7% |
| #5 | Air France-KLM | $29.1 | -$0.3 | -1.1% |
| #6 | International Airlines | $26.0 | $2.3 | 8.8% |
| #7 | Southwest | $21.2 | $3.6 | 17.0% |
| #8 | China Southern | $19.7 | $1.0 | 5.1% |
| #9 | All Nippon | $17.8 | $1.3 | 7.3% |
| #10 | China Eastern | $15.7 | $0.8 | 5.3% |
Note: Margin is calculated based on Forbes' numbers above
In recent months, the IATA has revised its outlook for 2018 after originally forecasting record-setting airline revenues again.
The organization now sees profits falling to $33.8 billion, a 12% decrease on its original forecast.
Visualizing The World's Largest Sovereign Wealth Funds
To date, only two countries have sovereign wealth funds worth over $1 trillion. Learn more about them in this infographic.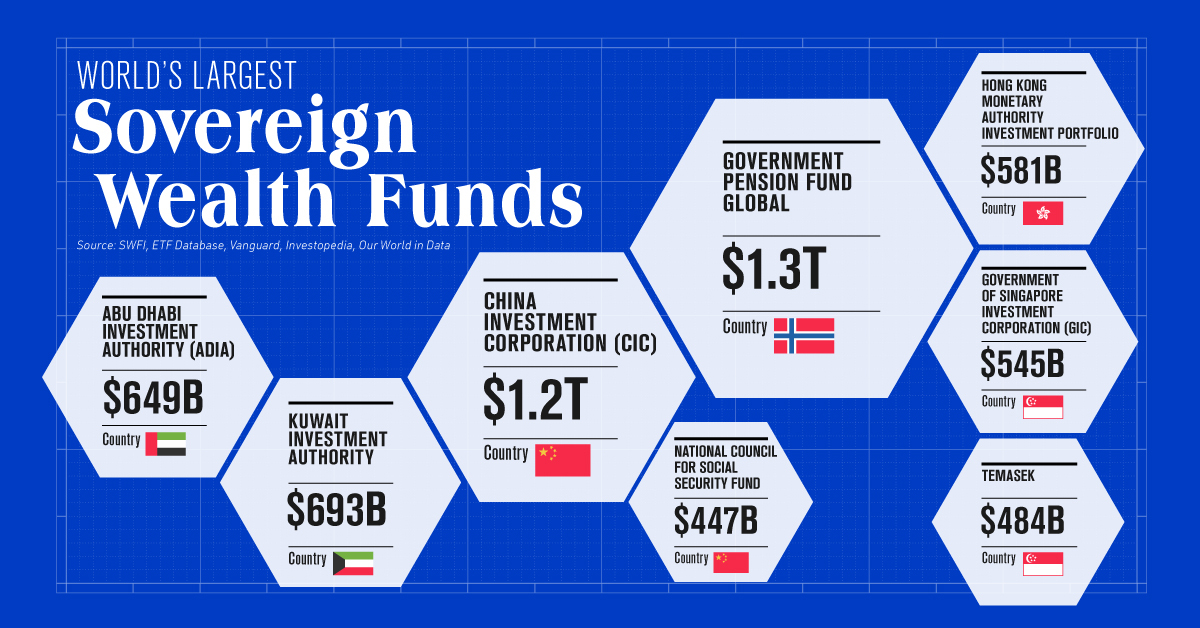 Visualized: The World's Largest Sovereign Wealth Funds
Did you know that some of the world's largest investment funds are owned by national governments?
Known as sovereign wealth funds (SWF), these vehicles are often established with seed money that is generated by government-owned industries. If managed responsibly and given a long enough timeframe, an SWF can accumulate an enormous amount of assets.
In this infographic, we've detailed the world's 10 largest SWFs, along with the largest mutual fund and ETF for context.
The Big Picture
Data collected from SWFI in October 2021 ranks Norway's Government Pension Fund Global (also known as the Norwegian Oil Fund) as the world's largest SWF.
The world's 10 largest sovereign wealth funds (with fund size benchmarks) are listed below:
Country
Fund Name
Fund Type
Assets Under Management (AUM) 
🇳🇴 Norway 
Government Pension Fund Global
SWF
$1.3 trillion
🇺🇸

U.S.

Vanguard Total Stock Market Index Fund

Mutual fund

$1.3 trillion

🇨🇳 China
China Investment Corporation
SWF
$1.2 trillion
🇰🇼 Kuwait 
Kuwait Investment Authority
SWF
$693 billion
🇦🇪 United Arab Emirates
Abu Dhabi Investment Authority
SWF
$649 billion
🇭🇰 Hong Kong SAR
Hong Kong Monetary Authority Investment Portfolio
SWF
$581 billion
🇸🇬 Singapore
Government of Singapore Investment Corporation
SWF
$545 billion
🇸🇬 Singapore
Temasek
SWF
$484 billion
🇨🇳 China
National Council for Social Security Fund
SWF
$447 billion
🇸🇦 Saudi Arabia
Public Investment Fund of Saudi Arabia
SWF
$430 billion
🇺🇸

U.S.

State Street SPDR S&P 500 ETF Trust

ETF

$391 billion

🇦🇪 United Arab Emirates
Investment Corporation of Dubai
SWF
$302 billion 
SWF AUM gathered on 10/08/2021. VTSAX and SPY AUM as of 09/30/2021.
So far, just two SWFs have surpassed the $1 trillion milestone. To put this in perspective, consider that the world's largest mutual fund, the Vanguard Total Stock Market Index Fund (VTSAX), is a similar size, investing in U.S. large-, mid-, and small-cap equities.
The Trillion Dollar Club
The world's two largest sovereign wealth funds have a combined $2.5 trillion in assets. Here's a closer look at their underlying portfolios.
1. Government Pension Fund Global – $1.3 Trillion (Norway)
Norway's SWF was established after the country discovered oil in the North Sea. The fund invests the revenue coming from this sector to safeguard the future of the national economy. Here's a breakdown of its investments.
| Asset Class | % of Total Assets | Country Diversification | Number of Securities |
| --- | --- | --- | --- |
| Public Equities | 72.8% | 69 countries | 9,123 companies |
| Fixed income | 24.7% | 45 countries | 1,245 bonds |
| Real estate | 2.5% | 14 countries | 867 properties |
As of 12/31/2020
Real estate may be a small part of the portfolio, but it's an important component for diversification (real estate is less correlated to the stock market) and generating income. Here are some U.S. office towers that the fund has an ownership stake in.
As of 12/31/2020
Overall, the fund has investments in 462 properties in the U.S. for a total value of $14.9 billion.
2. China Investment Corporation (CIC) – $1.2 Trillion (China)
The CIC is the largest of several Chinese SWFs, and was established to diversify the country's foreign exchange holdings.
Compared to the Norwegian fund, the CIC invests in a greater variety of alternatives. This includes real estate, of course, but also private equity, private credit, and hedge funds.
| Asset Class | % of Total Assets |
| --- | --- |
| Public equities | 38% |
| Fixed income | 17% |
| Alternative assets | 43% |
| Cash | 2% |
As of 12/31/2020
A primary focus of the CIC has been to increase its exposure to American infrastructure and manufacturing. By the end of 2020, 57% of the fund was invested in the United States.
"According to our estimate, the United States needs at least $8 trillion in infrastructure investments. There's not sufficient capital from the U.S. government or private sector. It has to rely on foreign investments."
– Ding Xuedong, Chairman, China Investment Corporation
This has drawn suspicion from U.S. regulators given the geopolitical tensions between the two countries. For further reading on the topic, consider this 2017 paper by the United States-China Economic and Security Review Commission.
Preparing for a Future Without Oil
Many of the countries associated with these SWFs are known for their robust fossil fuel industries. This includes Middle Eastern nations like Kuwait, Saudi Arabia, and the United Arab Emirates.
Oil has been an incredible source of wealth for these countries, but it's unlikely to last forever. Some analysts believe that we could even see peak oil demand before 2030—though this doesn't mean that oil will stop being an important resource.
Regardless, oil-producing countries are looking to hedge their reliance on fossil fuels. Their SWFs play an important role by taking oil revenue and investing it to generate returns and/or bolster other sectors of the economy.
An example of this is Saudi Arabia's Public Investment Fund (PIF), which supports the country's Vision 2030 framework by investing in clean energy and other promising sectors.
Visualizing the Race for EV Dominance
Tesla was the first automaker to hit a $1 trillion market cap, but other electric car companies have plans to unseat the dominant EV maker.
Electric Car Companies: Eating Tesla's Dust
This was originally posted on Elements. Sign up to the free mailing list to get beautiful visualizations on natural resource megatrends in your email every week.
Tesla has reigned supreme among electric car companies, ever since it first released the Roadster back in 2008.
The California-based company headed by Elon Musk ended 2020 with 23% of the EV market and recently became the first automaker to hit a $1 trillion market capitalization. However, competitors like Volkswagen hope to accelerate their own EV efforts to unseat Musk's company as the dominant manufacturer.
This graphic based on data from EV Volumes compares Tesla and other top carmakers' positions today—from an all-electric perspective—and gives market share projections for 2025.
Auto Majors Playing Catch-up
According to Wood Mackenzie, Volkswagen will become the largest manufacturer of EVs before 2030. In order to achieve this, the world's second-biggest carmaker is in talks with suppliers to secure direct access to the raw materials for batteries.
It also plans to build six battery factories in Europe by 2030 and to invest globally in charging stations. Still, according to EV Volumes projections, by 2025 the German company is forecasted to have only 12% of the market versus Tesla's 21%.
| Company | Sales 2020 | Sales 2025 (projections) | Market cap (Oct '21, USD) |
| --- | --- | --- | --- |
| Tesla | 499,000 | 2,800,000 | $1,023B |
| Volkswagen Group | 230,000 | 1,500,000 | $170B |
| BYD | 136,000 | 377,000 | $113B |
| SGMW (GM, Wulling Motors, SAIC) | 211,000 | 1,100,000 | $89B |
| BMW | 48,000 | 455,000 | $67B |
| Daimler (Mercedes-Benz) | 55,000 | 483,000 | $103B |
| Renault-Nissan-Mitsubishi | 191,000 | 606,000 | $39B |
| Geely | 40,000 | 382,000 | $34B |
| Hyundai -Kia | 145,000 | 750,000 | $112B |
| Stellantis | 82,000 | 931,000 | $63B |
| Toyota | 11,000 | 382,000 | $240B |
| Ford | 1,400 | 282,000 | $63B |
Other auto giants are following the same track towards EV adoption.
GM, the largest U.S. automaker, wants to stop selling fuel-burning cars by 2035. The company is making a big push into pure electric vehicles, with more than 30 new models expected by 2025.
Meanwhile, Ford expects 40% of its vehicles sold to be electric by the year 2030. The American carmaker has laid out plans to invest tens of billions of dollars in electric and autonomous vehicle efforts in the coming years.
Tesla's Brand: A Secret Weapon
When it comes to electric car company brand awareness in the marketplace, Tesla still surpasses all others. In fact, more than one-fourth of shoppers who are considering an EV said Tesla is their top choice.
"They've done a wonderful job at presenting themselves as the innovative leader of electric vehicles and therefore, this is translating high awareness among consumers…"
—Rachelle Petusky, Research at Cox Automotive Mobility Group
Tesla recently surpassed Audi as the fourth-largest luxury car brand in the United States in 2020. It is now just behind BMW, Lexus, and Mercedes-Benz.
The Dominance of Electric Car Companies by 2040
BloombergNEF expects annual passenger EV sales to reach 13 million in 2025, 28 million in 2030, and 48 million by 2040, outselling gasoline and diesel models (42 million).
As the EV market continues to grow globally, competitors hope to take a run at Tesla's lead—or at least stay in the race.