The Most Widespread Blood Types, by Country
Blood is essential to the human body's functioning. It dispenses crucial nutrients throughout the body, exchanges oxygen and carbon dioxide, and carries our immune system's "militia" of white blood cells and antibodies to stave off infections.
But not all blood is the same. The antigens in one's blood determine their blood type classification: There are eight common blood type groups, and with different combinations of antigens and classifications, 36 human blood type groups in total.
Using data sourced from Wikipedia, we can map the most widespread blood types across the globe.
Overall Distribution of Blood Types
Of the 7.9 billion people living in the world, spread across 195 countries and 7 continents, the most common blood type is O+, with over 39% of the world's population falling under this classification. The rarest, meanwhile, is AB-, with only 0.40% of the population having this particular blood type.
Breaking it down to the national level, these statistics begin to change. Since different genetic factors play a part in determining an individual's blood type, every country and region tells a different story about its people.
Regional Distribution of Blood Types
Asia
Even though O+ remains the most common blood type here, blood type B is relatively common too. Nearly 20% of China's population has this blood type, and it is also fairly common in India and other Central Asian countries.
Comparatively, in some West Asian countries like Armenia and Azerbaijan, the population with blood type A+ outweighs any others.
Americas
The O blood type is the most common globally and is carried by nearly 70% of South Americans. It is also the most common blood type in Canada and the United States.
Here is a breakdown of the most common blood types in the U.S. by race:
Africa
O+ is a strong blood group classification among African countries. Countries like Ghana, Libya, Congo and Egypt, have more individuals with O- blood types than AB+.
Europe
The A blood group is common in Europe. Nearly 40% of Denmark, Norway, Austria, and Ukraine have this blood type.
Oceania
O+ and A+ are dominant blood types in the Oceanic countries, with only Fiji having a substantial B+ blood type population.
Middle East
More than 41% of the population displays the O+ blood group type, with Lebanon being the only country with a strong O- and A- blood type population.
The Caribbean
Nearly half of people in Caribbean countries have the blood type O+, though Jamaica has B+ as the most common blood type group.
Here is the classification of the blood types by every region in the world: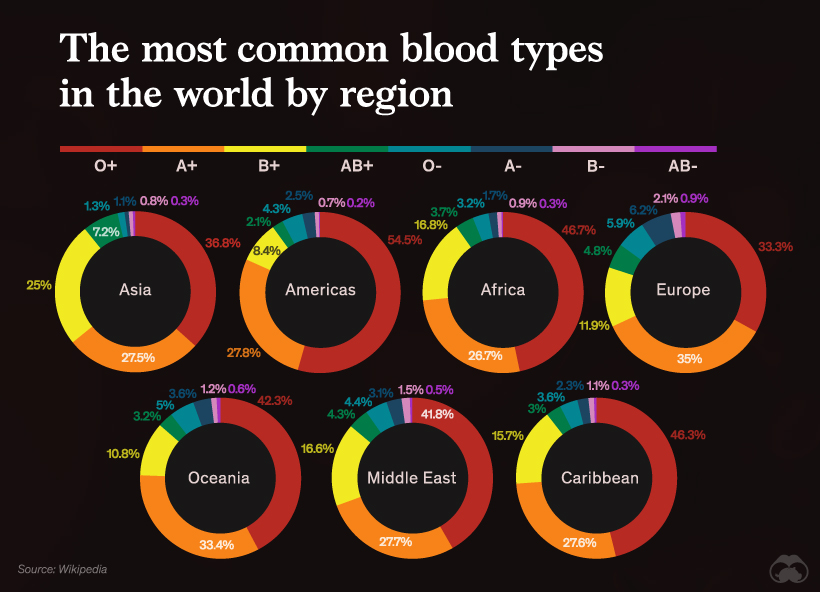 Unity in Diversity
Even though ethnicity and genetics play a vital role in determining a person's blood type, we can see many different blood types distributed worldwide.
Blood provides an ideal opportunity for the study of human variation without cultural prejudice. It can be easily classified for many different genetically inherited blood typing systems.
Our individuality is a factor that helps determine our life, choices, and personalities. But at the end of the day, commonalities like blood are what bring us together.
Visualized: The 4 Billion Year Path of Human Evolution
From single cells to bipedalism, humans have come a long way. Explore the fascinating journey of human evolution in this infographic.
The 4 Billion Year Path of Human Evolution
The story of human evolution is a fascinating one, stretching back in an unbroken chain over millions of years.
From the tiniest protocells to modern humans, our species has undergone a remarkable journey of adaptation, innovation, and survival.
In this article, we take a look at the key developmental stages in the evolution of life on Earth that led to the emergence of Homo sapiens—us!
From Protocells to People
Evolution is the result of millions of minute mutations over millions of years, but the evolutionary process that created us can bucketed into a few key categories.

1. Protocells and Early Microorganisms
The first life forms on Earth were simple, single-celled microorganisms known as protocells. These precursor cells lacked a nucleus or other membrane-bound organelles, and they had simple genetic proteins called RNA.
Over time, RNA complexified into the more stable DNA. Protocells slowly developed specialized organelles, becoming more complex microbes that would eventually form eukaryotes – the complex, unicellular organisms that would birth a diverse array of life forms, from simple sponges to complex animals.
2. The First Animals
Dickinsonia is the earliest example of an animal we know of. Though it was a simple, flat creature that lacked a mouth or digestive system, it symbolizes the first multicellular organism of substantial complexity.
Over time, the first sophisticated organ systems began to arise. Bilateral symmetry emerged, as well as early versions of the nervous and circulatory systems. Simple eyes, called eyespots, also appeared around the time that spinal cords and vertebrate creatures began to emerge.
3. Fish and Tetrapods
One of the most significant developments in the evolution of life was the transition from marine to terrestrial environments.
Up until 500 million years ago, all life was sequestered in the sea. Fish were the first vertebrates and introduced additional organs like stomachs, spleens, and body components like scales, teeth, blood, and more. Bony fish arose, and over time their development brought about sophisticated changes to the skeletal system, eventually producing "proto-limbs" that would enable organisms to walk on land.
Researchers are still unsure which specific organism might have first crawled on land, but candidates share these pre-limb characteristics. Tiktaalik is one popular candidate because it had specialized bones that suggest it could support its own weight while moving out of shallow waters.
These creatures eventually became the tetrapods ("four-footed"), and they had features like four-legs, a backbone, and lungs which could absorb oxygen from air. All the amphibians, reptiles, birds, and mammals that followed are descendants of the original tetrapods.
4. The First Mammals
Around 200 million years ago, the first mammals emerged. These early mammals were small, shrew-like creatures that lived alongside the dinosaurs. Over time, however, mammals evolved hair, specialized teeth, sweat glands to regulate body temperature, and a more efficient circulatory system.
Mammals also brought about features like nocturnality, mammary glands, external genitalia, and a variety of other features that distinguished them from other living species at the time, like birds or reptiles.
5. The Great Apes and First Homo Species
Around 7 million years ago, the first great apes emerged in Africa. These apes, such as orangutans, gorillas, and chimpanzees, were highly intelligent and social creatures that lived in complex communities. Over time, one lineage of apes would give rise to the first members of the genus Homo, which includes our own species.
The main developmental changes during this time were the full-time bipedalism of apes, increasing brain size, and advanced bone development that enabled dexterity for tool construction and hunting. Inventions like fire and clothing arose early in the Homo genus, and eventually complex language, hair loss, and dramatic facial changes would evolve.
Researchers struggle with resolving the exact progression of the Homo species. Many Homo species existed at the same time, and since many fossil records overlap, resolving which ones came first is an area of intense focus.
The Future of Human Evolution
As humans continue to evolve, we can expect to see significant changes in our physical and cognitive abilities over the next 10,000 years.
With the rise of technology and the increasing interconnectedness of the world, we may see a shift towards a more globalized and homogeneous human population, with less genetic diversity.
This has been described as "The Great Averaging", where genetic diversity minimizes and we start to become more alike.
Other theories suggest that we might develop features like a taller, lighter build, with smaller brains and a less aggressive personality.
However, as with all evolution, these changes will be shaped by a complex interplay of genetic, environmental, and cultural factors. It is impossible to predict exactly how humans will evolve over the next 10,000 years, but one thing is certain: the future of human evolution will be shaped by the choices we make today.