Visualizing the Abundance of Elements in the Earth's Crust

Subscribe to the Elements free mailing list for more like this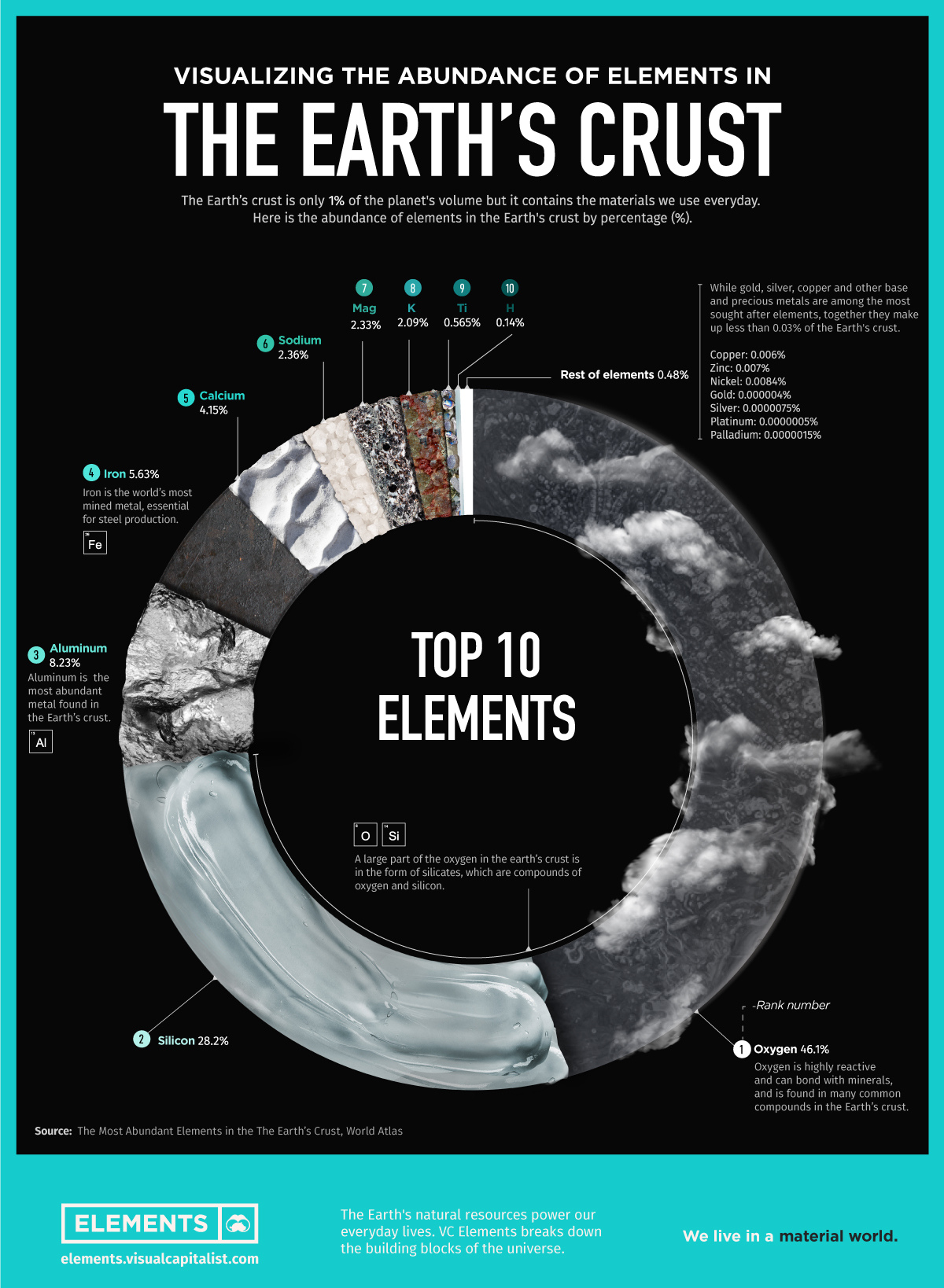 Visualizing the Abundance of Elements in the Earth's Crust
This was originally posted on Elements. Sign up to the free mailing list to get beautiful visualizations on natural resource megatrends in your email every week.
Elements in the Earth's crust provide all the basic building blocks for mankind.
But even though the crust is the source of everything we find, mine, refine, and build, it really is just scratching the surface of our planet.
After all, the innermost layer of the Earth, the core, represents 15% of the planet's volume, whereas the mantle occupies 84%. Representing the remaining 1% is the crust, a thin layer that ranges in depth from approximately 5-70 km (~3-44 miles).
This infographic takes a look at what elements make up this 1%, based on data from WorldAtlas.
Earth's Crust Elements
The crust is a rigid surface containing both the oceans and landmasses. Most elements are found in only trace amounts within the Earth's crust, but several are abundant.
The Earth's crust comprises about 95% igneous and metamorphic rocks, 4% shale, 0.75% sandstone, and 0.25% limestone.
Oxygen, silicon, aluminum, and iron account for 88.1% of the mass of the Earth's crust, while another 90 elements make up the remaining 11.9%.
| Rank | Element | % of Earth's Crust |
| --- | --- | --- |
| 1 | Oxygen (O) | 46.1% |
| 2 | Silicon (Si) | 28.2% |
| 3 | Aluminum (Al) | 8.2% |
| 4 | Iron (Fe) | 5.6% |
| 5 | Calcium (Ca) | 4.1% |
| 6 | Sodium (Na) | 2.3% |
| 7 | Magnesium (Mg) | 2.3% |
| 8 | Potassium (K) | 2.0% |
| 9 | Titanium (Ti) | 0.5% |
| 10 | Hydrogen (H) | 0.1% |
| | Other elements | 0.5% |
| | Total | 100.0% |
While gold, silver, copper and other base and precious metals are among the most sought after elements, together they make up less than 0.03% of the Earth's crust by mass.
#1: Oxygen
Oxygen is by far the most abundant element in the Earth's crust, making up 46% of mass—coming up just short of half of the total.
Oxygen is a highly reactive element that combines with other elements, forming oxides. Some examples of common oxides are minerals such as granite and quartz (oxides of silicon), rust (oxides of iron), and limestone (oxide of calcium and carbon).
#2: Silicon
More than 90% of the Earth's crust is composed of silicate minerals, making silicon the second most abundant element in the Earth's crust.
Silicon links up with oxygen to form the most common minerals on Earth. For example, in most places, sand primarily consists of silica (silicon dioxide) usually in the form of quartz. Silicon is an essential semiconductor, used in manufacturing electronics and computer chips.
#3: Aluminum
Aluminum is the third most common element in the Earth's crust.
Because of its strong affinity for oxygen, aluminum is rarely found in its elemental state. Aluminum oxide (Al2O3), aluminum hydroxide (Al(OH)3) and potassium aluminum sulphate (KAl(SO4)2) are common aluminum compounds.
Aluminum and aluminum alloys have a variety of uses, from kitchen foil to rocket manufacturing.
#4: Iron
The fourth most common element in the Earth's crust is iron, accounting for over 5% of the mass of the Earth's crust.
Iron is obtained chiefly from the minerals hematite and magnetite. Of all the metals we mine, over 90% is iron, mainly to make steel, an alloy of carbon and iron. Iron is also an essential nutrient in the human body.
#5: Calcium
Calcium makes up about 4.2% of the planet's crust by weight.
In its pure elemental state, calcium is a soft, silvery-white alkaline earth metal. It is never found in its isolated state in nature but exists instead in compounds. Calcium compounds can be found in a variety of minerals, including limestone (calcium carbonate), gypsum (calcium sulphate) and fluorite (calcium fluoride).
Calcium compounds are widely used in the food and pharmaceutical industries for supplementation. They are also used as bleaches in the paper industry, as components in cement and electrical insulators, and in manufacturing soaps.
Digging the Earth's Crust
Despite Jules Verne's novel, no one has ever journeyed to the center of Earth.
In fact, the deepest hole ever dug by humanity reaches approximately 12 km (7.5 miles) below the Earth's surface, about one-third of the way to the Earth's mantle. This incredible depth took about 20 years to reach.
Although mankind is constantly making new discoveries and reaching for the stars, there is still a lot to explore about the Earth we stand on.
An Investor's Guide to Copper in 3 Charts
Explore three key insights into the future of the copper market, from soaring demand to potential supply constraints.
The following content is sponsored by iShares
An Investor's Guide to Copper
Copper is the world's third-most utilized industrial metal and the linchpin of many clean energy technologies. It forms the vital connections in our electricity networks, grid storage systems, and electric vehicles.
In this graphic, sponsored by iShares, we dig into the forces that are set to shape the future of the copper landscape.
How Much Copper Do We Need?
Copper is poised to experience a remarkable 54% surge in demand from 2022 to 2050.
Here's a breakdown of the expected demand for copper across clean energy technologies.
| Technology | 2022 (kt) | 2050P (kt) |
| --- | --- | --- |
| Electricity networks | 4364 | 8862 |
| Other low emissions power generation | 93.7 | 142.2 |
| Solar PV | 756.8 | 1879.8 |
| Grid battery storage | 24.6 | 665.2 |
| Wind | 453.5 | 1303.3 |
| Hydrogen technologies | - | 0.22 |
| Electric vehicles | 370 | 3582.9 |
| Other uses | 19766 | 22382 |
Copper is vital in renewable energy systems such as wind turbines, solar panels, and electric vehicle batteries because of its high electrical conductivity and durability.
It ensures the effective transmission of electricity and heat, enhancing the overall performance and sustainability of these technologies.
The rising demand for copper in the clean energy sector underscores its critical role in the transition to a greener and more sustainable future.
When Will Copper Demand Exceed Supply?
The burgeoning demand for copper has set the stage for looming supply challenges with a 22% gap predicted by 2031.
Given this metal's pivotal role in clean energy and technological advancements, innovative mining and processing technologies could hold the key to boosting copper production and meeting the needs of a net-zero future.
Investing in Copper for a Prosperous Future
Investors looking for copper exposure may want to consider an ETF that tracks an index that offers access to companies focused on the exploration and mining of copper.