Visualizing the Most Miserable Countries in the World
Presented by:
Visualizing the Most Miserable Countries in the World
The Money Project is an ongoing collaboration between Visual Capitalist and Texas Precious Metals that seeks to use intuitive visualizations to explore the origins, nature, and use of money.
Every year, the Cato Institute publishes a list of the world's most "miserable countries" by using a simple economic formula to calculate the scores. Described as a Misery Index, the tally for each country can be found by adding the unemployment rate, inflation, and lending rate together, and then subtracting the change in real GDP per capita.
Disaster in Venezuela
According to the think tank, countries with misery scores over 20 are "ripe for reform". If that's true, then socialist Venezuela is way overdue.
The troubled nation finished with a misery score of 214.9, the highest marker in 2015 by far. Unfortunately, the number is not looking better for this year, as the IMF has projected that hyperinflation will top 720% by the end of 2016. For the average Venezuelan, that means that food staples and other necessities will be doubling in price every four months.
Hyperinflation has taken its toll on citizens already. Three years ago, one US dollar could buy four Venezuelan bolivars. Today, one dollar can buy more than 1,000 bolivars on the black market. If the inflation rate keeps accelerating, the situation could approach a similar trajectory to hyperinflation in Weimar Germany, where rates eventually catapulted to one trillion percent after six years.
While hyperinflation is certainly one of Venezuela's biggest concerns, the nation has also been short on luck lately. The Zika virus has hit the country hard, and the oil crash has created political, economic, and social tensions in a nation that depends on oil exports to balance the budget. Three in four Venezuelans have fallen into poverty, and the country's GDP is expected to contract 8% in 2016.
Venezuelans are now facing dire shortages for many necessities, including power. Droughts have caused mayhem on the country's hydro reservoirs, making blackouts common and widespread. Food, medical supplies, and toilet paper are in short supply, and even beer production has been shut down.
Key Stats:
Approval Rating of Nicolas Maduro: 26.8%
People in poverty: 76%
Oil exports, as a percent of total revenue: 96%
Homicides per capita: 2nd highest in world
Good shortages: Power, medical supplies, food, toilet paper, beer
Fiscal deficit: 20% of GDP
Recent measures taken to dampen the crisis in Venezuela have been bold.
The government has moved entire time zones while reducing the work week of public sector workers to try and work around power deficiencies. Meanwhile, minimum wage earners have been given a 30% raise to keep up with inflation.
However, the crisis may be coming to a head. A recent survey shows that 87% of Venezuelans do not have enough money to purchase enough food to meet their needs, and people are getting restless.
In early May, the opposition party submitted a list 1.85 million signatures to the electoral commission to seek a recall referendum against President Nicolas Maduro. Days after the submission, the leader of an opposition party was found dead after being shot in the head.
Unless the country gets ruled with an iron fist, the level of misery can only reach a certain point before the people take decisive action.
About the Money Project
The Money Project aims to use intuitive visualizations to explore ideas around the very concept of money itself. Founded in 2015 by Visual Capitalist and Texas Precious Metals, the Money Project will look at the evolving nature of money, and will try to answer the difficult questions that prevent us from truly understanding the role that money plays in finance, investments, and accumulating wealth.
3D Map: The World's Largest Population Density Centers
What does population density look like on a global scale? These detailed 3D renders illustrate our biggest urban areas and highlight population trends.

Creator Program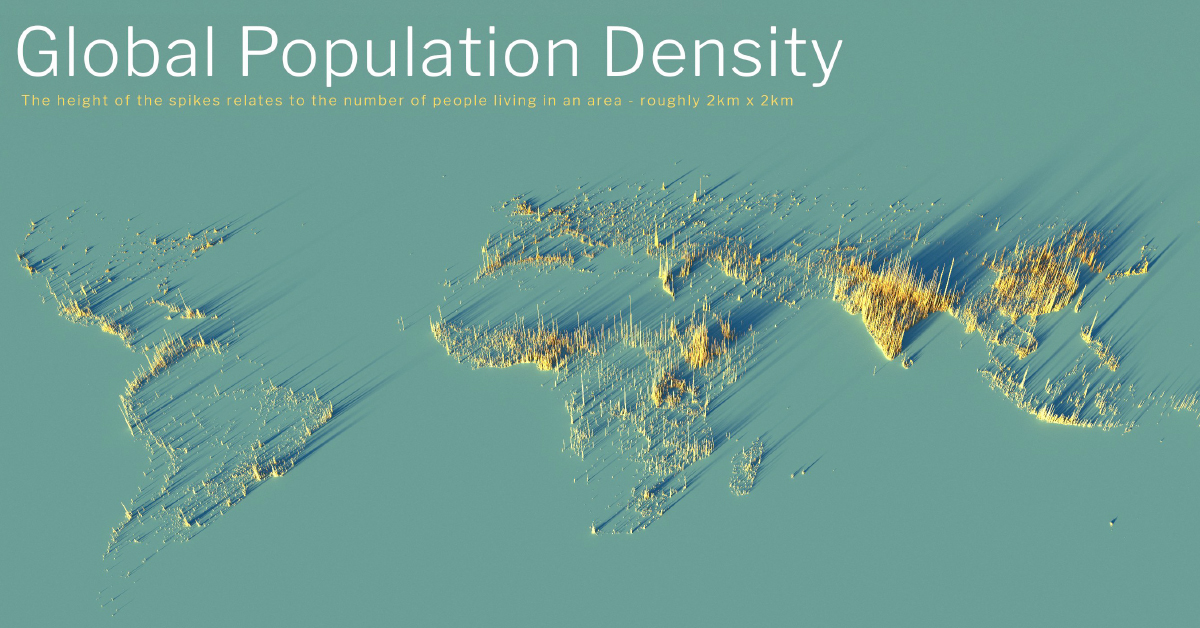 A 3D Look at the Largest Population Density Centers
It can be difficult to comprehend the true sizes of megacities, or the global spread of 8 billion people, but this series of population density maps makes the picture abundantly clear.
Created using the EU's population density data and mapping tool Aerialod by Alasdair Rae, the 3D-rendered maps highlight demographic trends and geographic constraints.
Though they appear topographical and even resemble urban areas, the maps visualize population density in squares. The height of each bar represents the number of people living in that specific square, with the global map displaying 2km x 2km squares and subsequent maps displaying 1km x 1km squares.
Each region and country tells its own demographic story, but the largest population clusters are especially illuminating.
China vs U.S. — Clusters vs Sprawl
Click here to view the high resolution version.
Zooming into the most populated country in the world, China and its surrounding neighbors demonstrate massive clusters of urbanization.
Most people are familiar with the large density centers around Hong Kong, Guangzhou, and Shanghai, but the concentration in central China is surprising. The cities of Chengdu and Chonqing, in the Sichuan Basin, are part of a massive population center.
Interestingly, more than 93% of China's population lives in the Eastern half of the country. It's a similar story in neighboring South Korea and Taiwan, where the population is clustered along the west coasts.
Click here to view the high resolution version.
The U.S. also has large population clusters along the coasts, but far more sprawl compared to its Asian counterparts. Though the Boston-Washington corridor is home to over 50 million residents, major centers spread out the population across the South and the Midwest.
Clearly visible are clusters in Florida (and not exclusively focused around Miami like some might believe), Illinois, Georgia, and Texas. The population is sparse in the West as expected, but California's Los Angeles and Bay Area metros make up for the discrepancy and are just behind New York City's density spikes in height.
India & Southeast Asia — Massive Density in Tight Areas
Click here to view the high resolution version.
At 1.38 billion people, India's population is just behind China's in terms of size. However, this sizable population fits into an area just one-third of China's total land area, with the above map demonstrating what the same amount of people looks like in a smaller region.
On one hand, you still have clear clusters, such as in Mumbai, New Delhi, Kolkata, and Bangladesh's Dhaka. On the other, there is a finite amount of room for a massive amount of people, so those density "spikes" are more like density "peaks" with the entire country covered in high density bars.
However, we can still see geographic trends. India's population is more densely focused in the North before fading into the Himalayas. Bangladesh is equally if not more densely populated, with the exception of the protected Sundarbans mangrove forest along the coast. And Pakistan's population seen in the distance is clustered along the Indus River.
Click here to view the high resolution version.
Geographic constraints have always been the biggest deciding factor when it comes to population density, and nowhere is this more apparent than Southeast Asia.
Take Indonesia, the fourth largest country by population. Despite spanning across many islands, more than half of the country's 269 million inhabitants are clustered on the single island of Java. The metros of Jakarta and Surabaya have experienced massive growth, but spreading that growth across oceans to entirely new islands (covered by rainforests) is a tall order.
When the distance is smaller, that cross-water growth is more likely to occur. Nearby in the Philippines, more than 100 million people have densely populated a series of islands no bigger than the state of Arizona.
Indeed, despite being one of the most populated areas in the world, each country in Southeast Asia has had its own growing problems. Some are limited by space (Singapore, Philippines), while others are limited by forests (Thailand, Vietnam).
A World of Different Density Pictures
Though the above maps cover the five most populated countries on Earth, accounting for nearly half of the world's population, they only show a small part of the global picture.
As the full global density map at the top of the page highlights, the population patterns can accurately illustrate some geographic patterns and constraints, while others need further exploration.
For example, the map clearly gives an outline of Africa and the sparse area that makes up the Sahara Desert. At the same time, landmasses like Australia and New Zealand are almost invisible save for a few clusters along the coast.
To get a closer and more intricate picture of each country's density map, head to Alasdair Rae's long thread of rendered maps and start scrolling up to find yours!
Charted: Income Distributions in 16 Different Countries
This graphic shows income distributions in 16 different countries around the world, using data from the World Inequality Database.

Creator Program
Charting Income Distributions in 16 Different Countries
Throughout the 19th century, roughly 80% of the global population lived in what we'd now consider extreme poverty.
And as earnings and living conditions have improved dramatically since then, they haven't done so evenly across the world. There are still vast income gaps, both between different countries and within them.
To highlight these global income discrepancies, this chart by Ruben Berge Mathisen shows income distributions around the world, using 2021 income data from the World Inequality Database (WID) on a per adult basis.
Global Income Distributions
This graphic shows the adult income distributions of 16 different countries in U.S. dollars, along with the world average.
On a global scale, adults making an annual income greater than $124,720 make it into the 99th percentile, meaning they make more than 99% of the worldwide population.
However, things change when you zoom in on specific countries. Here's a look at all the countries on the list, and how much annual income is needed (at minimum) to be in the top 1%:
| Region | Country | Adult income (2021, 99th percentile) |
| --- | --- | --- |
| North America | 🇺🇸 United States | $336,953.19 |
| North America | 🇨🇦 Canada | $193,035.55 |
| North America | 🇲🇽 Mexico | $130,388.19 |
| South America | 🇧🇷 Brazil | $115,257.86 |
| South America | 🇨🇴 Colombia | $97,500.37 |
| South America | 🇦🇷 Argentina | $94,794.89 |
| Asia | 🇨🇳 China | $99,095.34 |
| Asia | 🇮🇳 India | $65,370.51 |
| Asia | 🇮🇩 Indonesia | $85,176.35 |
| Europe | 🇷🇺 Russia | $124,805.86 |
| Europe | 🇩🇪 Germany | $212,106.53 |
| Europe | 🇬🇧 United Kingdom | $162,547.56 |
| Africa | 🇳🇬 Nigeria | $53,144.36 |
| Africa | 🇪🇹 Ethiopia | $24,295.66 |
| Africa | 🇪🇬 Egypt | $115,546.44 |
| Oceania | 🇦🇺 Australia | $164,773.40 |
| | 🌎 World | $124,719.60 |
People in America's top 1% make at least $336,953 in annual pre-tax income. That's more than $100,000 above the 1% of next closest countries, Germany ($212,107) and Canada ($193,036).
On the flip side, adults in Ethiopia only need to make $24,297 to fall into the country's 99th percentile. Ethiopia is one of the poorest nations in the world—according to estimates by the World Bank, about 27% of Ethiopia's population is thought to be currently living under the poverty line.
Income Gaps Within Countries
It is also noticeable how much income varies within each country.
One example is Colombia, which has one of the largest wealth gaps of any country on the list. The 99th percentile in Colombia is making an annual income that's 192x higher than its 10th percentile. In contrast, an income in the 99th percentile in the United States is 83x higher than the 10th percentile.
Colombia's high level of income inequality stems from early childhood disadvantages, such as lack of access to education, which can limit opportunities later on in life.