Visualizing the Recent Explosion in Lumber Prices
Visualizing the Recent Explosion in Lumber Prices
Lumber is an important commodity used in construction, and refers to wood that has been processed into beams or planks.
Fluctuations in its price, which is typically quoted in USD/1,000 board feet (bd ft), can significantly affect the housing industry and in turn, influence the broader U.S. economy.
To understand the impact that lumber prices can have, we've visualized the number of homes that can be built with $50,000 worth of lumber, one year apart.
A Story of Supply and Demand
Before discussing the infographic above, it's important to understand the market's current environment.
In just one year, the price of lumber has increased 377%—reaching a record high of $1,635 per 1,000 bd ft. For context, lumber has historically fluctuated between $200 to $400.
To understand what's driving lumber prices to new heights, let's look at two economic elements: supply and demand.
Shortened Supply
U.S. lumber supplies came under pressure in April 2017, when the Trump administration raised tariffs on Canadian lumber. Since then, lumber imports have fallen and prices have experienced significant volatility.
After a brief stint above $600 in April 2018, lumber quickly tumbled down to sub $250 levels, causing a number of sawmills to shut down. The resulting decreases in production capacity (supply) were estimated to be around 3 billion board feet.
Once COVID-19 emerged, labor shortages cut production even further, making the lumber market incredibly sensitive to demand shocks. The U.S. government has since reduced its tariffs on Canadian lumber, but these measures appear to be an example of too little, too late.
Pent-up Demand
Against expectations, COVID-19 has led to a significant boom in housing markets, greatly increasing the need for lumber.
Lockdowns in early 2020 delayed many home purchases until later in the year, while increased savings rates during the pandemic meant Americans had more cash on hand. The demand for homes was further amplified by record-low mortgage rates across the country.
Existing homeowners needed lumber too, as many Americans suddenly found themselves requiring upgrades and renovations to accommodate their new stay-at-home lifestyles.
How Many Homes Can You Build With $50K of Lumber?
To see how burgeoning lumber prices are impacting the U.S. housing market, we've calculated the number of single family homes that could be built with $50,000 worth of lumber. First, we established the following parameters:
Lumber requirements: 6.3 board feet (bd ft) per square foot (sq ft)
Median single family house size: 2,301 sq ft
Total lumber required per single family house: 14,496 bd ft
Based on these parameters, here's how many single family homes can be built with $50,000 worth of lumber:

| Date* | Lumber Price | Total Lumber Purchased | Total Homes Built |
| --- | --- | --- | --- |
| 2021-05-05 | $1,635 per 1,000 bd ft | 30,581 bd ft | 2.11 |
| 2020-05-04 | $343 per 1,000 bd ft | 145,773 bd ft | 10.05 |
| 2015-05-01 | $234 per 1,000 bd ft | 213,675 bd ft | 14.74 |
| 2010-05-01 | $270 per 1,000 bd ft | 185,185 bd ft | 12.77 |
*Exact matching dates were not available for past years.
Source: Insider
As lumber prices continue to set record highs, the National Association of Home Builders (NAHB) has reported that the cost to build a single family home has increased by $36,000. Most of this cost can be passed down to the consumer, but extremely tight supplies mean homebuilders are unable to start more projects.
The Clock is Ticking
Despite their best efforts to increase output, it's likely that sawmills across the U.S. will continue playing catch-up in 2021.
"There was a great fear among sawmills to prepare for a downturn. When home buying surged, they could not open up capacity quickly enough."
– Lawrence Yun, National Association of Realtors
Analysts are now warning that lumber prices could reach a flashpoint, where affordability becomes so limited that demand suddenly falls off. This has led the NAHB to ask the Biden administration for a temporary pause on Canadian lumber tariffs, which currently sit at 9%.
U.S. tariffs on Canadian lumber were first introduced in 1982, and represent one of the longest lasting trade wars between the two nations. The U.S. is currently appealing a World Trade Organization (WTO) ruling that states its 2017 tariff hike was a breach of global trading rules.
How the Top Cryptocurrencies Performed in 2021
Cryptocurrencies had a breakout year in 2021, providing plenty of volatility and strong returns across crypto's various sectors.
The Returns of Top Cryptocurrencies in 2021
2021 saw the crypto markets boom and mature, with different sectors flourishing and largely outperforming the market leader, bitcoin.
While bitcoin only managed to return 59.8% last year, the crypto sector's total market cap grew by 187.5%, with many of the top coins offering four and even five-digit percentage returns.
2021 Crypto Market Roundup
Last year wasn't just a breakout year for crypto in terms of returns, but also the growing infrastructure's maturity and resulting decorrelation of individual crypto industries and coins.
Crypto's infrastructure has developed significantly, and there are now many more onramps for people to buy altcoins that don't require purchasing and using bitcoin in the process. As a result, many cryptocurrency prices were more dictated by the value and functionality of their protocol and applications rather than their correlation to bitcoin.
| Cryptocurrency | Category | 2021 Returns |
| --- | --- | --- |
| Bitcoin | Cryptocurrency | 59.8% |
| Ethereum | Smart Contract Platform | 399.2% |
| Binance Coin | Exchange Token | 1,268.9% |
| Solana | Smart Contract Platform | 11,177.8% |
| Cardano | Smart Contract Platform | 621.3% |
| XRP | Cryptocurrency | 277.8% |
| Terra | Smart Contract Platform | 12,967.3% |
| Avalanche | Smart Contract Platform | 3,334.8% |
| Polkadot | Smart Contract Platform | 187.9% |
| Dogecoin | Meme Coin | 3,546.0% |
Sources: TradingView, Binance, Uniswap, FTX, Bittrex
Bitcoin wasn't the only cryptocurrency that didn't manage to reach triple-digit returns in 2021. Litecoin and Bitcoin Cash also provided meagre double-digit percentage returns, as payment-focused cryptocurrencies were largely ignored for projects with smart contract capabilities.
Other older projects like Stellar Lumens (109%) and XRP (278%) provided triple-digit returns, with Cardano (621%) being the best performer of the old guard despite not managing to ship its smart contract functionality last year.
The Rise of the Ethereum Competitors
Ethereum greatly outpaced bitcoin in 2021, returning 399.2% as the popularity boom of NFTs and creation of DeFi 2.0 protocols like Olympus (OHM) expanded possible use-cases.
But with the rise of network activity, a 50% increase in transfers in 2021, Ethereum gas fees surged. From minimums of $20 for a single transaction, to NFT mint prices starting around $40 and going into the hundreds on congested network days, crypto's retail crowd migrated to other smart contract platforms with lower fees.
Alternative budding smart contract platforms like Solana (11,178%), Avalanche (3,335%), and Fantom (13,207%) all had 4-5 digit percentage returns, as these protocols built out their own decentralized finance ecosystems and NFT markets.
With Ethereum set to merge onto the beacon chain this year, which uses proof of stake instead of proof of work, we'll see if 2022 brings lower gas fees and retail's return to Ethereum if the merge is successful.
Dog Coins Meme their Way to the Top
While many new cryptocurrencies with strong functionality and unique use-cases were rewarded with strong returns, it was memes that powered the greatest returns in cryptocurrencies this past year.
Dogecoin's surge after Elon Musk's "adoption" saw many other dog coins follow, with SHIB benefitting the most and returning an astounding 19.85 million percent.
But ever since Dogecoin's run from $0.07 to a high of $0.74 in Q2 of last year, the original meme coin's price has slowly bled -77% down to $0.17 at the time of writing. After the roller coaster ride of last year, 2022 started with a positive catalyst for Dogecoin holders as Elon Musk announced DOGE can be used to purchase Tesla merchandise.
Gamifying the Crypto Industry
The intersection between crypto, games, and the metaverse became more than just a pipe dream in 2021. Axie Infinity was the first crypto native game to successfully establish a play to earn structure that combines its native token (AXS) and in-game NFTs, becoming a sensation and source of income for many in the Philippines.
Other crypto gaming projects like Defi Kingdoms are putting recognizable game interfaces on decentralized finance applications, with the decentralized exchange becoming the town's "marketplace" and yield farms being the "gardens" where yield is harvested. This fantasy aesthetic is more than just a new coat of paint, as the project with $1.04B of total value locked is developing an underlying play-to-earn game.
Along with gamification, 2021 saw crypto native and non-crypto developers put a big emphasis on the digital worlds or metaverses users will inhabit. Facebook's name change to Meta resulted in the two prominent metaverse projects The Sandbox (SAND) and Decentraland (MANA) surge another few hundred percent to finish off the year at 16,261% and 4,104% returns respectively.
With so many eyes on the crypto sector after the 2021's breakout year, we'll see how developing U.S. regulation and changing macro conditions affect cryptocurrencies in 2022.
The Periodic Table of Commodity Returns (2012-2021)
Energy fuels led the way as commodity prices surged in 2021, with only precious metals providing negative returns.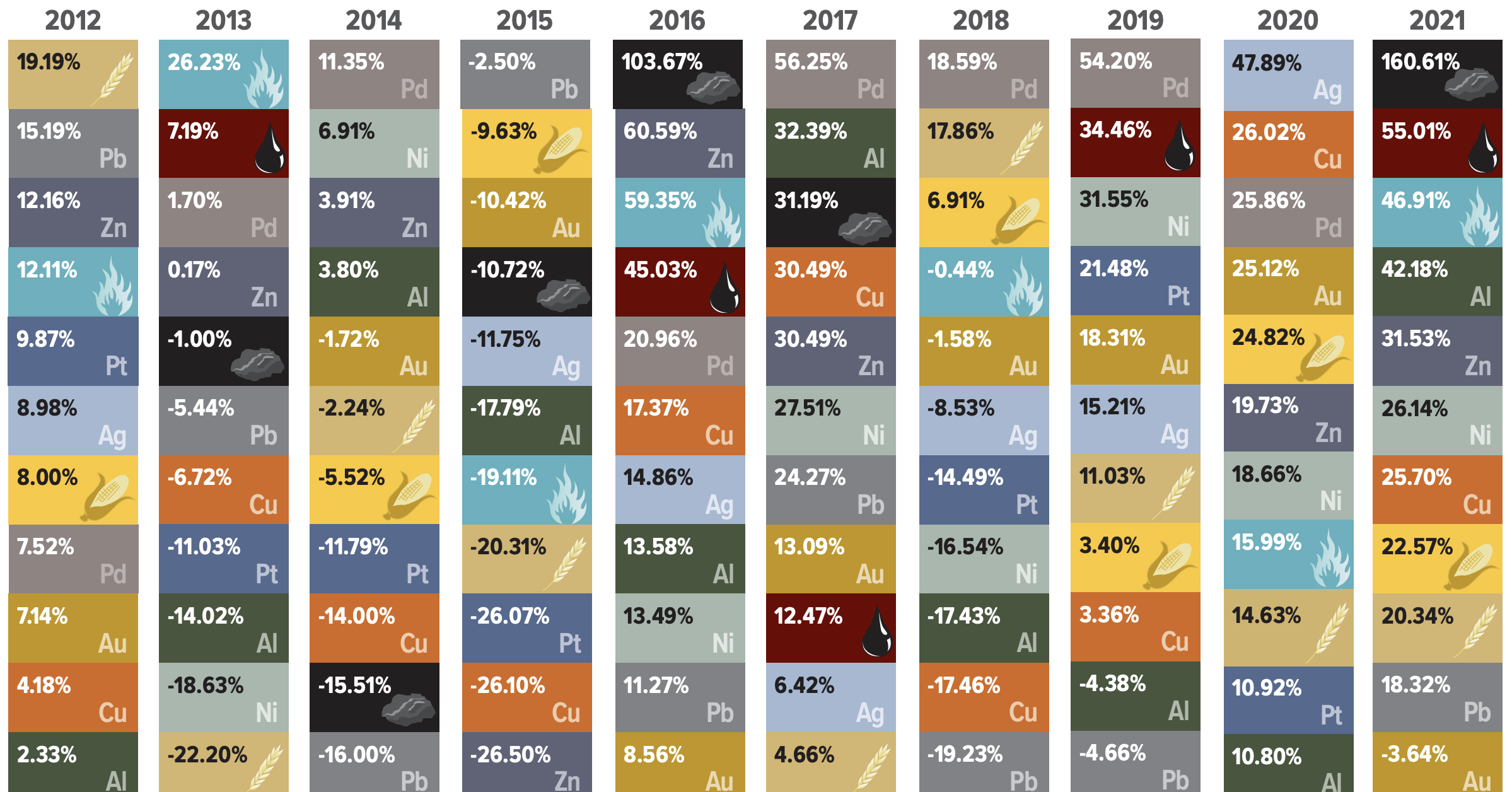 The Periodic Table of Commodity Returns (2022 Edition)
For investors, 2021 was a year in which nearly every asset class finished in the green, with commodities providing some of the best returns.
The S&P Goldman Sachs Commodity Index (GSCI) was the third best-performing asset class in 2021, returning 37.1% and beating out real estate and all major equity indices.
This graphic from U.S. Global Investors tracks individual commodity returns over the past decade, ranking them based on their individual performance each year.
Commodity Prices Surge in 2021
After a strong performance from commodities (metals especially) in the year prior, 2021 was all about energy commodities.
The top three performers for 2021 were energy fuels, with coal providing the single best annual return of any commodity over the past 10 years at 160.6%. According to U.S. Global Investors, coal was also the least volatile commodity of 2021, meaning investors had a smooth ride as the fossil fuel surged in price.
| Commodity | 2021 Returns |
| --- | --- |
| Coal | 160.61% |
| Crude Oil | 55.01% |
| Gas | 46.91% |
| Aluminum | 42.18% |
| Zinc | 31.53% |
| Nickel | 26.14% |
| Copper | 25.70% |
| Corn | 22.57% |
| Wheat | 20.34% |
| Lead | 18.32% |
| Gold | -3.64% |
| Platinum | -9.64% |
| Silver | -11.72% |
| Palladium | -22.21% |
Source: U.S. Global Investors
The only commodities in the red this year were precious metals, which failed to stay positive despite rising inflation across goods and asset prices. Gold and silver had returns of -3.6% and -11.7% respectively, with platinum returning -9.6% and palladium, the worst performing commodity of 2021, at -22.2%.
Aside from the precious metals, every other commodity managed double-digit positive returns, with four commodities (crude oil, coal, aluminum, and wheat) having their best single-year performances of the past decade.
Energy Commodities Outperform as the World Reopens
The partial resumption of travel and the reopening of businesses in 2021 were both powerful catalysts that fueled the price rise of energy commodities.
After crude oil's dip into negative prices in April 2020, black gold had a strong comeback in 2021 as it returned 55.01% while being the most volatile commodity of the year.
Natural gas prices also rose significantly (46.91%), with the UK and Europe's natural gas prices rising even more as supply constraints came up against the winter demand surge.
Despite being the second worst performer of 2020 with the clean energy transition on the horizon, coal was 2021's best commodity.
High electricity demand saw coal return in style, especially in China which accounts for one-third of global coal consumption.
Base Metals Beat out Precious Metals
2021 was a tale of two metals, as precious metals and base metals had opposing returns.
Copper, nickel, zinc, aluminum, and lead, all essential for the clean energy transition, kept up last year's positive returns as the EV batteries and renewable energy technologies caught investors' attention.
Demand for these energy metals looks set to continue in 2022, with Tesla having already signed a $1.5 billion deal for 75,000 tonnes of nickel with Talon Metals.
On the other end of the spectrum, precious metals simply sunk like a rock last year.
Investors turned to equities, real estate, and even cryptocurrencies to preserve and grow their investments, rather than the traditionally favorable gold (-3.64%) and silver (-11.72%). Platinum and palladium also lagged behind other commodities, only returning -9.64% and -22.21% respectively.
Grains Bring Steady Gains
In a year of over and underperformers, grains kept up their steady track record and notched their fifth year in a row of positive returns.
Both corn and wheat provided double-digit returns, with corn reaching eight-year highs and wheat reaching prices not seen in over nine years. Overall, these two grains followed 2021's trend of increasing food prices, as the UN Food and Agriculture Organization's food price index reached a 10-year high, rising by 17.8% over the course of the year.
As inflation across commodities, assets, and consumer goods surged in 2021, investors will now be keeping a sharp eye for a pullback in 2022. We'll have to wait and see whether or not the Fed's plans to increase rates and taper asset purchases will manage to provide price stability in commodities.