Map: Visualizing Every Ship at Sea in Real-Time
The ocean is a big place, which makes it a pretty difficult thing to wrap our brains around.
It covers over 70% of the Earth's surface, is home to millions of species of life, and it makes up 97% of all water on the planet. But, with this massive size and ubiquity also comes a significant challenge for humans interested in trade: it must be constantly traversed in order for us to move goods around.
As a result, millions of people hit the high seas each day to get cargo from one place to another. The vessels used range from tiny sailboats to massive oil tankers, some of which can get up to four football fields in length.
Every Ship at Sea
We previously posted an interactive map of shipping routes that used 250 million data points to show how boats moved across the ocean.
Today, in a similar vein, we highlight a website that tracks the world's ships in real-time, providing a unique picture of what is happening at sea. Below is a screenshot from MarineTraffic and going there will allow you to see all major ships in real-time as they voyage around the Deep Blue Sea.
You may be wondering, does this really show every ship at sea?
Well, it might not catch your Uncle Steve's sailboat off the coast of Florida, but this map will show all major commercial vessels. Any oil tanker, cargo vessel, cruise ship, or fishing boat can be spotted, and it makes for some interesting observations if you know where to look.
A Look at Oil Chokepoints
Upon loading the real-time map, the first thing we did was adjust the filters to only show oil tankers.
After all, we know that every day, about 18.5 million barrels transit through the Strait of Hormuz between Iran and Oman, and 16 million barrels go through the Strait of Malacca between Indonesia and Malaysia.
Here's a screenshot of the Strait of Hormuz, showing only oil tankers. (Dots are tankers that are not moving, while arrows represent tankers that are currently on course.)
And here are the ships going through the Strait of Malacca, which at its narrowest point is only 1.7 miles (2.7 km) wide.
If you want to get oil from the Persian Gulf to the South China Sea, this strait is vital – otherwise a big ship must detour thousands of miles around the Indonesian islands of Sumatra and Java to find the next suitable waterway.
Coast of Somalia
Compare those above straits to the coast off of Somalia, where piracy and hydrocarbon theft are major concerns.
All is pretty quiet, aside from the one daring tanker that is about 500 miles (800 km) east of Mogadishu.
Antarctic Cruises
One other easy observation?
It's the few passenger boats hanging around the Antarctic Peninsula – which is the part of the continent closest to Argentina and a destination for cruise ships.
If you have a chance, check out the live map for yourself and play around with the filters. It's also interesting to see what's happening in your local waters, as well.
10 Ways You Can Build Leadership Communities in a Hybrid World of Work
Feeling disconnected? This infographic teaches you how to build strong leadership communities in your organization in a hybrid working world.
The world has never been more connected. Yet many of us feel more disconnected than ever before.
In particular, CEOs and managers can often feel isolated from their peers, and therefore crave a greater sense of community and belonging. This lack of social connection can have a detrimental impact on both them and their team—putting the future of their company at risk.
Leading in a Hybrid World of Work
This infographic from bestselling author Vince Molinaro dives into the ways you can build a strong community of leaders in your organization, enabling you to more successfully execute on strategy, drive growth, and deliver results.
>>Download Dr.Vince Molinaro's Community Builder Ebook Today
The Critical Need for Leadership Communities
In today's world, many leaders have been conditioned to work and lead in a way that is individualistic and hyper-competitive, which leads to problematic outcomes including:
Limiting innovative ideas
Causing overwhelm and stress
Limiting diversity and a sense of inclusion
Promoting a macho culture
Creating heroes and zeros in organizations
This outdated model breeds a weak leadership culture. Even though leadership expectations are higher than ever, very few companies boast a strong leadership culture. In fact, just 15% of companies have the culture they need to succeed.
What does a weak leadership look like?
Weak Leadership Cultures
When leaders demonstrate the following behaviors, organizations are at risk of developing a weak leadership culture:
They lack clarity around strategic priorities.
They fail to inspire the people they lead.
They tolerate ineffective and mediocre leadership.
They demonstrate animosity for the success of other leads, teams, and departments.
They work at cross-purposes with each other.
They prop themselves up while downplaying the contribution of others.
They don't engage stakeholders.
They regularly badmouth others and throw colleagues under the bus.
They withhold information as a way to retain power over their peers.
They act as bystanders when colleagues need help.
When these negative dynamics become apparent, organizations pay a significant price. According to a report from Qualtrics, 40% of managers see a decline in their mental health, while another study shows that 66% of leaders have checked out entirely.
It is clear that building a strong community of leaders has become critical as the world continues to become even more complex and uncertain. Let's dive into some of the ways you can build a greater sense of belonging in your organization today.
The Characteristics of Leadership Communities
Here are the 10 characteristics and behaviors that promote a strong community of leaders. Does this describe your organization's leadership culture?
| Characteristic | Aligned Behavior |
| --- | --- |
| 1. Have clarity on the strategic direction of the organization | Be determined to deliver on the most important strategic outcomes for the company |
| 2. Create excitement about the future | Spread optimism about the company, even through adversity |
| 3. Share a common aspiration to be great as leaders | Commit to their roles as leaders and help other leaders thrive |
| 4. Lead with a united front and a one-company mindset | Lead in the best interest of the whole organization |
| 5. Hold each other accountable by calling out unproductive leadership behavior | Demonstrate the courage to call out misaligned and unacceptable behaviors |
| 6. Celebrate success and key milestones | Ignite passion by recognizing others and showing progress towards goals |
| 7. Break down silos and collaborate effectively | Identify accountability gaps that weaken the leadership culture |
| 8. Keep internal politics and personal agendas to a minimum | Behave in a direct and transparent manner with peers |
| 9. Demonstrate resilience and resolve in the face of adversity | Turn to each other while navigating tough challenges |
| 10. Support one another and have each other's backs | Build high-trust relationships with one another |
Most leaders want to be in an environment where there is real clarity, alignment, commitment, and mutual support—it just takes one accountable leader to make it happen.
The Benefits to Creating a Strong Community of Leaders
If done right, the effects of building a strong community of leaders can be extraordinary:
Promotes a stronger sense of belonging.
Allows for greater knowledge sharing.
Encourages higher levels of performance.
Creates a culture of accountability.
Improves employee engagement.
Moreover, research shows that employee engagement is directly linked to a company's culture and value system. In fact, employee engagement levels can reach up to 72% when managers work well with each other.
With the working world transforming before our very eyes, it's time to establish a new leadership contract so that CEOs and managers can lead their organizations successfully into the future.
Do you have what it takes to be a community builder? Download your Ebook to discover practical strategies you can apply today.
Animated Map: Visualizing Earth's Seasons
This map visualizes Earth's seasons, showing how our planet's Arctic sea ice and vegetation changes throughout the year.

Creator Program
Animated Map: Visualizing Earth's Seasons
Why does Earth have seasons?
Many people think the seasons are dictated by Earth's proximity to the Sun, but this isn't the case. It's the Earth's tilt, not its closeness to the Sun, that influences our seasons.
This animated map by Eleanor Lutz visualizes Earth's seasons, showing how the temperature changes impact ice levels in the Arctic as well as vegetation more broadly. It also highlights the cloud cover and sunlight each hemisphere receives throughout the year, with each frame in the animation representing a month of time.
Why is Earth Tilted?
Unlike some of the planets that sit completely upright and rotate perpendicularly, Earth rotates on a 23.5-degree axis.
But why? A commonly accepted theory among the scientific community is the giant impact hypothesis. According to this theory, a celestial object called Theia collided with Earth many years ago, when the planet was still forming. This collision not only knocked Earth into its tilted position—some believe that the dust and debris from this impact ended up forming our moon.
Ever since, our planet has been rotating with a slight tilt (which itself is not fixed, as it "wobbles" in cycles), giving us our varying seasons throughout the year.
How Earth's Tilt Influences our Seasons
As our planet orbits the Sun, it's always leaning in the same direction. Because of its tilt, the different hemispheres receive varying amounts of sunlight at different times of the year.
In December, Earth is technically closer to the Sun than it is in June or July. However, because the Northern Hemisphere is tilted away from the Sun during December, that part of the planet experiences winter during that time.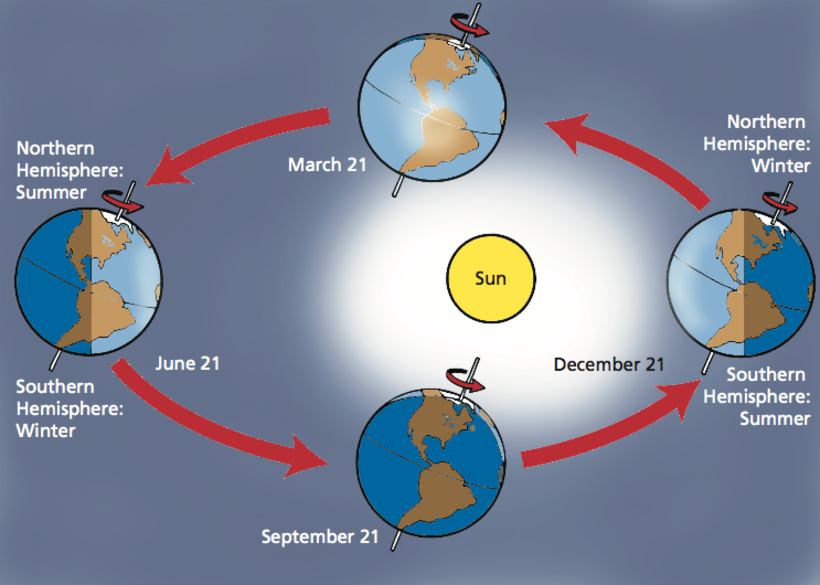 The graphic above by the Smithsonian Science Education Center (SSEC) visualizes Earth's orbit throughout the year, showing when each hemisphere receives the most direct sunlight (and thus, experiences summer).
The Climate Change Impact
While our seasons have always varied, it's worth noting that climate change has impacted our seasons, and changed how much Arctic ice we lose each summer.
In the past, millions of miles of ice remained frozen throughout the summer months. In the 1980s, there were 3.8 million square miles of ice in July—that's roughly the same size as Australia.
Over the years, Arctic ice cover has steadily declined. In July 2020, the ice cover was only 2.8 million square miles—a million less than the amount four decades ago.
Some scientists are predicting that we could lose our summer sea ice entirely by 2035, which would have a devastating impact on the Artic's wildlife and the indigenous people who live there.