The Carbon Footprint of the Food Supply Chain
Which Foods Have the Greatest Environmental Impact?
The quantity of greenhouse gases (GHGs) generated by our food can vary considerably across the global food supply chain.
In fact, the difference between specific food types can vary by orders of magnitude, meaning what we eat could be a significant factor impacting GHG emissions on the environment.
Today's modified chart from Our World in Data relies on data from the largest meta-analysis of food systems in history. The study, published in Science was led by Joseph Poore and Thomas Nemecek to highlight the carbon footprint across different food types across the world.
The Foods With the Highest Carbon Footprint
Worldwide, there are approximately 13.7 billion metric tons of carbon dioxide equivalents (CO2e) emitted through the food supply chain per year.
Across a database extending through 119 countries and 38,000 commercial farms, the study found that, unsurprisingly, beef and other animal products have an outsize effect on emissions.
For example, one kilogram (kg) of beef results in 60 kg of GHG emissions—nearly 2.5x the closest food type, lamb and mutton. In contrast, the same weight of apples produce less than one kilogram of GHG emissions.
| Food Type | GHG Emissions per 1 kg Produced |
| --- | --- |
| Beef (beef herd) | 60 kgCO2e |
| Lamb & Mutton | 24 kgCO2e |
| Cheese | 21 kgCO2e |
| Beef (dairy herd) | 21 kgCO2e |
| Chocolate | 19 kgCO2e |
| Coffee | 17 kgCO2e |
| Prawns (farmed) | 12 kgCO2e |
| Palm Oil | 8 kgCO2e |
| Pig Meat | 7 kgCO2e |
| Poultry Meat | 6 kgCO2e |
| Olive Oil | 6 kgCO2e |
| Fish (farmed) | 5 kgCO2e |
| Eggs | 4.5 kgCO2e |
| Rice | 4 kgCO2e |
| Fish (wild catch) | 3 kgCO2e |
| Milk | 3 kgCO2e |
| Cane Sugar | 3 kgCO2e |
| Groundnuts | 2.5 kgCO2e |
| Wheat & Rye | 1.4 kgCO2e |
| Tomatoes | 1.4 kgCO2e |
| Maize (Corn) | 1.0 kgCO2e |
| Cassava | 1.0 kgCO2e |
| Soymilk | 0.9 kgCO2e |
| Peas | 0.9 kgCO2e |
| Bananas | 0.7 kgCO2e |
| Root Vegetables | 0.4 kgCO2e |
| Apples | 0.4 kgCO2e |
| Citrus Fruits | 0.3 kgCO2e |
| Nuts | 0.3 kgCO2e |
When it comes to plant-based foods, chocolate is among the highest GHG emitters. One kilogram of chocolate produces 19 kg of GHGs. On average, emissions from plant-based foods are 10 to 50 times lower than animal-based types.
Bottom line, it is clear that the spectrum of emissions differs significantly across each food type.
Food Supply Chain Stages
The food supply chain is complex and nuanced as it moves across each stage of the cycle.
Although the steps behind the supply chain for individual foods can vary considerably, each typically has seven stages:
Land Use Change
Farm
Animal Feed
Processing
Transport
Retail
Packaging
Across all foods, the land use and farm stages of the supply chain account for 80% of GHG emissions. In beef production, for example, there are three key contributing factors to the carbon footprint at these stages: animal feed, land conversion, and methane production from cows. In the U.S., beef production accounts for 40% of total livestock-related land use domestically.
On the other end of the spectrum is transportation. This stage of the supply chain makes up 10% of total GHG emissions on average. When it comes to beef, the proportion of GHGs that transportation emits is even smaller, at just 0.5% of total emissions.
Contrary to popular belief, sourcing food locally may not help GHG emissions in a very significant way, especially in the case of foods with a large carbon footprint.
The Rise of Plant-Based Alternatives
Amid a growing market share of plant-based alternatives in markets around the world, the future of the food supply chain could undergo a significant transition.
For investors, this shift is already evident. Beyond Meat, a leading provider of meat substitutes, was one of the best performing stocks of 2019—gaining 202% after its IPO in May 2019.
As rising awareness about the environment becomes more prevalent, is it possible that growing meat consumption could be a thing of the past?
Mapped: Carbon Dioxide Emissions Around the World
This graphic maps out carbon emissions around the world and where they come from, using data from the European Commission.

Creator Program
Mapped: Carbon Dioxide Emissions Around the World
According to Our World in Data, the global population emits about 34 billion tonnes of carbon dioxide (CO₂) each year.
Where does all this CO₂ come from? This graphic by Adam Symington maps out carbon emissions around the world, using 2018 data from the European Commission that tracks tonnes of CO₂ per 0.1 degree grid (roughly 11 square kilometers).
This type of visualization allows us to clearly see not just population centers, but flight paths, shipping lanes, and high production areas. Let's take a closer look at some of these concentrated (and brightly lit) regions on the map.
China, India, and the Indian Ocean
As the two most populated countries and economic forces, China and India are both significant emitters of CO₂. China in particular accounts for about 27% of global CO₂ emissions.
And looking at the oceans, we see how much shipping adds to emissions, with many shipping lanes east of China clearly outlined as well as the major Indian Ocean lane between the Strait of Malacca and the Suez Canal.
The United States and Central America
The United States is one of the world's biggest carbon emitters. While other countries like Qatar and Saudi Arabia technically have higher emissions per capita, their overall emissions are relatively low due to smaller populations.
Across the U.S., the most brightly lit areas are major population centers like the Boston-Washington corridor, the Bay Area, and the Great Lakes. But also lit up are many of the interconnecting highways linking all these population centers, even in the less-populated middle of the country.
With so much traffic in and out of the U.S., the oceans become a murky mix of shipping and flight paths. To the south, very clearly visible is the major concentration of people around Mexico City and the traffic flowing through the Panama Canal.
South America's Network of Emissions
Like the other regions, some of South America's most populated areas are also the biggest emitters, such as São Paulo and Rio in Brazil and Buenos Aires in Argentina. This map also highlights the continent's rough terrain, with most of the population and highway emissions limited to the coasts.
However, the cities aren't the only big emitters in the region. There are clear lines intersecting the Amazon forest in many sections where cities and roads were constructed, including the economic hub city of Manaus along the Amazon River. Likewise, the oceans have many major shipping lanes highlighted, particularly East of Brazil.
Europe and North Africa
Germany is one of Europe's biggest carbon emitters—in 2021, the country generated almost 644 million tonnes of CO₂.
Also making an impression are Italy (which is the second-highest CO₂ emitter after Germany) and the UK, as well the significant amount of trade along the English Channel.
Compared to the intricate network of cities, towns, and bustling highways spanning Europe, across the Mediterranean are far clearer and simpler lines of activity in Northern Africa. Two major exceptions are in the Middle-East, where Egypt's Nile River and Suez Canal are massively lit up, as well as Israel on the east of the sea.
But a more significant (albeit murkier) picture is drawn by the massive amounts of shipping and flight paths illuminating the Atlantic and Mediterranean at large.
Net Zero by 2050
To mitigate the negative effects of climate change, countries around the world have made commitments to reach net-zero emissions.
Imagining the global map of emissions with these commitments in action requires a complete transformation of energy production, consumption habits, transportation infrastructure, and more. And even then, a future generated map wouldn't be fully dark, as "net-zero" is not equivalent to zero emissions but a balance of emissions and removal.
How might this map of global emissions look in the near and distant future? And what other interesting insights can you generate by browsing the world this way?
Ranked: The World's Top Cotton Producers
As the most-used natural fiber, cotton has become the most important non-food agricultural product.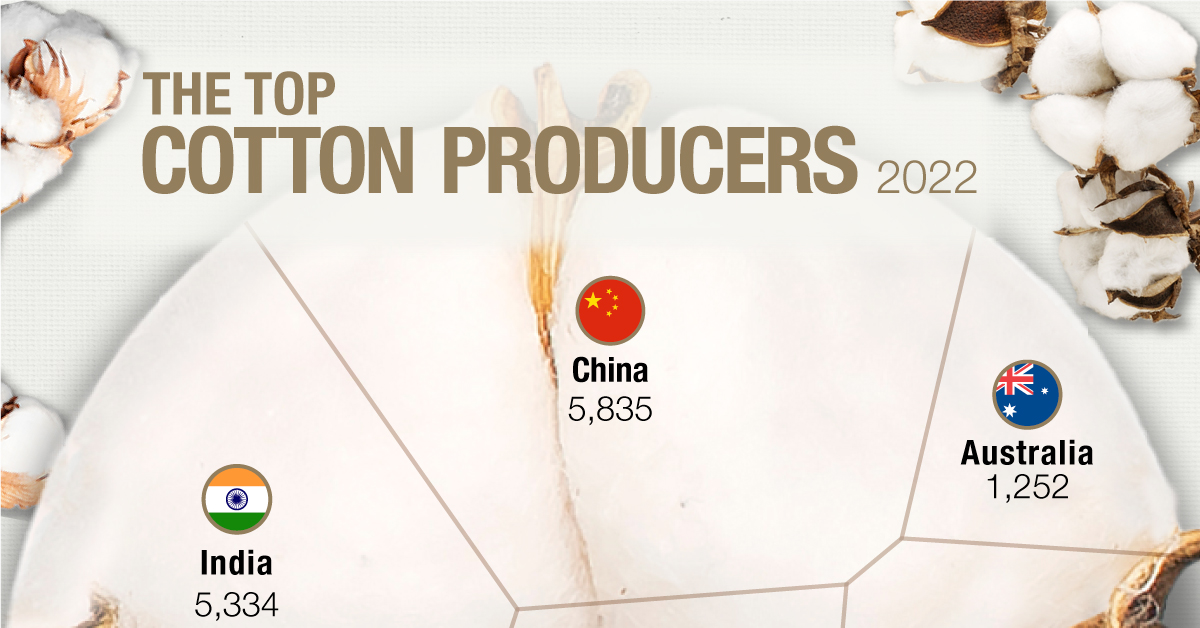 Ranked: The World's Top Cotton Producers
This was originally posted on Elements. Sign up to the free mailing list to get beautiful visualizations on natural resource megatrends in your email every week.
Cotton is present in our everyday life, from clothes to coffee strainers, and more recently in masks to control the spread of COVID-19.
As the most-used natural fiber, cotton has become the most important non-food agricultural product. Currently, approximately half of all textiles require cotton fibers.
The above infographic lists the world's top cotton producers, using data from the United States Department of Agriculture.
Fancy Fabric
Originating from the Arabic word "quton," meaning fancy fabric, cotton is a staple fiber made up of short fibers twisted together to form yarn.
The earliest production of cotton was around 5,000 B.C. in India, and today, around 25 million tons of cotton are produced each year.
Currently, five countries make up around 75% of global cotton production, with China being the world's biggest producer. The country is responsible for over 23% of global production, with approximately 89 million cotton farmers and part-time workers. Cotton's importance cannot be understated, as it is the primary input for the Chinese textile industry along with many other nations' textile industries.
| Top Cotton Producers | 2020/2021 (metric tons) | 2021/2022 (metric tons) |
| --- | --- | --- |
| 🇨🇳 China | 6,445,000 | 5,835,000 |
| 🇮🇳 India | 6,009,000 | 5,334,000 |
| 🇺🇸 United States | 3,181,000 | 3,815,000 |
| 🇧🇷 Brazil | 2,356,000 | 2,504,000 |
| 🇦🇺 Australia | 610,000 | 1,252,000 |
| 🇵🇰 Pakistan | 980,000 | 1,306,000 |
| 🇹🇷 Turkey | 631,000 | 827,000 |
| 🌐 Other | 4,059,000 | 4,282,000 |
| Total | 24,271,000 | 25,155,000 |
The United States is the leading global exporter of cotton, exporting three-fourths of its crop with China as the top buyer.
Despite its importance for the global economy, cotton production faces significant sustainability challenges.
The Controversy Over Cotton
Cotton is one of the largest users of water among all agricultural commodities, and production often involves applying pesticides that threaten soil and water quality.
Along with this, production often involves forced and child labor. According to the European Commission, child labor in the cotton supply chain is most common in Africa and Asia, where it comes from small-holder farmers.
In 2020, U.S. apparel maker Patagonia stopped sourcing cotton from the autonomous territory of Xinjiang because of reports about forced labor and other human rights abuses against Uighurs and other ethnic minorities.
L Brands, the parent company of Victoria's Secret, has also committed to eliminating Chinese cotton from its supply chain. Whether these changes in supply chains impact China's cotton production and its practices, cotton remains essential to materials found across our daily lives.