A Stunning Visual Map of the Social Media Universe
Today's infographic comes from Brian Solis and JESS3, and it visualizes the massive social media universe of 2017. Make sure to view the full-size version of the graphic for the best experience.
It's hard to believe that social media has emerged as such an expansive ecosystem in just the last 10 years.
The incredible growth of this social media universe can be largely attributed to the success of Facebook, which has recently hit two billion active users globally. But, of course, there are many other platforms that have helped to build the foundation as well – names like YouTube, Messenger, WhatsApp, LinkedIn, Reddit, Twitter, Snapchat, and Instagram all create a powerful base for new apps and add-ons to plug into.
As of today, entrepreneurs have been able to use this foundation to build out new branches to the social media universe that are both exciting and diverse. The apps in these niches help to facilitate workplace collaboration, live events, dating, networking, user reviews, location-based marketing, livestreaming, expert Q&As, and many other functions – and the ecosystem continues to expand and multiply by the day.
What's Changed in Social Media?
The version of the graphic posted here today is actually the fifth rendition since the concept was first introduced in 2008.
For a trip down memory lane, here's a copy of the version released in August 2008 as well as a link to the full-size 2008 graphic as well:
Aside from the ugly, old logos, this graphic is an interesting blast from the past. It helps us see the evolution of social media, while reminding us that new additions from the ecosystem can come into their own as huge successes.
As an example, knowing what we know today, it is almost comical that the 2008 version lists LinkedIn as a "Niche Network". Of course, at the time, it would be hard to see that LinkedIn would eventually boast a userbase of 500 million professionals and be sold to Microsoft for $26.2 billion as the company's biggest acquisition of all-time.
There's also some nostalgic mentions on the list, as well: Ask.com is the remnants of the glorious Ask Jeeves search engine founded in 1996, and hi5 was a social network that was the world's second-biggest in 2007 (after MySpace).
Charted: What are Retail Investors Interested in Buying in 2023?
What key themes and strategies are retail investors looking at for the rest of 2023? Preview: AI is a popular choice.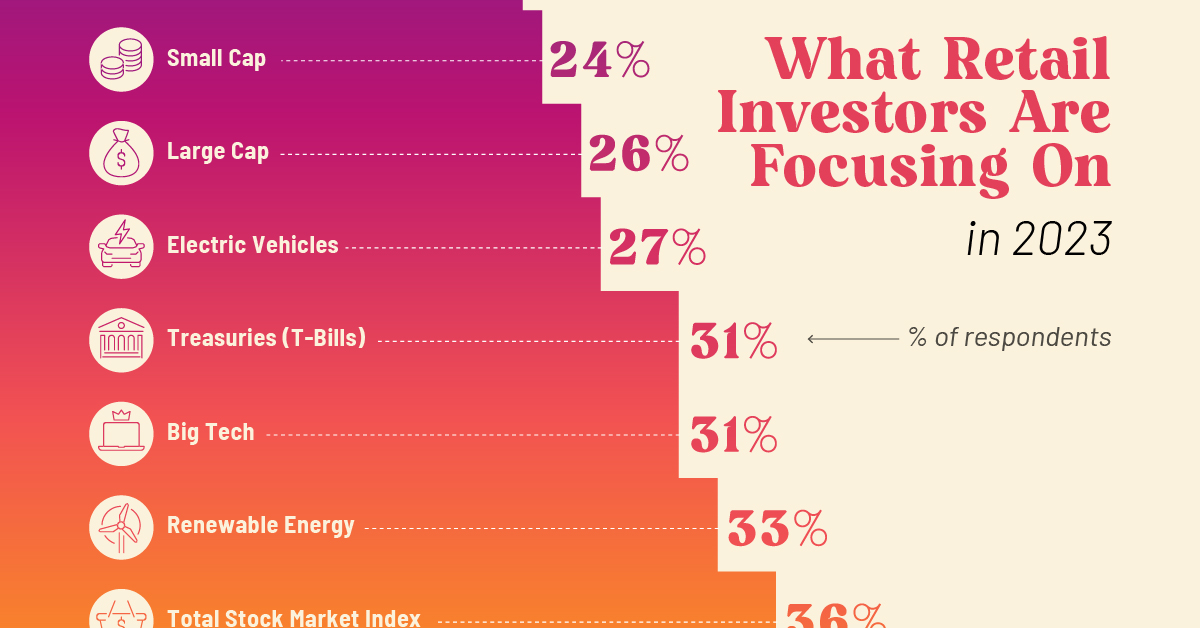 Charted: Retail Investors' Top Picks for 2023
U.S. retail investors, enticed by a brief pause in the interest rate cycle, came roaring back in the early summer. But what are their investment priorities for the second half of 2023?
We visualized the data from Public's 2023 Retail Investor Report, which surveyed 1,005 retail investors on their platform, asking "which investment strategy or themes are you interested in as part of your overall investment strategy?"
Survey respondents ticked all the options that applied to them, thus their response percentages do not sum to 100%.
Where Are Retail Investors Putting Their Money?
By far the most popular strategy for retail investors is dividend investing with 50% of the respondents selecting it as something they're interested in.
Dividends can help supplement incomes and come with tax benefits (especially for lower income investors or if the dividend is paid out into a tax-deferred account), and can be a popular choice during more inflationary times.
| Investment Strategy | Percent of Respondents |
| --- | --- |
| Dividend Investing | 50% |
| Artificial Intelligence | 36% |
| Total Stock Market Index | 36% |
| Renewable Energy | 33% |
| Big Tech | 31% |
| Treasuries (T-Bills) | 31% |
| Electric Vehicles | 27% |
| Large Cap | 26% |
| Small Cap | 24% |
| Emerging Markets | 23% |
| Real Estate | 23% |
| Gold & Precious Metals | 23% |
| Mid Cap | 19% |
| Inflation Protection | 13% |
| Commodities | 12% |
Meanwhile, the hype around AI hasn't faded, with 36% of the respondents saying they'd be interested in investing in the theme—including juggernaut chipmaker Nvidia. This is tied for second place with Total Stock Market Index investing.
Treasury Bills (30%) represent the safety anchoring of the portfolio but the ongoing climate crisis is also on investors' minds with Renewable Energy (33%) and EVs (27%) scoring fairly high on the interest list.
Commodities and Inflation-Protection stocks on the other hand have fallen out of favor.
Come on Barbie, Let's Go Party…
Another interesting takeaway pulled from the survey is how conversations about prevailing companies—or the buzz around them—are influencing trades. The platform found that public investors in Mattel increased 6.6 times after the success of the 'Barbie' movie.
Bud Light also saw a 1.5x increase in retail investors, despite receiving negative attention from their fans after the company did a beer promotion campaign with trans influencer Dylan Mulvaney.
Given the origin story of a large chunk of American retail investors revolves around GameStop and AMC, these insights aren't new, but they do reveal a persisting trend.