Visualized: The Value of U.S. Imports of Goods by State
Visualized: The Value of U.S. Imports of Goods by State 2021
For nearly 50 years and counting, U.S. imports have exceeded exports—and 2021 was no exception. Imports of goods to the U.S. equaled $2.8 trillion, relative to $1.8 trillion for exports, putting the 2021 goods trade deficit at its highest level on record.
Using the most recent data on global trade from the U.S. Census Bureau and the U.S. Bureau of Economic Analysis, we take a closer look at the value of American goods imports and visualize them state by state.
The Top 10 Importing States, by Total Goods Value
The top 10 states by import value account for 64.5% of all U.S. imports, or $1.8 trillion.
| Rank | State | Import Value ($B) | Share (%) |
| --- | --- | --- | --- |
| #1 | California | $470.7 | 16.5% |
| #2 | Texas | $312.6 | 11.0% |
| #3 | Illinois | $203.1 | 7.1% |
| #4 | New Jersey | $156.9 | 5.5% |
| #5 | New York | $153.7 | 5.4% |
| #6 | Michigan | $132.2 | 4.6% |
| #7 | Georgia | $123.7 | 4.3% |
| #8 | Pennsylvania | $98.1 | 3.4% |
| #9 | Tennessee | $94.0 | 3.3% |
| #10 | Florida | $93.6 | 3.3% |
| | Top 10 States | $1,838.6 | 64.5% |
Overall, the goods trade deficit—the amount by which a country's imports exceed its exports—was more than $1 trillion in 2021, increasing over 18% from the previous year. Goods imports specifically increased by nearly $502 billion, a 21% increase year-over-year.
California, the U.S.'s top importer, saw over $470 billion worth of goods come in last year. Some of its big ticket items fell in line with the state's tech sector's needs, like automatic data processing machines and accessories and parts for said machinery. California's own deficit is quite high—the state's goods exports were only valued at approximately $175 billion. The state's busy ports are a key entry point for goods arriving from Asia, which helps explain this deficit.
In contrast, the country's top export state is Texas at $375 billion, outweighing its imports and shipping out goods like coal and petroleum. All but three of the country's top importers—Tennessee, Pennsylvania, and Georgia—were also among the country's top 10 exporters.
Where are Imports Coming From?
Here's a look at the country's top trade partners for goods imports and the value of their imports in 2022 as of April.
| Rank | Country | Import Value ($B) as of April '22 | Share of Total |
| --- | --- | --- | --- |
| #1 | 🇨🇳 China | $179.3 | 17.0% |
| #2 | 🇲🇽 Mexico | $145.1 | 13.8% |
| #3 | 🇨🇦 Canada | $141.7 | 13.5% |
| #4 | 🇯🇵 Japan | $49.6 | 4.7% |
| #5 | 🇩🇪 Germany | $44.2 | 4.2% |
| #6 | 🇻🇳 Vietnam | $40.5 | 3.8% |
| #7 | 🇰🇷 South Korea | $36.5 | 3.5% |
| #8 | 🇹🇼 Taiwan | $29.6 | 2.8% |
| #9 | 🇮🇳 India | $27.5 | 2.6% |
| #10 | 🇮🇪 Ireland | $26.5 | 2.5% |
Over half of the top import partners for the United States are located in Asia. China is by far America's top source of goods, making up 17% of the country's imports.
Meanwhile, Canada and Mexico each account for roughly 14% of America's goods imports due to the close proximity, strong economic ties, and trade agreements.
What's Being Imported?
Imports of goods increased to a value of $2.8 trillion in 2021, the highest on record. According to the U.S. Census Bureau, industrial supplies and materials and crude oil saw some of the most notable increases.
Consumer goods like cell phones, household goods, toys, games, and sporting equipment increased in import value as well, reflecting a trend that the pandemic's online shopping and delivery demand started.
Additionally, imports of foods, feeds, and beverages were the highest on record in 2021. It is also notable that in April of 2022, exports of goods hit the highest number on record at nearly $175 billion, with exports of feeds, food, and beverage also reaching the highest number of exports recorded. This is likely attributed to food shortages worldwide caused by the war in Ukraine.
The Median Lot Size in Every U.S. State in 2022
Lot sizes in the U.S. are shrinking compared to a few decades ago. Here's a look at the median lot size in every U.S. state.

Creator Program
The Median Lot Size in Every U.S. State in 2022
The "American Dream" is often associated with imagery of spacious estates adorned with white picket fences, wrap-around porches, and sprawling green lawns that seem to go on forever.
But in reality, modern American life has become much more compact. Over the last few decades, the typical lot size in the U.S. has decreased significantly—from 18,760 square feet in 1978 to 13,896 in 2020.
While lot sizes are getting smaller overall, there are still large discrepancies in lot sizes from state to state. This graphic by Angi uses data from the 2022 U.S. Lot Size Index to show the median lot size in every U.S. State, using data from 312,456 Zillow listings as of May 2022.
Largest and Smallest Median Lot Sizes by State
When it comes to the states with the largest plots of land, New England dominates the ranking, with Vermont, New Hampshire, and Maine at the top of the list.
| Rank | State | Median lot size (sq.ft.) |
| --- | --- | --- |
| 1 | Vermont | 78,408 |
| 2 | New Hampshire | 49,223 |
| 3 | Maine | 45,738 |
| 4 | Montana | 43,560 |
| 5 | Alaska | 42,423 |
| 6 | Mississippi | 31,799 |
| 7 | Connecticut | 30,928 |
| 8 | Arkansas | 24,829 |
| 9 | Tennessee | 24,394 |
| 10 | Georgia | 22,215 |
New England was one of the first regions settled by the Europeans in Colonial America. This long history, along with a large rural population, could explain why the area has strict zoning policies that limit density and require large minimum lot sizes for new builds.
On the opposite end of the spectrum, Nevada ranks as the state with the smallest median lot size:
| Rank | State | Median lot size (sq.ft.) |
| --- | --- | --- |
| 1 | Nevada | 7,405 |
| 2 | California | 8,327 |
| 3 | Arizona | 8,726 |
| 4 | Illinois | 9,025 |
| 5 | Texas | 9,540 |
| 6 | Colorado | 10,019 |
| 7 | Florida | 10,019 |
| 8 | North Dakota | 10,019 |
| 9 | New Jersey | 10,019 |
| 10 | Ohio | 10,019 |
One possible explanation is that Nevada's population boom—and subsequent development—is relatively recent. Newer homes listed in the dataset tend to have smaller lot sizes, and in Nevada, 34.6% of homes included in the research were built in 2000 or later.
Comparing Lot Size to Land Price
Generally speaking, the states with the biggest lots also tend to have the cheapest land when broken down per square foot. For instance, in Vermont, properties sold for a median $5.95 per square foot.
View the full-size infographic
On the flip side, in Nevada, land sold for a median $82.80 per square foot—that's the third most expensive of any state.
Of course, other factors are at play here when it comes to the cost of land. Like anything else that's for sale, the price of a lot is governed largely by the laws of supply and demand.
For example, housing supply is scarce in Hawaii, where only 4.9% of the land is zoned for residential development, and the median home size is much smaller than in other parts of the country. Not surprisingly, the median plot of land in Hawaii costs $110.86 per square foot, the most expensive on the list.
The Future of Housing in America
Lot sizes remain relatively large in some states for now, but as the U.S. population continues to become more urbanized, living conditions in America could get even tighter.
Will America hold onto its spacious way of living, or could life in the U.S. start to resemble more densely populated regions in the future?
3D Map: The World's Largest Population Density Centers
What does population density look like on a global scale? These detailed 3D renders illustrate our biggest urban areas and highlight population trends.

Creator Program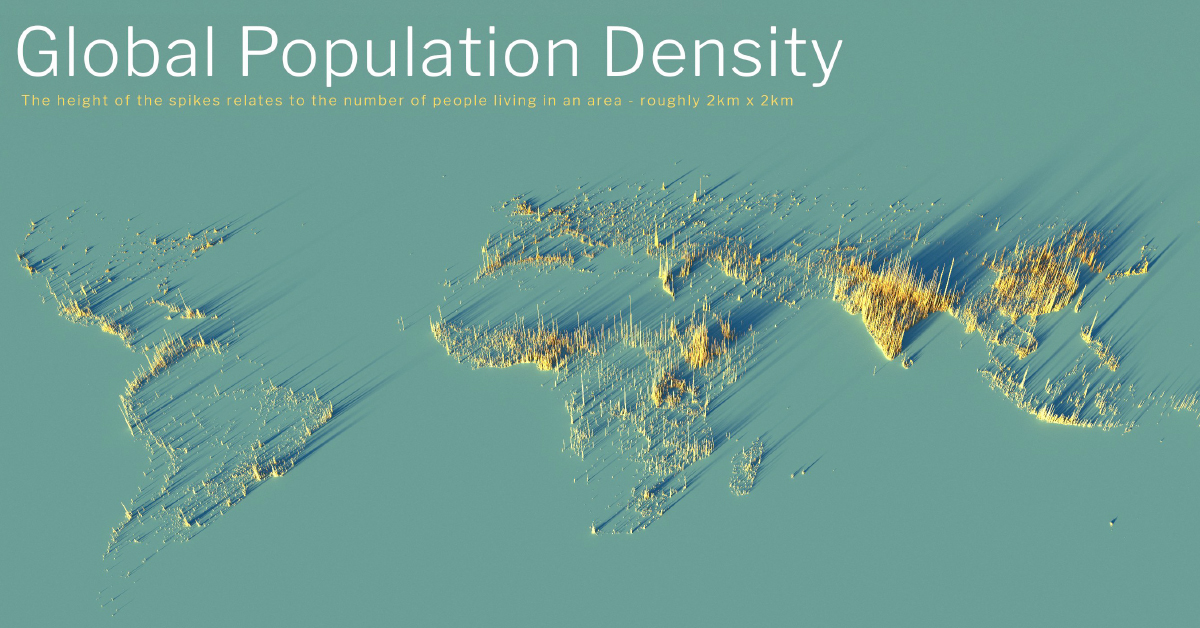 A 3D Look at the Largest Population Density Centers
It can be difficult to comprehend the true sizes of megacities, or the global spread of 8 billion people, but this series of population density maps makes the picture abundantly clear.
Created using the EU's population density data and mapping tool Aerialod by Alasdair Rae, the 3D-rendered maps highlight demographic trends and geographic constraints.
Though they appear topographical and even resemble urban areas, the maps visualize population density in squares. The height of each bar represents the number of people living in that specific square, with the global map displaying 2km x 2km squares and subsequent maps displaying 1km x 1km squares.
Each region and country tells its own demographic story, but the largest population clusters are especially illuminating.
China vs U.S. — Clusters vs Sprawl
Click here to view the high resolution version.
Zooming into the most populated country in the world, China and its surrounding neighbors demonstrate massive clusters of urbanization.
Most people are familiar with the large density centers around Hong Kong, Guangzhou, and Shanghai, but the concentration in central China is surprising. The cities of Chengdu and Chonqing, in the Sichuan Basin, are part of a massive population center.
Interestingly, more than 93% of China's population lives in the Eastern half of the country. It's a similar story in neighboring South Korea and Taiwan, where the population is clustered along the west coasts.
Click here to view the high resolution version.
The U.S. also has large population clusters along the coasts, but far more sprawl compared to its Asian counterparts. Though the Boston-Washington corridor is home to over 50 million residents, major centers spread out the population across the South and the Midwest.
Clearly visible are clusters in Florida (and not exclusively focused around Miami like some might believe), Illinois, Georgia, and Texas. The population is sparse in the West as expected, but California's Los Angeles and Bay Area metros make up for the discrepancy and are just behind New York City's density spikes in height.
India & Southeast Asia — Massive Density in Tight Areas
Click here to view the high resolution version.
At 1.38 billion people, India's population is just behind China's in terms of size. However, this sizable population fits into an area just one-third of China's total land area, with the above map demonstrating what the same amount of people looks like in a smaller region.
On one hand, you still have clear clusters, such as in Mumbai, New Delhi, Kolkata, and Bangladesh's Dhaka. On the other, there is a finite amount of room for a massive amount of people, so those density "spikes" are more like density "peaks" with the entire country covered in high density bars.
However, we can still see geographic trends. India's population is more densely focused in the North before fading into the Himalayas. Bangladesh is equally if not more densely populated, with the exception of the protected Sundarbans mangrove forest along the coast. And Pakistan's population seen in the distance is clustered along the Indus River.
Click here to view the high resolution version.
Geographic constraints have always been the biggest deciding factor when it comes to population density, and nowhere is this more apparent than Southeast Asia.
Take Indonesia, the fourth largest country by population. Despite spanning across many islands, more than half of the country's 269 million inhabitants are clustered on the single island of Java. The metros of Jakarta and Surabaya have experienced massive growth, but spreading that growth across oceans to entirely new islands (covered by rainforests) is a tall order.
When the distance is smaller, that cross-water growth is more likely to occur. Nearby in the Philippines, more than 100 million people have densely populated a series of islands no bigger than the state of Arizona.
Indeed, despite being one of the most populated areas in the world, each country in Southeast Asia has had its own growing problems. Some are limited by space (Singapore, Philippines), while others are limited by forests (Thailand, Vietnam).
A World of Different Density Pictures
Though the above maps cover the five most populated countries on Earth, accounting for nearly half of the world's population, they only show a small part of the global picture.
As the full global density map at the top of the page highlights, the population patterns can accurately illustrate some geographic patterns and constraints, while others need further exploration.
For example, the map clearly gives an outline of Africa and the sparse area that makes up the Sahara Desert. At the same time, landmasses like Australia and New Zealand are almost invisible save for a few clusters along the coast.
To get a closer and more intricate picture of each country's density map, head to Alasdair Rae's long thread of rendered maps and start scrolling up to find yours!