USA vs. Canada: Which Country is the Most Innovative? [Chart]
USA vs. Canada: Which is the Most Innovative Country? [Chart]
The Chart of the Week is a weekly Visual Capitalist feature on Fridays.
This week, an in-depth report on global innovation was co-released by Cornell University, INSEAD, and the World Intellectual Property Organization. The 2015 version of the report is not for the faint of heart: it clocks in at 453 pages long and covers a total of 141 countries that make up 98.6% of global GDP.
The methodology of the report uses innovation inputs and outputs to create an overall Global Innovation Index with a score for each country. Inputs include factors such as institutions, human capital, infrastructure, market sophistication, and business sophistication. Outputs deal with actual innovation results such as knowledge, technology, and creative outputs.
Lastly, there is also a curious measure which divides outputs by inputs to find an "efficiency" factor: in other words, which countries are getting the most bang for their buck in terms of innovation.
Global Innovation Index Framework:

The data is quite granular, and each innovation score is based on 79 variables. Rather than comparing all countries together, we decided to look at Canada and the United States to see which of the 49th parallel neighbors is the most innovative country. If you'd prefer to read an executive summary of the report itself, there is an abstract here that includes more analysis on other countries such as Switzerland and the United Kingdom, which came in first and second place respectively in the overall rankings.
USA vs. Canada
Many of the wealthy countries in the report, including Canada and the United States, have a quality set of inputs for innovation: world-class universities, fair regulatory environments, sophisticated economies, and strong knowledge workers.
However, the report shows a few big differences specifically between Canada and the United States that are worth noting.
Firstly, the "quality of innovation" in the United States is higher. University performance, the reach of scholarly articles, the international dimension of patent applications, and other such measures have the USA as the top place within the entire high-income group, followed by countries such as the UK, Japan, Germany, and Switzerland.
This helps the United States get a better score than Canada in terms of Knowledge and Technology Outputs, which make up half of the formula for the overall index. The United States scores a 58.0 on those outputs, while Canada scores 41.9.
Next, the United States holds the top position globally in measures concerning Market Sophistication, which gives it a score of 81.5 compared to Canada's 73.5 in that category. Canada almost makes up for this with its strong institutions. In terms of Business Environment (a sub-category to "Institutions") Canada has the best ranking in the world. However, the United States has strong institutions as well, and the difference here is only 5.9 points.
Lastly, Canada's score was impacted by its weakness in the Human Capital and Research category, where it dropped from 13th to 22nd in ranking since the previous year's report. This weakness is described by the authors as being linked to "government spending on secondary education per pupil, where [Canada] ranks 65th".
Charted: What are Retail Investors Interested in Buying in 2023?
What key themes and strategies are retail investors looking at for the rest of 2023? Preview: AI is a popular choice.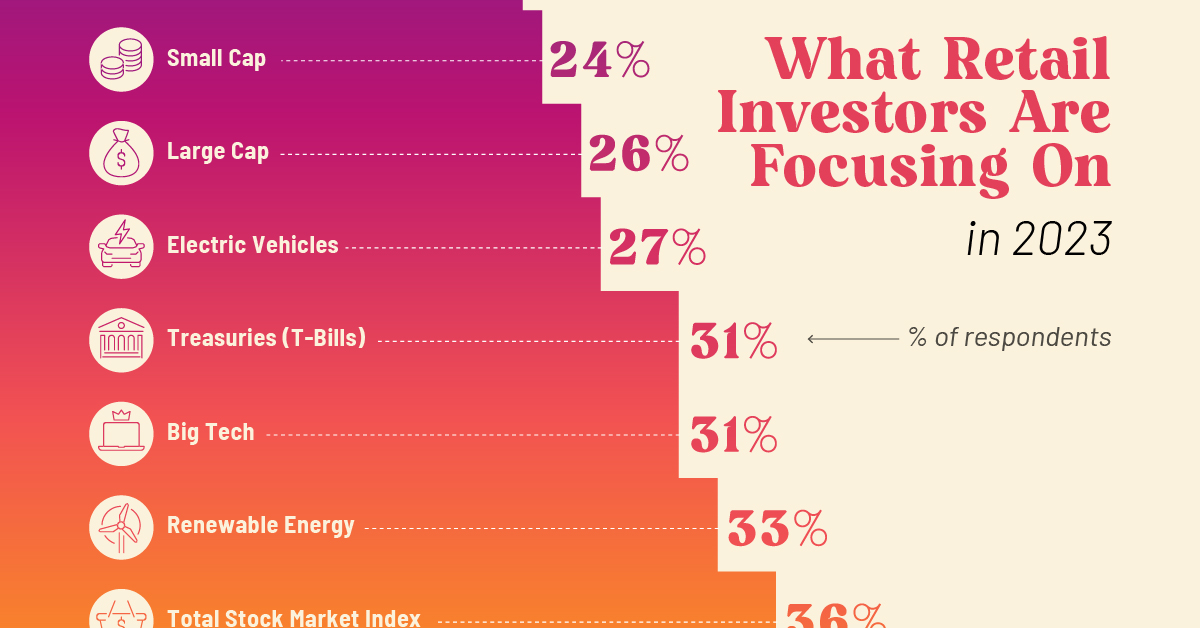 Charted: Retail Investors' Top Picks for 2023
U.S. retail investors, enticed by a brief pause in the interest rate cycle, came roaring back in the early summer. But what are their investment priorities for the second half of 2023?
We visualized the data from Public's 2023 Retail Investor Report, which surveyed 1,005 retail investors on their platform, asking "which investment strategy or themes are you interested in as part of your overall investment strategy?"
Survey respondents ticked all the options that applied to them, thus their response percentages do not sum to 100%.
Where Are Retail Investors Putting Their Money?
By far the most popular strategy for retail investors is dividend investing with 50% of the respondents selecting it as something they're interested in.
Dividends can help supplement incomes and come with tax benefits (especially for lower income investors or if the dividend is paid out into a tax-deferred account), and can be a popular choice during more inflationary times.
| Investment Strategy | Percent of Respondents |
| --- | --- |
| Dividend Investing | 50% |
| Artificial Intelligence | 36% |
| Total Stock Market Index | 36% |
| Renewable Energy | 33% |
| Big Tech | 31% |
| Treasuries (T-Bills) | 31% |
| Electric Vehicles | 27% |
| Large Cap | 26% |
| Small Cap | 24% |
| Emerging Markets | 23% |
| Real Estate | 23% |
| Gold & Precious Metals | 23% |
| Mid Cap | 19% |
| Inflation Protection | 13% |
| Commodities | 12% |
Meanwhile, the hype around AI hasn't faded, with 36% of the respondents saying they'd be interested in investing in the theme—including juggernaut chipmaker Nvidia. This is tied for second place with Total Stock Market Index investing.
Treasury Bills (30%) represent the safety anchoring of the portfolio but the ongoing climate crisis is also on investors' minds with Renewable Energy (33%) and EVs (27%) scoring fairly high on the interest list.
Commodities and Inflation-Protection stocks on the other hand have fallen out of favor.
Come on Barbie, Let's Go Party…
Another interesting takeaway pulled from the survey is how conversations about prevailing companies—or the buzz around them—are influencing trades. The platform found that public investors in Mattel increased 6.6 times after the success of the 'Barbie' movie.
Bud Light also saw a 1.5x increase in retail investors, despite receiving negative attention from their fans after the company did a beer promotion campaign with trans influencer Dylan Mulvaney.
Given the origin story of a large chunk of American retail investors revolves around GameStop and AMC, these insights aren't new, but they do reveal a persisting trend.