The Unparalleled Explosion in Cryptocurrencies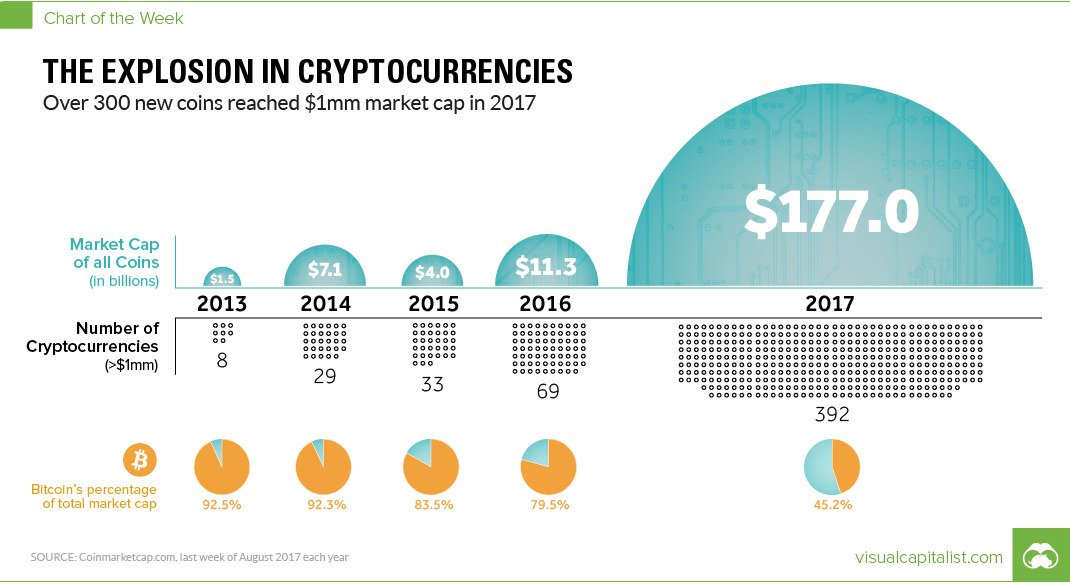 The Unparalleled Explosion in Cryptocurrencies
Over 300 new coins reached $1mm market cap in 2017
The Chart of the Week is a weekly Visual Capitalist feature on Fridays.
After the massive Bitcoin price surge in November 2013, the popularity of launching new cryptocurrencies took off along with it.
In fact, if you go back at historical snapshots around that time, you'll see that there were literally hundreds of new coins available to mine and buy. Here's one from November 2014 – a time when there were only 32 coins that were worth more than $1 million in market cap, and 354 coins that were worth less than $50,000, usually trading for tiny fractions of a cent.
It seems like everyone and their dog were launching cryptocurrencies back then, even if they were a longshot to materialize into anything.
Then vs. Now
Fast forward to today, and things haven't changed much – many people and companies are still launching new cryptocurrencies through a mechanism known as an ICO (Initial Coin Offering).

The only difference?
Today, there is real money at play, and in 12 months the number of cryptocurrencies worth >$1 million has soared by 468%. Meanwhile, the total value of all currencies together has skyrocketed by 1,466%.
Cryptocurrency is so hot, in fact, that raising money through ICOs has become more effective than traditional early-stage angel and VC funding.
For the long-time advocates of Bitcoin and other cryptocurrencies, it is now their moment in the sun.
And with this ICO activity and a wealth of opportunities emerging, a new breed of Bitcoin millionaire has been born. Like the wealthy tech founders that exit and give back to their local startup ecosystems, these new digital tycoons are using their newfound wealth to invest in upstart crypto projects that show potential – ultimately, further enhancing the ecosystem.
Out of the Woodwork
Of course, whenever there is a massive surge in prices and speculation, there are two other players that tend to come out of the woodwork.
One is of the scammer and shyster variety, and certainly crypto-fueled scams are a concern for everyone else in the broader ecosystem.
Perhaps even a bigger threat, however, are the regulators – and in recent weeks the SEC has voiced concerns about ICO "pump and dump" schemes, while Canadian authorities have clearly stated that "most ICOs need oversight".
With the market exploding with hundreds of new cryptocurrencies and the total value reaching $177 billion, a new series of questions has emerged: what risk do ICO scams ultimately have on market? And, could misguided regulation disrupt the momentum of the crypto boom?
Charting Grand Theft Auto: GTA's Budget and Revenues
Dive into the GTA budget through the years, with GTA VI set to be the most expensive video game of all time.
Charting Grand Theft Auto: GTA's Budget and Revenues
Over 10 years since the launch of Grand Theft Auto V (GTA V), the second most-sold video game in history, Rockstar Games has announced its sequel GTA VI will be "coming 2025."
As the anticipation only grows for this next big entry in the franchise, we take a look at the GTA budget through the years. How much have the last two games cost to make, how much have they earned, and how do they compare with the latest entry?
Data for this visualization comes from Statista, TweakTown, and Twitch Metrics.
How Much Has GTA VI Cost to Make?
The GTA franchise has grown enormously in scale from humble beginnings as a top-down, 2D video game in 1997. Fifteen installments later, the upcoming release, GTA VI, is estimated to be the most expensive video game to be made yet.
Here's a look at how much GTA VI and the last two major releases cost, and how much revenue they've earned as of August 2023.
| Year | Title | Production Costs ($) | Revenue ($) | Copies Sold |
| --- | --- | --- | --- | --- |
| 2025 (est.) | GTA VI | $2B (rumored) | N/A | N/A |
| 2013 | GTA V | $265M | $7.7B | 185M |
| 2008 | GTA IV | $100M | $2B | 25M |
In 2008, GTA IV cost around $100 million—already a budget that rivalled big Hollywood releases. However with 25 million copies sold, the game earned nearly $2 billion—a five-fold return on its production cost.
Five years later, GTA V (2013) cost more than $200 million to make—twice GTA IV's budget. A decade after its release, GTA V has generated close to $8 billion, with hundreds of millions in annual revenue from subscriptions and in-game purchases—a model that its successor is sure to follow.
In fact, subscription fees and in-game purchases represented 78% of Take-Two Interactive's (parent of GTA developer Rockstar Games) revenues in 2023.
Analysts estimate the to-be-released GTA VI's costs at $2 billion, including marketing and other expenses. A massive open-world (set in the Miami-inspired "Vice City"), cutting edge graphics, and a reportedly brand-new game engine are all reasons for the game's outsized budget.
For comparison, the current most expensive games to have been made include Red Dead Redemption 2 (also by Rockstar) and Star Citizen, both reportedly with a $500 million budget.
Meanwhile, Take-Two Interactive shares are up more than 50% for the year.