Under the Radar: Bank Executives Not Aware of Key Fintech Startups [Chart]
Flying Under The Radar
Bank Executives Not Aware of Key Fintech Startups
The Chart of the Week is a weekly Visual Capitalist feature on Fridays.
Mid-afternoon single malt scotch. Summers in the Hamptons. Six-digit bills for yacht maintenance. If you thought bankers live in a bubble, you are correct. Today's chart is even further evidence: banks are unaware of the very products and services that are vying to pull the rug from under them.
Fintech startups such as Square, The Lending Club, Nutmeg, and Betterment are taking the world by storm, but so far bank executives are unaware of their existence. A survey of 110 bank executives, ranging from directors to C-suite management, found that the majority of respondents do not know key fintech startups that are rapidly changing the banking landscape.
First, the benchmark: 92% of execs knew about Paypal, one of the first real fintech companies to exist. Paypal was started in 1998, IPO'd in 2002, and then was subsequently bought out by Ebay for $1.5 billion. Last year, the company moved $228 billion in 26 currencies across more than 190 nations.
Now, let's take a look at some of the newcomers:
The Lending Club has a $5 billion market capitalization, after debuting on the NYSE after a widely celebrated IPO in December 2014. It raised $870 million in the IPO, yet only 18% of banking execs know about the company and what it does.
Square was co-founded in 2009 by Jack Dorsey, who was previously involved with starting a little-known company called Twitter. Square is an electronic payments service that was last valued at $6 billion in 2014, when it did its last raise of $150 million. Somehow only 15% of bank execs know about this company.
Nutmeg is the company that bank execs know the most about. About 23% of respondents know of the company. Nutmeg is an online wealth management platform from the UK that last raised $32 million in 2014 at an undisclosed valuation.
Betterment is another online financial adviser that was valued at between $400 million and $500 million in early 2015 with billions of assets under management. Roughly 73% of respondents had never heard of this fintech startup.
This reminds us of the early days of file-sharing and eventually music streaming services on the internet. Music labels, which are almost all but gone of the way of the dinosaur, fought with legal threats, lobbying, legislation, and lawyers rather than by way of innovation.
That may be the only way that the big banks can fight if it becomes too late.
Visualized: Real Interest Rates by Country
What countries have the highest real interest rates? We look at 40 economies to analyze nominal and real rates after projected inflation.
Visualized: Real Interest Rates of Major World Economies
This was originally posted on Elements. Sign up to the free mailing list to get beautiful visualizations on real assets and resource megatrends each week.
Interest rates play a crucial role in the economy because they affect consumers, businesses, and investors alike.
They can have significant implications for people's ability to access credit, manage debts, and buy more expensive goods such as cars and houses.
This graphic uses data from Infinity Asset Management to visualize the real interest rates (ex ante) of 40 major world economies, by subtracting projected inflation over the next 12 months from current nominal rates.
ℹ️ Ex ante is Latin for "before the event", and in this case refers to the fact that this data uses projected inflation rates to calculate real interest rates.
Nominal Interest Rates vs. Real Interest Rates
Nominal interest rates refer to the rate at which money can be borrowed or lent at face value, without considering any other factors like inflation.
Meanwhile, the real interest rate is the nominal interest rate after taking into account inflation, reflecting the true cost of borrowing or lending. Real interest rates can fluctuate over time and are influenced by various factors such as inflation, central bank policies, and economic growth. They can also influence economic growth by affecting investment and consumption decisions.
According to the International Monetary Fund (IMF), since the mid-1980s, real interest rates across several advanced economies have declined steadily.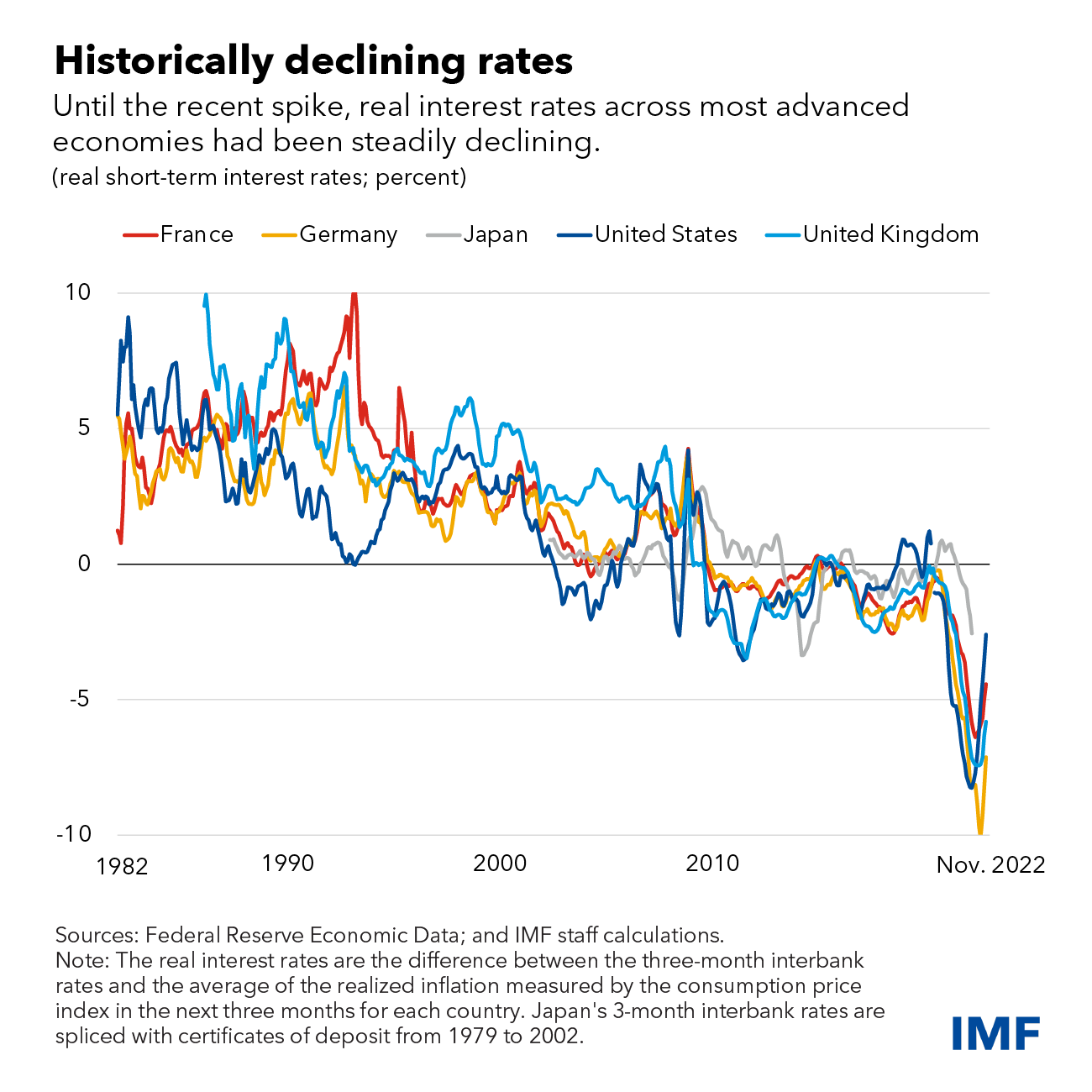 As of March 2023, Brazil has the highest real interest rate among the 40 major economies shown in this dataset.
Below we look at Brazil's situation, along with the data of the four other major economies with the highest real rates in the dataset:
| | Nominal Interest Rate | Real Interest Rate |
| --- | --- | --- |
| 🇧🇷 Brazil | 13.75% | 6.94% |
| 🇲🇽 Mexico | 11.00% | 6.05% |
| 🇨🇱 Chile | 11.25% | 4.92% |
| 🇵🇭 Philippines | 6.00% | 2.62% |
| 🇮🇩 Indonesia | 5.75% | 2.45% |
In general, countries with high interest rates offer investors higher yields on their investments but also come with higher risks due to volatile economies and political instability.
Below are the five countries in the dataset with the lowest real rates:
| | Nominal Interest Rate | Real Interest Rate |
| --- | --- | --- |
| 🇦🇷 Argentina | 78.00% | -19.61% |
| 🇳🇱 Netherlands | 3.50% | -7.42% |
| 🇨🇿 Czech Republic | 7.00% | -7.17% |
| 🇵🇱 Poland | 6.75% | -6.68% |
| 🇧🇪 Belgium | 3.50% | -6.42% |
Hyperinflation, as seen in Argentina, can lead to anomalies in both real and nominal rates, causing problems for the country's broader economy and financial system.
As you can see above, with a 78% nominal interest rate, Argentina's real interest rates remain the lowest on the planet due to a staggering annual inflation rate of over 100%.
Interest Rate Outlook
Increasing inflation and tighter monetary policy have resulted in rapid increases in nominal interest rates recently in many countries.
However, IMF analysis suggests that recent increases could be temporary.
Central banks in advanced economies are likely to ease monetary policy and bring interest rates back to pre-pandemic levels when inflation is brought under control, according to the fund.