The U.S. Stock Market in 2021: Best and Worst Performing Sectors
The Stock Market in 2021: Best and Worst Performing Sectors
It was another eventful year—and while it may not quite compare to the pandemonium experienced in 2020, it was still jam-packed with market moving events, such as:
The highly-anticipated rollout of COVID-19 vaccines
Supply chain disruptions and an ongoing semiconductor shortage
Record-setting stimulus spending and debt accumulation by governments around the world
The emergence of new variants of concern such as Delta and Omicron
Big political upsets and the Capitol riots
Rising evidence of (non-transitory) inflation
Let's take a look at which sectors thrived during the twists and turns of 2021—and which couldn't stomach the volatility.
Want extra insight into 2022?
Gain access to our 2022 Global Forecast series
Winners and Losers of 2021, by Sector
Our visualization today uses an augmented screenshot of the FinViz treemap, showing the final numbers posted for major U.S.-listed companies, sorted by sector and industry.
Here are the big beneficiaries of last year, along with those that got left behind.
The Winners
1. Big Tech
Over recent years, it's been no surprise to see Big Tech near the top of any list. In 2021, Alphabet continued its tear, soaring 65% to hit a $2 trillion market cap.
Microsoft finished up the year 51%, Apple up 34%, and even Meta Platforms (née Facebook) posted double-digit gains. Only Amazon had single-digit gains, up 2.4% in 2021.
2. Semiconductors
Who benefitted most from the ongoing semiconductor shortage? Those that design or manufacture them, of course.
Nvidia, for example, more than doubled its share price over the course of the year, with 125% growth. Other companies in the semiconductor equipment and materials space, such as ASML and Applied Materials, saw gains above 60%.
3. Oil and Gas Exploration & Production
2020 was touch-and-go for oil prices, with futures even sliding negative at one point. However, the most recent year was much kinder to those in the energy industry.
The WTI price started the year below $50 per barrel, but finished the year at $75 per barrel—a swing that makes a big difference in the economics of each barrel.
4. Real Estate Investment Trusts (REITs)
It was one of the biggest years in decades for REITs, which saw the FTSE Nareit All Equity REITs index have its best performance since 1976.
Those that know REITs are aware that returns vary by property sector, and this remains the case here. Specifically, it was industrial REITs—and especially self-storage REITs—that outperformed. Extra Space Storage, a REIT that invests in self-storage units, finished up the year 96% and is the perfect example of this.
5. Asset Management
With record-low interest rates and continued upheaval from COVID-19, it sets a perfect stage for opportunistic private equity firms.
The asset management industry as a whole did well in 2021, but specifically it was PE firms like Blackstone and KKR that took advantage, posting gains of 99% and 84% respectfully.
Honorable Mentions:
Banks, Retail Home Improvement, Building Materials, Healthcare Plans, Engineering & Construction
The Losers
1. Precious Metal Miners
Inflation took off in 2021, and a usual beneficiary of this is the precious metals sector.
However, in the last 12 months, this has not been the case. Both gold and silver finished with negative returns on the year, which hurt precious metal miners.
2. Chinese Ecommerce
Beijing has been cracking down on China's domestic tech sector as of late, and this has had a knock-on effect on companies like Pinduoduo, Alibaba, Baidu, and JD.com, which saw a collective collapse in their share prices.
All were down double digits, but Pinduoduo—the largest agriculture-focused technology platform in China—saw the highest amount of drag, falling over 67% on the year.
3. Solar Companies
Solar installations in the U.S. are chugging along at a record pace, as expected.
However, both regulatory uncertainty and supply chain problems have hampered stock prices in the short term. That's why companies like Sunrun, a residential solar panel company, saw a 51% dip in stock performance in 2021.
4. Internet Content and Information
Big tech continued its surge, but other tech-enabled content and information companies saw tougher years. One example of this is Zillow, which shuttered the doors on its home flipping operation after realizing losses of $500 million.
Zillow stock was down 54% on the year, and has laid off a quarter of its staff.
5. Big Credit
It was a mediocre year for the big credit card companies like Visa and Mastercard, which were both flat in terms of stock market performance. Meanwhile, PayPal fell 19%.
According to billionaire investor Chamath Palihapitiya, 2022 may not be any better. Days ago, he predicted that both Visa and Mastercard will be the biggest business failures in the coming year.
The 50 Most Valuable Companies in the World in 2023
The world's 50 most valuable companies represent over $25 trillion in market cap. We break this massive figure down by company and sector.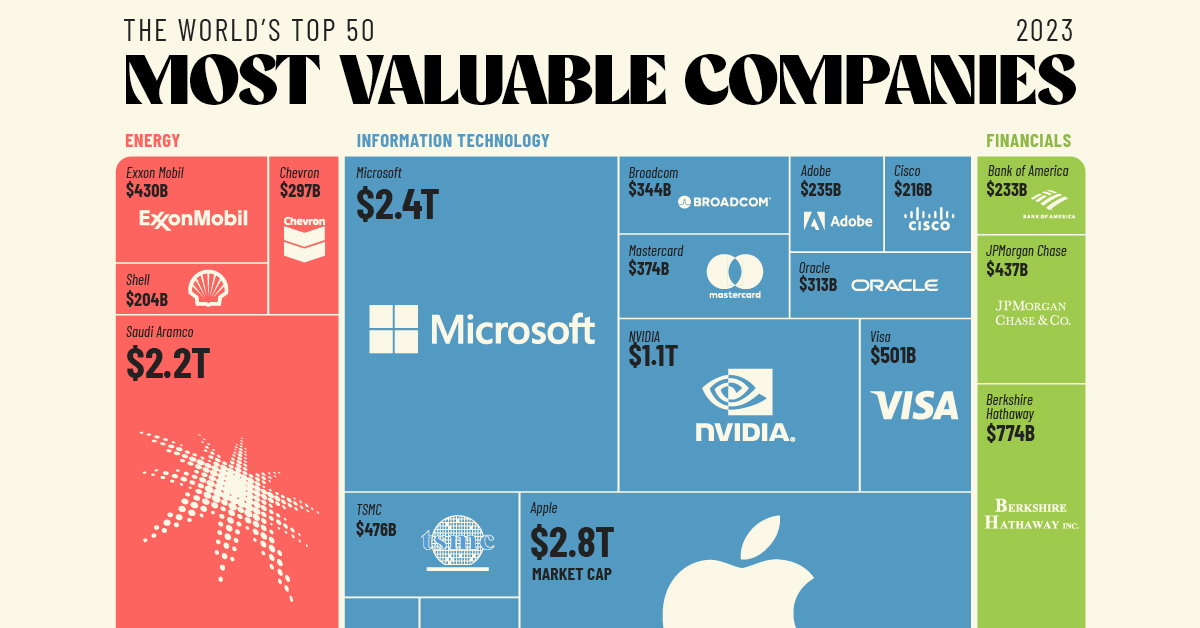 The 50 Most Valuable Companies in the World
Market capitalization, or market cap, is one measure of a company's value as determined by the stock market. It is easily calculated by multiplying the company's outstanding shares by its current share price.
In this graphic, we present a treemap chart that visualizes the world's top 50 publicly-traded companies by market cap, using data as of Aug. 16, 2023.
Editor's note: While market capitalization is a simple way to compare publicly-traded companies, it does have some limitations. Most importantly, it does not include debt or cash in the calculation.
Data and Highlights
All of the data we used to create this graphic is included in the table below.

Company
Sector
Country
Market Cap
(USD billions)
Apple
Information Technology
🇺🇸 US
$2,777
Microsoft
Information Technology
🇺🇸 US
$2,382
Saudi Aramco
Energy
🇸🇦 Saudi Arabia
$2,222
Alphabet
Communication Services
🇺🇸 US
$1,636
Amazon
Consumer Discretionary
🇺🇸 US
$1,385
NVIDIA
Information Technology
🇺🇸 US
$1,074
Berkshire Hathaway
Financials
🇺🇸 US
$774
Meta Platforms
Communication Services
🇺🇸 US
$754
Tesla
Consumer Discretionary
🇺🇸 US
$715
Eli Lilly
Health Care
🇺🇸 US
$519
Visa
Information Technology
🇺🇸 US
$501
TSMC
Information Technology
🇹🇼 Taiwan
$476
UnitedHealth
Health Care
🇺🇸 US
$469
Johnson & Johnson
Health Care
🇺🇸 US
$448
LVMH
Consumer Discretionary
🇫🇷 France
$442
JPMorgan Chase
Financials
🇺🇸 US
$436
Exxon Mobil
Energy
🇺🇸 US
$430
Walmart
Consumer Staples
🇺🇸 US
$429
Novo Nordisk
Health Care
🇩🇰 Denmark
$418
Tencent
Communication Services
🇨🇳 China
$389
Mastercard
Information Technology
🇺🇸 US
$374
Procter & Gamble
Consumer Staples
🇺🇸 US
$361
Broadcom
Information Technology
🇺🇸 US
$344
Samsung
Information Technology
🇰🇷 South Korea
$341
Home Depot
Consumer Discretionary
🇺🇸 US
$335
Kweichow Moutai
Consumer Staples
🇨🇳 China
$319
Nestlé
Consumer Staples
🇨🇭 Switzerland
$319
Oracle
Information Technology
🇺🇸 US
$313
Chevron
Energy
🇺🇸 US
$297
Merck
Health Care
🇺🇸 US
$276
AbbVie
Health Care
🇺🇸 US
$267
Coca-Cola
Consumer Staples
🇺🇸 US
$262
ASML
Information Technology
🇳🇱 Netherlands
$258
Pepsico
Consumer Staples
🇺🇸 US
$249
Costco
Consumer Staples
🇺🇸 US
$248
L'Oréal
Consumer Discretionary
🇫🇷 France
$244
Roche
Health Care
🇨🇭 Switzerland
$241
International Holding Company
Financials
🇦🇪 UAE
$240
Adobe
Information Technology
🇺🇸 US
$235
Bank of America
Financials
🇺🇸 US
$233
Alibaba
Consumer Discretionary
🇨🇳 China
$228
Hermès
Consumer Discretionary
🇫🇷 France
$227
Toyota
Consumer Discretionary
🇯🇵 Japan
$220
Novartis
Health Care
🇨🇭 Switzerland
$216
AstraZeneca
Health Care
🇬🇧 UK
$216
Cisco
Information Technology
🇺🇸 US
$216
Reliance Industries
Energy
🇮🇳 India
$213
McDonald
Consumer Discretionary
🇺🇸 US
$208
Thermo Fisher Scientific
Health Care
🇺🇸 US
$204
Shell
Energy
🇬🇧 UK
$204
From this data, we can see that there are only a handful of trillion dollar companies in the world, including Apple, Microsoft, Saudi Aramco, Amazon, Alphabet, and Nvidia.
Two former members of the trillion dollar club are Meta and Tesla, but both companies currently hover around the $700 billion range in terms of market capitalization. In 2022, Meta lost significant value as its earnings fell, while Tesla suffered from demand concerns.
Altogether, the 50 most valuable companies represent over $26.5 trillion in shareholder value. At a sector level, Information Technology is the most represented in the top 50, with $9.3 trillion in combined market cap. The next biggest sectors are Consumer Discretionary ($4.0 trillion) and Health Care ($3.3 trillion).
Geographical Breakdown
At a geographical level, the majority of the 50 most valuable companies are American. The following chart shows each country's tally.
After the U.S., the three most represented countries are Switzerland, France, and China, with three companies apiece.
From Switzerland are companies such as Nestlé, Roche, and Novartis. The latter two are major players in the healthcare industry.
France's companies in the top 50 list all belong to the Consumer Discretionary sector, and include fashion giants LVMH and Hermès, as well as L'Oréal, a global leader in cosmetics. Earlier this year, LVMH CEO Bernard Arnault was officially the richest person in the world with a fortune of $215 billion.
Finally, from the Chinese side are two globally-recognized names in Tencent and Alibaba. China's third company on this list is Kweichow Moutai, a partially state-owned producer of alcoholic beverages.