Ranked: The Top 25 Islands to Visit in 2022
Ranked: The Top 25 Islands to Visit in 2022
After a pandemic-induced slump, travel is finally started to pick up again in many parts of the world. After years of waiting, where are people itching to go to on their next vacation?
This graphic uses survey data from Travel + Leisure (T+L) magazine to highlight the 25 top-ranked islands to visit around the world.
Methodology of the World's Best Awards
Before diving in, it's worth summarizing the methodology and briefly explaining how T+L compiled their findings. Each year, T+L conducts an annual global survey that uncovers the top travel experiences worldwide.
In the survey, readers were asked to rate a range of things, including their favorite islands to visit. Islands were rated based on a few categories, including:
Activities and sights
Natural attractions and beaches
Food
Friendliness
Overall value
Each category was given a score of excellent, above average, average, below average, or poor. From there, each island's final tally was calculated, based on the average scores across all categories. Below, we'll dive into the 2022 rankings based on these scores.
The 5 Top-Ranked Islands to Visit
At the top of the list, there's a good mix of European, Asian, and South Pacific islands. Here's a look at the top five islands, along with some context that explains why respondents ranked them so highly:
1. Ischia, Italy
Nestled in the gulf of Naples about an hour away from the mainland, this charming volcanic island takes first place because of its charming villages, pristine beaches, and welcoming locals.
It's also well-known for its hot springs, which are easily accessible by either taxi or public transport.
2. The Maldives
Famous for its baby-blue waters, respondents ranked the Maldives as their second-favorite island destination. Located in the Indian Ocean, this collection of islands is well-known for stunning beaches, as well as excellent snorkeling and diving. With a wide range of luxury resorts, the Maldives is also a popular honeymoon destination.
3. Bali, Indonesia
This Indonesia island ranks third on the list because of its picturesque natural beauty, rich culture, and a diverse range of outdoor activities like surfing, diving, and hiking. It's also well-known for its art, music, and traditional dance performances. As the only predominantly Hindu province in Indonesia, visitors get a chance to learn more about Balinese Hinduism.
4. Milos, Greece
Located in the Aegean Sea, Milos is well-loved by visitors because of its tranquil beaches. And while the island is a popular tourist destination, it offers a slightly slower pace that its neighbors Santorini or Mykonos.
5. Fiji Islands
This remote group of islands in the South Pacific Ocean ranked fifth on the list because of their rich marine life and friendly locals. Well-known for its excellent diving, it's been labeled the "soft coral capital of the world."
Top Ranking Islands, by Region
Seven of the top 25 island destinations are in Europe, making it first on the list by region. Southeast Asia comes in close second, with six islands in the top 25.
| Region | # of Top 25 Islands |
| --- | --- |
| Europe | 7 |
| Southeast Asia | 6 |
| The Caribbean | 3 |
| North America | 3 |
| Pacific Ocean | 2 |
| Oceania | 2 |
| South Asia | 1 |
| South America | 1 |
As the data shows, a majority of the islands rank highly because of their beautiful beaches and thriving marine life.
However, there are a couple of outliers on the list. One good example of an outlier is Mackinac Island, which is well-loved for its historical attractions (Mackinac Island is home to a colonial fort built in the 18th century).
One thing is clear from these rankings—whether you're a diver, a history buff, or a foodie, there are a number of world-class island destinations that offer an experience of a lifetime.
Visualizing Population Density Patterns in Six Countries
These maps show the population density of several countries, using 3D spikes to denote where more people live.

Creator Program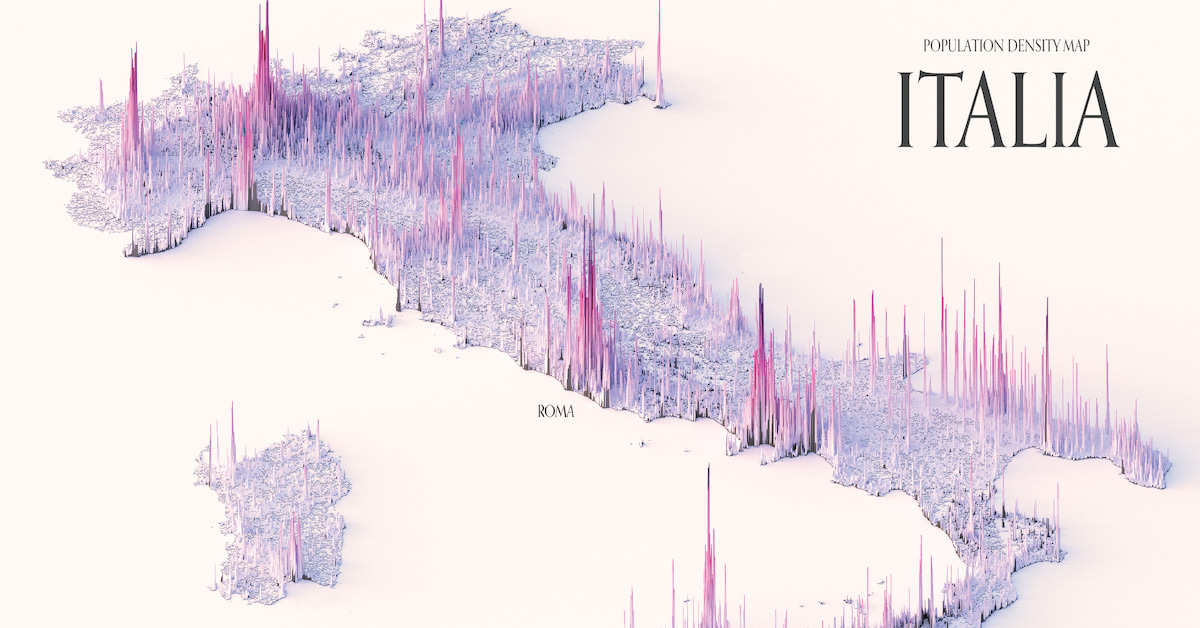 As of 2022, Earth has 8 billion humans. By 2050, the population is projected to grow to 10 billion.
In the last 100 years, the global population more than quadrupled. But none of this growth has been evenly spread out, including within countries.
This series of 3D maps from Terence Teo, an associate professor at Seton Hall University, renders the population density of six countries using open-source data from Kontur Population. He used popular programming language R and a path-tracing package, Rayshader, to create the maps.
France and Germany: Population Density Spikes and Troughs
Let's take a look at how the population spreads out in different countries around the world. Click the images to explore higher-resolution versions.
France is the world's 7th largest economy and second-most-populous country in the EU with 65 million people. But a staggering one-fifth of the French population lives in Paris and its surrounding metro—the most populous urban area in Europe.
Many residents in the Paris metropolitan area are employed in the service sector, which makes up one-third of France's $2.78 trillion gross domestic product.
Unlike France, Germany has many dense cities and regions, with Berlin, Munich, Stuttgart, and Cologne all having over a million residents. Berlin is the most populated at 3.5 million residents in the city proper, and 6 million in the wider urban area.
That said, the relatively recent reunification of West and East Germany in 1991 meant that post-WWII growth was mostly concentrated in West Germany (and West Berlin).
Italy and Chile: Coast to Coast
In Italy, another phenomenon affects population density and urban development—a sprawling coastline.
Despite having a large population of 59 million and large metropolitan areas throughout, Italy's population spikes are closer to the water.
The port cities of Genoa, Napoli, and Palermo all have large spikes relative to the rest of the country, as does the capital, Rome. Despite its city center located 15 miles inland from the sea, it extends to the shore through the district of Ostia, where the ancient port of Rome existed.
Meanwhile in Chile, stuck between the Andes to the east and the Pacific Ocean to the west, population spikes corroborate with its many port towns and cities.
However, the country is more concentrated than Italy, with 40% of its residents congregating around the capital of Santiago.
Turkey and Canada: Marred by Mountains and Climes
Though Chile has difficulties with terrain, it is relatively consistent. Other countries have to attempt to settle many different climes—regions defined by their climates.
Mountains to the south and east, a large, semi-arid plateau, and even a small desert leave few centers of urban growth in Türkiye.
Predictably, further west, as the elevation comes down to the Aegean and Mediterranean Seas, population spikes begin to heighten. The largest of course is the economic and cultural hub of Istanbul, though the capital Ankara is also prominent with more than 5 million residents.
In Canada, the Rocky Mountains to the west and freezing cold temperatures in the center and north account for the large country's relative emptiness.
Though population spikes in Western Canada are growing rapidly, highly populous urban centers are noticeably concentrated along the St. Lawrence River, with the Greater Toronto Area accounting for more than one-sixth of the country's 39 million people.
Increasing Urbanization
According to the World Bank, more than half of the world's population currently lives in cities, and that trend is only growing.
By 2050, 7 out of 10 people are projected to live in cities. This congregation makes cities a beehive of productivity and innovation—with more than 80% of the world's GDP being generated at these population centers.
It's in this context that mapping and studying urban development becomes all the more important, particularly as policymakers try their hand at sustainable urban planning.
As Teo puts it:
"By showing where people are (and are not), they show us where political and economic power is concentrated, and perhaps where and who our governments represent."