Ranked: The Top 10 Richest People on the Planet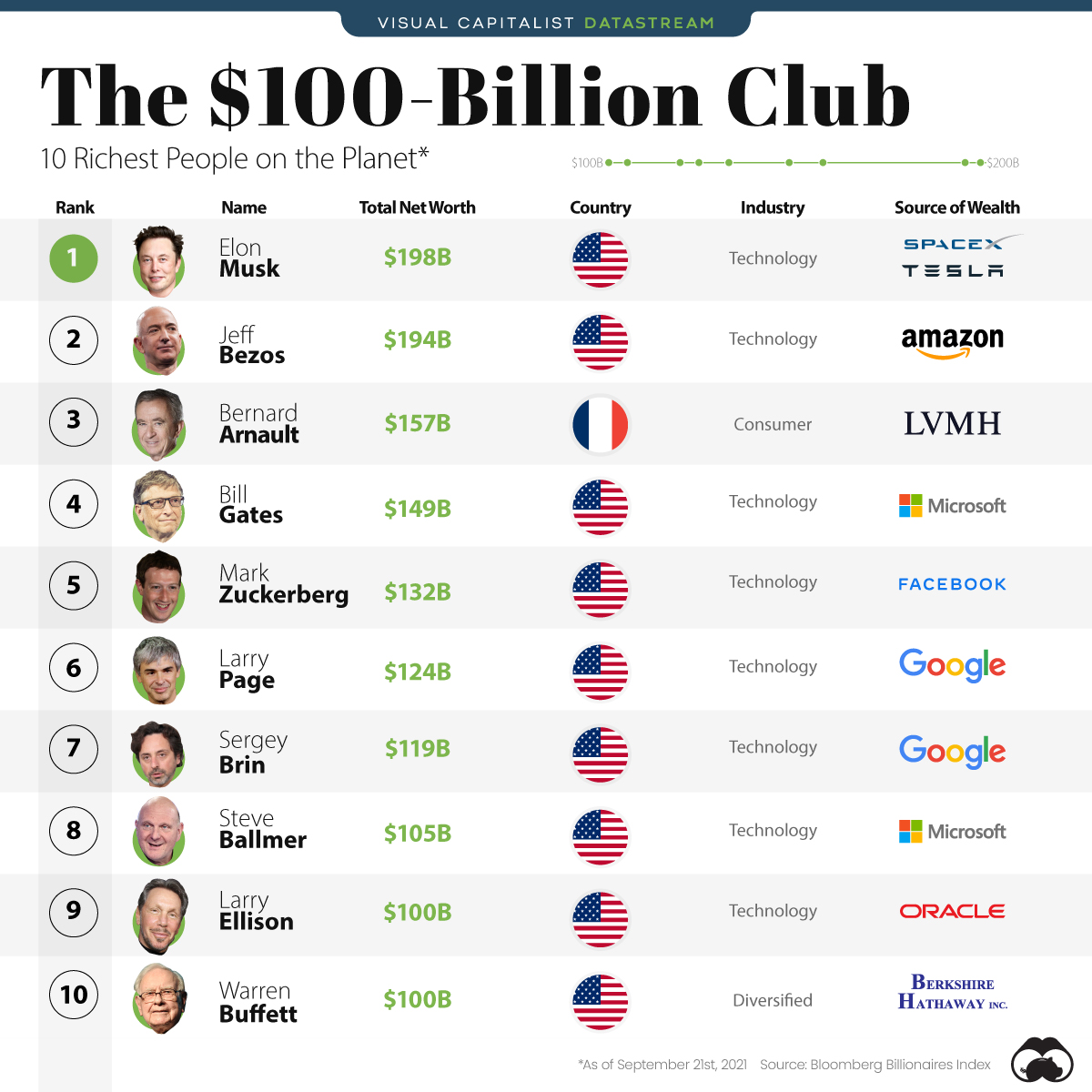 The Briefing
Elon Musk is currently the richest person in the world, with a total net worth of $198 billion as of Sept 21, 2021
Jeff Bezos comes in second place, with a net worth of $194 billion
Ranked: The Top 10 Richest People on the Planet
The top 10 richest people on the planet have a combined net worth of $1.4 trillion. For some context, that's roughly the same size as Australia's GDP.
Who are these ultra-wealthy individuals, and what's the source of their wealth? Here's a look at the top 10 richest people on the planet, and how they've made their billions.
Who's in the $100 Billion Club?
Elon Musk is currently the richest of them all, with a total net worth of $198 billion. That's $60 billion more than the entire group's average of $138 billion.
| Rank | Name | Total Net Worth | Country | Industry | Source of Wealth |
| --- | --- | --- | --- | --- | --- |
| 1 | Elon Musk | $198 B | U.S. | Technology | Tesla, Space X |
| 2 | Jeff Bezos | $194 B | U.S. | Technology | Amazon |
| 3 | Bernard Arnault | $157 B | France | Consumer | LVMH |
| 4 | Bill Gates | $149 B | U.S. | Technology | Microsoft |
| 5 | Mark Zuckerberg | $132 B | U.S. | Technology | Facebook |
| 6 | Larry Page | $124 B | U.S. | Technology | Google |
| 7 | Sergey Brin | $119 B | U.S. | Technology | Google |
| 8 | Steve Ballmer | $105 B | U.S. | Technology | Microsoft |
| 9 | Larry Ellison | $100 B | U.S. | Technology | Oracle |
| 10 | Warren Buffett | $100 B | U.S. | Diversified | Berkshire Hathaway |
This is fairly unsurprising considering how well Tesla stock has been performing over recent years. While many skeptics expect the Tesla bubble to burst eventually—including famous investor Michael Burry—so far, the car company's value has continued to surge.
With a current market cap of $768 billion, Tesla's worth more than the next six largest car manufacturers combined.
Musk took the top spot from Jeff Bezos, who just a few months ago, held the title as the world's richest person. However, it's worth noting that things could change at the drop of a hat, since the pair are constantly neck and neck.
Third on the list is Bernard Arnault, CEO of the luxury brand conglomerate Louis Vuitton Moët Hennessy (LVMH), which owns Louis Vuitton, Dior, Fendi, Loro Piana, and Bulgari. Arnault is the wealthiest person in Europe, and actually even became the wealthiest in the world for a brief stint in May.
The Money's in Tech (and in the U.S.)
When looking at this ranking, there are two obvious trends:
Most of these billionaires are in the tech industry, apart from Bernard Arnault and Warren Buffett
All are men located America, with the exception of Arnault
Considering America's tech sector is only expected to grow in the coming years, it's likely that American tech billionaires will continue their reign for the foreseeable future.
The Decline of U.S. Car Production
U.S. car production has been in a long-term downward trend since the 1970s. We examine some of the factors driving this trend.
The Briefing
U.S. auto manufacturing has been in a downward trend since the 1970s
Overseas competitors have gradually eroded the market share of America's Big Three
Recent events like the global chip shortage present further setbacks
U.S. Car Production Falls to a New Low
Germany may have been the birthplace of the automobile, but it was America that developed the methods for mass production.
Created in 1913, Henry Ford's assembly line greatly reduced the time it took to build a car. This also made cars more affordable, and America's automotive industry quickly became the largest in the world. As we can see in the chart above, this dominance wouldn't last forever.
From a high of nearly 10 million cars per month in the 1970s, the U.S. produced just 1.4 million in June 2021. Here are some reasons for why the country produces a fraction of the cars it used to.
Global Competition
America's Big Three (Ford, GM, and Chrysler*) have been unable to defend their market share from overseas competitors. The following table shows how Honda and Toyota were able to break into the U.S. market over a span of just five decades.
Year
Ford
GM
Chrysler
Big Three
Total Market Share
Honda
Toyota
1960
29.3%
45.7%
10.4%
85.4%
-
-
1970
28.3%
38.9%
14.9%
82.1%
-
2.0%
1980
20.5%
44.2%
9.1%
73.8%
3.3%
6.2%
1990
23.8%
35.2%
12.0%
71.0%
6.0%
7.6%
2000
22.6%
28.0%
13.0%
63.6%
6.5%
9.1%
2010
16.4%
18.8%
9.2%
44.4%
10.5%
15.0%
*Chrysler is now a part of Stellantis N.V., a multinational corporation.
Source: WardsAuto
The 1970s presented an incredible opportunity for Honda and Toyota, which at the time were known for producing smaller, more fuel-efficient cars.
First was the Clean Air Act of 1970, which imposed limits on the amount of emissions a car could produce. Then came the 1973 oil crisis, which caused a massive spike in gasoline prices.
As consumers switched to smaller cars, American brands struggled to compete. For example, the flawed design of the Ford Pinto (Ford's first subcompact car) was exposed in 1972 after one exploded in a rear-end collision. The ensuing lawsuit, Grimshaw v. Ford Motor Company, undoubtedly left a stain on the automaker's reputation.
Production Moves to Mexico
2018 was a controversial year for GM as it came under fire by the Trump administration for closing four of its U.S. plants. That same year, GM became Mexico's biggest automaker.
The decision to outsource is well-founded from a business standpoint. Mexico offers cheaper labor, lower taxes, and close proximity for logistics. Altogether, these benefits add up to roughly $1,200 in savings per car.
It's important to note that GM isn't alone in this decision. BMW, Ford, and many others have also invested in Mexico to produce cars destined for the United States.
Shifts in the Market
There are other, less obvious factors to consider too.
Modern cars are much more reliable, meaning Americans don't need to purchase a new one as often. 2020 marks four consecutive years of increase for the average vehicle age in the U.S., which now sits at 12 years old.
"In the mid-'90s, 100,000 miles was about all you would get out of a vehicle. Now, at a 100,000 miles a vehicle is just getting broken in."
– Todd Campau, Associate Director, IHS Markit
Rising car prices could also be playing a part. The average price of a new car was $41,000 as of July 2021, up from around $35,700 in May 2018.
Can U.S. Car Production Make a Comeback?
Recent events are a grim reminder of the direction U.S. car production is heading.
As part of its plant closures, GM shuttered its Lordstown facility in 2019. This broke a 2008 agreement in which GM pledged to keep 3,700 employees at the location through 2028. The company had received over $60 million in tax credits as part of this deal, and $28 million was ordered to be paid back.
COVID-19 has presented further issues, such as the ongoing chip shortage which has impacted the production of more than 1 million U.S.-made vehicles.
Not all hope is lost, however.
Tesla now employs over 70,000 Americans across its production facilities in California, Nevada, New York, and soon, Texas. The company is joined by Lucid Motors and Rivian, two entrants into the EV industry that have both opened U.S. plants in 2021.
After China's Crypto Ban, Who Leads in Bitcoin Mining?
In September 2021, China issued a blanket ban on all crypto activities. Click to find out which country is the new leader in bitcoin mining. (Sponsored Content)
The Briefing
China issued a ban on all crypto activities in September 2021
As a result, the U.S. has greatly increased its share of global Bitcoin hash rate
Bitcoin Mining Moves to America
Bitcoin mining is a process that verifies transactions on the blockchain ledger, while also bringing new bitcoins into circulation.
To be successful at this, cryptominers require vast amounts of computing power, meaning electricity becomes one of their most significant costs. This pushes them to locate wherever electricity is cheapest.
For years, China was the optimal location—the country has an abundance of cheap, coal-powered electricity. However, in September 2021, the Chinese government issued a blanket ban on all crypto activities.
In this graphic sponsored by Global X ETFs, we illustrate a movement that's being dubbed "the great mining migration".
Bitcoin Hashrate by Country
The University of Cambridge maintains various datasets on the Bitcoin blockchain, including power consumption and hash rate. Global hash rate measures the total computational power that is dedicated to mining.
The table below shows a breakdown of global hashrate by country.
Country
Share of Global Hash rate
as of September 2019 (%)
Share of Global Hash rate
as of August 2021 (%)
🇺🇸 U.S.
4.1%
35.4%
🇰🇿 Kazakhstan
1.4%
18.1%
🌎 Other
6.1%
13.5%
🇷🇺 Russia
5.9%
11.2%
🇨🇦 Canada
1.1%
9.6%
🇲🇾 Malaysia
3.3%
4.6%
🇩🇪 Germany
0.9%
4.5%
🇮🇷 Iran
1.7%
3.1%
🇨🇳 China
75.5%
0.0%
This data shows us how dramatic the shift has been. Just two years ago, China accounted for over three quarters of global Bitcoin hashrate. The country is now expected to miss out on $6 billion in annual cryptomining revenues.
The New Bitcoin Capital of the World
So why are cryptominers choosing the U.S. as their new home? For starters, America offers a greater level of relative stability.
If you're looking to relocate hundreds of millions of dollars of miners out of China, you want to make sure you have geographic, political, and jurisdictional stability.
– Darin Feinstein, Founder, Core Scientific
Within the U.S., Texas is one of the hottest spots for cryptominers to relocate. The state not only has plenty of open land, but also a deregulated power grid. This allows cryptominers to negotiate rates with different power providers and sign longer-term contracts.
According to Square, cryptomining has environmental benefits, too. The financial services company believes that bitcoin mining is in fact a complementary technology for clean energy production and storage.