Top 10 Habits of Millionaires for Building Wealth
The Top 10 Habits of Millionaires for Building Wealth
If building large amounts of wealth was easy, then almost anyone could do it.
However, we know that only 6.4% of American adult population are millionaires, and the reality is that not all of those are self-made.
What habits and practices helped this elite group in accumulating large amounts of wealth, and how can we apply these to our own careers to become more financially independent?
Copying the Habits of Millionaires
Today's infographic from StocksToTrade.com skips the silver bullets and "get rich quick" tricks to show the real habits of millionaires that have led to wealth accumulation over time.
Many of these habits are not particularly glamorous, but remain essential for the long-term success of entrepreneurs and investors. They tend to fall in categories such as: hard work, persistence, passion, acquiring self-knowledge, associating with the right people, and staying healthy.
Here are the most important statistics to consider:
88% of the rich devote 30 minutes or more each day to self-education or self-improvement.
76% of the rich aerobically exercise for 30 minutes or more, every day.
86% of the rich who liked what they did for work made $3.4 million in 32 years
7% who loved what they did made $7.4 million in 12 years.
92% of rich say good luck had nothing at all to do with their wealth. They just never gave up.
88% of millionaires believe relationships are critical to financial success.
94% of wealthy individuals read current events every day.
88% of the rich people say that saving money was incredibly important to their success.
93% of the self-made millionaires attributed their wealth to their mentors' help.
86% of wealthy, successful people associate with other success-minded people.
79% of the rich read educational, career-related material.
In other words, it's not a simple idea or plain old luck that leads to success.
The stats above show it is the daily habits and practices that count in the long run.
How Does Your Personality Type Affect Your Income?
Can your Myers–Briggs personality type impact how much you make? See for yourself with this breakdown of average income for all 16 personality types.
How Does Your Personality Type Affect Your Income?
You've just finished giving a presentation at work, and an outspoken coworker challenges your ideas. Do you:
a) Engage in a friendly debate about the merits of each argument, or
b) Avoid a conflict by agreeing or changing the subject?
The way you approach this type of situation may influence how much money you earn.
Today's infographic comes to us from Truity, and it outlines the potential relationship between personality type and income.
Through the Myers-Briggs Lens
The Myers-Briggs personality test serves as a robust framework for analyzing the connection between personality and income, in a way that is easily understood and familiar to many people.
The theory outlines four personality dimensions that are described using opposing traits.
Extraversion vs. Introversion: Extroverts gain energy by interacting with others, while introverts draw energy from spending time alone.
Sensing vs. Intuition: Sensors prefer concrete and factual information, while intuitive types use their imagination or wider patterns to interpret information.
Thinking vs. Feeling: Thinkers make rational decisions based on logic, while feelers make empathetic decisions considering the needs of others.
Judging vs. Perceiving: Judging types organize their life in a structured manner, while perceiving types are more flexible and spontaneous.
For example, someone who aligns with extraversion, sensing, thinking, and judging would be described as an ESTJ type.
The researchers surveyed over 72,000 people to measure these four personality preferences, as well as 23 unique facets of personality, income levels, and career-related data.
Traits With the Highest Earning Potential
Based on the above four dimensions, extroverts, sensors, thinkers, and judgers tend to be the most financially successful. Diving into specific personality characteristics, certain traits are more closely correlated with higher income.

| Personality Type | Average Income Advantage (Annual) | Trait(s) Most Correlated With Income Advantage |
| --- | --- | --- |
| Extroverts | $9,347 | Expressive, Energetic, Prominent |
| Sensors | $1,910 | Conceptual |
| Thinkers | $8,411 | Challenging, Objective, Rational |
| Judgers | $6,903 | Ambitious |
For instance, extroverts are much more likely to have higher incomes if they are quick to share thoughts, have high energy, and like being in the public eye. Thinkers also score high on income potential, especially if they enjoy debates, make rational decisions, and moderate their emotions.
The Top Earners
Which personality types earn the highest incomes of all? Extroverted thinking types dominate the ranks again.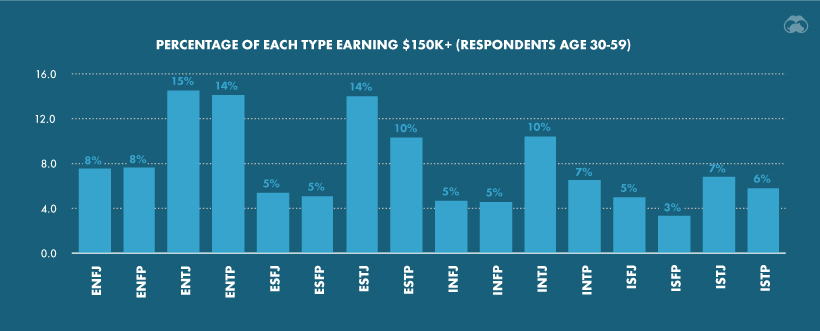 [>
Source: Truity
The one exception is INTJs, with 10% earning an annual salary of $150K or more in their peak earning years.
Personality and the Gender Pay Gap
With all these factors in mind, the researchers analyzed whether personality differences would affect the gender pay gap.
When the average salaries were separated for men and women, the results were clear: men of almost all personality types earn more than the average income for the sample overall, while all but two personality types of women earned less than the average.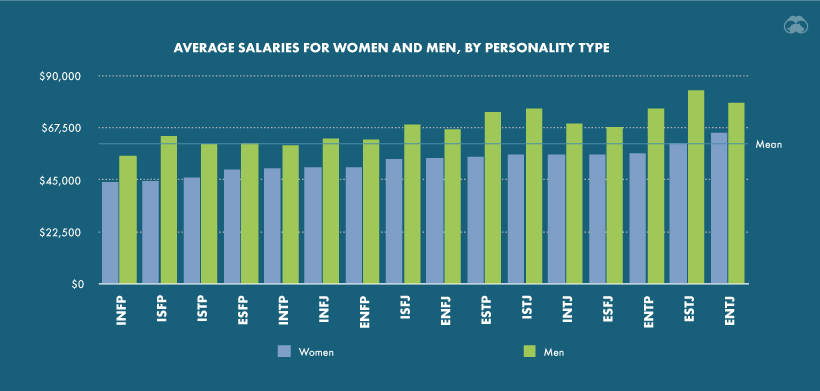 Source: Truity
In fact, women with high-earning personality types still earn less than men who do not possess those traits. For example, extroverted women earn about $55,000 annually, while introverted men earn an average of over $64,000.
Maximizing Your Potential
Are the introverted personalities of the world doomed to lower salaries? Not necessarily—while personality does play a role, many other factors contribute to income levels:
Level of education
Years of experience
Local job market
Type of industry
The particular career
Not only that, anyone can work on the two specific personality traits most aligned with higher incomes: set ambitious goals, and face conflict head-on to ensure your voice is heard.
Mapped: The World's Biggest Private Tax Havens
What countries or territories do the ultra-wealthy use as tax havens?
The World's Biggest Private Tax Havens
When the world's ultra-wealthy look for tax havens to shield income and wealth from their domestic governments, where do they turn?
If you're putting money in offshore bank accounts in order to save on taxes, there are two main criteria you're looking for: secrecy and accessibility. Based on pop culture and media reports, you might imagine a secretive bank in Switzerland or a tiny island nation in the Caribbean.
And though there is some truth to that logic, the reality is that the world's biggest tax havens are spread all over the world. Some of them are small nations as expected, but others are major economic powers that might be surprising.
Here are the world's top 20 tax havens, as ranked by the 2020 Financial Secrecy Index (FSI) by the English NGO Tax Justice Network.
Which Countries are the Biggest Tax Havens?
The FSI ranks countries and territories from all over the world on two criteria: secrecy and scale.
Secrecy Score: How well the jurisdiction's banking system can hide money. This includes analysis of ownership registration, legal entity transparency, tax and financial regulations, and cooperation with international standards.
Global Scale Weight: What is the jurisdiction's share of the world's total cross-border financial services? This metric is based primarily on the IMF's Balance of Payments statistics.
By weighing a country's ability to hide money by its relative share of offshore financial services, we see the tax havens with the biggest impact on the global economy.
| Rank | Jurisdiction | Region |
| --- | --- | --- |
| 1 | 🇰🇾 Cayman Islands | Caribbean |
| 2 | 🇺🇸 United States | North America |
| 3 | 🇨🇭 Switzerland | Europe |
| 4 | 🇭🇰 Hong Kong | East Asia |
| 5 | 🇸🇬 Singapore | Southeast Asia |
| 6 | 🇱🇺 Luxembourg | Europe |
| 7 | 🇯🇵 Japan | East Asia |
| 8 | 🇳🇱 Netherlands | Europe |
| 9 | 🇻🇬 British Virgin Islands | Caribbean |
| 10 | 🇦🇪 United Arab Emirates | Middle East |
| 11 | 🇬🇬 Guernsey | Europe |
| 12 | 🇬🇧 United Kingdom | Europe |
| 13 | 🇹🇼 Taiwan | East Asia |
| 14 | 🇩🇪 Germany | Europe |
| 15 | 🇵🇦 Panama | Caribbean |
| 16 | 🇯🇪 Jersey | Europe |
| 17 | 🇹🇭 Thailand | Southeast Asia |
| 18 | 🇲🇹 Malta | Europe |
| 19 | 🇨🇦 Canada | North America |
| 20 | 🇶🇦 Qatar | Middle East |
At a glance, the top 20 tax havens are spread out across regions. Just under half of the list is located in Europe, but the rest are spread out across the Americas and Asia.
And the jurisdictions are opposites in many ways. They include financial powerhouses like the U.S., Japan, and the UK as well as smaller nations and territories like the Cayman Islands, Hong Kong, and Luxembourg.
But one surprising thing many of them have in common is a link to England. In addition to the UK, four of the top 20 tax havens—Cayman Islands, British Virgin Islands, Guernsey, and Jersey—are British Overseas Territories or Crown Dependencies.
Also worth noting is the importance of scale in the rankings. The highest ranking jurisdictions by secrecy score were actually the Maldives, Angola and Algeria, but they represent less than 0.1% of total offshore financial services.
Best Place To Hide Private Vs. Corporate Tax
Some of the listed tax havens might be confusing to nationals of those countries, but that's where relativity is important. The U.S. and Canada might not be tax havens for American or Canadian nationals, but the ultra-wealthy from East Asia and the Middle East are reported to utilize them due to holes in foreign tax laws. Likewise, the UAE has reportedly become a tax haven for Africa's ultra-wealthy.
In addition, many of the countries used as tax havens for individual wealth are also utilized by corporations.
The Tax Justice Network's 2021 assessment of corporate tax havens listed the British Virgin Islands, Cayman Islands, and Bermuda as the top three tax corporate tax havens.
While individuals might create shell companies in tax havens to hide their wealth, corporations are usually directly incorporated in the tax haven in order to defer taxes.
But the tax haven landscape might soon shift. The G7 struck a deal in June 2021 to start taxing multinational corporations based on the revenue generated in each country (instead of where the company is based), as well as setting a global minimum tax of 15%. In total, a group of 130 countries have agreed to the deal, including India, China, the UK, and the Cayman Islands.
As the campaign to bring back deferred taxes ramps up, the question becomes one of response. Will the ultra-wealthy individuals and corporations start to work in tandem with the new rules, or discover new workarounds and tax havens?