The Top 10 Emerging Technologies of 2016
Image courtesy of: Futurism
The Top 10 Emerging Technologies of 2016
Sometimes the world is not yet ready for a new technology to enter the fray.
Virtual reality, for example, sat on the sidelines for many years. The industry went into hibernation around the time of the Dot Com Bust, and it has only recently re-emerged with promise.
It is only today that big companies like Microsoft, Google, Samsung, HTC, and Facebook have the infrastructure, peripheral technologies, and capital in place to properly commercialize the technology. Now, instead of using primitive 300 x 200 pixel LCD displays that were prohibitively expensive in the 90s, we are looking at a world where display will be in beautiful 4k quality. Meanwhile, accelerometers and gyroscopes can measure head movement, and modern computing power can reduce lag and latency. It took many years, but finally the true potential of VR is being realized.
Like virtual reality, there are 10 other emerging technologies that are finally ready for prime time. Some, like the recent advances in artificial intelligence, have been decades in the making. Other emerging technologies such as the blockchain are relatively new phenomenons that are also ready for their time in the spotlight.
Emerging Technologies of 2016
Nanosensors and the Internet of Nanothings is one of the most exciting areas of science today. Tiny sensors that are circulated in the human body or construction materials will be able to relay information and diagnostics to the outside world. This will have an impact on medicine, architecture, agriculture, and drug manufacturing.
Next Generation Batteries are helping to eliminate one of the biggest obstacles with renewable energy, which is energy storage. Though not commercially available yet, this area shows great promise – and it is something we are tracking in our five-part Battery Series.
The Blockchain had investment exceeding $1 billion in 2015. The blockchain ecosystem is evolving rapidly and will change the way banking, markets, contracts, and governments work.
2d Materials such as graphene will have an impact in a variety of applications ranging from air and water filters to batteries and wearable technology.
Autonomous Vehicles are here, and the potential impact is huge. While there are still a few problems to overcome, driverless cars will save lives, cut pollution, boost economies, and improve the quality of life for people.
Organs-on-Chips, which are tiny models of human organs, are making it easier for scientists to test drugs and conduct medical research.
Petrovskite Solar Cells are making photovoltaic cells easier to make and more efficient. They also allow cells to be used virtually anywhere.
Open AI Ecosystem will allow for smart digital assistants in the cloud that will be able to advise us on finance, health, or even fashion.
Optogenetics, or the use of light and color to record activity in the brain, could help lead to better treatment of brain disorders.
Systems Metabolic Engineering will allow for building block chemicals to be built with plants more efficiently than can be done with fossil fuels.
Original graphic by: Futurism
Who Owns the Most Satellites?
Despite Starlink's dominance in the industry, the company is set to face intense competition in the coming years.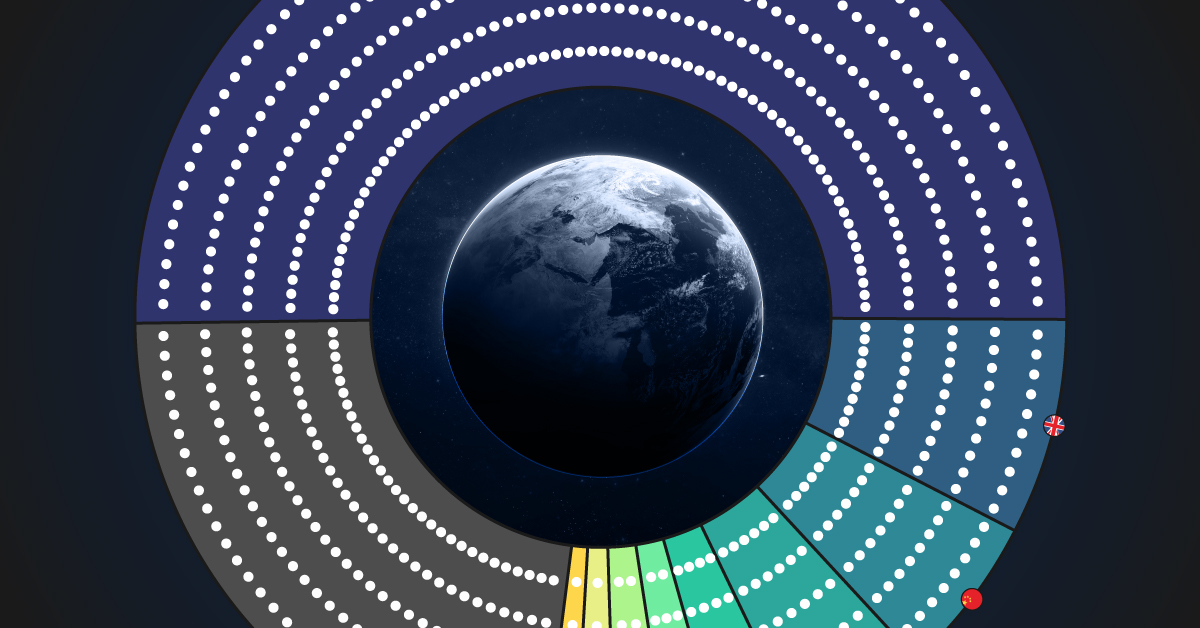 Who Owns the Most Satellites?
Nearly 7,000 satellites orbit the Earth, serving vital functions such as communication, navigation, and scientific research.
In 2022 alone, more than 150 launches took place, sending new instruments into space, with many more expected over the next decade.
But who owns these objects? In this graphic, we utilize data from the Union of Concerned Scientists to highlight the leaders in satellite technology.
SpaceX's Dominance in Space
SpaceX, led by Elon Musk, is unquestionably the industry leader, currently operating the largest fleet of satellites in orbit—about 50% of the global total.
The company has already completed 62 missions this year, surpassing any other company or nation, and operates thousands of internet-beaming Starlink spacecraft that provide global internet connectivity.
Starlink customers receive a small satellite dish that self-orients itself to align with Starlink's low-Earth-orbit satellites.
| Owner | Total | Share | Country |
| --- | --- | --- | --- |
| SpaceX | 3,395 | 50% | USA |
| OneWeb Satellites | 502 | 7% | UK |
| Chinese Government | 369 | 5% | China |
| U.S. Government | 306 | 4% | USA |
| Planet Labs, Inc. | 195 | 3% | USA |
| Russian Federation | 137 | 2% | Russia |
| Spire Global Inc. | 127 | 2% | USA |
| Swarm Technologies | 84 | 1% | USA |
| Iridium Communications, Inc. | 75 | 1% | USA |
| Other | 1,528 | 23% | |
Percentages may not add to 100 due to rounding

.
In second place is a lesser-known company, British OneWeb Satellites. The company, headquartered in London, counts the UK government among its investors and provides high-speed internet services to governments, businesses, and communities.
Like many other satellite operators, OneWeb relies on SpaceX to launch its satellites.
Despite Starlink's dominance in the industry, the company is set to face intense competition in the coming years. Amazon's Project Kuiper plans to deploy 3,236 satellites by 2029 to compete with SpaceX's network. The first of the fleet could launch as early as 2024.
The Rise of China's Space Program
After the top private companies, governments also own a significant portion of satellites orbiting the Earth. The U.S. remains the leader in total satellites, when adding those owned by both companies and government agencies together.
American expenditures on space programs reached $62 billion in 2022, five times more than the second one, China.
China, however, has sped up its space program over the last 20 years and currently has the highest number of satellites in orbit belonging directly to government agencies. Most of these are used for Earth observation, communications, defense, and technology development.
Satellite Demand to Rise Over the Decade
Despite the internet being taken for granted in major metropolitan areas and developed countries, one out of every three people worldwide has never used the web.
Furthermore, the increasing demand for data and the emergence of new, more cost-effective satellite technologies are expected to present significant opportunities for private space companies.
In this context, satellite demand is projected to quadruple over the next decade.