A Timeline of U-Turns from the Chinese Market
China's economic surge is one of the biggest stories of the 21st century.
Hundreds of millions of people have been lifted out of poverty, and China's swelling middle class has attracted the interest of Western companies.
As many American companies have discovered, doing business in China is far from straightforward. Recent history is littered with examples of companies that entered the Chinese market to great fanfare, only to retreat a few years later.
Calling Off The Offensive
Today's infographic highlights 11 companies that ended up tapping the brakes on their ambitious forays on the other side of the Pacific.
Then, we take a look at the factors that influenced these strategic withdrawals.
Here are some high profile examples of corporate u-turns by American companies operating in the Chinese market:
Google
When Google China's search engine was launched in 2006, the company had made the controversial decision to censor search results within the country. Google publicly displayed a disclaimer indicating that some results were removed, which created tensions with the Chinese government.
For a while, things seemed to be going well. Even though a domestic company, Baidu, had captured the majority of the Chinese search market, Google did have a respectable market share of about 30%.
Google China's fortune took a turn for the worse in 2010 after a major hack – Operation Aurora – exposed user data as well as intellectual property. The hack, which originated from within China, was the last straw for Google's executive team. After one last ditch effort to provide unfiltered search results within China, the company retreated beyond the firewall.
Amazon
Amazon was an early entrant into the Chinese market. In 2004, the company acquired Joyo – an online shopping site – which was eventually rebranded to Amazon China in 2011.
Amazon China achieved some early success hitting a market share of around 15%, but today, that market share has eroded to less than 1%. Facing nearly insurmountable competition from domestic e-commerce platforms like JD and Taobao, the company recently announced it would be exiting the Chinese market.
Uber
After arriving fashionably late for the ride-hailing party in 2014, it quickly became clear that Uber was facing an uphill battle against well-funded domestic rivals. After only two years, Uber elected to u-turn out of the Chinese market.
Though Uber's tactical exit from China is often viewed as a failure, the company has earned upwards of $8B through its sale to competitor Didi Chuxing.
A Two-Way Street
Now that red-hot growth at home is beginning to taper off, a number of Chinese companies have begun their push into other markets around the world. Much like their American counterparts, brands pushing beyond China's borders are seeing varied success in their expansion efforts.
One high-profile example is Huawei. The telecommunications giant has been making inroads in countries around the world – particularly in emerging markets – but has seen pushback and scrutiny in a number of developed economies. Huawei has become a lightning rod for growing concerns over government surveillance and China's growing influence over the global communications network.
Already, Australia has blocked the company from participating in its 5G network, and in the United States, government agencies are banned from buying Huawei gear.
If negative sentiment continues to build, it remains to be seen whether Huawei and other Chinese companies will follow the playbook of American brands in China, and turn the car around.
Visualizing California's GDP Compared to Countries
California's GDP makes the state one of the most powerful economies in the world. This graphic compares it to the GDP of 10 select countries.

Creator Program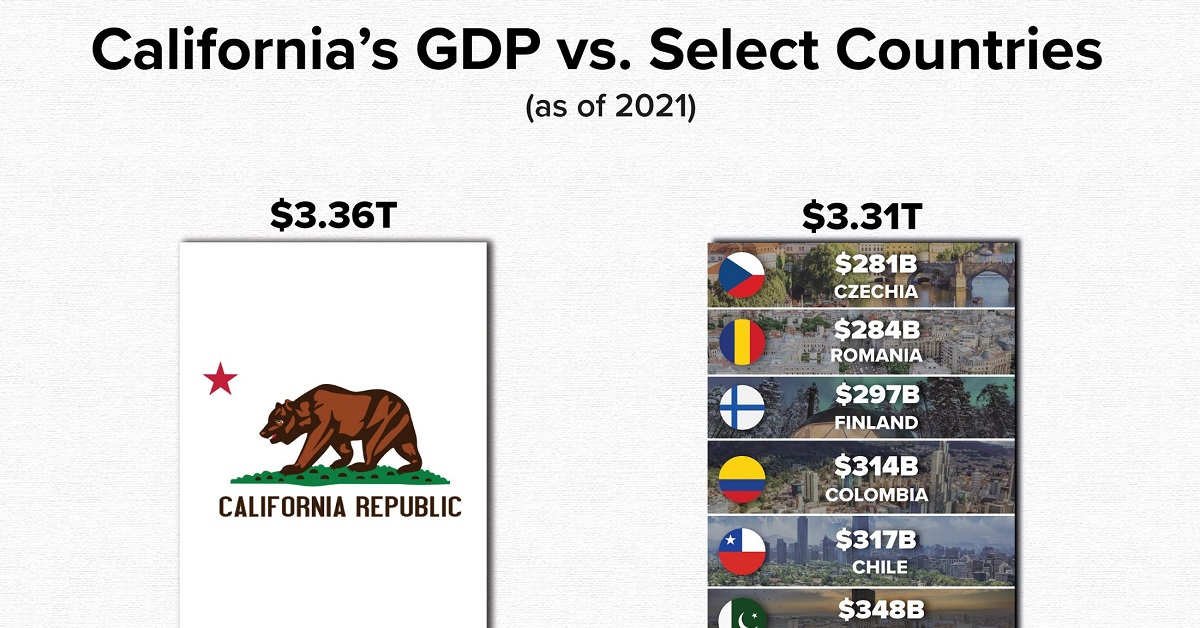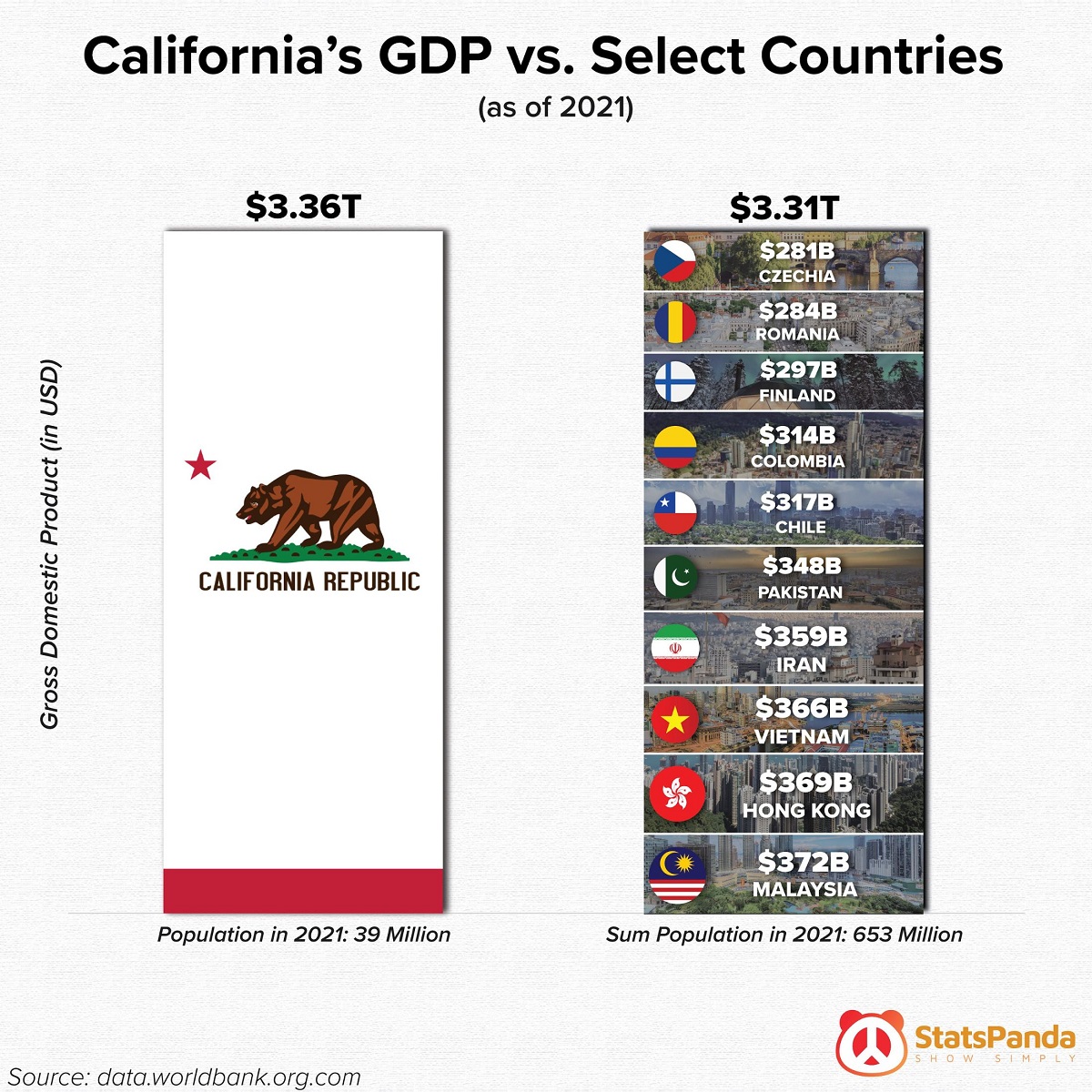 California's GDP Compared to Countries
Comedian Trevor Noah once said America is fifty little countries masquerading as one.
From an economic sense, this might carry some truth. When looking at the economic output of each state, especially the largest and wealthiest ones, they often compare to or even exceed the GDPs of entire nations.
To illustrate, this visual from StatsPanda looks at California's $3.36 trillion GDP using data from The World Bank and compares it to 10 sizable country economies. Let's take a closer look.
Sizing Up California's GDP in 2021
California's $3+ trillion GDP is an enormous figure in its own right, so it's no surprise that it is larger than certain nations' economic output.
But even when comparing with economies like Malaysia, Colombia, and Finland, all among the top 50 countries by GDP, California stands tall.
| Country | GDP (2021 USD) |
| --- | --- |
| 🇲🇾 Malaysia | $372B |
| 🇭🇰 Hong Kong | $369B |
| 🇻🇳 Vietnam | $366B |
| 🇮🇷 Iran | $359B |
| 🇵🇰 Pakistan | $348B |
| 🇨🇱 Chile | $317B |
| 🇨🇴 Colombia | $314B |
| 🇫🇮 Finland | $297B |
| 🇷🇴 Romania | $284B |
| 🇨🇿 Czechia | $281B |
| Total | $3,307B |
| California | $3,357B |
What's more, these 10 countries are quite densely populated, with a combined population of 653 million compared to California's 39 million total.
A Closer Look At California's Economy
What makes California's GDP so vast and their economy so powerful?
Relative population is a big factor, as the state is the most populous in the U.S. with roughly 12% of the country's population calling it home. But since California's GDP makes up over 15% of the country's economic output, there must be something else at work.
One key driver is the technology sector. Not only does Silicon Valley generate massive amounts of technological output, this also translates directly to wealth and economic activity. Many tech markets follow winner-take-all dynamics, bringing large revenues back to the state. In addition, smaller technology companies are frequently gobbled up by larger competitors, adding wealth back into the mix through M&A.
This might partly explain why California's GDP is actually estimated to overtake Germany's in the coming years and become the world's 4th largest economy.