Infographic: A Timeline of Future Technology
A Timeline of Future Technology
Making predictions about future technology is both fun and notoriously difficult.
However, such predictions also serve a very practical purpose for investors and business leaders, since failing to adapt to changing industry paradigms can completely decimate a business venture, turning it into the next Blockbuster, Kodak, or Sears.
Today's infographic from Futurism rounds up some of the most interesting predictions about the future, from trusted sources such as Scientific American and The National Academy of Sciences.
Machines, Big and Small
The confluence of robotics, artificial intelligence, and increasing levels of automation is a prevailing trend throughout the projected timeline of future technology.
In less than 10 years, we will be able to control machines based on eye movements, while ingesting nano-sized robots to repair injuries from within our bodies. Later on, it's also expected that the next wave of AI will be a reality: by 2036, predictive AI will be able to predict the near-future with impressive precision. Elections, weather, geopolitical events, and other dynamic systems will be analyzed in real-time using thousands or millions of data streams.
Even further down the line, human brains and machines will be continue to become closer to interfacing directly, creating all kinds of possibilities.
The Energy Revolution Continues
If you think the current progress in clean energy is exciting – wait until you see the technologies in the queue.
The future of battery technology will include carbon-breathing batteries that turn CO2 into generate electricity, as well as diamond-based "nuclear batteries" that run off of nuclear waste.
Meanwhile, solar power will be even cheaper as cells operate at near 100% efficiency, and commercial fusion power will be available by 2044. Climate change will also be tackled by interesting techniques, such as geoengineering with calcite aerosols, and carbon sequestration.
More on Future Technology
Want to see more bold predictions about the future of technology?
Check out the future of alternative energy, the military, or the futuristic tech that could be inside your home.
Lastly, check out some very speculative predictions about what the world could look like, 100 years from now.
Charted: What are Retail Investors Interested in Buying in 2023?
What key themes and strategies are retail investors looking at for the rest of 2023? Preview: AI is a popular choice.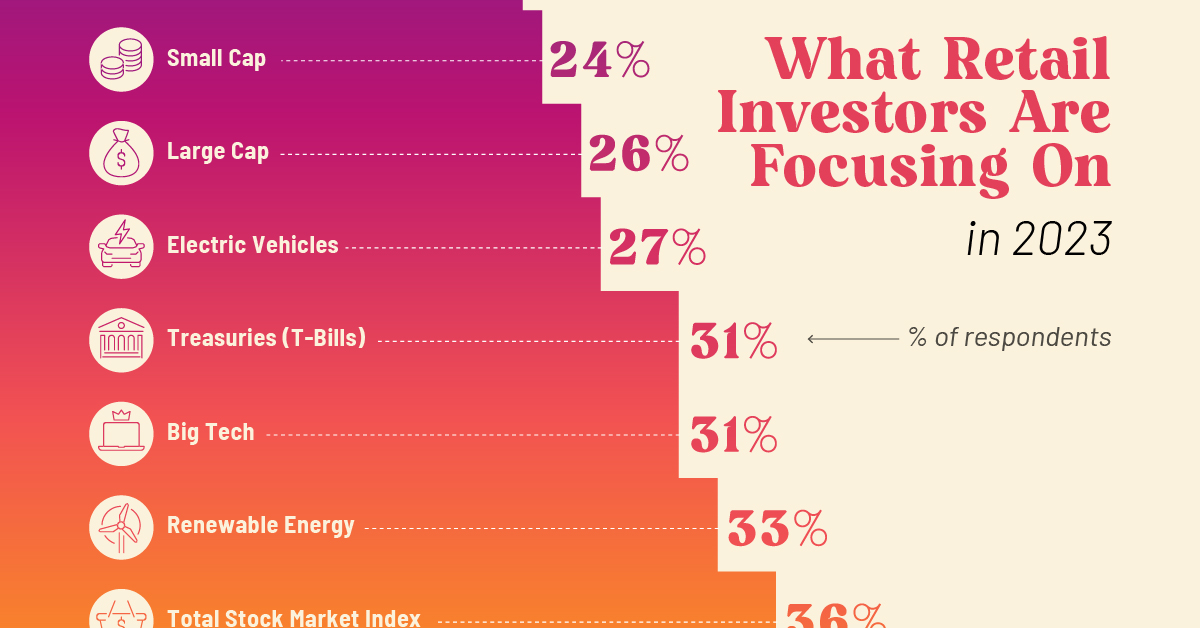 Charted: Retail Investors' Top Picks for 2023
U.S. retail investors, enticed by a brief pause in the interest rate cycle, came roaring back in the early summer. But what are their investment priorities for the second half of 2023?
We visualized the data from Public's 2023 Retail Investor Report, which surveyed 1,005 retail investors on their platform, asking "which investment strategy or themes are you interested in as part of your overall investment strategy?"
Survey respondents ticked all the options that applied to them, thus their response percentages do not sum to 100%.
Where Are Retail Investors Putting Their Money?
By far the most popular strategy for retail investors is dividend investing with 50% of the respondents selecting it as something they're interested in.
Dividends can help supplement incomes and come with tax benefits (especially for lower income investors or if the dividend is paid out into a tax-deferred account), and can be a popular choice during more inflationary times.
| Investment Strategy | Percent of Respondents |
| --- | --- |
| Dividend Investing | 50% |
| Artificial Intelligence | 36% |
| Total Stock Market Index | 36% |
| Renewable Energy | 33% |
| Big Tech | 31% |
| Treasuries (T-Bills) | 31% |
| Electric Vehicles | 27% |
| Large Cap | 26% |
| Small Cap | 24% |
| Emerging Markets | 23% |
| Real Estate | 23% |
| Gold & Precious Metals | 23% |
| Mid Cap | 19% |
| Inflation Protection | 13% |
| Commodities | 12% |
Meanwhile, the hype around AI hasn't faded, with 36% of the respondents saying they'd be interested in investing in the theme—including juggernaut chipmaker Nvidia. This is tied for second place with Total Stock Market Index investing.
Treasury Bills (30%) represent the safety anchoring of the portfolio but the ongoing climate crisis is also on investors' minds with Renewable Energy (33%) and EVs (27%) scoring fairly high on the interest list.
Commodities and Inflation-Protection stocks on the other hand have fallen out of favor.
Come on Barbie, Let's Go Party…
Another interesting takeaway pulled from the survey is how conversations about prevailing companies—or the buzz around them—are influencing trades. The platform found that public investors in Mattel increased 6.6 times after the success of the 'Barbie' movie.
Bud Light also saw a 1.5x increase in retail investors, despite receiving negative attention from their fans after the company did a beer promotion campaign with trans influencer Dylan Mulvaney.
Given the origin story of a large chunk of American retail investors revolves around GameStop and AMC, these insights aren't new, but they do reveal a persisting trend.