Timelapse Maps: An Overview of Our Changing Planet
The dramatic growth of Dubai, UAE (1984–2018)
Humankind's impact on the world is obvious, but our spatial patterns are sometimes difficult to recognize from the ground.
Publicly accessible, high-quality satellite imagery has been a game changer in terms of understanding the scope of forces such as urbanization and land use patterns.
Google Timelapse Maps
Google Earth's timelapsed satellite maps capture the drastic changes the planet's surface has undergone over the past 34 years. Each timelapse comprises 35 cloud-free pictures, which have been made interactive by the CREATE Lab at Carnegie Mellon University.
Three different satellites acquired 15 million images over the past three decades. The majority of the images come from Landsat, a joint USGS/NASA Earth observation program. For the years 2015 to 2018, Google combined imagery from Landsat 8 and Sentinel-2A. Sentinel is part of the European Commission and European Space Agency's Copernicus Earth observation program.
Deforestation, urban growth, and natural resource extraction are just some of the human patterns and impacts that can be visualized.
Editor's note: to view the following timelapses, press the play button on any map. You can also view individual years in the time periods as well. On slower internet connections you may need to have patience, as the series of images can take some time to load or display.
Cities and Infrastructure
Urban Growth: Pearl River Delta, China
Up to 1979, China's Pearl River Delta had seen little urbanization. However in 1980, the People's Republic of China established a special economic zone, Shenzhen, to attract foreign investment. In the following years, buildings and paved surfaces rapidly replaced the rural settings around the river delta. This is the Lunjiao area just south of Guangzhou.
Urban Growth: Cairo, Egypt
The present-day location of Cairo has been a city for more than 1,000 years, and its constrained urban footprint is now bursting at the seams thanks to Egypt's population growth. A new city is being built in the nearby stretch of desert land (agricultural land is scarce) that will one day replace ancient Cairo as Egypt's capital. If the government's ambitious plans are realized, this desert boomtown could have a population of over 6 million people.
The Egyptian state needed this kind of project a long time ago. Cairo [is] a capital that is full of traffic jams, very crowded. The infrastructure cannot absorb more people.
– Khaled el-Husseiny Soliman
Urban Growth: Phoenix, Arizona
According to estimates from the U.S. Census Bureau, Phoenix is the fastest-growing city in the United States. Over the past two decades, the suburb of Chandler evolved from agricultural uses to sprawling residential developments. This pattern was repeated in a number of cities in the Southern U.S., most notably Las Vegas.
Construction: The Brandenburg Airport, Germany
Berlin's long overdue Brandenburg Airport began construction in 2006, with the airport initially expected to open in 2011. However, the airport has been subject to numerous delays and the airport now has a new opening date. Berlin Brandenburg Airport is now expected to open on Oct. 31, 2020.
Megaproject: Yangshan Port
The Port of Shanghai became one of the most important transportation hubs in the world after the completion of its offshore expansion – the Yangshan Port.
Building this massive port was a gargantuan engineering feat. First, land reclamation was used to connect two islands 20 miles southeast of Shanghai. Next, the port was connected to the mainland via the Donghai Bridge, which opened in 2005 as the world's longest sea crossing. The six-lane bridge took 6,000 workers two and half years to construct.
In 2016, the Port of Shanghai was the largest shipping port in the world, handling 37.1 million twenty-foot container equivalents.
Resource Extraction
Mining: Chuquicamata, Chile
Chuquicamata is the largest open pit copper mine by volume in the world, located 800 miles north of the Chilean capital, Santiago. In 2019, Chile's national mining company Codelco initiated underground mining at Chuquicamata.
Deforestation: Ñuflo de Chávez, Bolivia
Ñuflo de Chávez is one of the 15 provinces of the Bolivian Santa Cruz Department. Satellite images of southern Ñuflo de Chávez illustrate deforestation from agrarian expansion in the jungles of the Amazon. From the air, the deforestation takes on a unique grid pattern with circular clearings. Developed as part of an organized resettlement scheme, each circle is anchored by community amenities and housing, and surrounded by fields of soybeans cultivated for export.
According to Brazil's National Institute for Space Research, 8.4 million soccer fields of land have been deforested in the Amazon over the past decade.
Shale Gas Boom: Odessa, Texas
The small town of Odessa sits in the middle of one of the most productive shale gas regions in the world, the Permian Basin. The region is expected to generate an average of 3.9 million barrels per day, roughly a third of total U.S. oil production. While the gas may come from underground, the pursuit of this source of energy has drastically altered the landscape, marking the terrain with roads, wells, and housing for workers.
Changing Environment
Drying of the Aral Sea: Kazakhstan and Uzbekistan
It took almost 30 years to make a sea disappear. When the Soviet Union diverted the Amu Darya and Syr Darya rivers to irrigate cotton and rice fields in the 1960s, it turned the Aral Sea into a desert. Once the world's fourth largest lake, the region is struggling to restore water levels and aquatic habitats.
Glacier Retreat: Columbia Glacier, Alaska, USA
The Columbia Glacier is a tidewater glacier that flows through the valleys of the Chugach Mountains and into Alaska's Prince William Sound. Increased temperatures initiated a retreat in the length of the glacier over three decades ago. Once in motion, a glacier's retreat accelerates due to glacial mechanics. It is one of the most rapidly changing glaciers in the world.
Changing Rivers: Iquitos, Peru
Not all change is from humans. There are natural physical processes that continue to shape the Earth's surface. For example, rivers that experience heavy water flows can be altered through erosion, changing the bends.
Better Perspectives, Better Decisions?
Often, the greatest impacts that occur are out of sight and mind. However, with the increasing availability of satellite technology and improved distribution of images through platforms such as Google Timelapse, the impact of human activity is impossible to ignore.
The bulk of visible changes come from human economic activity, because it is more easily observable on a smaller time scale. However, it's also worth remembering that there are still many natural processes that take generations, if not thousands of years to affect change.
It is one thing to hear the facts and figures of humankind's impact on the environment, but to see the change is a whole other story.
10 Travel Destinations for Post-Pandemic Life
Excited to get back to travelling the world? This infographic highlights the 10 most popular tourist destinations.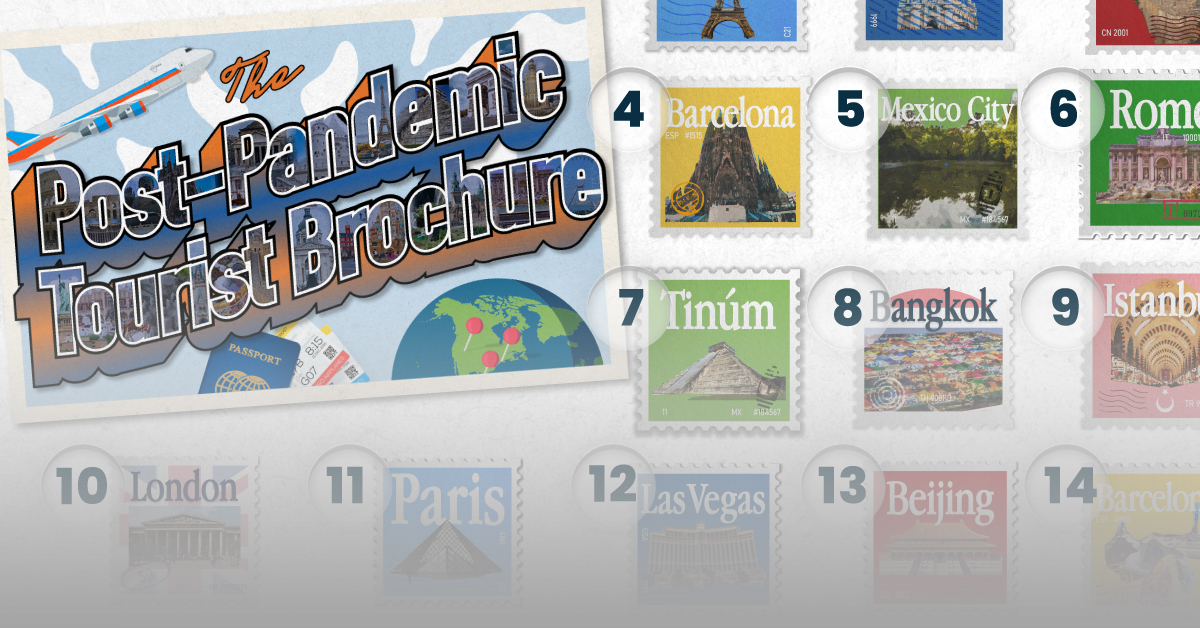 10 Travel Destinations for Post-Pandemic Life
On March 11, 2020, the World Health Organization formally classified the COVID-19 outbreak as a pandemic. The resulting travel bans decimated the tourism industry, and international air travel initially fell by as much as 98%.
Almost two years later, travel is finally back on the table, though there are many restrictions to consider. Regardless, a survey conducted in September 2021 found that, as things revert to normalcy, 82% of Americans are looking forward to international travel more than anything else.
To give inspiration for your next vacation (whenever that may be), this infographic lists the 10 most visited countries in 2019, as well as three of their top attractions according to Google Maps.
Bon Voyage
Here were the 10 most popular travel destinations in 2019, measured by their number of international arrivals.
| Country | Number of international arrivals in 2019 (millions) |
| --- | --- |
| 🇫🇷 France* | 90.0 |
| 🇪🇸 Spain | 83.5 |
| 🇺🇸 U.S. | 79.3 |
| 🇨🇳 China | 65.7 |
| 🇮🇹 Italy | 64.5 |
| 🇹🇷 Turkey | 51.2 |
| 🇲🇽 Mexico | 45.0 |
| 🇹🇭 Thailand | 39.8 |
| 🇩🇪 Germany | 39.6 |
| 🇬🇧 United Kingdom | 39.4 |
*Estimate | Source: World Bank
France was the most popular travel destination by a significant margin, and it's easy to see why. The country is home to many of the world's most renowned sights, including the Arc de Triomphe and Louvre Museum.
The Arc de Triomphe was built in the early 1800s, and honors those who died in the French Revolutionary and Napoleonic Wars. In 1944, Allied soldiers marched through the monument after Paris was liberated from the Nazis.
The Louvre Museum, on the other hand, is often recognized by its giant glass pyramid. The museum houses over 480,000 works of art, including Leonardo da Vinci's Mona Lisa.
Art isn't the only thing that France has to offer. The country has a reputation for culinary excellence, and is home to 632 Michelin-starred restaurants, the most out of any country. Japan comes in at second, with 413.
While You're There…
After seeing the sights in Paris, you may want to consider a visit to Spain. The country is the southern neighbor of France and is known for its beautiful villages and beaches.
One of its most impressive sights is the Sagrada Familia, a massive 440,000 square feet church which began construction in 1882, and is still being worked on today (139 years in the making). The video below shows the structure's striking evolution.
At a height of 172 meters, the Sagrada Familia is approximately 52 stories tall.
Another popular spot is Ibiza, an island off the coast of Spain that is famous for its robust nightlife scene. The island is frequently mentioned in pop culture—Netflix released an adventure/romance movie titled Ibiza in 2018, and the remix of Mike Posner's song I Took a Pill in Ibiza has over 1.4 billion views on YouTube.
Beaches Galore
If you're looking for something outside of Europe, consider Mexico or Thailand, which are the 7th and 8th most popular travel destinations. Both offer hot weather and an abundance of white sand beaches.
If you need even more convincing, check out these links:
Expect Turbulence
Under normal circumstances, hundreds of billions of dollars are spent each year by international tourists. According to the World Travel & Tourism Council (WTCC), this spending accounted for an impressive 10.4% of global GDP in 2019.
Travel restrictions introduced in 2020 dealt a serious blow to the industry, reducing its share of global GDP to 5.5%, and wiping out an estimated 62 million jobs. While the WTCC believes these jobs could return by 2022, the emerging Omicron variant has already prompted many countries to tighten restrictions once again.
To avoid headaches in the future, make sure you fully understand the rules and restrictions of where you're heading.
Which Values Children Should Be Encouraged to Learn, By Country
Which qualities do people think are most important for children to learn? The answer differs from country to country.

Creator Program
Many of the values we prioritize as adults were instilled in us during our childhood days.
They're called our formative years for a reason—from when we're born up until we're about eight years old, our brains are easily molded and remain highly sensitive to external influences and environments. But depending on where you grew up, you may have been exposed to different values during your childhood compared to someone from another place.
These visualizations by Anders Sundell illustrate the most important values people think children should learn at home, across more than 80 different countries.
Methodology
Sundell used data from the World Values Survey, an international survey that interviews hundreds of thousands of participants from across the globe. Respondents were asked to pick up to five qualities they believe are the most desirable for children to have:
Good manners
Independence
Hard work
Feeling of responsibility
Imagination
Tolerance and respect for other people
Thrift, saving money
Determination and perseverance
Religious faith
Unselfishness
Obedience
Sundell took the survey data and calculated the proportion of people in each country that selected each quality. From there, he took the top qualities and created three separate plot graphs to show the contrast between them.
Let's look at the importance that countries placed on different values, including (1) independence and obedience, (2) unselfishness and religious faith, and (3) hard work and imagination.
1. Independence vs Obedience
Nordic countries value independence greatly, and find obedience to be a less important quality to instill in children.
View the full-size infographic
Other available data also supports that adults in Nordic countries value independence. According to Eurostat, the most common age to leave home in Sweden is between 17 and 18—nearly a decade sooner than the average age across the EU (26 years old).
Denmark's average age to leave home is also below the European average, at 21 years old.
On the other end of the spectrum, countries like Iraq and Egypt believe obedience is much more important for children to learn.
2. Unselfishness vs Religious Faith
Bangladesh, Egypt, and Jordan all place a strong emphasis on faith, and fall on the far right of this graph.
View the full-size infographic
Islam is a strong influence in all three of these countries. In Bangladesh and Jordan, it's the official state religion. And while Egypt is a secular country, a majority of citizens identify as Muslim—about 90% of the population.
Interestingly, places like the U.S. and Hong Kong fall right in the between, placing relatively equal importance on religion and unselfishness.
3. Hard Work vs Imagination
Left-leaning Nordic countries like Sweden, Norway, Denmark, and Finland think imagination is more important for children to learn than hard work.
View the full-size infographic
Interestingly, Japan also scored high for imagination, seeing it was a more important value to teach children than hard work. This is despite the fact that the country has an international reputation for being a hardworking country, where even taking an extended vacation can be frowned upon. Then again, Japan has a reputation for producing wildly creative works of art that are popular internationally (anime, for instance).
As expected, countries and cultures contain multitudes, and can often seem paradoxical and complex to those who try to codify them.
What qualities do you think are most important, and what countries surprised you with their placements?