Video: A Timelapse of Dubai's Astonishing Growth
Dubai's transformation from a fishing village to a global real estate hub has been nothing short of remarkable. From having the world's tallest building to man-made islands in the shape of a world map, the U.A.E.'s most populous city has never shied away from ambitious construction projects.
Today's motion graphic video, from Knight Frank, is a unique overview of Dubai's half-century long growth spurt.
Ambition into Action
Dubai's ruler, Sheikh Mohammed bin Rashid Al Maktoum, summed up the ambition of his people in a quote:
Dubai will never settle for anything less than first place.
Indeed, the city's economic growth has been nearly unparalleled over the past two decades. Unlike neighboring emirates, Dubai had a modest supply of oil and knew that diversifying their economy would be vital for future success.
As oil production leveled off in the early 1990s, the tourism industry ramped up. In 2002, reforms allowed foreigners to own real estate and that industry boomed overnight. Today, oil accounts for a minuscule 1% of Dubai's GDP.
As the Middle East begins looking toward a post-oil economy, Dubai's success provides an obvious example for other cities in the region to mimic.
Sky High Ambition
In addition to quirky attractions like the 250,000 sqft indoor ski hill, the desert city boasts a number of record-setting projects:
World's tallest building – Burj Khalifa
World's tallest hotel – JW Marriott Marquis Hotel
World's largest shopping center – Dubai Mall
World's largest indoor theme park – IMG Worlds of Adventure
World's Busiest Airport (International Travelers) – Dubai International Airport
World's longest fully automated metro network – Dubai Metro
Though Dubai is full of blockbuster development projects, the city's urban form is perhaps best known for one specific attribute: height. For a city of only 3.0 million people, Dubai has a remarkable number of skyscrapers. In fact, the city trails only New York and Shanghai for the number of buildings taller than 150m (492ft).
For context, during the period of 2007–2014 Dubai essentially kept pace with high-rise development in the United States as a whole. (Dubai's population is 0.9% the size of the United States.)
The B Word
Just as Dubai was hitting its stride, the global financial crisis blew in and choked the pipeline of money flowing into the growing city. In 2009, headlines around the world proclaimed that Dubai's real estate bubble had finally burst.
Though the financial crisis was a setback, the city's development industry has recovered admirably. Going into 2017, there were 11,600 active projects worth over $800 billion. As well, Expo 2020 is expected to add fuel to the twin engines of Dubai's economy: real estate development and tourism.
With the U.A.E. set to further relax foreign ownership roles, the city's economic prospects remain as sunny as its weather forecast.

World Beer Index 2021: What's the Price of a Beer in Your Country?
The global desire for beer prevails even in a pandemic. These maps compare the average beer price in 58 countries—just how much do we drink?
What's the Price of A Beer in Your Country?
View the high resolution of this infographic by clicking here.
Although fewer people have been able to grab a beer at the pub during this pandemic, the global desire for beer prevails. For example, sales of the Corona beer actually shot up in the past year, despite—or perhaps because of—associations with the coronavirus.
This World Beer Index from Expensivity compares the average price of a bottle of beer in 58 countries in a detailed map. Additionally, we show which countries spend the most on beer per capita, and just how much beer people really drink.
Pricey Pints: The Average Price of a Beer
Researchers calculated the average price of a typical bottle of beer (330ml, just shy of a pint) from well known brands via online stores and statistics database Numbeo. In addition, local beer prices were pulled from hotel and bar menus, and average values converted to USD.
In Qatar, you'd have to shell out $11.26 for a single beer, which would surely make for a really expensive night out on the town. In part, this is because in 2019, the Muslim-majority country introduced a 100% excise tax on top the previous sales price of all alcohol imports.
These steep prices are aimed at tourists—and with Qatar hosting the 2022 men's soccer World Cup, there'll be thousands of visitors in the country looking for a cold one at any price.
| Rank | Country | Capital City | Average Price of a Beer |
| --- | --- | --- | --- |
| 1 | South Africa | Pretoria, Bloemfontein, Cape Town | $1.68 |
| 2 | Ukraine | Kyiv | $1.76 |
| 3 | Argentina | Buenos Aires | $1.79 |
| 4 | Bosnia And Herzegovina | Sarajevo | $1.96 |
| 5 | Ghana | Accra | $2.05 |
| 6 | Tunisia | Tunis | $2.09 |
| 7 | Georgia | Tbilisi | $2.30 |
| 8 | North Macedonia | Skopje | $2.34 |
| 9 | Chile | Santiago | $2.40 |
| 10 | Czech Republic (Czechia) | Prague | $2.49 |
| 11 | Rwanda | Kigali | $2.52 |
| 12 | Brazil | Brasilia | $2.52 |
| 13 | Haiti | Port Au Prince | $2.66 |
| 14 | Colombia | Bogota | $2.72 |
| 15 | Spain | Madrid | $2.74 |
| 16 | Panama | Panama City | $2.74 |
| 17 | Sri Lanka | Colombo | $2.77 |
| 18 | Hungary | Budapest | $2.84 |
| 19 | Armenia | Yerevan | $2.96 |
| 20 | Indonesia | Jakarta | $3.17 |
| 21 | Azerbaijan | Baku | $3.18 |
| 22 | Guyana | Georgetown | $3.39 |
| 23 | Bolivia | Santa Cruz | $3.42 |
| 24 | Kazakhstan | Nur-Sultan | $3.44 |
| 25 | Belgium | Brussels | $3.47 |
| 26 | Turkey | Istanbul | $3.61 |
| 27 | Malta | Valletta | $3.65 |
| 28 | Belarus | Minsk | $3.72 |
| 29 | Egypt | Cairo | $3.80 |
| 30 | India | New Delhi | $3.90 |
| 31 | Canada | Ottawa | $3.96 |
| 32 | Austria | Vienna | $3.99 |
| 33 | Wales | Cardiff | $4.06 |
| 34 | Nepal | Kathmandu | $4.13 |
| 35 | Scotland | Edinburgh | $4.18 |
| 36 | Greece | Athens | $4.25 |
| 37 | Philippines | Manila | $4.25 |
| 38 | Poland | Warsaw | $4.37 |
| 39 | Mexico | Mexcio City | $4.46 |
| 40 | Lithuania | Vilnius | $4.55 |
| 41 | South Korea | Seoul | $4.56 |
| 42 | Netherlands | Amsterdam | $4.60 |
| 43 | Germany | Berlin | $4.64 |
| 44 | Malaysia | Kuala Lumpur | $4.74 |
| 45 | United States | Washington D.C. | $4.75 |
| 46 | Thailand | Bangkok | $4.82 |
| 47 | Portugal | Lisbon | $5.06 |
| 48 | Russia | Moscow | $5.08 |
| 49 | Singapore | Singapore | $5.17 |
| 50 | Denmark | Copenhagen | $5.20 |
| 51 | Italy | Rome | $5.83 |
| 52 | England | London | $5.97 |
| 53 | Japan | Tokyo | $6.16 |
| 54 | Switzerland | Bern | $6.23 |
| 55 | France | Paris | $6.39 |
| 56 | China | Beijing | $7.71 |
| 57 | Jordan | Amman | $9.40 |
| 58 | Qatar | Doha | $11.26 |
At just $1.68 per bottle, South Africa has the lowest average price of a beer thanks at least partially to cultural norms of buying in bulk.
Cashing In: The Per Capita Spend on Beer
The price of a single beer is one thing, but which countries spend the most on beer itself? Germany unsurprisingly tops the list here with nearly $2,000 of expenditures per capita, bolstered by its strong beer culture and annual Oktoberfest celebration.
Germany also prides itself on the purity of its beer—the vast majority of brewers follow the Reinheitsgebot, centuries-old purity laws that broadly state that beer may contain only three ingredients: water, barley, and hops.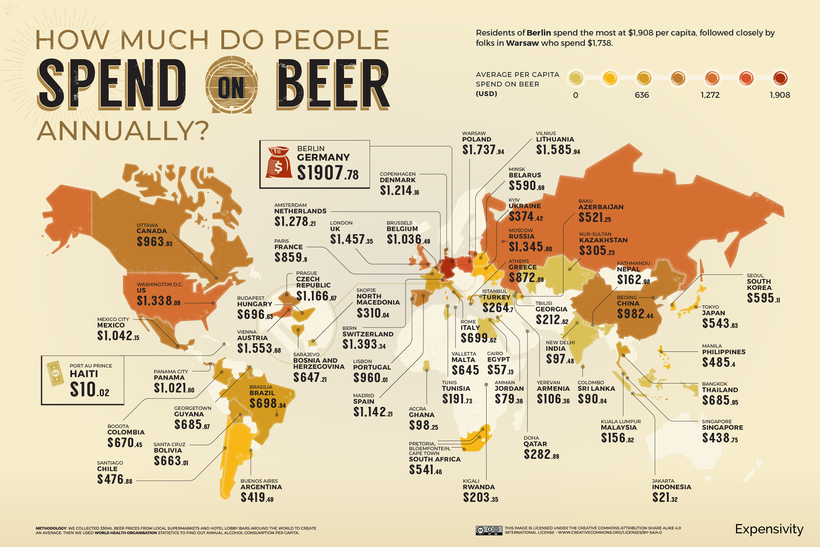 View the high resolution of this infographic by clicking here.
Following closely behind is Poland, which spends $1,738 per capita. Meanwhile, the U.S. ranks eighth in the world for the highest spending on beer per capita at $1,554—beer is also the country's most popular alcoholic beverage.
Getting Boozy: How Much Beer Do People Drink?
Using data from the World Health Organization, the visualization below also digs into how much beer is consumed around the world per capita.
The Czech Republic emerges on top in this regard, with 468 beers on average in a year—that works out to 1.3 beers per day. Spain and Germany are next with 417 and 411 beers, respectively.

View the high resolution of this infographic by clicking here.
On the flip side, people in Haiti only drink about four beers yearly. This may be because they prefer something a little stronger—97% of alcohol consumption in the nation comes from spirits such as rum.
Beer has been around for over 7,000 years. No matter the price of a beer in your country, it's worth raising a glass to the timelessness of this humble beverage.

How Global Health and Wealth Has Changed Over Two Centuries
This unique animated visualization uses health and wealth measurements to chart the evolution of countries over time.
How Global Health and Wealth Has Changed Over 221 Years
At the dawn of the 19th century, global life expectancy was only 28.5 years.
Outbreaks, war, and famine would still kill millions of people at regular intervals. These issues are still stubbornly present in 21st century society, but broadly speaking, the situation around the world has vastly improved. Today, most of humanity lives in countries where the life expectancy is above the typical retirement age of 65.
At the same time, while inequality remains a hot button topic within countries, income disparity between countries is slowing beginning to narrow.
This animated visualization, created by James Eagle, tracks the evolution of health and wealth factors in countries around the world. For further exploration, Gapminder also has a fantastic interactive chart that showcases the same dataset.
The Journey to the Upper-Right Quadrant
In general terms, history has seen health practices improve and countries become increasingly wealthy–trends that are reflected in this visualization. In fact, most countries drift towards the upper-right quadrant over the 221 years covered in the dataset.
However, that path to the top-right, which indicates high levels of both life expectancy and GDP per capita, is rarely a linear journey. Here are some of the noteworthy events and milestones to watch out for while viewing the animation.
1880s: Breaking the 50-Year Barrier
In the late 19th century, Nordic countries such as Sweden and Norway already found themselves past the 50-year life expectancy mark. This was a significant milestone considering the global life expectancy was a full 20 years shorter at the time. It wasn't until the year 1960 that the global life expectancy would catch up.
1918: The Spanish Flu and WWI
At times, a confluence of factors can impact health and wealth in countries and regions. In this case, World War I coincided with one of the deadliest pandemics in history, leading to global implications. In the animation, this is abundantly clear as the entire cluster of circles takes a nose dive for a short period of time.
1933, 1960: Communist Famines
At various points in history, human decisions can have catastrophic consequences. This was the case in the Soviet Union (1933) and the People's Republic of China (1960), where life expectancy plummeted during famines that killed millions of people. These extreme events are easy to spot in the animation due to the large populations of the countries in question.
1960s: Oil Economies Kick into High Gear
During this time, Iran, Iraq, and Saudi Arabia all experience massive booms in wealth, and in the following decade, smaller countries such as the United Arab Emirates and Kuwait rocket to the right edge of the visualization.
In following decades, both Iran and Iraq can be seen experiencing wild fluctuations in both health and wealth as regime changes and conflict begin to destabilize the region.
1990s: AIDS in Africa
In the animation, a number of countries plummet in unison at the end of the 20th century. These are sub-Saharan African countries that were hit hard by the AIDS pandemic. At its peak in the early '00s, the disease accounted for more than half of deaths in some countries.
1995: Breaking the 65-Year Barrier
Global life expectancy reaches retirement age. At this point in time, there is a clear divide in both health and wealth between African and South Asian countries and the rest of the world. Thankfully, that gap is would continue to narrow in coming years.
1990-2000s: China's Economic Rise
With a population well over a billion people, it's impossible to ignore China in any global overview. Starting from the early '90s, China begins its march from the left to right side of the chart, highlighting the unprecedented economic growth it experienced during that time.
What the Future Holds
If current trends continue, global life expectancy is expected to surpass the 80-year mark by 2100. And, sub-Saharan Africa, which has the lowest life expectancy today, is expected to mostly close the gap, reaching 75 years of age.
Wealth is also expected to increase nearly across the board, with the biggest gains coming from places like Vietnam, Nigeria, and the Philippines. Some experts are projecting the world economy as a whole to double in size by 2050.
There are always bumps along the way, but it appears that the journey to the upper-right quadrant is still very much underway.