The 3 Types of Quantum Computers and Their Applications
The 3 Types of Quantum Computers and Their Applications
It's an exciting time in computing.
Just days ago, Google's AlphaGo AI took an insurmountable lead in the 3,000 year-old game of Go against the reigning world champion, Lee Sedol. In a five-game series, the score is now 3-1 for the machine with one game left on March 15, 2016 in Seoul, South Korea.
While IBM's Deep Blue beat reigning chess champion Garry Kasparov in 1997 by using brute force, Go is a game with more possible moves than atoms in the known universe (literally). Therefore, the technology doesn't yet exist to make such calculations in short amounts of time.
Google had to take a different approach: to beat the grand master, it needed to enable AlphaGo to self-improve through deep learning.
AlphaGo's historical decision is a milestone for artificial intelligence, and now the technology community is anxiously waiting to see what's next for AI. Some say that it is beating a human world champion at a real-time strategy game such as Starcraft, while others look to quantum computing – technology that could raise the potential power of AI exponentially.
What is Quantum Computing?
While everyday analog computing is limited to having a single value of either 0 or 1 for each bit, quantum computing uses quantum bits (qubits) that are simultaneously in both states (0 and 1) at the same time.
The consequence of this superposition, as it's called, is that quantum computers are able to test every solution of a problem at once. Further, because of this exponential relationship, such computers should be able to double their quantum computing power with each additional qubit.

Image credit: Universe Review
Types of Quantum Computers
There are three types of quantum computers that are considered to be possible by IBM. Shown in the above infographic, they range from a quantum annealer to a universal quantum.
The quantum annealer has been successfully developed by Canadian company D-Wave, but it is difficult to tell whether it actually has any real "quantumness" thus far. Google added credibility to this notion in December 2015, when it revealed tests showing that its D-Wave quantum computer was 3,600 times faster than a supercomputer at solving specific, complex problems.
Expert opinion, however, is still skeptical on these claims. Such criticisms also shed light on the major limitation of quantum annealers, which is that they may only be engineered to solve very specific optimization problems, and have limited general practicality.
The holy grail of quantum computing is the universal quantum, which could allow for exponentially faster calculations with more generality.
However, building such a device ends up posing a number of important technical challenges. Quantum particles turn out to be quite fickle, and the smallest interference from light or sound can create errors in the computing process.
Doing calculations at exponential speeds is not very useful when those calculations are incorrect.
The Market and Applications
IBM highlights just some of the possibilities around universal quantum computers in a recent press release:
A universal quantum computer uses quantum mechanics to process massive amounts of data and perform computations in powerful new ways not possible with today's conventional computers. This type of leap forward in computing could one day shorten the time to discovery for life-saving cancer drugs to a fraction of what it is today; unlock new facets of artificial intelligence by vastly accelerating machine learning; or safeguard cloud computing systems to be impregnable from cyber-attack.
This means that quantum computing could be a trillion dollar market, touching massive future markets such as artificial intelligence, robotics, defense, cryptography, and pharmaceuticals.
However, until a universal quantum can be built, the market remains fairly limited in size and focused on R&D. Quantum computing is expected to surpass a market of $5 billion market by 2020.
As a final note: its worth seeing where quantum computing sits on Gartner's emerging technology hype cycle:
Gartner still describes it as being "10 years or more" away from reaching the plateau.
Visualizing the Power Consumption of Bitcoin Mining
Bitcoin mining requires significant amounts of energy, but what does this consumption look like when compared to countries and companies?
Visualizing the Power Consumption of Bitcoin Mining
Cryptocurrencies have been some of the most talked-about assets in recent months, with bitcoin and ether prices reaching record highs. These gains were driven by a flurry of announcements, including increased adoption by businesses and institutions.
Lesser known, however, is just how much electricity is required to power the Bitcoin network. To put this into perspective, we've used data from the University of Cambridge's Bitcoin Electricity Consumption Index (CBECI) to compare Bitcoin's power consumption with a variety of countries and companies.
Why Does Bitcoin Mining Require So Much Power?
When people mine bitcoins, what they're really doing is updating the ledger of Bitcoin transactions, also known as the blockchain. This requires them to solve numerical puzzles which have a 64-digit hexadecimal solution known as a hash.
Miners may be rewarded with bitcoins, but only if they arrive at the solution before others. It is for this reason that Bitcoin mining facilities—warehouses filled with computers—have been popping up around the world.
These facilities enable miners to scale up their hashrate, also known as the number of hashes produced each second. A higher hashrate requires greater amounts of electricity, and in some cases can even overload local infrastructure.
Putting Bitcoin's Power Consumption Into Perspective
On March 18, 2021, the annual power consumption of the Bitcoin network was estimated to be 129 terawatt-hours (TWh). Here's how this number compares to a selection of countries, companies, and more.
| Name | Population  | Annual Electricity Consumption (TWh) |
| --- | --- | --- |
| China | 1,443M | 6,543 |
| United States | 330.2M | 3,989 |
| All of the world's data centers | - | 205 |
| State of New York | 19.3M | 161 |
| Bitcoin network  | - | 129  |
| Norway | 5.4M | 124 |
| Bangladesh | 165.7M | 70 |
| Google | - | 12 |
| Facebook | - | 5 |
| Walt Disney World Resort (Florida) | - | 1 |
Note: A terawatt hour (TWh) is a measure of electricity that represents 1 trillion watts sustained for one hour.
Source: Cambridge Centre for Alternative Finance, Science Mag, New York ISO, Forbes, Facebook, Reedy Creek Improvement District, Worldometer
If Bitcoin were a country, it would rank 29th out of a theoretical 196, narrowly exceeding Norway's consumption of 124 TWh. When compared to larger countries like the U.S. (3,989 TWh) and China (6,543 TWh), the cryptocurrency's energy consumption is relatively light.
For further comparison, the Bitcoin network consumes 1,708% more electricity than Google, but 39% less than all of the world's data centers—together, these represent over 2 trillion gigabytes of storage.
Where Does This Energy Come From?
In a 2020 report by the University of Cambridge, researchers found that 76% of cryptominers rely on some degree of renewable energy to power their operations. There's still room for improvement, though, as renewables account for just 39% of cryptomining's total energy consumption.
Here's the share of cryptominers that use each energy type vary across four global regions.
Energy Source
Asia-Pacific
Europe
Latin America
and the Caribbean
North America
Hydroelectric
65%
60%
67%
61%
Natural gas
38%
33%
17%
44%
Coal
65%
2%
0%
28%
Wind
23%
7%
0%
22%
Oil
12%
7%
33%
22%
Nuclear
12%
7%
0%
22%
Solar
12%
13%
17%
17%
Geothermal
8%
0%
0%
6%
Source: University of Cambridge
Editor's note: Numbers in each column are not meant to add to 100%
Hydroelectric energy is the most common source globally, and it gets used by at least 60% of cryptominers across all four regions. Other types of clean energy such as wind and solar appear to be less popular.
Coal energy plays a significant role in the Asia-Pacific region, and was the only source to match hydroelectricity in terms of usage. This can be largely attributed to China, which is currently the world's largest consumer of coal.
Researchers from the University of Cambridge noted that they weren't surprised by these findings, as the Chinese government's strategy to ensure energy self-sufficiency has led to an oversupply of both hydroelectric and coal power plants.
Towards a Greener Crypto Future
As cryptocurrencies move further into the mainstream, it's likely that governments and other regulators will turn their attention to the industry's carbon footprint. This isn't necessarily a bad thing, however.
Mike Colyer, CEO of Foundry, a blockchain financing provider, believes that cryptomining can support the global transition to renewable energy. More specifically, he believes that clustering cryptomining facilities near renewable energy projects can mitigate a common issue: an oversupply of electricity.
"It allows for a faster payback on solar projects or wind projects… because they would [otherwise] produce too much energy for the grid in that area"
– Mike Colyer, CEO, Foundry
This type of thinking appears to be taking hold in China as well. In April 2020, Ya'an, a city located in China's Sichuan province, issued a public guidance encouraging blockchain firms to take advantage of its excess hydroelectricity.

Which Streaming Service Has the Most Subscriptions?
From Netflix and Disney+ to Spotify and Apple Music, we rank the streaming services with the most monthly paid subscriptions.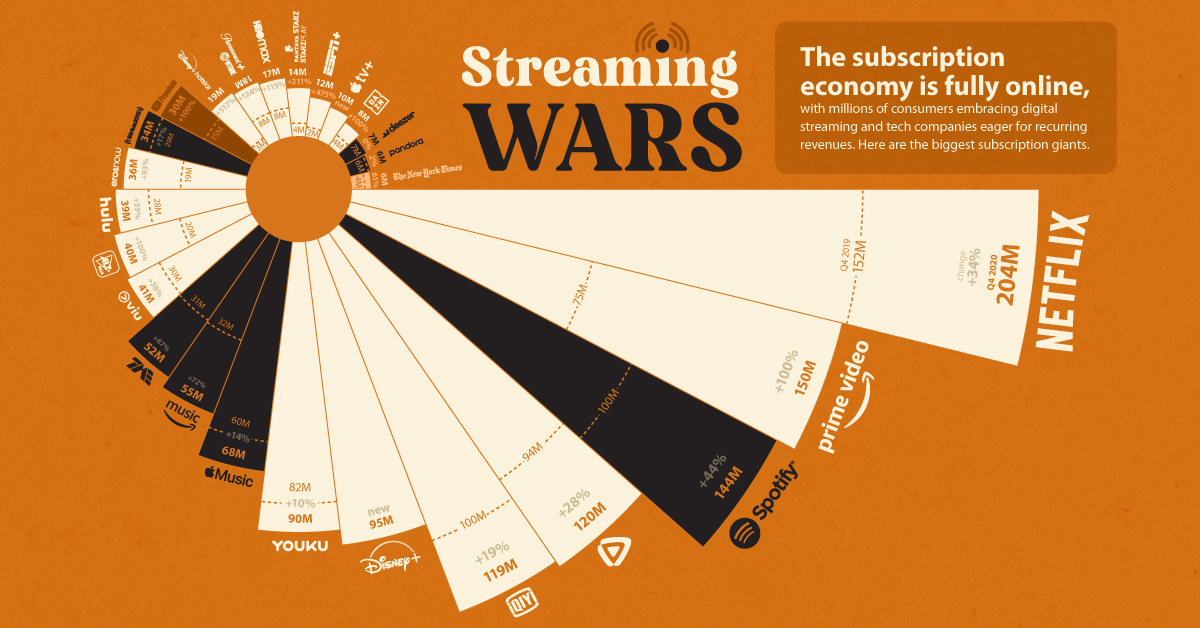 Which Streaming Service Has The Most Subscriptions?
Many companies have launched a streaming service over the past few years, trying to capitalize on the digital media shift and launching the so-called "streaming wars."
After Netflix grew from a small DVD-rental company to a household name, every media company from Disney to Apple saw recurring revenues ripe for the taking. Likewise, the audio industry has long-since accepted Spotify's rise to prominence, as streaming has become the de facto method of consumption for many.
But it was actually the unexpected COVID-19 pandemic that solidified the foothold of digital streaming, with subscription services seeing massive growth over the last year. Although it was expected that many new services would flounder along the way, media subscription services saw wide scale growth and adoption almost across the board.
We've taken the video, audio, and news subscription services with 5+ million subscribers to see who came out on top—and who has grown the most quickly—over the past year. Data comes from the FIPP media association as well as individual company reports.
Streaming Service Giants: Netflix and Amazon
The top of the streaming giant pantheon highlights two staples of business: the first-mover advantage and the power of conglomeration.
With 200+ million global subscribers, Netflix has capitalized on its position as the first and primary name in digital video streaming. Though its consumer base in the Americas has begun to plateau, the company's growth in reach (190+ countries) and content (70+ original movies slated for 2021) has put it more than 50 million subscribers ahead of its closest competition.
The story is the same in the audio market, where Spotify's 144 million subscriber base is more than double that of Apple Music, the next closest competitor with 68 million subscribers.
Meanwhile, Amazon's position as the second most popular video streaming service with 150 million subscribers might be surprising. However, Prime Video subscriptions are included with membership to Amazon Prime, which saw massive growth in usage during the pandemic.
| Service | Type | Subscribers (Q4 2020) |
| --- | --- | --- |
| Netflix | Video | 203.7M |
| Amazon Prime Video | Video | 150.0M |
| Spotify | Audio | 144.0M |
| Tencent Video | Video | 120.0M |
| iQIYI | Video | 119.0M |
| Disney+ | Video | 94.9M |
| Youku | Video | 90.0M |
| Apple Music | Audio | 68.0M |
| Amazon Prime Music | Audio | 55.0M |
| Tencent Music (Group) | Audio | 51.7M |
| Viu | Video | 41.4M |
| Alt Balaji | Video | 40M |
| Hulu | Video | 38.8M |
| Eros Now | Video | 36.2M |
| Sirius Xm | Audio | 34.4M |
| YouTube Premium | Video/Audio | 30M |
| Disney+ Hotstar | Video | 18.5M |
| Paramount+ | Video | 17.9M |
| HBO Max | Video | 17.2M |
| Starz/StarzPlay/Pantaya | Video | 13.7M |
| ESPN+ | Video | 11.5M |
| Apple TV+ | Video | 10M |
| DAZN | Video | 8M |
| Deezer | Audio | 7M |
| Pandora | Audio | 6.3M |
| New York Times | News | 6.1M |
Another standout is the number of large streaming services based in Asia. China-based Tencent Video (also known as WeTV) and Baidu's iQIYI streaming services both crossed 100 million paid subscribers, with Alibaba's Youku not far behind with 90 million.
Disney Leads in Streaming Growth
But perhaps most notable of all is Disney's rapid ascension to the upper echelons of streaming service giants.
Despite Disney+ launching in late 2019 with a somewhat lackluster content library (only one original series with one episode at launch), it has quickly rocketed both in terms of content and its subscriber base. With almost 95 million subscribers, it has amassed more subscribers in just over one year than Disney expected it could reach by 2024.
| Service | Type | Percentage Growth (2019) |
| --- | --- | --- |
| Disney+ | Video | New |
| Apple TV+ | Video | New |
| Disney+ Hotstar | Video | 516.7% |
| ESPN+ | Video | 475.0% |
| Starz/StarzPlay/Pantaya | Video | 211.4% |
| Paramount+ | Video | 123.8% |
| HBO Max | Video | 115.0% |
| Amazon Prime Video | Video | 100.0% |
| Alt Balaji | Video | 100.0% |
| YouTube Premium | Video/Audio | 100.0% |
| DAZN | Video | 100.0% |
| Eros Now | Video | 92.6% |
| Amazon Prime Music | Audio | 71.9% |
| Tencent Music (Group) | Audio | 66.8% |
| New York Times | News | 60.5% |
| Spotify | Audio | 44.0% |
| Hulu | Video | 38.6% |
| Viu | Video | 38.0% |
| Netflix | Video | 34.4% |
| Tencent Video | Video | 27.7% |
| iQiyi | Video | 19.0% |
| Sirius Xm | Audio | 17.4% |
| Apple Music | Audio | 13.3% |
| Youku | Video | 9.6% |
| Pandora | Audio | 1.6% |
| Deezer | Audio | 0% |
The Disney+ wave also spurred growth in partner streaming services like Hotstar and ESPN+, while other services with smaller subscriber bases saw large growth rates thanks to the COVID-19 pandemic.
The lingering question is how the landscape will look when the pandemic starts to wind down, and when all the new players are accounted for. NBCUniversal's Peacock, for example, has reached over 30 million subscribers as of January 2021, but the company hasn't yet disclosed how many are paid subscribers.
Likewise, competitors are investing in content libraries to try and make up ground on Netflix and Disney. HBO Max is slated to start launching internationally in June 2021, and ViacomCBS rebranded and expanded CBS All Access into Paramount+.
And international growth is vital. Three of the top six video streaming services by subscribers are based in China, while Indian services Hotstar, ALTBalaji, and Eros Now all saw surges in subscriber bases, with more room left to grow.