Three Major Reasons for Gold in 2016
Three Major Reasons for Gold in 2016
Presented by: Advantage Gold
This year looks to be another one of increased volatility as the market see-saws in different directions. Here are three compelling reasons why 2016 may be the perfect time to add gold to your portfolio.
1: "Stay the Course"
Financial experts often mention that "buying and holding" stocks through good and bad times is the best way to guarantee returns.
Investors that bought equities before the Financial Crisis have had a 20.2% return up until January 25, 2016. They "stayed the course" and were rewarded with an eventual return.
However, those that held gold during that same time period until today have had a 48.6% return, which is more than double that of the general market. This is even true with gold declining roughly 40% from its peak since late 2011.
Does it make more sense to "stay the course" in 2016 with stocks, or gold?
2: Two-Term Presidents
The last four presidents to serve two terms have had stock markets rise significantly during their tenures.
However, the stock markets also suffered catastrophic losses in each of their final years as president.
For example, during George W. Bush's tenure, the S&P 500 nearly doubled from a bottom of 801 during the Dotcom bust to a peak of 1,562. Then the Financial Crisis hit at the end of Bush's second term and the market went down to 677 points.
Obama is now in his last year, and the market is up 178% from its bottom in 2009. Will the trend continue?
3: Oil vs. Gold
Oil and gold have a relatively strong historical relationship. They are hard assets that move similarly in inflationary environments.
However, gold and oil also have some major differences in how supply and demand tends to affect the price.
Oil: Every day the world consumes 93 million barrels of oil. However, over the last two years there has been an excess of supply coupled with weakening demand from China and a slowing world economy. This has led to oil falling from over $100 per barrel to $30. Despite this glut, OPEC continues to produce record amounts of oil to maintain market share. Oil is delivered and consumed, and these fundamentals of supply and demand closely apply. More supply + weakening demand = lower prices.
Gold: Meanwhile, gold miner production is expected to peak in 2015 or 2016, and to decrease from there. Since gold is mostly traded via paper markets and not delivered, the nearly five-year low price point for gold may not fully reflect its supply and demand fundamentals. Gold discoveries are rarer than ever, and the cost and risks to mine are very high. Yet, this declining output is not yet seen in the gold price.
Gold to Oil Ratio
Lastly, the ratio between these two goods helps to explain what is going on in the world. Gold represents a safe haven during times of financial stress, and oil represents the overall health of the economy and industry.
The gold to oil ratio is expressed in the amount of oil barrels that can be bought with 1 oz of gold. A lower ratio means that the economy is doing well. Meanwhile, history shows that whenever the ratio is above 20, there has been some type of market crisis.
Today, this ratio is higher than ever in history at 37.
Would you rather own oil or gold?
Visualizing U.S. Consumption of Fuel and Materials per Capita
Wealthy countries consume large amounts of natural resources per capita, and the U.S. is no exception. See how much is used per person.
Visualizing U.S. Consumption of Fuel and Materials per Capita
This was originally posted on Elements. Sign up to the free mailing list to get beautiful visualizations on natural resource megatrends in your email every week.
Wealthy countries consume massive amounts of natural resources per capita, and the United States is no exception.
According to data from the National Mining Association, each American needs more than 39,000 pounds (17,700 kg) of minerals and fossil fuels annually to maintain their standard of living.
Materials We Need to Build
Every building around us and every sidewalk we walk on is made of sand, steel, and cement.
As a result, these materials lead consumption per capita in the United States. On average, each person in America drives the demand of over 10,000 lbs of stone and around 7,000 lbs of sand and gravel per year.
| Material/Fossil Fuel | Pounds Per Person |
| --- | --- |
| Stone | 10,643 |
| Natural Gas | 9,456 |
| Sand, Gravel | 7,088 |
| Petroleum Products | 6,527 |
| Coal | 3,290 |
| Cement | 724 |
| Other Nonmetals | 569 |
| Salt | 359 |
| Iron Ore | 239 |
| Phosphate Rock | 166 |
| Sulfur | 66 |
| Potash | 49 |
| Soda Ash | 36 |
| Bauxite (Aluminum) | 24 |
| Other Metals | 21 |
| Copper | 13 |
| Lead | 11 |
| Zinc | 6 |
| Manganese | 4 |
| Total | 39,291 |
The construction industry is a major contributor to the U.S. economy.
Crushed stone, sand, gravel, and other construction aggregates represent half of the industrial minerals produced in the country, resulting in $29 billion in revenue per year.
Also on the list are crucial hard metals such as copper, aluminum, iron ore, and of course many rarer metals used in smaller quantities each year. These rarer metals can make a big economic difference even when their uses are more concentrated and isolated—for example, palladium (primarily used in catalytic converters) costs $54 million per tonne.
Fuels Powering our Lives
Despite ongoing efforts to fight climate change and reduce carbon emissions, each person in the U.S. uses over 19,000 lbs of fossil fuels per year.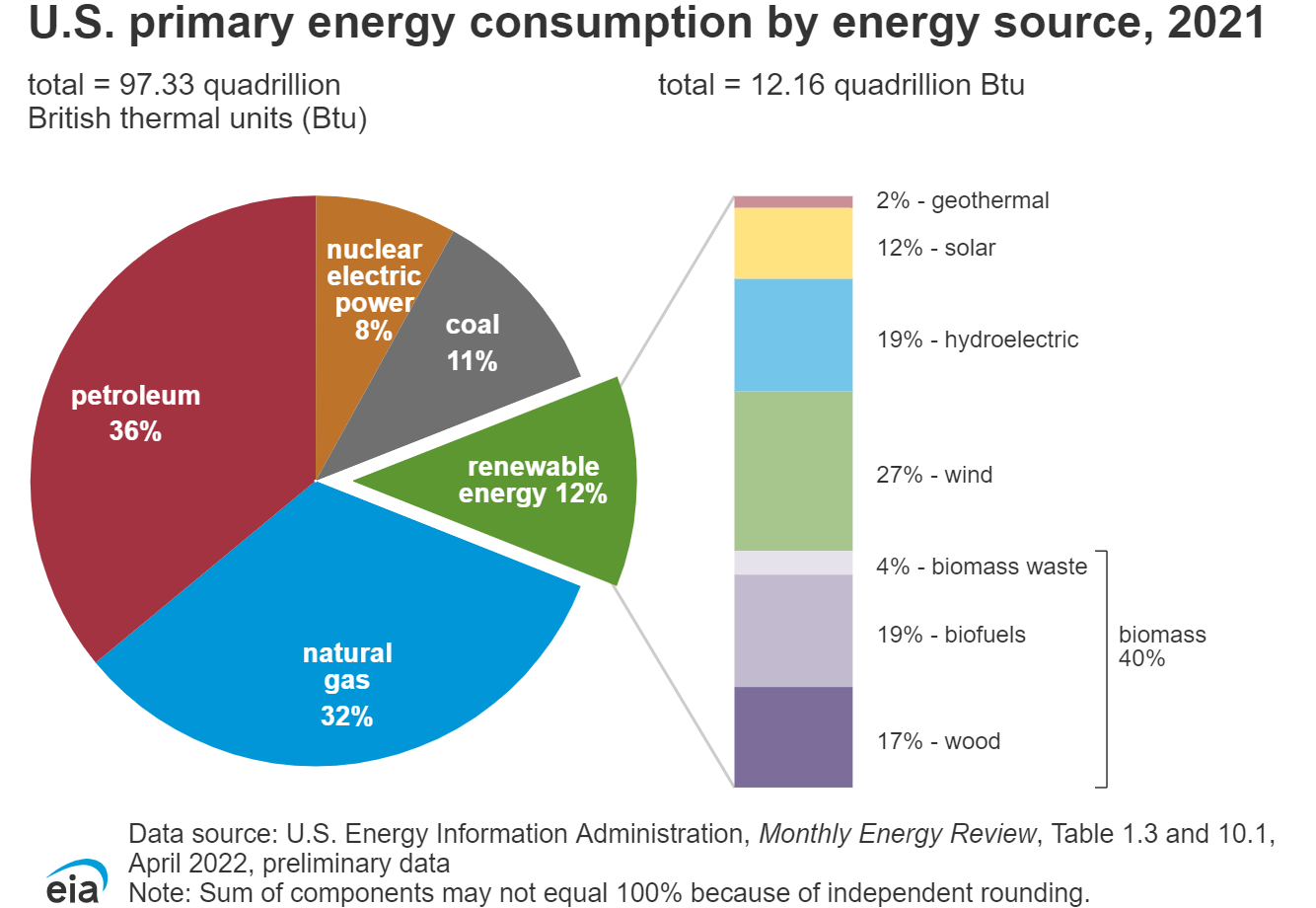 Gasoline is the most consumed petroleum product in the United States.
In 2021, finished motor gasoline consumption averaged about 369 million gallons per day, equal to about 44% of total U.S. petroleum use. Distillate fuel oil (20%), hydrocarbon gas liquids (17%), and jet fuel (7%) were the next most important uses.
Reliance on Other Countries
Over the past three decades, the United States has become reliant on foreign sources to meet domestic demand for minerals and fossil fuels. Today, the country is 100% import-reliant for 17 mineral commodities and at least 50% for 30 others.
In order to reduce the dependency on other countries, namely China, the Biden administration has been working to diversify supply chains in critical minerals. This includes strengthening alliances with other countries such as Australia, India, and Japan.
However, questions still remain about how soon these policies can make an impact, and the degree to which they can ultimately help localize and diversify supply chains.