This is How Much NATO Countries Spend on Defense
This Is How Much NATO Countries Spend on Defense
The North Atlantic Treaty Organization (NATO) exists for the sole purpose of facilitating a political and military alliance between almost 30 countries. All are obligated to one another in times of war, but some countries have much stronger militaries and defense systems than others.
Using data from NATO, this map reveals what each NATO member country spends on its own national defense.
Note: Numbers are 2021 projections.
Biggest NATO Defense Spenders
The U.S. spends more on defense than any other NATO country.
According to the 2021 estimates, U.S. defense spending will be close to $811 billion this year. On the other hand, the defense spending of all other NATO countries combined is projected to be $363 billion, meaning the U.S. will outspend all other countries by a whopping $448 billion.
| Rank | Country | Millions (USD) 2021p | Change (2014-2021) |
| --- | --- | --- | --- |
| #1 | 🇺🇸 United States | $811,140 | 24.0% |
| #2 | 🇬🇧 United Kingdom | $72,765 | 10.8% |
| #3 | 🇩🇪 Germany | $64,785 | 40.3% |
| #4 | 🇫🇷 France | $58,729 | 12.9% |
| #5 | 🇮🇹 Italy | $29,763 | 21.5% |
| #6 | 🇨🇦 Canada | $26,523 | 46.0% |
| #7 | 🇪🇸 Spain | $14,875 | 17.7% |
| #8 | 🇳🇱 Netherlands | $14,378 | 38.9% |
| #9 | 🇵🇱 Poland | $13,369 | 32.3% |
| #10 | 🇹🇷 Turkey | $13,057 | -3.8% |
| #11 | 🇳🇴 Norway | $8,292 | 7.4% |
| #12 | 🇬🇷 Greece | $8,014 | 53.1% |
| #13 | 🇧🇪 Belgium | $6,503 | 25.1% |
| #14 | 🇷🇴 Romania | $5,785 | 114.9% |
| #15 | 🇩🇰 Denmark | $5,522 | 36.1% |
| #16 | 🇨🇿 Czech Republic | $4,013 | 103.2% |
| #17 | 🇵🇹 Portugal | $3,975 | 32.2% |
| #18 | 🇭🇺 Hungary | $2,907 | 140.3% |
| #19 | 🇸🇰 Slovakia | $2,043 | 104.6% |
| #20 | 🇭🇷 Croatia | $1,846 | 73.6% |
| #21 | 🇱🇹 Lithuania | $1,278 | 198.8% |
| #22 | 🇧🇬 Bulgaria | $1,253 | 67.7% |
| #23 | 🇱🇻 Latvia | $851 | 189.9% |
| #24 | 🇪🇪 Estonia | $787 | 53.2% |
| #25 | 🇸🇮 Slovenia | $760 | 56.0% |
| #26 | 🇱🇺 Luxembourg | $474 | 87.4% |
| #27 | 🇦🇱 Albania | $239 | 33.8% |
| #28 | 🇲🇰 North Macedonia | $219 | 76.6% |
| #29 | 🇲🇪 Montenegro | $97 | 40.0% |
NATO is based on building up forces and equipment for the goal of joint security and defense. And, despite the pandemic, many members did increase their spending in 2020.
However, not all countries contribute equally. The agreed-upon target for European NATO members, for example, is to spend 2% of GDP on defense by 2024, but many countries are not on track to meet this goal.
Who Pays for NATO Itself?
One of the key pillars of NATO is collective defense: a commitment to the idea that an act of violence against one or more of its member states is an act of aggression towards all.
Collective defense, cooperative security, and crisis management are at the heart of NATO's purpose and operations.
Apart from defense spending, running a transcontinental political alliance costs around $3 billion annually. So which countries foot the bill for these expenses?
Country
Cost Share Arrangements
(2021-2024)
🇺🇸 United States
16.36%
🇩🇪 Germany
16.36%
🇬🇧 United Kingdom
11.29%
🇫🇷 France
10.50%
🇮🇹 Italy
8.79%
🇨🇦 Canada
6.88%
🇪🇸 Spain
6.00%
🇹🇷 Turkey
4.73%
🇳🇱 Netherlands
3.45%
🇵🇱 Poland
2.99%
🇧🇪 Belgium
2.11%
🇳🇴 Norway
1.78%
🇩🇰 Denmark
1.31%
🇷🇴 Romania
1.23%
🇬🇷 Greece
1.06%
🇨🇿 Czech Republic
1.06%
🇵🇹 Portugal
1.05%
🇭🇺 Hungary
0.76%
🇸🇰 Slovakia
0.52%
🇧🇬 Bulgaria
0.37%
🇭🇷 Croatia
0.30%
🇱🇹 Lithuania
0.26%
🇸🇮 Slovenia
0.23%
🇱🇺 Luxembourg
0.17%
🇱🇻 Latvia
0.16%
🇪🇪 Estonia
0.12%
🇦🇱 Albania
0.09%
🇮🇸 Iceland
0.06%
🇲🇪 Montenegro
0.03%
Total
100.00%
Members have pre-arranged mechanisms to divide NATO alliance expenses evenly.
Getting into specifics, the members are paying for:
Civilian staff wages and overhead costs of running NATO headquarters.
Running strategic commands, joint operations, early warning and radar systems, training, etc.
Defense communications systems, harbors, airfields, and fuel supplies.
The Future of NATO
While outright nation-on-nation conflict is becoming more rare, threats to the collective security of NATO allies have not disappeared.
While countries may have differing opinions over the exact amount each should contribute, rising expenditures are a sign that NATO is still a priority for the near future.
Animation: How the European Map Has Changed Over 2,400 Years
The history of Europe is breathtakingly complex, but this animation helps makes sense of 2,400 years of change on the European map.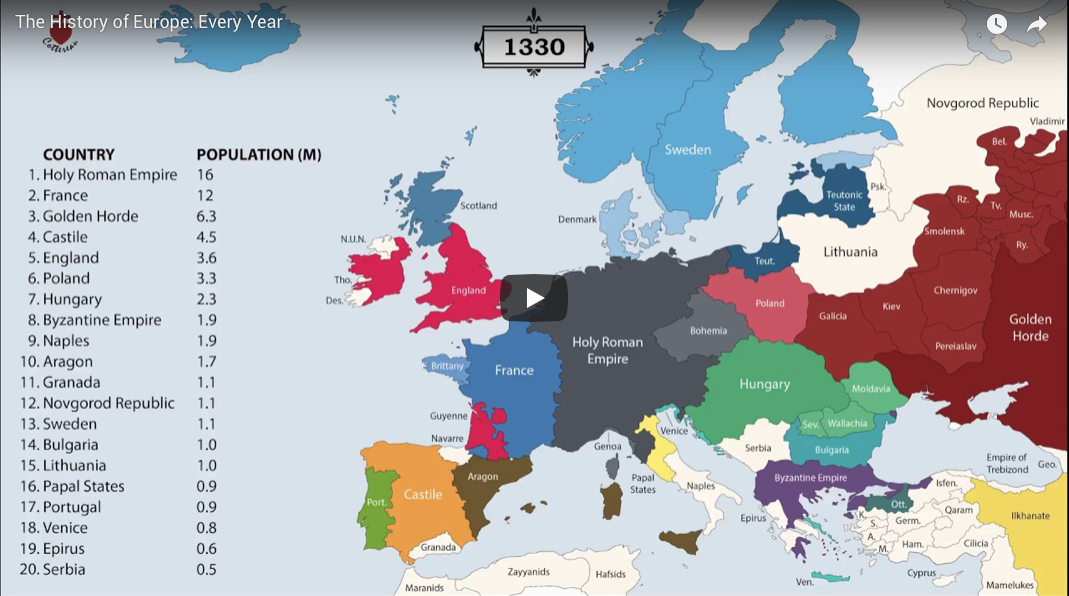 How the European Map Has Changed Over 2,400 Years
The history of Europe is breathtakingly complex. While there are rare exceptions like Andorra and Portugal, which have had remarkably static borders for hundreds of years, jurisdiction over portions of the continent's landmass have changed hands innumerable times.
Today's video comes to us from YouTube channel Cottereau, and it shows the evolution of European map borders starting from 400 BC. Empires rise and fall, invasions sweep across the continent, and modern countries slowly begin to take shape (with the added bonus of an extremely dramatic instrumental).
Below are nine highlights and catalysts that shifted the dividing lines of the European map:
146 BC – A Year of Conquest
146 BC was a year of conquest and expansion for the Roman Republic. The fall of Carthage left the Romans in control of territory in North Africa, and the ransack and destruction of the Greek city-state of Corinth also kickstarted an era of Roman influence in that region. These decisive victories paved the way for the Roman Empire's eventual domination of the Mediterranean.
117 AD – Peak Roman Empire
The peak of the Roman Empire is one of the more dramatic moments shown on this animated European map. At its height, under Trajan, the Roman Empire was a colossal 1.7 million square miles (quite a feat in an era without motorized vehicles and modern communication tools). This enormous empire remained mostly intact until 395, when it was irreparably split into Eastern and Western regions.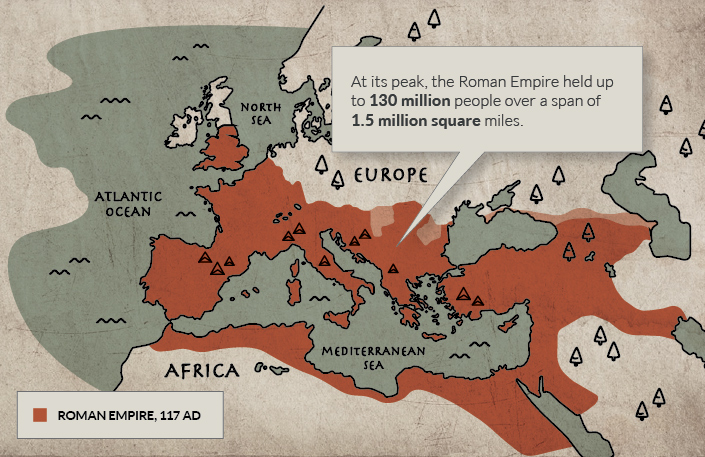 370 AD – The Arrival of the Huns
Spurred on by severe drought conditions in Central Asia, the Huns reached Europe and found a Roman Empire weakened by currency debasement, economic instability, overspending, and increasing incursions from rivals along its borders.
The Huns waged their first attack on the Eastern Roman Empire in 395, but it was not until half a century later—under the leadership of Attila the Hun—that hordes pushed deeper into Europe, sacking and razing cities along the way. The Romans would later get their revenge when they attacked the quarreling Goths and Huns, bouncing the latter out of Central Europe.
1241 – The Mongol Invasion of Europe
In the mid-13th century, the "Golden Horde" led by grandsons of Genghis Khan, roared into Russia and Eastern Europe sacking cities along the way. Facing invasion from formidable Mongol forces, central European princes temporarily placed their regional conflicts aside to defend their territory. Though the Mongols were slowly pushed eastward, they loomed large on the fringes of Europe until almost the 16th century.
1362 – Lithuania
Today, Lithuania is one of Europe's smallest countries, but at its peak in the middle ages, it was one of the largest states on the continent. A pivotal moment for Lithuania came after a decisive win at the Battle of Blue Waters. This victory stifled the expansion of the Golden Horde, and brought present-day Ukraine into its sphere of influence.
1648 – Kleinstaaterei
The end of the Holy Roman Empire highlights the extreme territorial fragmentation in Germany and neighboring regions, in an era referred to as Kleinstaaterei.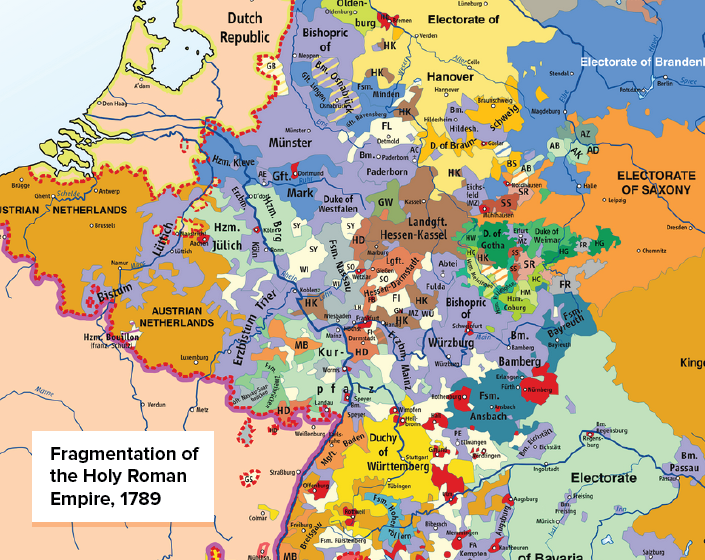 Even as coherent nation states formed around it, the Holy Roman Empire and its remnants wouldn't coalesce until Germany rose from the wreckage of the Franco-Prussian War in 1871. Unification helped position Germany as a major power, and by 1900 the country had the largest economy in Europe.
1919 – The Ottoman Empire
The Ottoman Empire—a fixture in Eastern Europe for hundreds of years—was in its waning years by the beginning of the 20th century. The empire had ceded territory in two costly wars with Italy and Balkan states, and by the time the dust cleared on WWI, the borders of the newly minted nation of Turkey began at the furthest edge of continental Europe.
1942 – Expanding and Contracting Germany
At the furthest extent of Axis territory in World War II, Germany and Italy controlled a vast portion of continental Europe. The map below shows occupied land and areas of influence at the height of Germany's territorial expansion.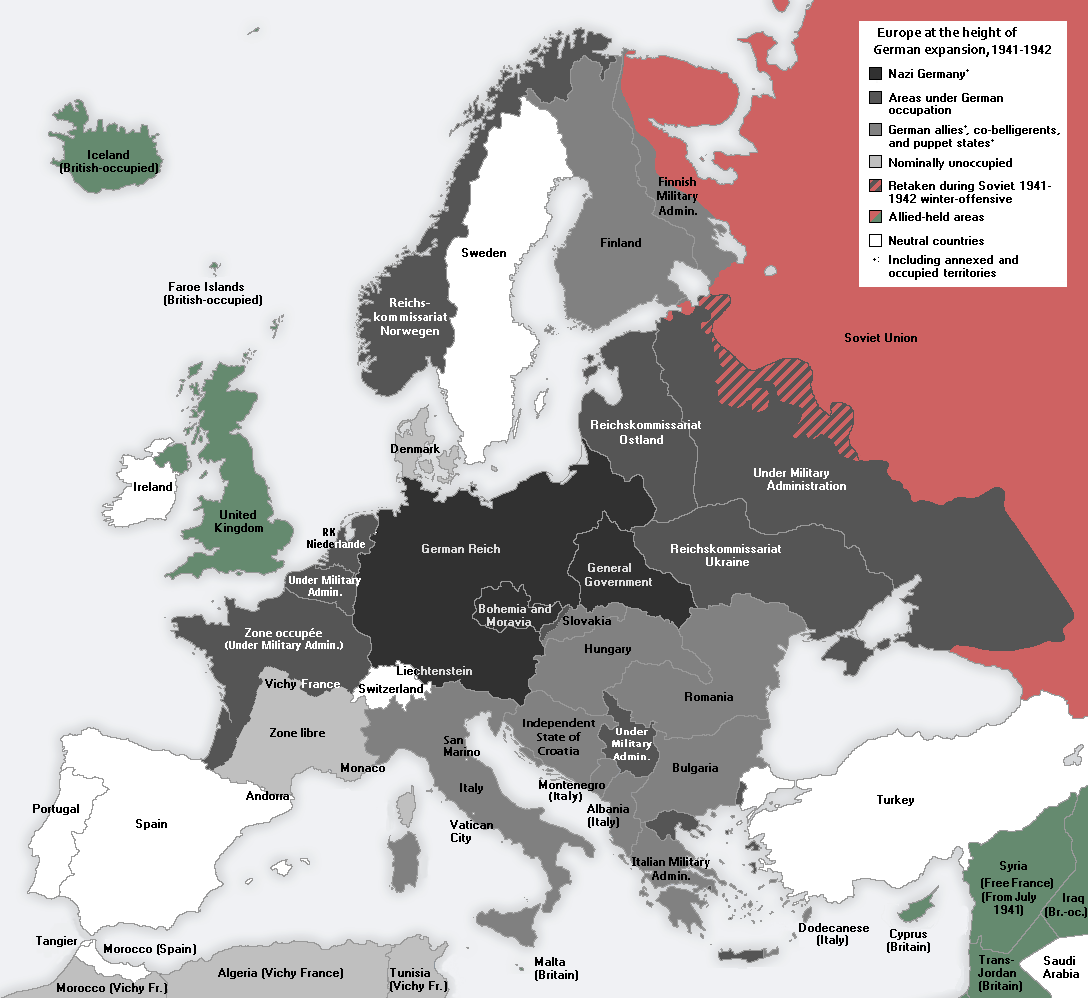 After the war, Germany again became fragmented into occupation zones—this time, overseen by the United States, France, Great Britain, and the Soviet Union. Germany would not be made whole again until 1990, when a weakening Soviet Union loosened its grip on East Germany.
1991 – Soviet Dissolution
In the decades following WWII, the political boundaries of the European map remained relatively stable—that is, until the dissolution of the Soviet Union in 1991. Almost overnight, the country's entire western border splintered into independent nations. When the dust settled, there were 15 breakaway republics, six of which were in Europe.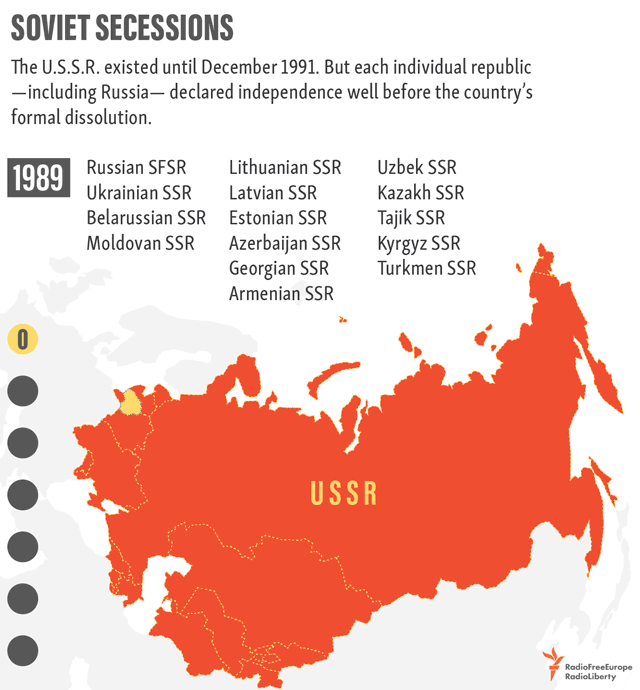 Bonus: If you liked the video above, be sure to watch this year-by-year account of who ruled territories across Europe.
Visualizing Social Risk in the World's Top Investment Hubs
In a third of the world's top investment hubs, citizens face significant threats to their civil, political, and labor rights.
Visualizing the Social Risk of the World's Top Investment Hubs
As social responsibility becomes an important aspect of doing business, it's more crucial than ever for decision-makers to understand the risks associated with various global markets.
This graphic, using data from a report by Verisk Maplecroft, looks at the world's top cities for foreign direct investment (FDI) and assesses their relative levels of social risk.
In the article below, we'll take a look at the research methodology to explain how risk was assessed in the report and touch on some key markets that placed high on the ranking.
The Relationship Between FDI and Social Risk
To look at the relationship between FDI and social risk, the report identified the top 100 cities for FDI in 2020, using data from fDi Markets (the Financial Times' foreign investment monitor).
From there, social risk in the top 100 FDI cities was measured using data from Verisk Maplecroft's [email protected] Social Index​​. The index measures the social risk landscape of 575 different cities across the globe, using three key pillars:
Civil and political rights: the right to protest, security force abuses
Labor rights: child labor, modern slavery
Poverty: portion of population in extreme poverty
After calculating scores based on these three metrics, cities were then grouped into four categories to measure their level of social risk:
Low risk
Medium risk
High risk
Extreme risk
Based on this analysis, citizens in 33 of the top 100 cities for FDI (representing $71 billion of inward investment) are at 'high' or 'extreme' levels of social risk, meaning they face significant threats to their civil, political, and labor rights.
Of the top 100 places, Istanbul and Izmir rank the highest when it comes to overall human rights risks, largely because of labor rights violations and the exploitation of migrant and refugee workers. This is something manufacturers should take note of, especially those who outsource production to these Turkish cities.
In contrast, Beijing, which places third on the list, scores high due to China's various civil rights issues. Other major manufacturing and commercial hubs in China, like Guangzhou and Shanghai, place high on the list as well.
Overall Social Risk Index
While a third of the top FDI cities are at high or extreme social risk, this figure is even higher when looking at all 575 cities included in the [email protected] Social Index.
Of the 575 cities, 75% are classified as 'high' or 'extreme' risk. Mogadishu, Somalia is the highest risk city, followed by Damascus, Aleppo, and Homs in Syria, Pyongyang in North Korea, and Sanaa in Yemen.
While the high-risk cities are spread across the globe, it's worth noting that 240 of the high and extreme risk cities are located in Asia.
Civil and Political Risk Index
In addition to the overall ranking, the report provides insight into specific human rights violations, highlighting which cities are most at risk.
Perhaps unsurprisingly, Pyongyang, North Korea places first on the list when it comes to civil and political rights violations. Under the current North Korean regime, some significant civil rights violations include arbitrary arrests and detentions, the holding of political prisoners and detainees, and a lack of judicial independence.
In addition to North Korea, Syria places high on the civil rights risk index as well, with three of the top five cities located in the war-torn country.
Labor Rights Index
When focusing specifically on labor rights, almost half of the 'high' or 'extreme' risk cities are in Europe and Central Asia.
The biggest problems across a majority of 'high' risk cities include child labor, the exploitation of migrant workers, and modern slavery. Pakistan in particular struggles with child labor issues, with an estimated 3.3 million children in situations of forced labor.
What This Means for Foreign Investors
Understanding a country's social landscape can help organizations make decisions on where to conduct business, especially those that prioritize ESG efforts.
And, while organizations who invest in 'high' risk locations aren't directly involved in any human rights violations, being associated with a 'high' risk city could impact a corporation's reputation, or cause financial damage down the line.