The World of Wine: Visualizing an Industry Ripe for Disruption
View the full-size version of this infographic.
Visualizing an Industry Ripe for Disruption
View the full-size version of this infographic by clicking here.
Winemaking is often thought of as a symbol of transformation.
While the fermented drink dates back 9,000 years, the wine market is now experiencing its own transformation due to technological innovation, and the introduction of new business models. Generating $370 billion in revenue in 2019, the global industry is expected to grow considerably over the next decade—but not as we know it.
Today's infographic from Raconteur explores wine consumption by region, and looks at how changing tastes are driving a new era of the millennia-old staple.
Will the industry continue to get better with age, or will it join the countless other industries that have fallen victim to disruption?
The Wine Leaders of the World
To start, let's take a look at the countries around the world that have the biggest economic footprints linked to the trade and consumption of wine:
Exports: Spain is the largest exporter of wine globally, producing 21 million hectoliters of volume in 2018, followed by Italy with 19.7 million hectoliters.
Imports: Germany leads on imports with 14.5 million hectoliters of volume in 2018, while the UK is the second-largest importer with 13.2 million hectoliters.
Consumption: The U.S. currently leads on wine consumption, with Americans drinking an average of 3.7 liters per person—generating almost $50 billion in revenue.
| Rank | Country | Revenue | | | | | |
| --- | --- | --- | --- | --- | --- | --- | --- |
| #1 | 🇺🇸 United States | $49.5B | | | | | |
| #2 | 🇫🇷 France | $28B | | | | | |
| #3 | 🇨🇳 China | $27B | | | | | |
| #4 | 🇮🇹 Italy | $27B | | | | | |
| #5 | 🇬🇧 UK | $24B | | | | | |
| #6 | 🇩🇪 Germany | $17B | | | | | |
| #7 | 🇦🇷 Argentina | $17B | | | | | |
| #8 | 🇨🇦 Canada | $17B | | | | | |
| #9 | 🇮🇩 Indonesia | $13B | | | | | |
| #10 | 🇷🇺 Russia | $12B | | | | | |
Currently, 80% of all wine consumed within China is produced domestically, and with a growing middle class, there is a huge potential for the Chinese industry to gain ground in comparison to other leading wine markets.
Rapidly Changing Tastes
While older generations prefer wine to other alcoholic beverages, spirits are the drink of choice for those aged 18 to 27. In fact, only 27% of this age group prefers wine to spirits or beer, meaning wine companies will need to adapt to these younger audiences and their differing values.
Marketing could create an opportunity to connect with this audience in a more meaningful way, with packaging having the most potential to sway their decision making process by providing a number of unique benefits:
Sustainability
Smaller serving sizes
Portability
Interestingly, canned wine is already a $70 million industry in the United States — and by 2025, it could make up 10% of total sales.
New Threats to the Industry
Along with changing expectations for packaging, millennials also crave new experiences, with more alternative options appealing to this age group, such as cannabis-infused beverages, craft beer, and whiskey.
Dealcoholized cannabis-infused wine is a new product innovation that could also appeal to this audience and have direct implications for the industry—but while cannabis companies have shown an interest in the category, collaboration with the tech industry is proving to be the most transformative.
When Two Valleys Collide
Technology is squeezing every opportunity it can get out of the wine industry, impacting different parts of the supply chain.
Winemaking
Drones are making farms and vineyards across the globe more efficient, while new technologies used to improve harvesting, sorting, and filtration during the winemaking process are also cropping up and providing new solutions to antiquated problems.
Consumption
Traditionally, decanting wine has been a slow and delicate process. Smart wine decanters however, can expedite that process.
These decanters use air filtration systems to remove impurities and enhance the aroma in just a few minutes—streamlining the decanting process, which typically takes around three hours.
Impact on the Environment
Industry experts predict that packaging such as edible bottles made from sugar substitutes, and compostable, non-plastic glass will replace glass bottles.
Meanwhile, QR codes have the potential to replace paper labels on wine bottles entirely, and a growing number of wine brands are already using augmented reality to deliver more immersive experiences to end consumers.
For an industry steeped in history and tradition, the future holds exciting potential for new innovations that will transform the way we look at wine forever.
Charted: What are Retail Investors Interested in Buying in 2023?
What key themes and strategies are retail investors looking at for the rest of 2023? Preview: AI is a popular choice.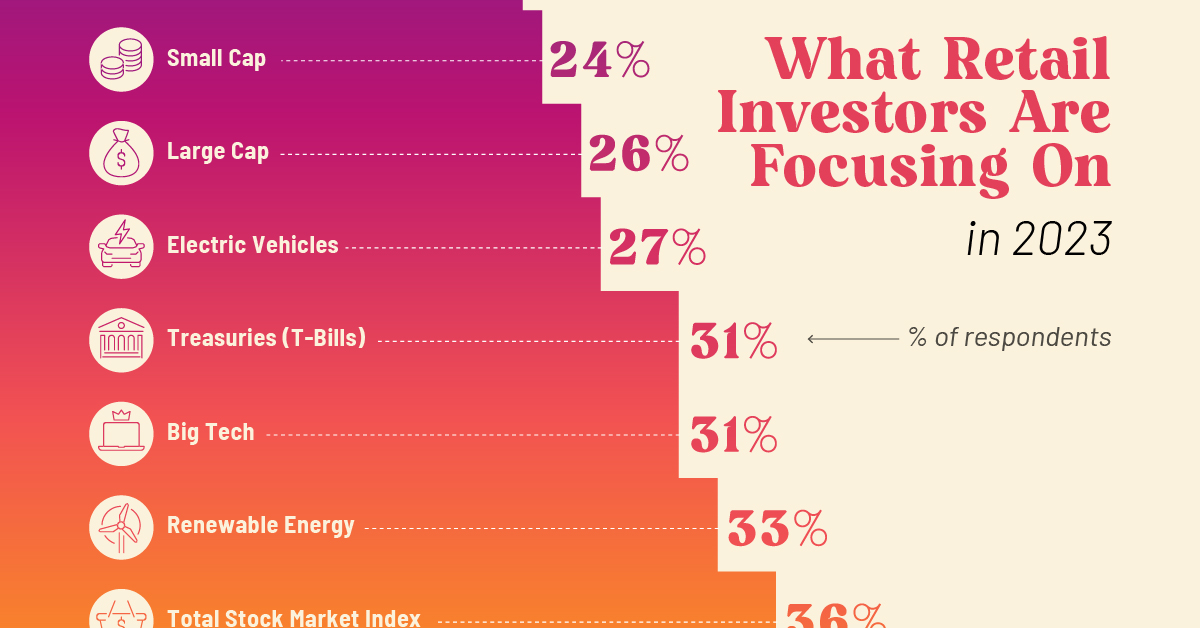 Charted: Retail Investors' Top Picks for 2023
U.S. retail investors, enticed by a brief pause in the interest rate cycle, came roaring back in the early summer. But what are their investment priorities for the second half of 2023?
We visualized the data from Public's 2023 Retail Investor Report, which surveyed 1,005 retail investors on their platform, asking "which investment strategy or themes are you interested in as part of your overall investment strategy?"
Survey respondents ticked all the options that applied to them, thus their response percentages do not sum to 100%.
Where Are Retail Investors Putting Their Money?
By far the most popular strategy for retail investors is dividend investing with 50% of the respondents selecting it as something they're interested in.
Dividends can help supplement incomes and come with tax benefits (especially for lower income investors or if the dividend is paid out into a tax-deferred account), and can be a popular choice during more inflationary times.
| Investment Strategy | Percent of Respondents |
| --- | --- |
| Dividend Investing | 50% |
| Artificial Intelligence | 36% |
| Total Stock Market Index | 36% |
| Renewable Energy | 33% |
| Big Tech | 31% |
| Treasuries (T-Bills) | 31% |
| Electric Vehicles | 27% |
| Large Cap | 26% |
| Small Cap | 24% |
| Emerging Markets | 23% |
| Real Estate | 23% |
| Gold & Precious Metals | 23% |
| Mid Cap | 19% |
| Inflation Protection | 13% |
| Commodities | 12% |
Meanwhile, the hype around AI hasn't faded, with 36% of the respondents saying they'd be interested in investing in the theme—including juggernaut chipmaker Nvidia. This is tied for second place with Total Stock Market Index investing.
Treasury Bills (30%) represent the safety anchoring of the portfolio but the ongoing climate crisis is also on investors' minds with Renewable Energy (33%) and EVs (27%) scoring fairly high on the interest list.
Commodities and Inflation-Protection stocks on the other hand have fallen out of favor.
Come on Barbie, Let's Go Party…
Another interesting takeaway pulled from the survey is how conversations about prevailing companies—or the buzz around them—are influencing trades. The platform found that public investors in Mattel increased 6.6 times after the success of the 'Barbie' movie.
Bud Light also saw a 1.5x increase in retail investors, despite receiving negative attention from their fans after the company did a beer promotion campaign with trans influencer Dylan Mulvaney.
Given the origin story of a large chunk of American retail investors revolves around GameStop and AMC, these insights aren't new, but they do reveal a persisting trend.