The U.S. Debt Ceiling has Risen No Matter Who is in Office [Chart]
The U.S. Debt Ceiling has Risen No Matter Who is in Office
Current lawmakers divided on current proposal for $19.6 trillion ceiling.
The Chart of the Week is a weekly Visual Capitalist feature on Fridays.
House Republican leaders were slated to propose a bill this week linking a debt ceiling increase to conservative issues. Under the new proposal, the debt ceiling would be increased from $18.1 trillion to $19.6 trillion, and would likely extend through 2018.
However, new reports out of Washington suggest that internal support for the bill from Republican lawmakers is divided, and it is unlikely to go to the floor. Where things go from here are unclear. If it gets down to the wire, Republicans willing to play ball may have to seek Democrat support, but this would likely void any concessions to spending as originally proposed.
Congress is likely on the brink of another deadlock, similar to 2011 or 2013, in which debate will rage on even past the Treasury's deadline of November 3. The end result is obvious: the limit will be increased. However, in the meantime, there is likely to be no shortage of brinkmanship as both parties do their song and dance.
This week's chart shows the parabolic increase to the statutory debt limit from 1970 until today. The chart also includes the potential $19.6 trillion ceiling as described in the most recent proposal, as well as the lawmakers in control during each time period.
What is clear from this data is that over the past, the debt limit will increase no matter who is in control. While there may be minor differences, the ceiling as well as federal debt have reached unprecedented levels as a result of both parties. That is why the United States now has 29% of total sovereign debt and also the 2nd highest national debt when measured in terms of debt-to-revenue.
If a compromise isn't reached, at some point the United States government would become unable to make payments on spending it has already committed to. The result would be a default on its debt obligations.
Ranked: Share of Global Arms Exports in 2022
The U.S. is the biggest weapons exporter in the world, but which other countries take up a significant share of global arms exports in 2022? And how has that share changed over time?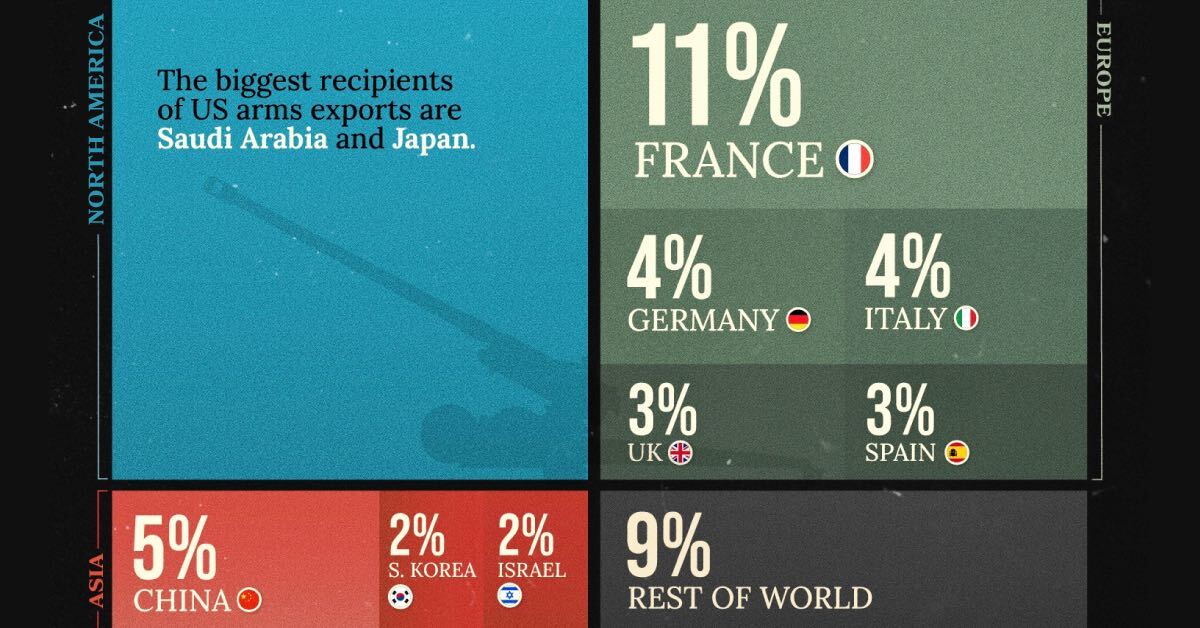 Ranked: Share of Global Arms Exports 2018–2022
In 2022, global military budgets hit $2.2 trillion, an eighth consecutive year of increase.
Part of those budgets were used for the procurement of arms, but which countries are major weapons suppliers, and how do they influence the global arms trade?
We chart out the top 10 countries with the biggest share of global arms exports using data from the Stockholm International Peace Research Institute (SIPRI).
Which Country Exports the Most Weapons?
The U.S. is the biggest weapons exporter, accounting for 40% of the total volume of international arms transfers between 2018–2022. Nearly one-fifth of these exports headed to Saudi Arabia, and other significant amounts went to Japan (8.6%) and Australia (8.4%).
Below we rank the biggest weapons exporters by share of total volume traded in 2018–2022, as well as their growth or decline from trends recorded in 2013–2017.
Rank
Country
% share of global arms exports
(2018-2022)
% change between
2013-17 & 2018-22
1
🇺🇸 U.S.
40%
+14%
2
🇷🇺 Russia
16%
-31%
3
🇫🇷 France
11%
+44%
4
🇨🇳 China
5%
-23%
5
🇩🇪 Germany
4%
-35%
6
🇮🇹 Italy
4%
+45%
7
🇬🇧 UK
3%
-35%
8
🇪🇸 Spain
3%
-4%
9
🇰🇷 South Korea
2%
+74%
10
🇮🇱 Israel
2%
-15%
N/A
🌐 Rest of World
9%
N/A
Russia (16%) and France (11%) rank close together, followed by China (5%) and Germany (4%) to round out the top five major arms exporters.
However France's export volumes grown considerably (+44%) from the previous five-year period, thanks to big sales to India, which included 62 combat aircraft and four submarines, one-third of all French weapons trade. This has resulted in France leapfrogging the U.S. as India's second-largest weapons supplier after Russia.
On the other hand, Russia's exports by volume has decreased (-31%) even before sanctions kicked in after the invasion of Ukraine. Its biggest trade partners, India and China, have prioritized developing their own weapons industries.
South Korea's Surging Weapons Exports
Another country whose arms sales are skyrocketing is South Korea, which ranks 9th in the overall share of global arms exports, but has seen a 74% increase in its export volumes. Key recipients include the Philippines, India, and Thailand.
South Korean president Yoon Suk Yeol has pledged to grow his country into the world's fourth largest arms exporter by 2027.
Interestingly, South Korea is one of three countries which is both a top-10 arms exporter and importer (along with China and the U.S.) as it has many takers for domestically produced military equipment, while simultaneously being reliant on American-produced long-range missiles and advanced combat aircraft.