A Map of the Online World in Incredible Detail
A Map of the Online World in Incredible Detail
The internet is intangible, and because you can't see it, it can be hard to comprehend its sheer vastness. As well, it's difficult to gauge the relative size of different web properties. However, this map of the internet by Halcyon Maps offers a unique solution to these problems.
Inspired by the look and design of historical maps, this graphic provides a snapshot of the current state of the World Wide Web, as of April 2021. Let's take a closer look!
But First, Methodology
Before diving into an analysis, it's worth touching on the methodology behind this graphic's design.
This map highlights thousands of the world's most popular websites by visualizing them as "countries." These "countries" are organized into clusters that are grouped by their content type (whether it's a news website, search engine, e-commerce platform, etc).
Editor's fun fact: Can you spot Visual Capitalist? We're right in between TechCrunch and The Guardian above.
The colored borders represent a website's logo or user interface. In terms of scale, each website's territory size is based on its average Alexa web traffic ranking. The data is a yearly average, measured from January 2020 to January 2021.
Along the borders of the map, you can find additional information, from ranked lists of social media consumption to a mini-map of average download speeds across the globe.
According to the designer Martin Vargic, this map took about a year to complete.
Top 50 Most Popular Websites
Google and YouTube take up a lot of space, which is unsurprising—they're the two highest-ranked websites on the list:
| Rank | Website | Country |
| --- | --- | --- |
| 1 | Google.com | 🇺🇲 U.S. |
| 2 | Youtube.com | 🇺🇲 U.S. |
| 3 | Tmall.com | 🇨🇳 China |
| 4 | Baidu.com | 🇨🇳 China |
| 5 | QQ.com | 🇨🇳 China |
| 6 | Sohu.com | 🇨🇳 China |
| 7 | Facebook.com | 🇺🇲 U.S. |
| 8 | Taobao.com | 🇨🇳 China |
| 9 | Amazon.com | 🇺🇲 U.S. |
| 10 | 360.cn | 🇨🇳 China |
| 11 | Yahoo.com | 🇺🇲 U.S. |
| 12 | Jd.com | 🇨🇳 China |
| 13 | Zoom.us | 🇺🇲 U.S. |
| 14 | Wikipedia.com | 🇺🇲 U.S. |
| 15 | Weibo.com | 🇨🇳 China |
| 16 | Sina.com.cn | 🇨🇳 China |
| 17 | Live.com | 🇺🇲 U.S. |
| 18 | Xinhuanet.com | 🇨🇳 China |
| 19 | Microsoft.com | 🇺🇲 U.S. |
| 20 | Reddit.com | 🇺🇲 U.S. |
| 21 | Office.com | 🇺🇲 U.S. |
| 22 | Netflix.com | 🇺🇲 U.S. |
| 23 | Microsoftonline.com | 🇺🇲 U.S. |
| 24 | Panda.tv | 🇨🇳 China |
| 25 | Zhanqi.tv | 🇨🇳 China |
| 26 | Instagram.com | 🇺🇲 U.S. |
| 27 | Force.com | 🇺🇲 U.S. |
| 28 | Google.com.hk | 🇭🇰 Hong Kong |
| 29 | VK.com | 🇷🇺 Russia |
| 30 | Alipay.com | 🇨🇳 China |
| 31 | Csdn.net | 🇨🇳 China |
| 32 | Myshopify.com | 🇨🇦 Canada |
| 33 | Okezone.com | 🇮🇩 Indonesia |
| 34 | Bing.com | 🇺🇲 U.S. |
| 35 | Yahoo.co.jp | 🇯🇵 Japan |
| 36 | Naver.com | 🇰🇷 South Korea |
| 37 | Adobe.com | 🇺🇲 U.S. |
| 38 | Salesforce.com | 🇺🇲 U.S. |
| 39 | Ebay.com | 🇺🇲 U.S. |
| 40 | Twitch.tv | 🇺🇲 U.S. |
| 41 | Bongacams.com | 🇳🇱 Netherlands |
| 42 | Twitter.com | 🇺🇲 U.S. |
| 43 | Apple.com | 🇺🇲 U.S. |
| 44 | Amazon.in | 🇮🇳 India |
| 45 | Amazon.co.jp | 🇯🇵 Japan |
| 46 | Aliexpress.com | 🇨🇳 China |
| 47 | Aparat.com | 🇮🇷 Iran |
| 48 | Linkedin.com | 🇺🇲 U.S. |
| 49 | Huanqiu.com | 🇨🇳 China |
| 50 | YY.com | 🇨🇳 China |
Google has held the title as the internet's most popular website since 2010. While Google's popularity is well understood, the company's dominance might be even more widespread than you'd think—across all Google-owned platforms (including YouTube) the company accounts for 90% of all internet searches.
The third highest ranked website is Tmall. For those who don't know, Tmall is a Chinese e-commerce platform, owned by Alibaba Group. It focuses on Business-to-Consumer (B2C) transactions, and has established itself as the most popular e-commerce website in China—in Q1 2021, Tmall accounted for more than 50% of China's B2C online transactions.
A High Level Look
When it comes to the top 50 websites overall, a majority are either social networking platforms, search engines, or online marketplaces—while this may not come as a surprise, it's still powerful to see visualized. For instance, even a huge, well-known website like the New York Times is just a tiny country on this map.
And of course, a map of the internet isn't complete without mention of the dark web.
While it's challenging to determine its true size, research indicates that the dark web accounts for a large portion of the internet's true size. And apparently, it's growing steadily, with the help of anonymous cryptocurrencies like Bitcoin.
For the most part, it's believed that the dark web is used for unsavory reasons—however, it's not all bad. Because of its anonymous nature, it can be used as a safe space for whistleblowing or activism.
Overall, this map, and the internet as a whole, has many places for us to explore. When you dive in, what "countries" catch your eye?
3D Map: The World's Largest Population Density Centers
What does population density look like on a global scale? These detailed 3D renders illustrate our biggest urban areas and highlight population trends.

Creator Program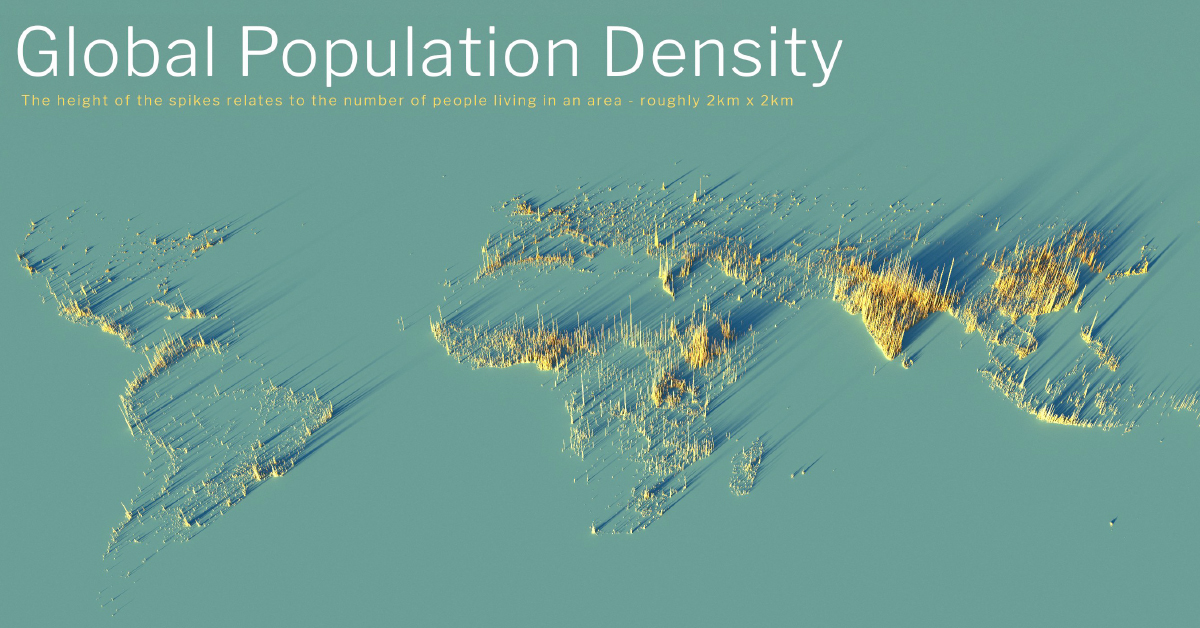 A 3D Look at the Largest Population Density Centers
It can be difficult to comprehend the true sizes of megacities, or the global spread of 8 billion people, but this series of population density maps makes the picture abundantly clear.
Created using the EU's population density data and mapping tool Aerialod by Alasdair Rae, the 3D-rendered maps highlight demographic trends and geographic constraints.
Though they appear topographical and even resemble urban areas, the maps visualize population density in squares. The height of each bar represents the number of people living in that specific square, with the global map displaying 2km x 2km squares and subsequent maps displaying 1km x 1km squares.
Each region and country tells its own demographic story, but the largest population clusters are especially illuminating.
China vs U.S. — Clusters vs Sprawl
Click here to view the high resolution version.
Zooming into the most populated country in the world, China and its surrounding neighbors demonstrate massive clusters of urbanization.
Most people are familiar with the large density centers around Hong Kong, Guangzhou, and Shanghai, but the concentration in central China is surprising. The cities of Chengdu and Chonqing, in the Sichuan Basin, are part of a massive population center.
Interestingly, more than 93% of China's population lives in the Eastern half of the country. It's a similar story in neighboring South Korea and Taiwan, where the population is clustered along the west coasts.
Click here to view the high resolution version.
The U.S. also has large population clusters along the coasts, but far more sprawl compared to its Asian counterparts. Though the Boston-Washington corridor is home to over 50 million residents, major centers spread out the population across the South and the Midwest.
Clearly visible are clusters in Florida (and not exclusively focused around Miami like some might believe), Illinois, Georgia, and Texas. The population is sparse in the West as expected, but California's Los Angeles and Bay Area metros make up for the discrepancy and are just behind New York City's density spikes in height.
India & Southeast Asia — Massive Density in Tight Areas
Click here to view the high resolution version.
At 1.38 billion people, India's population is just behind China's in terms of size. However, this sizable population fits into an area just one-third of China's total land area, with the above map demonstrating what the same amount of people looks like in a smaller region.
On one hand, you still have clear clusters, such as in Mumbai, New Delhi, Kolkata, and Bangladesh's Dhaka. On the other, there is a finite amount of room for a massive amount of people, so those density "spikes" are more like density "peaks" with the entire country covered in high density bars.
However, we can still see geographic trends. India's population is more densely focused in the North before fading into the Himalayas. Bangladesh is equally if not more densely populated, with the exception of the protected Sundarbans mangrove forest along the coast. And Pakistan's population seen in the distance is clustered along the Indus River.
Click here to view the high resolution version.
Geographic constraints have always been the biggest deciding factor when it comes to population density, and nowhere is this more apparent than Southeast Asia.
Take Indonesia, the fourth largest country by population. Despite spanning across many islands, more than half of the country's 269 million inhabitants are clustered on the single island of Java. The metros of Jakarta and Surabaya have experienced massive growth, but spreading that growth across oceans to entirely new islands (covered by rainforests) is a tall order.
When the distance is smaller, that cross-water growth is more likely to occur. Nearby in the Philippines, more than 100 million people have densely populated a series of islands no bigger than the state of Arizona.
Indeed, despite being one of the most populated areas in the world, each country in Southeast Asia has had its own growing problems. Some are limited by space (Singapore, Philippines), while others are limited by forests (Thailand, Vietnam).
A World of Different Density Pictures
Though the above maps cover the five most populated countries on Earth, accounting for nearly half of the world's population, they only show a small part of the global picture.
As the full global density map at the top of the page highlights, the population patterns can accurately illustrate some geographic patterns and constraints, while others need further exploration.
For example, the map clearly gives an outline of Africa and the sparse area that makes up the Sahara Desert. At the same time, landmasses like Australia and New Zealand are almost invisible save for a few clusters along the coast.
To get a closer and more intricate picture of each country's density map, head to Alasdair Rae's long thread of rendered maps and start scrolling up to find yours!
The Type of Business Every Country Wants to Start
This series of maps shows a regional breakdown of the most popular types of businesses people want to start, based on online search results.

Creator Program
The Type of Business Every Country Wants to Start
View a higher resolution version of this map.
Every year, millions of new businesses are started across the world—in 2021, nearly 5.4 million new business applications were filed in the U.S. alone.
And since startups and new businesses play a significant role in shaping a country's economic growth, encouraging entrepreneurship is vital. But what types of businesses around the world are people most interested in starting?
These maps by ZenBusiness show the most popular types of businesses that entrepreneurs in nearly every country want to start, based on analyzing relevant internet search results.
Most Searched Businesses Around the World
To source the data, ZenBusiness analyzed searches from Ahrefs, specifically looking for the term "start a business" and its equivalents in local languages as of February 2022.
They then found the relevant topic or keyword with the highest search volume, and organized the results into 11 different industries:
Beauty & Cosmetics
Food & Drink
Logistics & Infrastructure
Personal Services
Recycling
Software Development
Business & Financial
Leisure & Tourism
Marketing
Real Estate
Retail & E-Commerce
The data showed that the industries entrepreneurs are most attracted to vary greatly from country to country, depending on a variety of factors such as infrastructure, business climate, and culture.
Here's a breakdown of the most searched businesses around the world, broken down by region.
Africa
From cooking gas refills in South Africa to supplements in the Gambia, entrepreneurs across Africa seem to be interested in starting a wide range of businesses (at least according to their searches).
But while the results varied across the region, the most-searched industry was personal services such as cleaning, interior design, and contracting. Cleaning was especially popular, ranking first in six different African countries.
One African country worth highlighting is Morocco, where freight is the most-searched startup term across the country. This makes sense considering Morocco is home to several major ports, including the Port of Tanger Med, which is Africa's largest port by cargo capacity.
Europe
In Europe, real estate is the most-searched industry, ranking number one in seven different countries across the continent. Over the last decade, the European Union's real estate market has boomed—between 2010 and 2021, home prices in the EU increased by 42%.
Retail is also a popular industry across Europe, with clothing-related searching taking the top spot in five different European countries.
Middle East & Central Asia
From soap production in Uzbekistan to dropshipping in Azerbaijan, the Middle East & Central Asia have the most diverse searches compared to any other region.
One particularly interesting top search was in the United Arab Emirates, where imports and exports ranked first. The UAE's economy is heavily reliant on trade, especially oil, which makes up 30% of the region's GDP and 41% of public revenues.
Rest of Asia & Oceania
Asia and Oceania had an interesting mix of unique business searches. For instance, pig farming ranked number one in the Solomon Islands, and lawn moving took the top spot in New Zealand.
But generally speaking, retail was one of the most-searched-for business types across this region, with clothing taking the top spot in countries like Australia, Indonesia, and Singapore.
North America
Across North America, retail takes the top spot for most searched business type. In fact, the top searches in nearly half of the region's countries are related to the retail or e-commerce industry.
The U.S. currently has the largest retail market in the world, although China is close on its heels. In 2021, America's retail market was valued at over $6.5 trillion U.S. dollars.
South America
Food was the top searched industry across South America, ranking number one in half the countries across the region. In Brazil, sweets took the top spot, which might not be surprising considering the country is the top sugar cane producer worldwide.
Clothing was also a popular business idea, taking the top spot in five South American countries.
Which countries surprised you the most with their new business interest?