The Most Popular Books in History All Shared One Trait
Throughout history, people have turned to works of literature for guidance, entertainment, and education. Modern businesses aim to tell stories that leave a long-lasting impact as well, and should look to examples of historical success to influence how they create their own content.
Today's infographic comes to us from Global English Editing, and it looks at 20 of the most popular books in the world. All of the books listed, even those published decades or centuries ago, have made an enduring impact on readers to this day. They have achieved this by stirring discussion and sparking debate wherever they are read.
Controversy: The Evergreen Theme
One of the important traits shared by every book on this list is the controversy that has swirled around each of them. This can be seen across different time periods and genres.
People have questioned the identity and authorial authenticity of Homer and decried the upending of creationism proposed by Darwin. Even a children's book like the modern bestselling series, Harry Potter, can be a magnet for discussion over what is morally right and wrong.
It is often the case the that most popular and enduring literary works will not only captivate, but also address controversial issues in such a way that people will be talking about them for generations.
Lessons From History
The recent bestselling streak of George Orwell's 1984, first published in 1950, is an interesting illustration of this trend.
The dystopian novel was banned upon its translation and release in the former USSR due to its implicit critique of Stalinist political ideology. By contrast, in the 1970s and 1980s, several American counties challenged 1984 on the grounds that it might promote communist ideals. In the 21st century, Orwell's best-known work has been revisited by a new generation of readers as the American political climate continues to create new uncertainties about governance, the distortion of facts, and social control.
For Business Content, Bold Will Hold
The most popular books ever written can teach modern businesses a great deal about what it takes to make content that is evergreen, meaningful, and primed to engage their readers. Creating discussion is key in the age of the reactive "hot take" style of article. Your ability to stand out in the cultural, historical, or political context for having a point of view that many people find worthy of debating will give your work the staying power it needs.
Considering that within any given minute there are 2.4 million Google searches taking place and over 700,000 people logging into Facebook, this is no easy task. But whether it's through a new product or via customer engagement, creating meaningful discussion is key to making a business' voice heard through all the noise.
Visualizing Population Density Patterns in Six Countries
These maps show the population density of several countries, using 3D spikes to denote where more people live.

Creator Program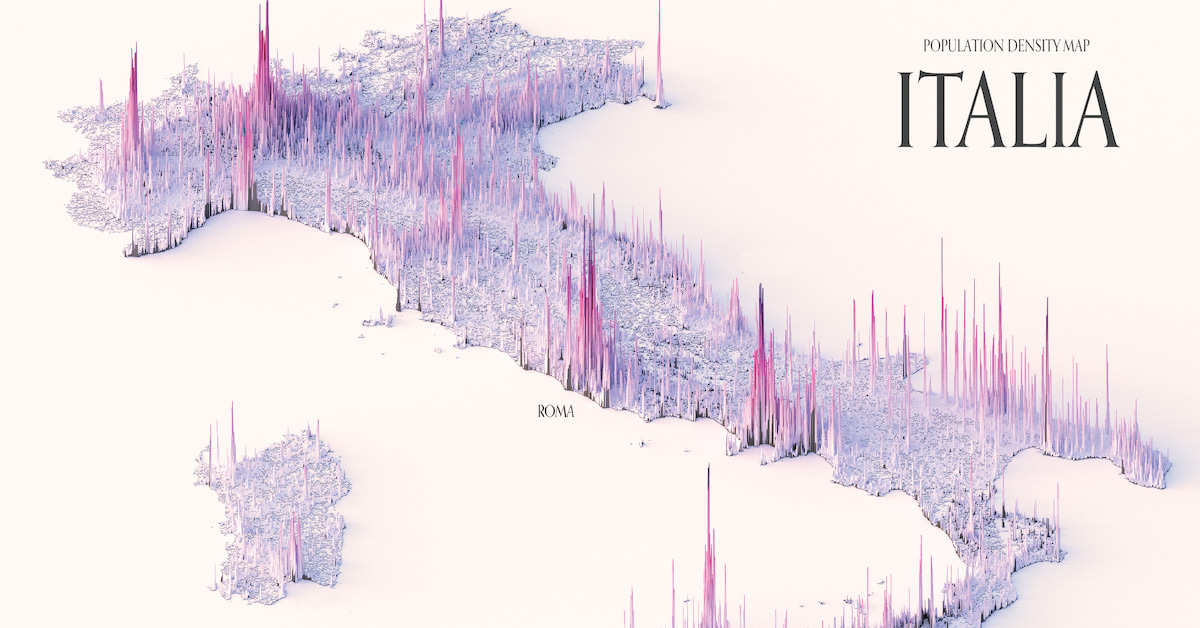 As of 2022, Earth has 8 billion humans. By 2050, the population is projected to grow to 10 billion.
In the last 100 years, the global population more than quadrupled. But none of this growth has been evenly spread out, including within countries.
This series of 3D maps from Terence Teo, an associate professor at Seton Hall University, renders the population density of six countries using open-source data from Kontur Population. He used popular programming language R and a path-tracing package, Rayshader, to create the maps.
France and Germany: Population Density Spikes and Troughs
Let's take a look at how the population spreads out in different countries around the world. Click the images to explore higher-resolution versions.
France is the world's 7th largest economy and second-most-populous country in the EU with 65 million people. But a staggering one-fifth of the French population lives in Paris and its surrounding metro—the most populous urban area in Europe.
Many residents in the Paris metropolitan area are employed in the service sector, which makes up one-third of France's $2.78 trillion gross domestic product.
Unlike France, Germany has many dense cities and regions, with Berlin, Munich, Stuttgart, and Cologne all having over a million residents. Berlin is the most populated at 3.5 million residents in the city proper, and 6 million in the wider urban area.
That said, the relatively recent reunification of West and East Germany in 1991 meant that post-WWII growth was mostly concentrated in West Germany (and West Berlin).
Italy and Chile: Coast to Coast
In Italy, another phenomenon affects population density and urban development—a sprawling coastline.
Despite having a large population of 59 million and large metropolitan areas throughout, Italy's population spikes are closer to the water.
The port cities of Genoa, Napoli, and Palermo all have large spikes relative to the rest of the country, as does the capital, Rome. Despite its city center located 15 miles inland from the sea, it extends to the shore through the district of Ostia, where the ancient port of Rome existed.
Meanwhile in Chile, stuck between the Andes to the east and the Pacific Ocean to the west, population spikes corroborate with its many port towns and cities.
However, the country is more concentrated than Italy, with 40% of its residents congregating around the capital of Santiago.
Turkey and Canada: Marred by Mountains and Climes
Though Chile has difficulties with terrain, it is relatively consistent. Other countries have to attempt to settle many different climes—regions defined by their climates.
Mountains to the south and east, a large, semi-arid plateau, and even a small desert leave few centers of urban growth in Türkiye.
Predictably, further west, as the elevation comes down to the Aegean and Mediterranean Seas, population spikes begin to heighten. The largest of course is the economic and cultural hub of Istanbul, though the capital Ankara is also prominent with more than 5 million residents.
In Canada, the Rocky Mountains to the west and freezing cold temperatures in the center and north account for the large country's relative emptiness.
Though population spikes in Western Canada are growing rapidly, highly populous urban centers are noticeably concentrated along the St. Lawrence River, with the Greater Toronto Area accounting for more than one-sixth of the country's 39 million people.
Increasing Urbanization
According to the World Bank, more than half of the world's population currently lives in cities, and that trend is only growing.
By 2050, 7 out of 10 people are projected to live in cities. This congregation makes cities a beehive of productivity and innovation—with more than 80% of the world's GDP being generated at these population centers.
It's in this context that mapping and studying urban development becomes all the more important, particularly as policymakers try their hand at sustainable urban planning.
As Teo puts it:
"By showing where people are (and are not), they show us where political and economic power is concentrated, and perhaps where and who our governments represent."