The Lithium Revolution
How the shift to clean energy has opened a window of opportunity for energy metals.
"The Lithium Revolution" infographic presented by: Dajin Resources
Commodity investors know that it in recent years, the sector has had a rough ride. Recently, factors such as China's slowdown have weighed on short-term prices of industrial commodities like fuels and base metals.
However, not all of the energy sector has struggled. The rise of clean energy has continued to gain momentum, which could be a boon for energy metals producers and explorers.
Energy Metals
Simply put, energy metals are metals used in the creation or storage of energy. Here are some examples of energy metals needed to make lithium-ion batteries, which are the storage mechanism of choice for many green energy producers:
Lithium: Lithium is the main ingredient to lithium-ion batteries – the metal's ions move back and forth to charge and discharge the battery.
Cobalt: Widely used in lithium-ion cathodes
Graphite: The most common anode material for lithium-ion batteries.
Note: Uranium is also used for nuclear power, and copper is fundamental for creating and transporting energy around the world. However, in this infographic we focus on specialty metals.
Electric cars and energy storage for renewable sources have been driving the increases in price and demand for these sectors. Let's take a look at the specific momentum that has been growing since 2014.
The Momentum
Political and social:
2014
Obama reveals clean energy plan: The push will involve more than $1 billion in government funds to back new clean energy and energy efficiency projects along with funding research and development of new energy technologies.
Who were the biggest investors in renewable energy in 2014?
China ($83.3 billion), USA ($38.3 billion), and Japan ($35.7 billion)
2015
Volkswagen DieselGate scandal causes uproar, as it becomes clear that millions of the company's vehicles have cheated emissions tests for years
Elon Musk announces a mandate for Tesla Motors to acquire raw materials from the USA when possible.
4,000 people die, each day, of pollution related deaths in China alone.
The United States deems lithium as a strategic metal and doesn't give any statistics of its reserves or production.
Business:
2014
Tesla reveals plans to build $5 Billion Gigafactory in the Southwestern US.
Tesla announces Nevada as the site of its already-famous Gigafactory project.
2015
The 1 millionth electric car is built in September 2015.
Report surfaces that Apple plans to ship driverless cars by 2019.
Google's self-driving cars reach the milestone of 1 million miles driven autonomously.
Tesla takes $800 million in orders for its new home batteries in just two weeks.
A TSX-V traded company was the most recent recipient of an off take agreement to supply Tesla with Lithium Hydroxide.
Volkswagen's stock price gets crushed over 30% in the aftermath of DieselGate.
FMC recently announced an "across the board 15% increase in price" in all finished lithium products. Lithium Hydroxide rose from $9,500 per ton, up to $10,870. Lithium Carbonate from $6,500 per ton up to $7,475 USD.
General Trends:
Charging stations have increased rapidly around the world.
Every major auto manufacture has more than one fully electric car. Some automakers mandate is to have an electric version of every model.
The oil price has hit a 6.5 year low, yet electric vehicle sales have held momentum.
Lithium battery manufacturing costs are dropping in price while lithium battery technology is getting better.
New technology is decreasing the charge time for electric cars. Meanwhile, "miles per charge" is rising, and some cars can even recharge wirelessly.
There's a greater interest in looking after the environment with a continued scare of global warming.
Wind and solar storage needed to regulate output of electricity back to the grid.
China is a nation now giving priority to EV cars on their highways and parking lots.
Green Shift
The above momentum means energy metals like lithium could continue to buck the general trend of global commodities. So far, the price of lithium has increased steadily since 2011.
Green Steel: Decarbonising with Hydrogen-Fueled Production
How will high emission industries respond to climate change? We highlight industrial emissions and hydrogen's role in green steel production.
The following content is sponsored by AFRY
Green Steel: Decarbonising with Hydrogen-Fueled Production
As the fight against climate change ramps up worldwide, the need for industries and economies to respond is immediate.
Of course, different sectors contribute different amounts of greenhouse gas (GHG) emissions, and face different paths to decarbonisation as a result. One massive player? Steel and iron manufacturing, where energy-related emissions account for roughly 6.1% of global emissions.
The following infographic by AFRY highlights the need for steel manufacturing to evolve and decarbonise, and how hydrogen can play a vital role in the "green" steel revolution.
The Modern Steel Production Landscape
Globally, crude steel production totalled 1,951 million tonnes (Mt) in 2021.
This production is spread all over the world, including India, Japan, and the U.S., with the vast majority (1,033 million tonnes) concentrated in China.
But despite being produced in many different places globally, only two main methods of steel production have been honed and utilised over time—electric arc furnace (EAF) and blast furnace basic oxygen furnace (BF-BOF) production.
Both methods traditionally use fossil fuels, and in 2019 contributed 3.6 Gt of carbon dioxide (CO2) emissions:
| Steel Production Method | Materials Utilised | CO2 Emissions (2019) |
| --- | --- | --- |
| EAF | Scrap | 0.5 Gt |
| BF-BOF | Scrap, iron ore, coke | 3.1 Gt |
That's why one of the main ways the steel industry can decarbonise is through the replacement of fossil fuels.
Hydrogen's Role in Green Steel Production
Of course, one of the biggest challenges facing the industry is how to decarbonise and produce "green" steel in an extremely competitive market.
As a globally-traded good with fine cost margins, steel production has been associated with major geopolitical issues, including trade disputes and tariffs. But because of climate change, there is also a sudden and massive demand for carbon-friendly production.
And that's where hydrogen plays a key role. Steel traditionally made in a blast furnace uses coke—a high-carbon fuel made by heating coal without air—as a fuel source to heat iron ore pellets and liquify the pure iron component. This expels a lot of emissions in order to get the iron hot enough to melt (1,200 °C) and be mixed with scrap and made into steel.
The green steel method instead uses hydrogen to reduce the iron pellets into sponge iron, metallic iron that can then be processed to form steel. This process is also done at high temperature but below the melting point of iron (800 – 1,200 °C), saving energy costs.
And by introducing non-fossil fuels to create iron pellets and renewable electricity to turn the sponge iron and scrap into steel, fossil fuels can be removed from the process, significantly reducing emissions as a result.
The Future of Green Steel Production
Given the massive global demand for steel, the need for hydrogen and renewable energy required for green steel production is just as significant.
According to AFRY and the International Renewable Energy Agency, meeting global steel production in 2021 using the green steel method would require 97.6 million tonnes of hydrogen.
And for a truly carbon-free transition to green steel, the energy industry will also need to focus on green hydrogen production using electrolysis. Unlike methods which burn natural gas to release hydrogen, electrolysis entails the splitting of water (H2O) into oxygen and hydrogen using renewable energy sources.
Full green steel production would therefore use green hydrogen, electrolysers running on renewables, and additional renewables for all parts of the supply chain:
| Steel Production Source | Annual Steel Production | Green Hydrogen Required | Electrolyser Capacity Required | Total Renewables Capacity Required |
| --- | --- | --- | --- | --- |
| Base Reference | 1 Mt | 50 kT | 0.56 GW | 0.7 GW |
| U.S. | 85.8 Mt | 4.3 Mt | 48 GW | 60 GW |
| Europe | 103 Mt | 5.2 Mt | 58 GW | 72 GW |
| China | 1032.8 Mt | 51.6 Mt | 581 GW | 726 GW |
| Global | 1951 Mt | 97.6 Mt | 1,097 GW | 1,371 GW |
Currently, green hydrogen production costs are higher than traditional fossil fuel methods, and are dependent on the levelised costs of renewable energy sources. This means they vary by region, but also that they will reduce as production capacity and subsidies for renewables and green hydrogen increase.
And many major European steel manufacturers are already leading the way with pilot and large scale facilities for green steel production. Germany alone has at least seven projects in the works, including by ArcelorMittal and ThyssenKrupp, two of the world's 10 largest steelmakers by revenue.
AFRY is a thought leadership firm that provides companies with advisory services and sustainable solutions, in their efforts to fight climate change and lead them towards a greater future.

Charted: 40 Years of Global Energy Production, by Country
Here's a snapshot of global energy production, and which countries have produced the most fossil fuels, nuclear, and renewable energy since 1980.

Creator Program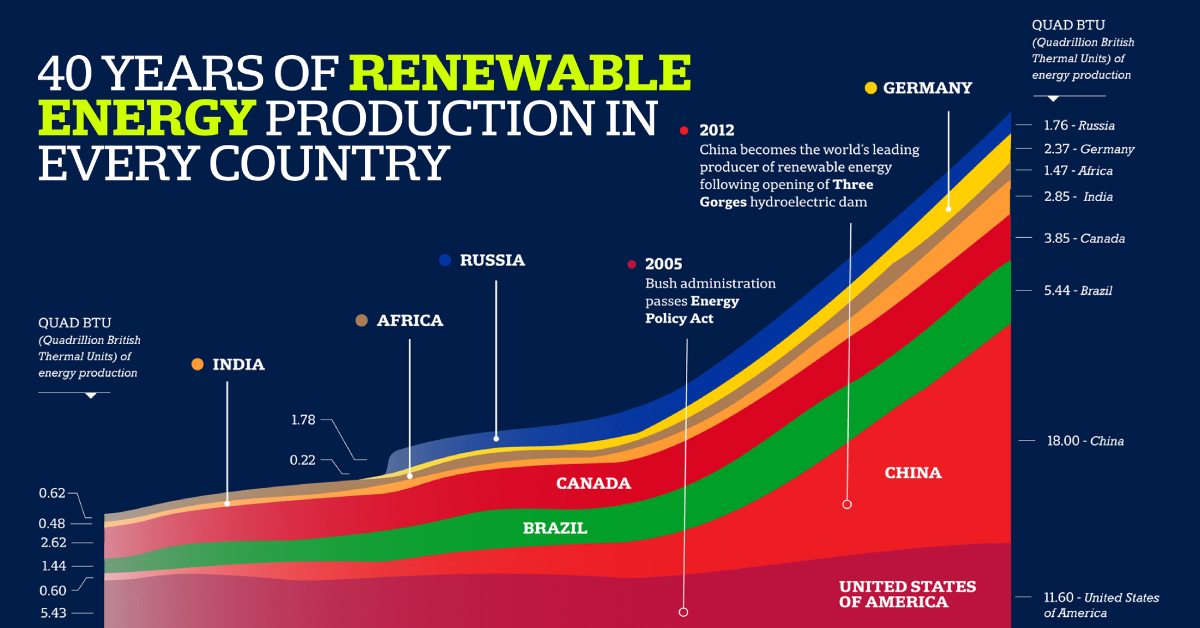 Energy was already a hot topic before 2022, but soaring household energy bills and a cost of living crisis has brought it even more to the forefront.
Which countries are the biggest energy producers, and what types of energy are they churning out? This graphic by 911 Metallurgist gives a breakdown of global energy production, showing which countries have used the most fossil fuels, nuclear, and renewable energy since 1980.
All figures refer to the British thermal unit (BTU), equivalent to the heat required to heat one pound of water by one degree Fahrenheit.
Editor's note: Click on any graphic to see a full-width version that is higher resolution
1. Fossil Fuels
View the full-size infographic
While the U.S. is a dominant player in both oil and natural gas production, China holds the top spot as the world's largest fossil fuel producer, largely because of its significant production and consumption of coal.
Over the last decade, China has used more coal than the rest of the world, combined.
However, it's worth noting that the country's fossil fuel consumption and production have dipped in recent years, ever since the government launched a five-year plan back in 2014 to help reduce carbon emissions.
2. Nuclear Power
View the full-size infographic
The U.S. is the world's largest producer of nuclear power by far, generating about double the amount of nuclear energy as France, the second-largest producer.
While nuclear power provides a carbon-free alternative to fossil fuels, the nuclear disaster in Fukushima caused many countries to move away from the energy source, which is why global use has dipped in recent years.
Despite the fact that many countries have recently pivoted away from nuclear energy, it still powers about 10% of the world's electricity. It's also possible that nuclear energy will play an expanded role in the energy mix going forward, since decarbonization has emerged as a top priority for nations around the world.
3. Renewable Energy
View the full-size infographic
Renewable energy sources (including wind, hydro, and solar) account for about 23% of electricity production worldwide. China leads the front on renewable production, while the U.S. comes in second place.
While renewable energy production has ramped up in recent years, more countries will need to ramp up their renewable energy production in order to reach net-zero targets by 2050.