Long Waves: The History of Innovation Cycles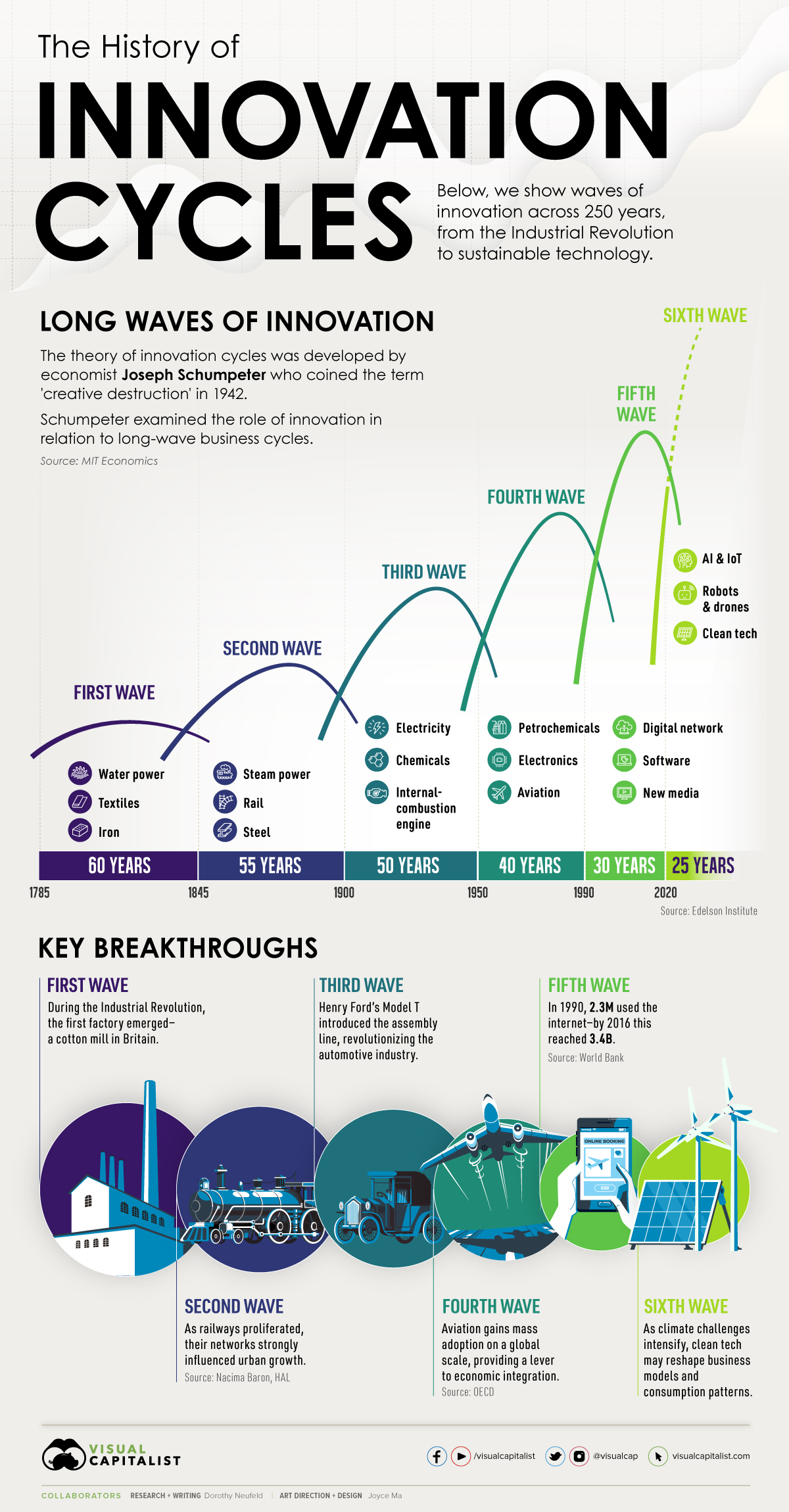 Long Waves: How Innovation Cycles Influence Growth
Creative destruction plays a key role in entrepreneurship and economic development.
Coined by economist Joseph Schumpeter in 1942, the theory of "creative destruction" suggests that business cycles operate under long waves of innovation. Specifically, as markets are disrupted, key clusters of industries have outsized effects on the economy.
Take the railway industry, for example. At the turn of the 19th century, railways completely reshaped urban demographics and trade. Similarly, the internet disrupted entire industries—from media to retail.
The above infographic shows how innovation cycles have impacted economies since 1785, and what's next for the future.
Innovation Cycles: The Six Waves
From the first wave of textiles and water power in the industrial revolution, to the internet in the 1990s, here are the six waves of innovation and their key breakthroughs.
First Wave
Second Wave
Third Wave
Fourth Wave
Fifth Wave
Sixth Wave
Water Power
Textiles
Iron

Steam
Rail
Steel

Electricity
Chemicals
Internal-Combustion Engine

Petrochemicals
Electronics
Aviation

Digital Network
Software
New Media

Digitization (AI, IoT, AV,
Robots & Drones)
Clean Tech

60 years
55 years
50 years
40 years
30 years
25 years
Source: Edelsen Institute, Detlef Reis
During the first wave of the Industrial Revolution, water power was instrumental in manufacturing paper, textiles, and iron goods. Unlike the mills of the past, full-sized dams fed turbines through complex belt systems. Advances in textiles brought the first factory, and cities expanded around them.
With the second wave, between about 1845 and 1900, came significant rail, steam, and steel advancements. The rail industry alone affected countless industries, from iron and oil to steel and copper. In turn, great railway monopolies were formed.
The emergence of electricity powering light and telephone communication through the third wave dominated the first half of the 1900s. Henry Ford introduced the Model T, and the assembly line transformed the auto industry. Automobiles became closely linked with the expansion of the American metropolis. Later, in the fourth wave, aviation revolutionized travel.
After the internet emerged by the early 1990s, barriers to information were upended. New media changed political discourse, news cycles, and communication in the fifth wave. The internet ushered in a new frontier of globalization, a borderless landscape of digital information flows.
Market Power
To the economist Schumpeter, technological innovations boosted economic growth and improved living standards.
However, these disruptors can also have a tendency to lead to monopolies. Especially during a cycle's upswing, the strongest players realize wide margins, establish moats, and fend off rivals. Typically, these cycles begin when the innovations become of general use.
Of course, this can be seen today—never has the world been so closely connected. Information is more centralized than it has ever been, with Big Tech dominating global search traffic, social networks, and advertising.
Like the Big Tech behemoths of today, the rail industry had the power to control prices and push out competitors during the 19th century. At the peak, listed shares of rail companies on the New York Stock Exchange made up 60% of total stock market capitalization.
Waves of Change
As cycle longevity continues to shorten, the fifth wave may have a few years left under its belt.
The sixth wave, marked by artificial intelligence and digitization across information of things (IoT), robotics, and drones, will likely paint an entirely new picture. Namely, the automation of systems, predictive analytics, and data processing could make an impact. In turn, physical goods and services will likely be digitized. The time to complete tasks could shift from hours to even seconds.
At the same time, clean tech could come to the forefront. At the heart of each technological innovation is solving complex problems, and climate concerns are becoming increasingly pressing. Lower costs in solar PV and wind are also predicating efficiency advantages.
Ranked: Big Tech CEO Insider Trading During the First Half of 2021
Big Tech is worth trillions, but what are insiders doing with their stock? We breakdown Big Tech CEO insider trading during the first half of 2021.
Big Tech CEO Insider Trading During The First Half of 2021
When CEOs of major companies are selling their shares, investors can't help but notice.
After all, these decisions have a direct effect on the personal wealth of these insiders, which can say plenty about their convictions with respect to the future direction of the companies they run.
Considering that Big Tech stocks are some of the most popular holdings in today's portfolios, and are backed by a collective $5.3 trillion in institutional investment, how do the CEOs of these organizations rank by their insider selling?
| CEO | Stock | Shares Sold H1 2021 | Value of Shares ($M) |
| --- | --- | --- | --- |
| Jeff Bezos | Amazon (AMZN) | 2.0 million | $6,600 |
| Mark Zuckerberg | Facebook (FB) | 7.1 million | $2,200 |
| Satya Nadella | Microsoft (MSFT) | 278,694 | $65 |
| Sundar Pichai | Google (GOOGL) | 27,000 | $62 |
| Tim Cook | Apple (AAPL) | 0 | $0 |
Breaking Down Insider Trading, by CEO
Let's dive into the insider trading activity of each Big Tech CEO:
Jeff Bezos
During the first half of 2021, Jeff Bezos sold 2 million shares of Amazon worth $6.6 billion.
This activity was spread across 15 different transactions, representing an average of $440 million per transaction. Altogether, this ranks him first by CEO insider selling, by total dollar proceeds. Bezos's time as CEO of Amazon came to an end shortly after the half way mark for the year.
Mark Zuckerberg
In second place is Mark Zuckerberg, who has been significantly busier selling than the rest.
In the first half of 2021, he unloaded 7.1 million shares of Facebook onto the open market, worth $2.2 billion. What makes these transactions interesting is the sheer quantity of them, as he sold on 136 out of 180 days. On average, that's $12 million worth of stock sold every day.
Zuckerberg's record year of selling in 2018 resulted in over $5 billion worth of stock sold, but over 90% of his net worth still remains in the company.
Satya Nadella
Next is Satya Nadella, who sold 278,694 shares of Microsoft, worth $234 million. Despite this, the Microsoft CEO still holds an estimated 1.6 million shares, which is the largest of any insider.
Microsoft's stock has been on a tear for a number of years now, and belongs to an elite trillion dollar club, which consists of only six public companies.
Sundar Pichai
Fourth on the list is Sundar Pichai who has been at the helm at Google for six years now. Since the start of 2021, he's sold 27,000 shares through nine separate transactions, worth $62.5 million. However, Pichai still has an estimated 6,407 Class A and 114,861 Class C shares.
Google is closing in on a $2 trillion valuation and is the best performing Big Tech stock, with shares rising 60% year-to-date. Their market share growth from U.S. ad revenues is a large contributing factor.
Tim Cook
Last, is Tim Cook, who just surpassed a decade as Apple CEO.
During this time, shares have rallied over 1,000% and annual sales have gone from $100 billion to $347 billion. That said, Cook has sold 0 shares of Apple during the first half of 2021. That doesn't mean he hasn't sold shares elsewhere, though. Cook also sits on the board of directors for Nike, and has sold $6.9 million worth of shares this year.
Measuring Insider Selling
All things equal, it's desirable for management to have skin in the game, and be invested alongside shareholders. It can also be seen as aligning long-term interests.
A good measure of insider selling activity is in relation to the existing stake in the company. For example, selling $6.6 billion worth of shares may sound like a lot, but when there are 51.7 million Amazon shares remaining for Jeff Bezos, it actually represents a small portion and is probably not cause for panic.
If, however, executives are disclosing large transactions relative to their total stakes, it might be worth digging deeper.
The World's Most Used Apps, by Downstream Traffic
Of the millions of apps available around the world, just a small handful of the most used apps dominate global internet traffic.
The World's Most Used Apps, by Downstream Traffic
Of the millions of apps available around the world, just a small handful of the most used apps dominate global internet traffic.
Everything connected to the internet takes bandwidth to view. When you look at something on your smartphone—whether it's a new message on Instagram or the next few seconds of a YouTube video—your device is downloading the data in the background.
And the bigger the files, the more bandwidth is utilized. In this chart, we break down of the most used apps by category, using Sandvine's global mobile traffic report for 2021 Q1.
Video Drives Global Mobile Internet Traffic
The biggest files use the most data, and video files take the cake.
According to Android Central, streaming video ranges from about 0.7GB per hour of data for a 480p video to 1.5GB per hour for 1080. A 4K stream, the highest resolution currently offered by most providers, uses around 7.2GB per hour.
That's miles bigger than audio files, where high quality 320kbps music streams use an average of just 0.12GB per hour. Social network messages are usually just a few KB, while the pictures found on them can range from a few hundred KB for a low resolution image to hundreds of MB for high resolution.
Understandably, breaking down mobile downstream traffic by app category shows that video is on top by a long shot:
| Category | Downstream Traffic Share (2021 Q1) |
| --- | --- |
| Video Streaming | 48.9% |
| Social Networking | 19.3% |
| Web | 13.1% |
| Messaging | 6.7% |
| Gaming | 4.3% |
| Marketplace | 4.1% |
| File Sharing | 1.3% |
| Cloud | 1.1% |
| VPN and Security | 0.9% |
| Audio | 0.2% |
Video streaming accounts for almost half of mobile downstream traffic worldwide at 49%. Audio streaming, including music and podcasts, accounts for just 0.2%.
Comparatively, social network and web browsing combined make up one third of downstream internet traffic. Games, marketplace apps, and file sharing, despite their large file sizes, only require one-time downloads that don't put as big of a strain on traffic as video does.
A Handful of Companies Own the Most Used Apps
Though internet traffic data is broken down by category, it's worth noting that many apps consume multiple types of bandwidth.
For example, messaging and social network apps, like WhatsApp, Instagram, and Snapchat, allow consumers to stream video, social network, and message.
Even marketplace apps like iTunes and Google Play consume bandwidth for video and audio streaming, and together account for 6.3% of total mobile downstream traffic.
But no single app had a bigger footprint than YouTube, which accounts for 20.4% of total global downstream bandwidth.
| Category | Top Apps (Category Traffic) | Category Traffic Share |
| --- | --- | --- |
| Video Streaming | YouTube | 47.9% |
| Video Streaming | TikTok | 16.1% |
| Video Streaming | Facebook Video | 14.6% |
| Video Streaming | Instagram | 12.1% |
| Video Streaming | Netflix | 4.3% |
| Video Streaming | Other | 5.0% |
| Social Networking | Facebook | 50.5% |
| Social Networking | Instagram | 41.9% |
| Social Networking | Twitter | 2.4% |
| Social Networking | Odnoklassniki | 1.9% |
| Social Networking | QQ | 0.7% |
| Social Networking | Other | 2.9% |
| Messaging | WhatsApp | 31.4% |
| Messaging | Snapchat | 16.5% |
| Messaging | Facebook VoIP | 14.3% |
| Messaging | LINE | 12.1% |
| Messaging | Skype | 4.1% |
| Messaging | Other | 21.6% |
| Web | Google | 41.2% |
| Web | Other | 58.8% |
The world's tech giants had the leading app in the four biggest data streaming categories. Alphabet's YouTube and Google made up almost half of all video streaming and web browsing traffic, while Facebook's own app, combined with Instagram and WhatsApp, accounted for 93% of global social networking traffic and 45% of messaging traffic.
Traffic usage by app highlights the data monopoly of tech giants and internet providers. Since just a few companies account for a majority of global smartphone internet traffic, they have a lot more bartering power (and responsibility) when it comes to our general internet consumption.