The Future of Remote Work, According to Startups
No matter where in the world you log in from—Silicon Valley, London, and beyond—COVID-19 has triggered a mass exodus from traditional office life. Now that the lucky among us have settled into remote work, many are left wondering if this massive, inadvertent work-from-home experiment will change work for good.
In the following charts, we feature data from a comprehensive survey conducted by UK-based startup network Founders Forum, in which hundreds of founders and their teams revealed their experiences of remote work and their plans for a post-pandemic future.
While the future remains a blank page, it's clear that hundreds of startups have no plans to hit backspace on remote work.
Who's Talking
Based primarily in the UK, almost half of the survey participants were founders, and nearly a quarter were managers below the C-suite.
Prior to pandemic-related lockdowns, 94% of those surveyed had worked from an external office. Despite their brick-and-mortar setup, more than 90% were able to accomplish the majority of their work remotely.
Gen X and Millennials made up most of the survey contingent, with nearly 80% of respondents with ages between 26-50, and 40% in the 31-40 age bracket.
From improved work-life balance and productivity levels to reduced formal teamwork, these entrepreneurs flagged some bold truths about what's working and what's not.
Founders With A Remote Vision
If history has taught us anything, it's that world events have the potential to cause permanent mass change, like 9/11's lasting impact on airport security.
Although most survey respondents had plans to be back in the office within six months, those startups are rethinking their remote work policies as a direct result of COVID-19.
How might that play out in a post-pandemic world?
Based on the startup responses, a realistic post-pandemic work scenario could involve 3 to 5 days of remote work a week, with a couple dedicated in-office days for the entire team.
Upwards of 92% of respondents said they wanted the option to work from home in some capacity.
It's important to stay open to learning and experimenting with new ways of working. The current pandemic has only accelerated this process. We'll see the other side of this crisis, and I'm confident it will be brighter.
— Evgeny Shadchnev, CEO, Makers Academy
Productivity Scales at Home
Working from home hasn't slowed down these startups—in fact, it may have improved overall productivity in many cases.
More than half of the respondents were more productive from home, and 55% also reported working longer hours.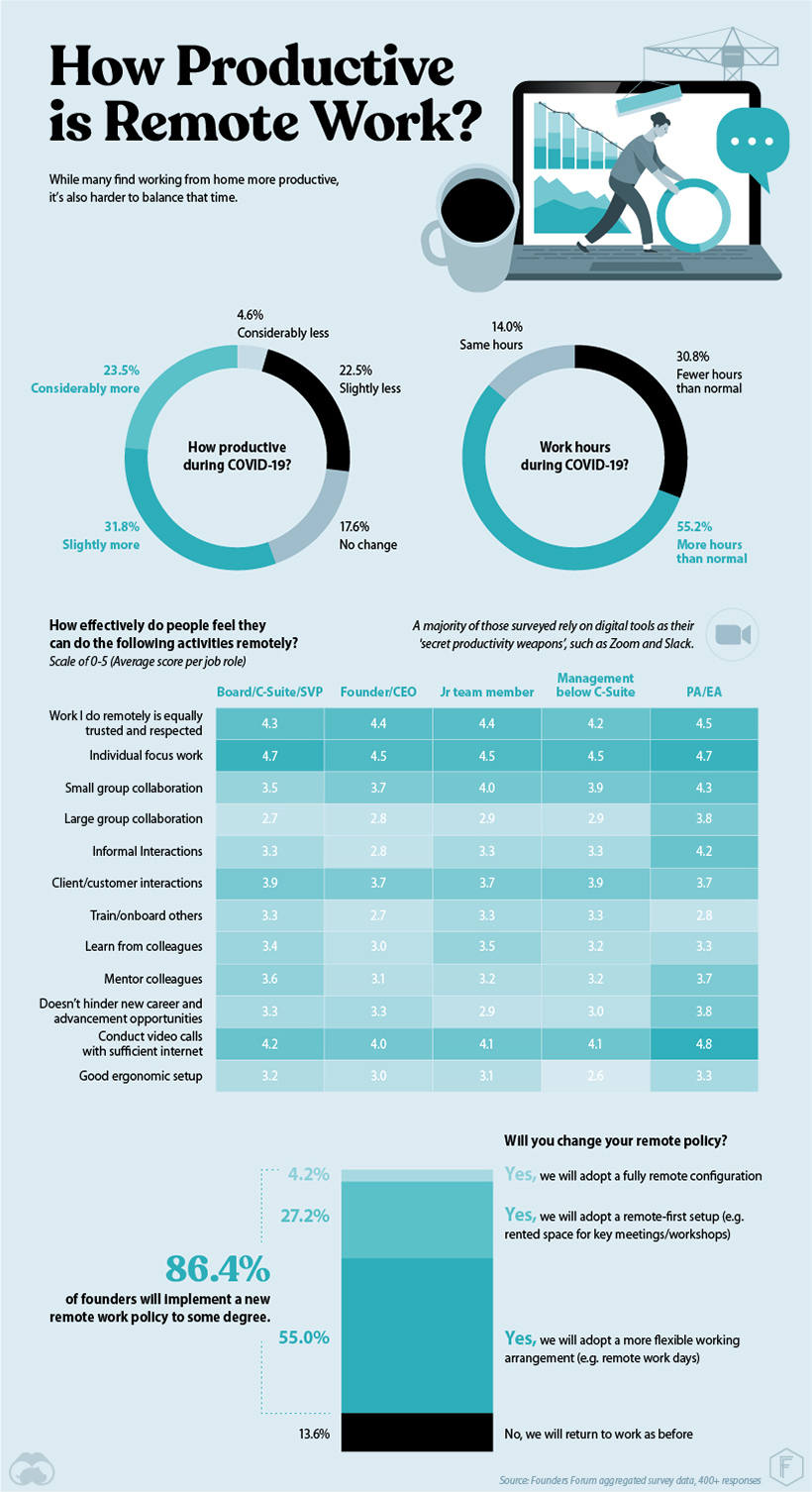 Blurred lines, however, raised some concerns.
From chores and rowdy children to extended hours, working from home often makes it difficult to compartmentalize. As a result, employers and employees may have to draw firmer lines between work and home in their remote policies, especially in the long term.
Although the benefits appear to outweigh the concerns, these issues pose important questions about our increasingly remote future.
Teams Reveal Some Intel
To uncover some work-from-home easter eggs ("Better for exercise. MUCH more pleasant environment"), we grouped nearly 400 open-ended questions according to sentiment and revealed some interesting patterns.
From serendipitous encounters and beers with colleagues to more formal teamwork, an overwhelming number of the respondents missed the camaraderie of team interactions.
It was clear startups did not miss the hours spent commuting every day. During the pandemic, those hours have been replaced by family time, work, or other activities like cooking healthy meals and working out.
Remote working has been great for getting us through lockdown—but truly creative work needs the magic of face to face interaction, not endless Zoom calls. Without the serendipity and chemistry of real-world encounters, the world will be a far less creative place.
— Rohan Silva, CEO, Second Home
The Future Looks Remote
This pandemic has delivered a new normal that's simultaneously challenging and revealing. For now, it looks like a new way of working is being coded into our collective software.
What becomes of the beloved open-office plan in a pandemic-prepped world remains to be seen, but if these startups are any indication, work-life may have changed for good.
Ranked: Big Tech CEO Insider Trading During the First Half of 2021
Big Tech is worth trillions, but what are insiders doing with their stock? We breakdown Big Tech CEO insider trading during the first half of 2021.
Big Tech CEO Insider Trading During The First Half of 2021
When CEOs of major companies are selling their shares, investors can't help but notice.
After all, these decisions have a direct effect on the personal wealth of these insiders, which can say plenty about their convictions with respect to the future direction of the companies they run.
Considering that Big Tech stocks are some of the most popular holdings in today's portfolios, and are backed by a collective $5.3 trillion in institutional investment, how do the CEOs of these organizations rank by their insider selling?
| CEO | Stock | Shares Sold H1 2021 | Value of Shares ($M) |
| --- | --- | --- | --- |
| Jeff Bezos | Amazon (AMZN) | 2.0 million | $6,600 |
| Mark Zuckerberg | Facebook (FB) | 7.1 million | $2,200 |
| Satya Nadella | Microsoft (MSFT) | 278,694 | $65 |
| Sundar Pichai | Google (GOOGL) | 27,000 | $62 |
| Tim Cook | Apple (AAPL) | 0 | $0 |
Breaking Down Insider Trading, by CEO
Let's dive into the insider trading activity of each Big Tech CEO:
Jeff Bezos
During the first half of 2021, Jeff Bezos sold 2 million shares of Amazon worth $6.6 billion.
This activity was spread across 15 different transactions, representing an average of $440 million per transaction. Altogether, this ranks him first by CEO insider selling, by total dollar proceeds. Bezos's time as CEO of Amazon came to an end shortly after the half way mark for the year.
Mark Zuckerberg
In second place is Mark Zuckerberg, who has been significantly busier selling than the rest.
In the first half of 2021, he unloaded 7.1 million shares of Facebook onto the open market, worth $2.2 billion. What makes these transactions interesting is the sheer quantity of them, as he sold on 136 out of 180 days. On average, that's $12 million worth of stock sold every day.
Zuckerberg's record year of selling in 2018 resulted in over $5 billion worth of stock sold, but over 90% of his net worth still remains in the company.
Satya Nadella
Next is Satya Nadella, who sold 278,694 shares of Microsoft, worth $234 million. Despite this, the Microsoft CEO still holds an estimated 1.6 million shares, which is the largest of any insider.
Microsoft's stock has been on a tear for a number of years now, and belongs to an elite trillion dollar club, which consists of only six public companies.
Sundar Pichai
Fourth on the list is Sundar Pichai who has been at the helm at Google for six years now. Since the start of 2021, he's sold 27,000 shares through nine separate transactions, worth $62.5 million. However, Pichai still has an estimated 6,407 Class A and 114,861 Class C shares.
Google is closing in on a $2 trillion valuation and is the best performing Big Tech stock, with shares rising 60% year-to-date. Their market share growth from U.S. ad revenues is a large contributing factor.
Tim Cook
Last, is Tim Cook, who just surpassed a decade as Apple CEO.
During this time, shares have rallied over 1,000% and annual sales have gone from $100 billion to $347 billion. That said, Cook has sold 0 shares of Apple during the first half of 2021. That doesn't mean he hasn't sold shares elsewhere, though. Cook also sits on the board of directors for Nike, and has sold $6.9 million worth of shares this year.
Measuring Insider Selling
All things equal, it's desirable for management to have skin in the game, and be invested alongside shareholders. It can also be seen as aligning long-term interests.
A good measure of insider selling activity is in relation to the existing stake in the company. For example, selling $6.6 billion worth of shares may sound like a lot, but when there are 51.7 million Amazon shares remaining for Jeff Bezos, it actually represents a small portion and is probably not cause for panic.
If, however, executives are disclosing large transactions relative to their total stakes, it might be worth digging deeper.
The World's Most Used Apps, by Downstream Traffic
Of the millions of apps available around the world, just a small handful of the most used apps dominate global internet traffic.
The World's Most Used Apps, by Downstream Traffic
Of the millions of apps available around the world, just a small handful of the most used apps dominate global internet traffic.
Everything connected to the internet takes bandwidth to view. When you look at something on your smartphone—whether it's a new message on Instagram or the next few seconds of a YouTube video—your device is downloading the data in the background.
And the bigger the files, the more bandwidth is utilized. In this chart, we break down of the most used apps by category, using Sandvine's global mobile traffic report for 2021 Q1.
Video Drives Global Mobile Internet Traffic
The biggest files use the most data, and video files take the cake.
According to Android Central, streaming video ranges from about 0.7GB per hour of data for a 480p video to 1.5GB per hour for 1080. A 4K stream, the highest resolution currently offered by most providers, uses around 7.2GB per hour.
That's miles bigger than audio files, where high quality 320kbps music streams use an average of just 0.12GB per hour. Social network messages are usually just a few KB, while the pictures found on them can range from a few hundred KB for a low resolution image to hundreds of MB for high resolution.
Understandably, breaking down mobile downstream traffic by app category shows that video is on top by a long shot:
| Category | Downstream Traffic Share (2021 Q1) |
| --- | --- |
| Video Streaming | 48.9% |
| Social Networking | 19.3% |
| Web | 13.1% |
| Messaging | 6.7% |
| Gaming | 4.3% |
| Marketplace | 4.1% |
| File Sharing | 1.3% |
| Cloud | 1.1% |
| VPN and Security | 0.9% |
| Audio | 0.2% |
Video streaming accounts for almost half of mobile downstream traffic worldwide at 49%. Audio streaming, including music and podcasts, accounts for just 0.2%.
Comparatively, social network and web browsing combined make up one third of downstream internet traffic. Games, marketplace apps, and file sharing, despite their large file sizes, only require one-time downloads that don't put as big of a strain on traffic as video does.
A Handful of Companies Own the Most Used Apps
Though internet traffic data is broken down by category, it's worth noting that many apps consume multiple types of bandwidth.
For example, messaging and social network apps, like WhatsApp, Instagram, and Snapchat, allow consumers to stream video, social network, and message.
Even marketplace apps like iTunes and Google Play consume bandwidth for video and audio streaming, and together account for 6.3% of total mobile downstream traffic.
But no single app had a bigger footprint than YouTube, which accounts for 20.4% of total global downstream bandwidth.
| Category | Top Apps (Category Traffic) | Category Traffic Share |
| --- | --- | --- |
| Video Streaming | YouTube | 47.9% |
| Video Streaming | TikTok | 16.1% |
| Video Streaming | Facebook Video | 14.6% |
| Video Streaming | Instagram | 12.1% |
| Video Streaming | Netflix | 4.3% |
| Video Streaming | Other | 5.0% |
| Social Networking | Facebook | 50.5% |
| Social Networking | Instagram | 41.9% |
| Social Networking | Twitter | 2.4% |
| Social Networking | Odnoklassniki | 1.9% |
| Social Networking | QQ | 0.7% |
| Social Networking | Other | 2.9% |
| Messaging | WhatsApp | 31.4% |
| Messaging | Snapchat | 16.5% |
| Messaging | Facebook VoIP | 14.3% |
| Messaging | LINE | 12.1% |
| Messaging | Skype | 4.1% |
| Messaging | Other | 21.6% |
| Web | Google | 41.2% |
| Web | Other | 58.8% |
The world's tech giants had the leading app in the four biggest data streaming categories. Alphabet's YouTube and Google made up almost half of all video streaming and web browsing traffic, while Facebook's own app, combined with Instagram and WhatsApp, accounted for 93% of global social networking traffic and 45% of messaging traffic.
Traffic usage by app highlights the data monopoly of tech giants and internet providers. Since just a few companies account for a majority of global smartphone internet traffic, they have a lot more bartering power (and responsibility) when it comes to our general internet consumption.