The Future of Remote Work, According to Startups
No matter where in the world you log in from—Silicon Valley, London, and beyond—COVID-19 has triggered a mass exodus from traditional office life. Now that the lucky among us have settled into remote work, many are left wondering if this massive, inadvertent work-from-home experiment will change work for good.
In the following charts, we feature data from a comprehensive survey conducted by UK-based startup network Founders Forum, in which hundreds of founders and their teams revealed their experiences of remote work and their plans for a post-pandemic future.
While the future remains a blank page, it's clear that hundreds of startups have no plans to hit backspace on remote work.
Who's Talking
Based primarily in the UK, almost half of the survey participants were founders, and nearly a quarter were managers below the C-suite.
Prior to pandemic-related lockdowns, 94% of those surveyed had worked from an external office. Despite their brick-and-mortar setup, more than 90% were able to accomplish the majority of their work remotely.
Gen X and Millennials made up most of the survey contingent, with nearly 80% of respondents with ages between 26-50, and 40% in the 31-40 age bracket.
From improved work-life balance and productivity levels to reduced formal teamwork, these entrepreneurs flagged some bold truths about what's working and what's not.
Founders With A Remote Vision
If history has taught us anything, it's that world events have the potential to cause permanent mass change, like 9/11's lasting impact on airport security.
Although most survey respondents had plans to be back in the office within six months, those startups are rethinking their remote work policies as a direct result of COVID-19.
How might that play out in a post-pandemic world?
Based on the startup responses, a realistic post-pandemic work scenario could involve 3 to 5 days of remote work a week, with a couple dedicated in-office days for the entire team.
Upwards of 92% of respondents said they wanted the option to work from home in some capacity.
It's important to stay open to learning and experimenting with new ways of working. The current pandemic has only accelerated this process. We'll see the other side of this crisis, and I'm confident it will be brighter.
— Evgeny Shadchnev, CEO, Makers Academy
Productivity Scales at Home
Working from home hasn't slowed down these startups—in fact, it may have improved overall productivity in many cases.
More than half of the respondents were more productive from home, and 55% also reported working longer hours.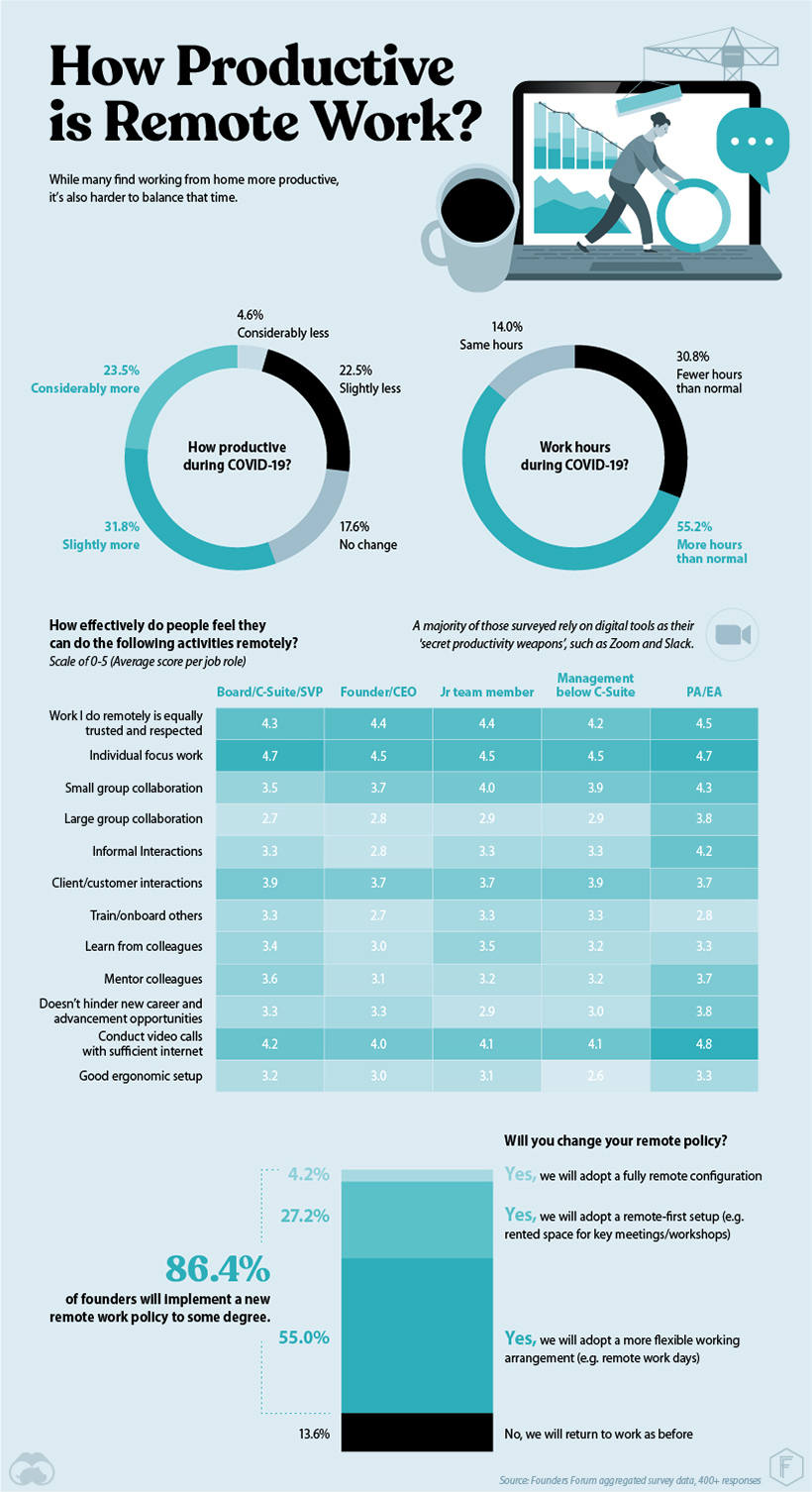 Blurred lines, however, raised some concerns.
From chores and rowdy children to extended hours, working from home often makes it difficult to compartmentalize. As a result, employers and employees may have to draw firmer lines between work and home in their remote policies, especially in the long term.
Although the benefits appear to outweigh the concerns, these issues pose important questions about our increasingly remote future.
Teams Reveal Some Intel
To uncover some work-from-home easter eggs ("Better for exercise. MUCH more pleasant environment"), we grouped nearly 400 open-ended questions according to sentiment and revealed some interesting patterns.
From serendipitous encounters and beers with colleagues to more formal teamwork, an overwhelming number of the respondents missed the camaraderie of team interactions.
It was clear startups did not miss the hours spent commuting every day. During the pandemic, those hours have been replaced by family time, work, or other activities like cooking healthy meals and working out.
Remote working has been great for getting us through lockdown—but truly creative work needs the magic of face to face interaction, not endless Zoom calls. Without the serendipity and chemistry of real-world encounters, the world will be a far less creative place.
— Rohan Silva, CEO, Second Home
The Future Looks Remote
This pandemic has delivered a new normal that's simultaneously challenging and revealing. For now, it looks like a new way of working is being coded into our collective software.
What becomes of the beloved open-office plan in a pandemic-prepped world remains to be seen, but if these startups are any indication, work-life may have changed for good.

Mapped: The Top Podcasts on Spotify Across Countries
Podcasting is now a billion dollar industry, attracting big names and audiences to match. Here's a global look at the top podcasts on Spotify.
The Top Spotify Podcast Across Countries
We are amidst the breakout era of podcasts. Since the beginning of the smartphone revolution, the digital audio format has picked up serious traction with audiences all over. In the U.S. alone, it's estimated that there will be 132 million podcast listeners by 2022.
Today, there are 850,000 active podcasts available in 100 languages, with over 30 million episodes to tap into—perfect if you have an afternoon to yourself.
Worldwide Podcast Chart-Toppers
The data in this infographic comes from Spotify, the top global streaming service in the industry by paid users. How do the top podcasts fare on a per country basis?
| Country | Top Podcast | Honorable Mention (Second Highest) |
| --- | --- | --- |
| Canada | The Joe Rogan Experience | Call Her Daddy |
| France | Choses a Savoir | Mythes et Legendes |
| UK | The Michelle Obama Podcast | The Joe Rogan Experience |
| Germany | Gemischtes Hack | Fest & Flauschig |
| Italy | Blu Notte - Fisteri Italiani | Mushio Selvaggio |
| U.S. | The Michelle Obama Podcast | Call Her Daddy |
| Japan | kemioの耳そうじクラブ | Hapa英会話 Podcast |
| Australia | From The Newsroom | The Joe Rogan Experience |
| India | The Michelle Obama Podcast | Purijagannadh |
| Ireland | The Joe Rogan Experience | The 2 Johnnies Podcast |
| Mexico | Leyendas Legendarias | La Cotorrisa |
| New Zealand | The Joe Rogan Experience | Call Her Daddy |
| Argentina | Concha Podcast | Entiende Tu Mente |
| Austria | Verbrechen | Fest & Flauschig |
| Brazil | NerdCast | Café da Manha |
| Chile | Tomas Va A Morir | Matriarcalmente Hablando |
| Colombia | DianaUribe.fm | Dani 3Palacios Podcast |
| Denmark | Morkeland | Her Gar Det Godt |
| Finland | POKS | Jaliila |
| Indonesia | Rintik Sedu | PODKESMAS |
| Norway | Friminutt med Herman og Mikkel | G-punktet |
| Philippines | Sleeping Pill with Inka | Adulting With Joyce Pring |
| Poland | Kryminatorium | Ja I moje przyjaciółki idiotki |
| Spain | Nadie Sabe Nada | Entiende Tu Mente |
| Sweden | P3 Dokumentar | Sommar & Vinter i P1 |
| Netherlands | Zelfspodcast | Man man man, de podcast |
Many of the top shows around the world follow a familiar interview or conversational format, but there are trends that deviate from that formula. In particular, there are a number of podcasts focused on health and wellness as well as current events.
The early beginnings of podcasting were dominated by upstart content creators, but as the market has matured, big media outlets and A-list personalities have been vying for listeners' attention in an increasingly crowded field. As it stands now, two podcasts from America carry a large presence in foreign markets, and the two big personalities—Michelle Obama and Joe Rogan—stand a notch above the rest.
The Rogan-Obama tug of war in the podcast realm has had its back and forths. Obama pulled ahead in many countries in August, but in September the pendulum swung in favor of Rogan.
Follow The Money
In 2015, ad revenue in the podcast industry was a minuscule $69 million across the board. It's expected to reach over $1 billion by 2021, and to grow further from there.
The podcast boom is powered by younger generations, and both millennials and Gen Z represent a sizable portion of the total podcast audience globally. In particular, demographic listenership numbers experience a big drop after the 35-54 age bracket.
Flexibility and variety are key features that are helping fuel the growth of the medium. One can keep up with serious world affairs or listen to Call Her Daddy—a podcast on sex and relationships by Barstool Sports, another podcast that frequently tops the charts.
Top Podcast Publishers by U.S. Audience
When it comes to key participants in the industry, National Public Radio (NPR) sits on the top spot with over 26 million unique monthly audience members. In close second, iHeartRadio holds a whopping 494 shows.
| Podcast Publisher | U.S. Unique Monthly Audience | Global Downloads & Streams | Active Shows |
| --- | --- | --- | --- |
| NPR | 26,933,000 | 219,716,000 | 49 |
| iHeartRadio | 26,182,000 | 234,417,000 | 494 |
| New York Times | 13,102,000 | 145,961,000 | 15 |
| Barstool Sports | 10,228,000 | 67,569,000 | 43 |
| PRX | 9,035,000 | 82,245,000 | 87 |
| Wondery | 8,794,000 | 57,261,000 | 98 |
| ESPN/ABC | 8,472,000 | 66,685,000 | 96 |
| NBC News | 6,751,000 | 44,219,000 | 26 |
| Cumulus Media/Westwood One | 6,473,000 | 40,912,000 | 115 |
| Warner Media | 6,350,000 | 33,503,000 | 113 |
| This American Life/Serial | 5,924,000 | 22,722,000 | 2 |
| Kast Media | 5,319,000 | 30,353,000 | 46 |
| Daily Wire | 5,212,000 | 43,342,000 | 5 |
| WNYC Studios | 5,209,000 | 35,381,000 | 52 |
| All Things Comedy | 4,890,000 | 28,770,000 | 58 |
| TED | 3,739,000 | 51,696,000 | 10 |
| American Public Media | 3,362,000 | 17,997,000 | 50 |
| Fox News Radio | 2,518,000 | 13,633,000 | 34 |
| Slate | 1,951,000 | 13,812,000 | 97 |
| WBUR | 1,105,000 | 6,758,000 | 18 |
If you're bullish on podcasts, many in the top 20 are publicly traded entities who either stand alone, or are part of a larger corporation. Notable stocks include the New York Times, ESPN as part of Disney, and Warner Media as part of AT&T.
Spotify Today and Tomorrow
Spotify's direct listing IPO was initially met with a lack of confidence, due to Big Tech's entry in the space, as well as the profitability and monetization concerns that typically plague the music industry as a whole. However, the company has done well in abating those concerns, especially if you consider Spotify's stock price, which has doubled in the last year. An impressive 21% of Spotify's monthly active users engage with podcast content.
In addition, a wealth of personalities have entered the podcasting space. These big names suggest that the competition is dialing up.
In recent months, an exclusive deal between Spotify and Joe Rogan, valued at over $100 million took the podcasting world by storm. This is quite a monumental step for the podcast timeline, and one that suggests more deals could follow as Spotify looks to lock people into their platform with exclusivity deals.

Here's What Happens Every Minute on the Internet in 2020
A lot can happen in an internet minute. This graphic looks at the enormous numbers behind the online services billions use every day.
What Happens Every Minute on the Internet in 2020
In 2020, an unfathomable amount of digital activity is occurring at any given moment. This ongoing explosion in activity is the aggregate output of 4.5 billion internet users today, a number that's projected to increase even further in coming years.
This powerful visual from Domo helps capture what happens each minute in today's hyper-connected internet era, and it's actually the eighth edition produced since the year 2012.
What can we learn from the evolution of what happens in an internet minute?
How Times Have Changed
Over its relatively short history, the internet has been a catalyst for both the rise and demise of new companies and platforms.
By looking at which brands have appeared in the graphic in earlier years, we can roughly chart the prominence of certain tech segments, as well as observe brands with the most staying power.
As you can see above, platforms like Tumblr, Flickr, and Foursquare showed some promise, but eventually got omitted from the graphic as they dropped off in relevance.
Meanwhile, tech companies like Facebook, Amazon, and Google have had impressive staying power, evolving to become some of the biggest companies in the world. In the process, they've caught up to longer-standing titans like Apple and Microsoft at the top of the food chain.
The New "New Thing"
Not surprisingly, much of the internet landscape looks different in 2020. Here are a few of the digital hot spots today.
Cash Transfers
Nearly $240,000 worth of transactions occur on Venmo per minute. This has served as a catalyst for parent company PayPal, which evolved along successfully with fintech trends. PayPal's stock now trades at near all-time highs.
E-Commerce
Even before COVID-19 resulted in shuttered storefronts and surging online orders, e-commerce was a booming industry. It's now estimated that $1 million is now spent per minute online. Amazon ships an astounding 6,659 packages every minute to keep up with this demand.
Collaboration Tools
In a predominantly remote-working environment, tools like Zoom and Microsoft Teams host 208,333 and 52,083 users each minute respectively. Particularly in the pandemic era, it seems that this trend is here to stay.
Accelerated Turnover
The accelerated world we are in today means that many companies do not sustain a competitive advantage for as long. Social media companies have dwindled as observed above, and this is similarly reflected in the average lifespan of an S&P 500 company.
A typical company's tenure on the S&P 500 is expected to shrink rapidly in the next few years:
1964: 33 years
2016: 24 years
2027E: 12 years
Companies are shaving anywhere between 15-20 years off those highs, with estimates of further declines. This metric symbolizes the rapid evolution of the business landscape.
What Lies Ahead
It's seemingly easy to forget mankind is still very early in the developments when it comes to the internet. But in this short period, its rise to prominence and the broad digitization of the world has left us with a very eventful timeline.
If the last decade serves as a reference point, one can expect further and intensifying competition among tech companies. After all, the reward—winning in today's digital economy—reaps much greater value.
All signs point to internet activity advancing to further heights, if not because of 5G and its associated breakthroughs, then perhaps due to the steady rise in people gaining internet access.