The Future of Remote Work, According to Startups
No matter where in the world you log in from—Silicon Valley, London, and beyond—COVID-19 has triggered a mass exodus from traditional office life. Now that the lucky among us have settled into remote work, many are left wondering if this massive, inadvertent work-from-home experiment will change work for good.
In the following charts, we feature data from a comprehensive survey conducted by UK-based startup network Founders Forum, in which hundreds of founders and their teams revealed their experiences of remote work and their plans for a post-pandemic future.
While the future remains a blank page, it's clear that hundreds of startups have no plans to hit backspace on remote work.
Who's Talking
Based primarily in the UK, almost half of the survey participants were founders, and nearly a quarter were managers below the C-suite.
Prior to pandemic-related lockdowns, 94% of those surveyed had worked from an external office. Despite their brick-and-mortar setup, more than 90% were able to accomplish the majority of their work remotely.
Gen X and Millennials made up most of the survey contingent, with nearly 80% of respondents with ages between 26-50, and 40% in the 31-40 age bracket.
From improved work-life balance and productivity levels to reduced formal teamwork, these entrepreneurs flagged some bold truths about what's working and what's not.
Founders With A Remote Vision
If history has taught us anything, it's that world events have the potential to cause permanent mass change, like 9/11's lasting impact on airport security.
Although most survey respondents had plans to be back in the office within six months, those startups are rethinking their remote work policies as a direct result of COVID-19.
How might that play out in a post-pandemic world?
Based on the startup responses, a realistic post-pandemic work scenario could involve 3 to 5 days of remote work a week, with a couple dedicated in-office days for the entire team.
Upwards of 92% of respondents said they wanted the option to work from home in some capacity.
It's important to stay open to learning and experimenting with new ways of working. The current pandemic has only accelerated this process. We'll see the other side of this crisis, and I'm confident it will be brighter.
— Evgeny Shadchnev, CEO, Makers Academy
Productivity Scales at Home
Working from home hasn't slowed down these startups—in fact, it may have improved overall productivity in many cases.
More than half of the respondents were more productive from home, and 55% also reported working longer hours.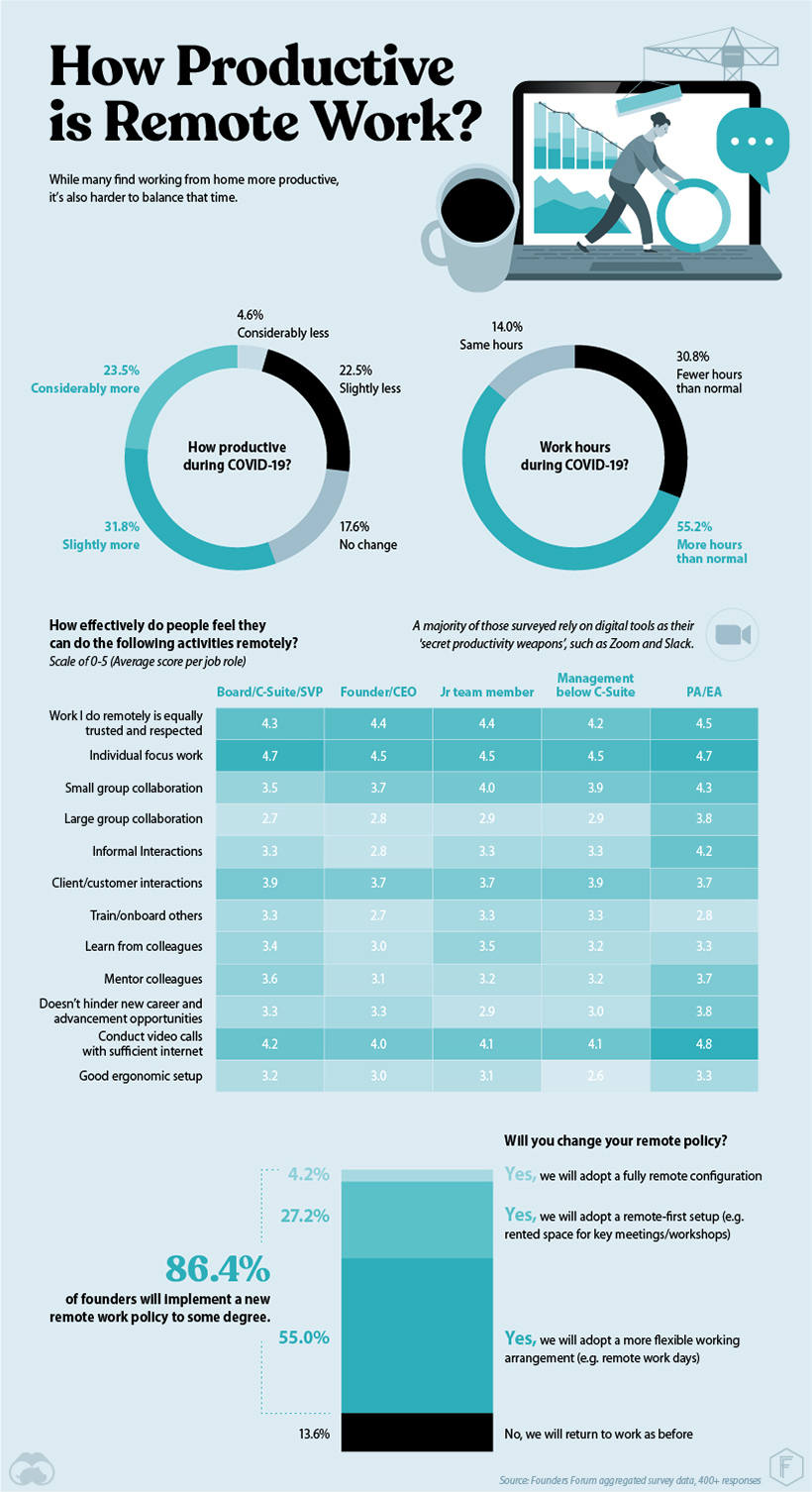 Blurred lines, however, raised some concerns.
From chores and rowdy children to extended hours, working from home often makes it difficult to compartmentalize. As a result, employers and employees may have to draw firmer lines between work and home in their remote policies, especially in the long term.
Although the benefits appear to outweigh the concerns, these issues pose important questions about our increasingly remote future.
Teams Reveal Some Intel
To uncover some work-from-home easter eggs ("Better for exercise. MUCH more pleasant environment"), we grouped nearly 400 open-ended questions according to sentiment and revealed some interesting patterns.
From serendipitous encounters and beers with colleagues to more formal teamwork, an overwhelming number of the respondents missed the camaraderie of team interactions.
It was clear startups did not miss the hours spent commuting every day. During the pandemic, those hours have been replaced by family time, work, or other activities like cooking healthy meals and working out.
Remote working has been great for getting us through lockdown—but truly creative work needs the magic of face to face interaction, not endless Zoom calls. Without the serendipity and chemistry of real-world encounters, the world will be a far less creative place.
— Rohan Silva, CEO, Second Home
The Future Looks Remote
This pandemic has delivered a new normal that's simultaneously challenging and revealing. For now, it looks like a new way of working is being coded into our collective software.
What becomes of the beloved open-office plan in a pandemic-prepped world remains to be seen, but if these startups are any indication, work-life may have changed for good.
Visualizing How COVID-19 Antiviral Pills and Vaccines Work at the Cellular Level
Despite tackling the same disease, vaccines and antiviral pills work differently to combat COVID-19. We visualize how they work in the body.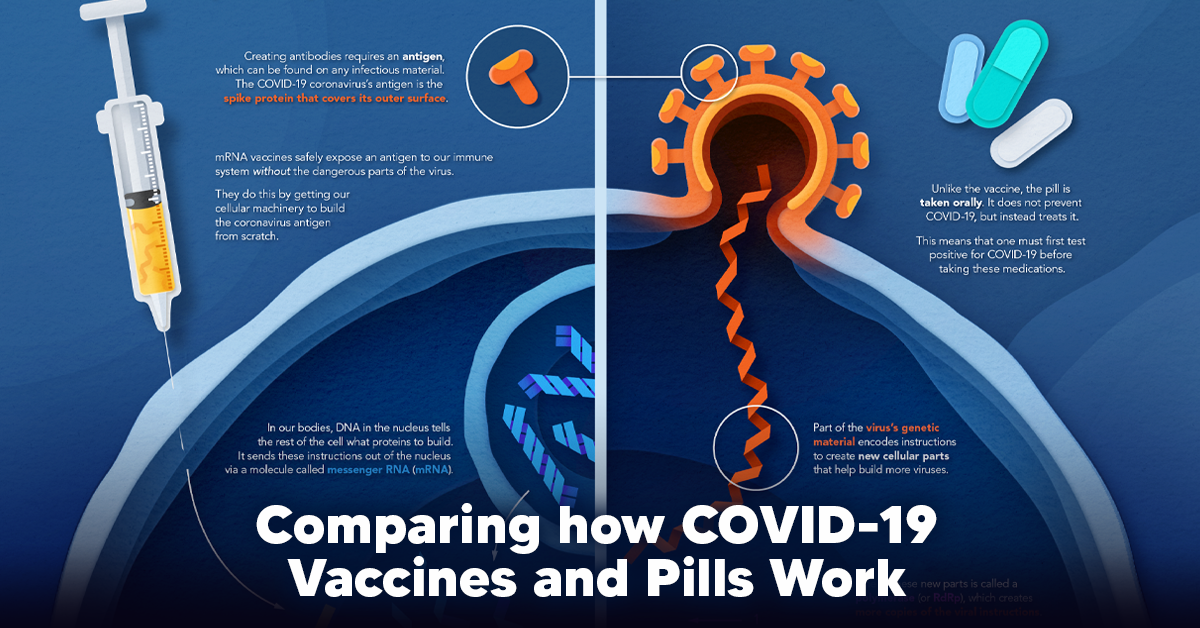 Current Strategies to Tackle COVID-19
Since the pandemic started in 2020, a number of therapies have been developed to combat COVID-19.
The leading options for preventing infection include social distancing, mask-wearing, and vaccination. They are still recommended during the upsurge of the coronavirus's latest mutation, the Omicron variant.
But in December 2021, The United States Food and Drug Administration (USDA) granted Emergency Use Authorization to two experimental pills for the treatment of new COVID-19 cases.
These medications, one made by Pfizer and the other by Merck & Co., hope to contribute to the fight against the coronavirus and its variants. Alongside vaccinations, they may help to curb extreme cases of COVID-19 by reducing the need for hospitalization.
Despite tackling the same disease, vaccines and pills work differently:

| Vaccines | Pills |
| --- | --- |
| Taken by injection | Taken by mouth |
| Used for prevention | Used for treatment only |
| Create an enhanced immune system by stimulating antibody production | Disrupt the assembly of new viral particles |
How a Vaccine Helps Prevent COVID-19
The main purpose of a vaccine is to prewarn the body of a potential COVID-19 infection by creating antibodies that target and destroy the coronavirus.
In order to do this, the immune system needs an antigen.
It's difficult to do this risk-free since all antigens exist directly on a virus. Luckily, vaccines safely expose antigens to our immune systems without the dangerous parts of the virus.
In the case of COVID-19, the coronavirus's antigen is the spike protein that covers its outer surface. Vaccines inject antigen-building instructions* and use our own cellular machinery to build the coronavirus antigen from scratch.
When exposed to the spike protein, the immune system begins to assemble antigen-specific antibodies. These antibodies wait for the opportunity to attack the real spike protein when a coronavirus enters the body. Since antibodies decrease over time, booster immunizations help to maintain a strong line of defense.
*While different vaccine technologies exist, they all do a similar thing: introduce an antigen and build a stronger immune system.
How COVID Antiviral Pills Work
Antiviral pills, unlike vaccines, are not a preventative strategy. Instead, they treat an infected individual experiencing symptoms from the virus.
Two drugs are now entering the market. Merck & Co.'s Lagevrio®, composed of one molecule, and Pfizer's Paxlovid®, composed of two.
These medications disrupt specific processes in the viral assembly line to choke the virus's ability to replicate.
The Mechanism of Molnupiravir
RNA-dependent RNA Polymerase (RdRp) is a cellular component that works similar to a photocopying machine for the virus's genetic instructions. An infected host cell is forced to produce RdRp, which starts generating more copies of the virus's RNA.
Molnupiravir, developed by Merck & Co., is a polymerase inhibitor. It inserts itself into the viral instructions that RdRp is copying, jumbling the contents. The RdRp then produces junk.
The Mechanism of Nirmatrelvir + Ritonavir
A replicating virus makes proteins necessary for its survival in a large, clumped mass called a polyprotein. A cellular component called a protease cuts a virus's polyprotein into smaller, workable pieces.
Pfizer's antiviral medication is a protease inhibitor made of two pills:
The first pill, nirmatrelvir, stops protease from cutting viral products into smaller pieces.
The second pill, ritonavir, protects nirmatrelvir from destruction by the body and allows it to keep working.
With a faulty polymerase or a large, unusable polyprotein, antiviral medications make it difficult for the coronavirus to replicate. If treated early enough, they can lessen the virus's impact on the body.
The Future of COVID Antiviral Pills and Medications
Antiviral medications seem to have a bright future ahead of them.
COVID-19 antivirals are based on early research done on coronaviruses from the 2002-04 SARS-CoV and the 2012 MERS-CoV outbreaks. Current breakthroughs in this technology may pave the way for better pharmaceuticals in the future.
One half of Pfizer's medication, ritonavir, currently treats many other viruses including HIV/AIDS.
Gilead Science is currently developing oral derivatives of remdesivir, another polymerase inhibitor currently only offered to inpatients in the United States.
More coronavirus antivirals are currently in the pipeline, offering a glimpse of control on the looming presence of COVID-19.
Author's Note: The medical information in this article is an information resource only, and is not to be used or relied on for any diagnostic or treatment purposes. Please talk to your doctor before undergoing any treatment for COVID-19. If you become sick and believe you may have symptoms of COVID-19, please follow the CDC guidelines.