The Future of Remote Work, According to Startups
No matter where in the world you log in from—Silicon Valley, London, and beyond—COVID-19 has triggered a mass exodus from traditional office life. Now that the lucky among us have settled into remote work, many are left wondering if this massive, inadvertent work-from-home experiment will change work for good.
In the following charts, we feature data from a comprehensive survey conducted by UK-based startup network Founders Forum, in which hundreds of founders and their teams revealed their experiences of remote work and their plans for a post-pandemic future.
While the future remains a blank page, it's clear that hundreds of startups have no plans to hit backspace on remote work.
Who's Talking
Based primarily in the UK, almost half of the survey participants were founders, and nearly a quarter were managers below the C-suite.
Prior to pandemic-related lockdowns, 94% of those surveyed had worked from an external office. Despite their brick-and-mortar setup, more than 90% were able to accomplish the majority of their work remotely.
Gen X and Millennials made up most of the survey contingent, with nearly 80% of respondents with ages between 26-50, and 40% in the 31-40 age bracket.
From improved work-life balance and productivity levels to reduced formal teamwork, these entrepreneurs flagged some bold truths about what's working and what's not.
Founders With A Remote Vision
If history has taught us anything, it's that world events have the potential to cause permanent mass change, like 9/11's lasting impact on airport security.
Although most survey respondents had plans to be back in the office within six months, those startups are rethinking their remote work policies as a direct result of COVID-19.
How might that play out in a post-pandemic world?
Based on the startup responses, a realistic post-pandemic work scenario could involve 3 to 5 days of remote work a week, with a couple dedicated in-office days for the entire team.
Upwards of 92% of respondents said they wanted the option to work from home in some capacity.
It's important to stay open to learning and experimenting with new ways of working. The current pandemic has only accelerated this process. We'll see the other side of this crisis, and I'm confident it will be brighter.
— Evgeny Shadchnev, CEO, Makers Academy
Productivity Scales at Home
Working from home hasn't slowed down these startups—in fact, it may have improved overall productivity in many cases.
More than half of the respondents were more productive from home, and 55% also reported working longer hours.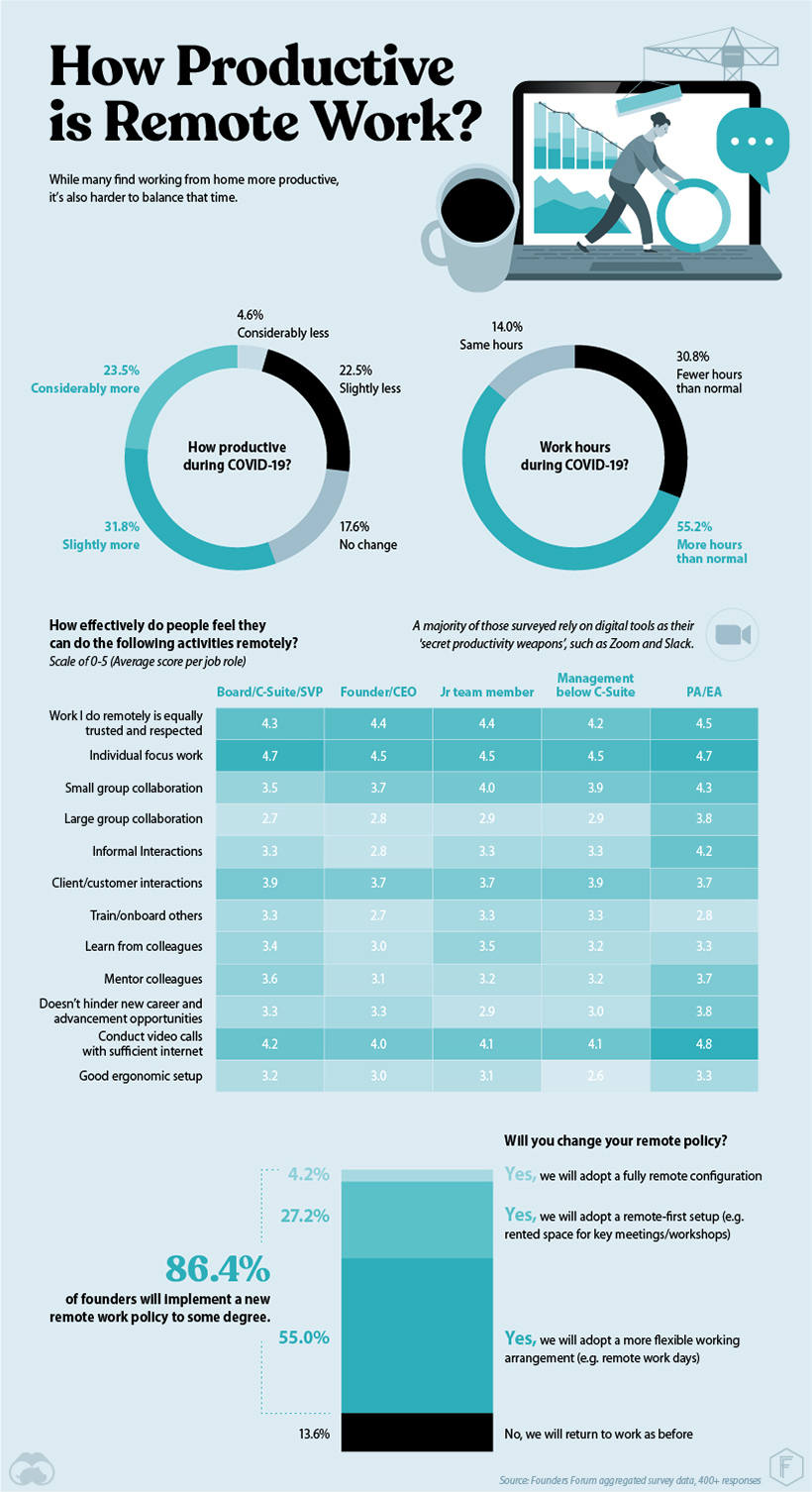 Blurred lines, however, raised some concerns.
From chores and rowdy children to extended hours, working from home often makes it difficult to compartmentalize. As a result, employers and employees may have to draw firmer lines between work and home in their remote policies, especially in the long term.
Although the benefits appear to outweigh the concerns, these issues pose important questions about our increasingly remote future.
Teams Reveal Some Intel
To uncover some work-from-home easter eggs ("Better for exercise. MUCH more pleasant environment"), we grouped nearly 400 open-ended questions according to sentiment and revealed some interesting patterns.
From serendipitous encounters and beers with colleagues to more formal teamwork, an overwhelming number of the respondents missed the camaraderie of team interactions.
It was clear startups did not miss the hours spent commuting every day. During the pandemic, those hours have been replaced by family time, work, or other activities like cooking healthy meals and working out.
Remote working has been great for getting us through lockdown—but truly creative work needs the magic of face to face interaction, not endless Zoom calls. Without the serendipity and chemistry of real-world encounters, the world will be a far less creative place.
— Rohan Silva, CEO, Second Home
The Future Looks Remote
This pandemic has delivered a new normal that's simultaneously challenging and revealing. For now, it looks like a new way of working is being coded into our collective software.
What becomes of the beloved open-office plan in a pandemic-prepped world remains to be seen, but if these startups are any indication, work-life may have changed for good.
Ranked: The Most Innovative Companies in 2021
In today's fast-paced market, companies have to be innovative constantly. Here's a look at the top 50 most innovative companies in 2021.
Ranked: the Top 50 Most Innovative Companies in 2021
This year has been rife with pandemic-induced changes that have shifted corporate priorities—and yet, innovation has remained a top concern among corporations worldwide.
Using data from the annual ranking done by Boston Consulting Group (BCG) using a poll of 1,600 global innovation professionals, this graphic ranks the top 50 most innovative companies in 2021.
We'll dig into a few of the leading companies, along with their innovative practices, below.
Most Innovative Companies: A Breakdown of the Leaderboard
To create the top 50 innovative company ranking, BCG uses four variables:
Global "Mindshare": The number of votes from all innovation executives.
Industry Peer Review: The number of votes from executives in a company's industry.
Industry Disruption: A diversity index to measure votes across industries.
Value Creation: Total share return.
For the second year in a row, Apple claims the top spot on this list. Here's a look at the full ranking for 2021:
| | Company | Industry | HQ | Change from 2020 |
| --- | --- | --- | --- | --- |
| 1 | Apple | Technology | 🇺🇸 U.S. | -- |
| 2 | Alphabet | Technology | 🇺🇸 U.S. | -- |
| 3 | Amazon | Consumer Goods | 🇺🇸 U.S. | -- |
| 4 | Microsoft | Technology | 🇺🇸 U.S. | -- |
| 5 | Tesla | Transport & Energy | 🇺🇸 U.S. | +6 |
| 6 | Samsung | Technology | 🇰🇷 South Korea | -1 |
| 7 | IBM | Technology | 🇺🇸 U.S. | +1 |
| 8 | Huawei | Technology | 🇨🇳 China | -2 |
| 9 | Sony | Consumer Goods | 🇯🇵 Japan | -- |
| 10 | Pfizer | Healthcare | 🇺🇸 U.S. | Return |
| 11 | Siemens | Technology | 🇩🇪 Germany | +10 |
| 12 | LG Electronics | Consumer Goods | 🇰🇷 South Korea | +6 |
| 13 | Facebook | Technology | 🇺🇸 U.S. | -3 |
| 14 | Alibaba | Consumer Goods | 🇨🇳 China | -7 |
| 15 | Oracle | Technology | 🇺🇸 U.S. | +10 |
| 16 | Dell | Technology | 🇺🇸 U.S. | +4 |
| 17 | Cisco Systems | Technology | 🇺🇸 U.S. | -5 |
| 18 | Target | Consumer Goods | 🇺🇸 U.S. | +4 |
| 19 | HP Inc. | Technology | 🇺🇸 U.S. | -4 |
| 20 | Johnson & Johnson | Healthcare | 🇺🇸 U.S. | +6 |
| 21 | Toyota | Transport & Energy | 🇯🇵 Japan | +20 |
| 22 | Salesforce | Technology | 🇺🇸 U.S. | +13 |
| 23 | Walmart | Consumer Goods | 🇺🇸 U.S. | -10 |
| 24 | Nike | Consumer Goods | 🇺🇸 U.S. | -8 |
| 25 | Lenovo | Technology | 🇭🇰 Hong Kong SAR | Return |
| 26 | Tencent | Consumer Goods | 🇨🇳 China | -12 |
| 27 | Procter & Gamble | Consumer Goods | 🇺🇸 U.S. | +12 |
| 28 | Coca-Cola | Consumer Goods | 🇺🇸 U.S. | +20 |
| 29 | Abbott Labs | Healthcare | 🇺🇸 U.S. | New |
| 30 | Bosch | Transport & Energy | 🇩🇪 Germany | +3 |
| 31 | Xiaomi | Technology | 🇨🇳 China | -7 |
| 32 | Ikea | Consumer Goods | 🇳🇱 Netherlands | Return |
| 33 | Fast Retailing | Consumer Goods | 🇯🇵 Japan | Return |
| 34 | Adidas | Consumer Goods | 🇩🇪 Germany | Return |
| 35 | Merck & Co. | Healthcare | 🇺🇸 U.S. | Return |
| 36 | Novartis | Healthcare | 🇨🇭 Switzerland | +11 |
| 37 | Ebay | Consumer Goods | 🇺🇸 U.S. | Return |
| 38 | PepsiCo | Consumer Goods | 🇺🇸 U.S. | Return |
| 39 | Hyundai | Transport & Energy | 🇰🇷 South Korea | Return |
| 40 | SAP | Technology | 🇩🇪 Germany | -13 |
| 41 | Inditex | Consumer Goods | 🇪🇸 Spain | Return |
| 42 | Moderna | Healthcare | 🇺🇸 U.S. | New |
| 43 | Philips | Healthcare | 🇳🇱 Netherlands | -20 |
| 44 | Disney | Media & Telecomms | 🇺🇸 U.S. | Return |
| 45 | Mitsubishi | Transport & Energy | 🇯🇵 Japan | New |
| 46 | Comcast | Media & Telecomms | 🇺🇸 U.S. | New |
| 47 | GE | Transport & Energy | 🇺🇸 U.S. | Return |
| 48 | Roche | Healthcare | 🇨🇭 Switzerland | Return |
| 49 | AstraZeneca | Healthcare | 🇬🇧 UK | New |
| 50 | Bayer | Healthcare | 🇩🇪 Germany | -12 |
One company worth touching on is Pfizer, a returnee from previous years that ranked 10th in this year's ranking. It's no surprise that Pfizer made the list, considering its instrumental role in the fight against COVID-19. In partnership with BioNTech, Pfizer produced a COVID-19 vaccine in less than a year. This is impressive considering that, historically, vaccine development could take up to a decade to complete.
Pfizer is just one of four COVID-19 vaccine producers to appear on the list this year—Moderna, Johnson & Johnson, and AstraZeneca also made the cut.
Meanwhile, in a completely different industry, Toyota snagged the 21st spot on this year's list, up 20 places compared to the rankings in the previous year. This massive jump can be signified by the company's recent $400 million investment into a company set to build flying electric cars.
While we often think of R&D and innovation as being synonymous, the former is just one innovation technique that's helped companies earn a spot on the list. Other companies have innovated in different ways, like streamlining processes to increase efficiency.
For instance, in 2021, Coca-Cola performed an analysis of their beverage portfolio and ended up cutting their brand list in half, from 400 to 200 global brands. This ability to pare down and pivot could be a reason behind its 20 rank increase from 2020.
Innovation Creates Value
As this year's ranking indicates, innovation comes in many forms. But, while there's no one-size-fits-all approach, there is one fairly consistent innovation trend—the link between innovation and value.
In fact, according to historical data from BCG, the correlation between value and innovation has grown even stronger over the last two decades.
For example, in 2020, a portfolio that was theoretically invested in BCG's most innovative companies would have performed 17% better than the MSCI World Index—which wasn't the case back in 2005.
And yet, despite innovation's value, many companies can't reap the benefits that innovation offers because they aren't ready to scale their innovative practices.
The Innovation Readiness Gap
BCG uses several metrics to gauge a company's "innovation readiness," such as the strength of its talent and culture, its organization ecosystems, and its ability to track performance.
According to BCG's analysis, only 20% of companies surveyed were ready to scale on innovation.
What's holding companies back from reaching their innovation potential? The most significant gap seems to be in what BCG calls innovation practices—things like project management or the ability to execute an idea that's both efficient and consistent with an overarching strategy.
To overcome this obstacle, BCG says companies need to foster a "one-team mentality" to increase interdepartmental collaboration and align team incentives, so everyone is working towards the same goal.
Timeline: Looking Back at 10 Years of Snapchat
A high level look at Snapchat's 10-year history, including user growth, innovative product design, and the twists and turns along the way.
Looking Back at 10 Years of Snapchat
Over the years, many ideas have emerged from the dorm rooms at Stanford University, but not all of them evolve into billion dollar companies.
Snapchat, however, has beaten the odds. The company's stock has recently shot up during the COVID-19 pandemic, a bright spot in a decade of highs and lows.
The graphic above is a high level look at Snapchat's 10-year history, including user growth and financials. Snapchat's wild ride from start-up to massive success is well documented, so we'll focus on key elements of story—product design, the Facebook rivalry—and look at how the company is doing today now that the hype surrounding the app has died down.
But first, a quick history…
Setting the Scene
Snapchat originally began its life as a project called Picaboo in 2011.
Cofounders Evan Spiegel, Bobby Murphy, and Reggie Brown, who were attending Stanford, began building an app that could send photos that disappear after a certain amount of time.
Picaboo was renamed Snapchat in 2012, and by the end of that year, it was clear that the start-up was onto something big. A $13.5 million Series A financing in early 2013 helped fuel the company's explosive growth.
Positive Momentum: Product Design
One of Snapchat's biggest strengths over the years has been innovative product design. Many of the features we now see baked into every social app originated from Snapchat.
Here's a quick rundown of Snapchat's key feature and product development over the past decade.
Of all the features listed above, the concept of stories is perhaps the most significant contribution to the digital landscape. Disappearing short-form videos started off as a messaging tool, but ended up transforming the way people share their lives online.
As well, the forward-looking acquisition of Looksery in 2015, helped introduce millions of people to augmented reality (AR). AR continues to be a major growth driver for Snapchat today, as advertisers embrace the Lenses feature.
Negative Momentum: Facebook Rivalry
To Mark Zuckerberg's credit, he realized the potential of Snapchat early.
When the company was only one year old, the Facebook CEO offered the Snapchat founders $60 million to buy the company. When they rejected the offer, Facebook almost immediately launched an app called Poke which was extremely similar to Snapchat's offering. You'd be forgiven for not knowing what Poke is, as the app received a tepid reception and was quietly shut down in 2014.
"I hope you enjoy Poke." – Mark Zuckerberg, in an email to Evan Spiegel
For Snapchat, Poke was a blessing in disguise as it brought even more attention to their growing app. Mark Zuckerberg, however, was not done trying to steal the company's thunder. After offering $3 billion in cash to purchase Snapchat (the offer was once again rebuffed), Facebook copied a number of features from Snapchat and integrated them into Instagram.
Stories were a massive hit for Instagram, and Snapchat, which could not yet match Instagram's scale, took a big hit. Growth began to slow noticeably after that Instagram update.
Snapchat Today
Snapchat hit rock bottom in 2018 after shares dropped below the $5 mark, and user growth had stalled out. As well, underwhelming sales of Snapchat's Spectacles product garnered negative press and hurt the brand's "cool factor".
Today though, the situation looks much different. The app still has a strong market share with the younger demographic, and close to 300 million daily active users. Snapchat was one of the many digital companies to benefit from the COVID-19 pandemic (or, at least, the increase in digital content consumption), and the share price has rocketed to new highs. One other promising indicator is the company's rising average revenue per user, or ARPU.
Of course, as the last 10 years have shown, success is not guaranteed. TikTok is still a significant competitor with a lot of momentum, and tastes can change quickly in the digital world. That said, there is a positive path forward for Snap Inc.