The Future of Remote Work, According to Startups
No matter where in the world you log in from—Silicon Valley, London, and beyond—COVID-19 has triggered a mass exodus from traditional office life. Now that the lucky among us have settled into remote work, many are left wondering if this massive, inadvertent work-from-home experiment will change work for good.
In the following charts, we feature data from a comprehensive survey conducted by UK-based startup network Founders Forum, in which hundreds of founders and their teams revealed their experiences of remote work and their plans for a post-pandemic future.
While the future remains a blank page, it's clear that hundreds of startups have no plans to hit backspace on remote work.
Who's Talking
Based primarily in the UK, almost half of the survey participants were founders, and nearly a quarter were managers below the C-suite.
Prior to pandemic-related lockdowns, 94% of those surveyed had worked from an external office. Despite their brick-and-mortar setup, more than 90% were able to accomplish the majority of their work remotely.
Gen X and Millennials made up most of the survey contingent, with nearly 80% of respondents with ages between 26-50, and 40% in the 31-40 age bracket.
From improved work-life balance and productivity levels to reduced formal teamwork, these entrepreneurs flagged some bold truths about what's working and what's not.
Founders With A Remote Vision
If history has taught us anything, it's that world events have the potential to cause permanent mass change, like 9/11's lasting impact on airport security.
Although most survey respondents had plans to be back in the office within six months, those startups are rethinking their remote work policies as a direct result of COVID-19.
How might that play out in a post-pandemic world?
Based on the startup responses, a realistic post-pandemic work scenario could involve 3 to 5 days of remote work a week, with a couple dedicated in-office days for the entire team.
Upwards of 92% of respondents said they wanted the option to work from home in some capacity.
It's important to stay open to learning and experimenting with new ways of working. The current pandemic has only accelerated this process. We'll see the other side of this crisis, and I'm confident it will be brighter.
— Evgeny Shadchnev, CEO, Makers Academy
Productivity Scales at Home
Working from home hasn't slowed down these startups—in fact, it may have improved overall productivity in many cases.
More than half of the respondents were more productive from home, and 55% also reported working longer hours.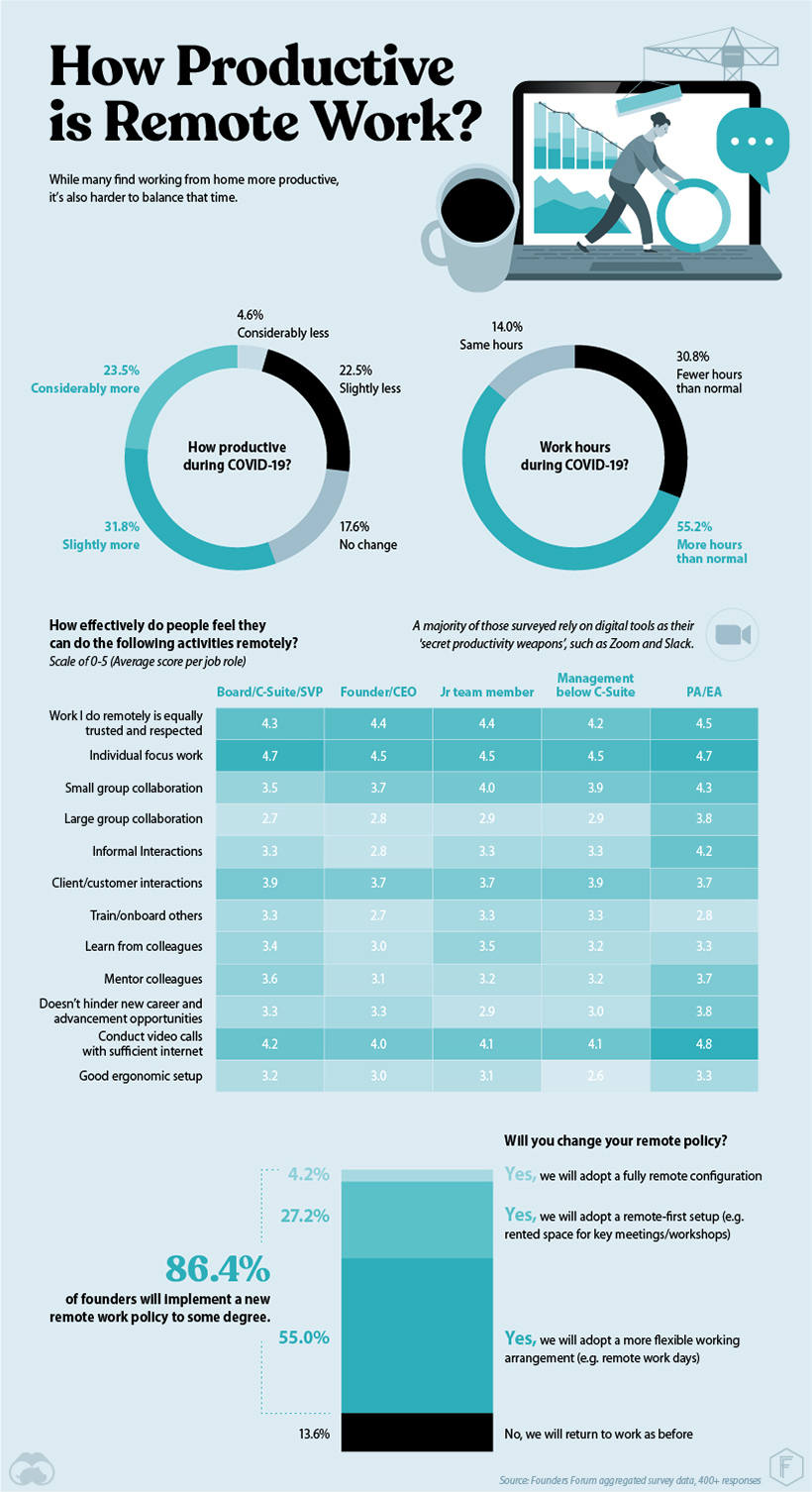 Blurred lines, however, raised some concerns.
From chores and rowdy children to extended hours, working from home often makes it difficult to compartmentalize. As a result, employers and employees may have to draw firmer lines between work and home in their remote policies, especially in the long term.
Although the benefits appear to outweigh the concerns, these issues pose important questions about our increasingly remote future.
Teams Reveal Some Intel
To uncover some work-from-home easter eggs ("Better for exercise. MUCH more pleasant environment"), we grouped nearly 400 open-ended questions according to sentiment and revealed some interesting patterns.
From serendipitous encounters and beers with colleagues to more formal teamwork, an overwhelming number of the respondents missed the camaraderie of team interactions.
It was clear startups did not miss the hours spent commuting every day. During the pandemic, those hours have been replaced by family time, work, or other activities like cooking healthy meals and working out.
Remote working has been great for getting us through lockdown—but truly creative work needs the magic of face to face interaction, not endless Zoom calls. Without the serendipity and chemistry of real-world encounters, the world will be a far less creative place.
— Rohan Silva, CEO, Second Home
The Future Looks Remote
This pandemic has delivered a new normal that's simultaneously challenging and revealing. For now, it looks like a new way of working is being coded into our collective software.
What becomes of the beloved open-office plan in a pandemic-prepped world remains to be seen, but if these startups are any indication, work-life may have changed for good.
The Top Downloaded Apps in 2022
Six of the top 10 most downloaded apps in Q1 2022 were social media apps, and four of them are owned by Meta.
The Top Downloaded Apps in 2022
Whether they're providing a service like ride-sharing or acting as a mere source of entertainment, mobile apps have become an integral part of many peoples' day-to-day lives.
But which apps are most popular among users?
This graphic uses data from a recent report by Sensor Tower to show the top 10 most downloaded apps around the world in Q1 2022 from the Google Play and Apple App Store.
Social Reigns Supreme
According to the report, total app downloads reached 36.9 billion in Q1 2022, a 1.4% increase compared to Q1 2021.
A majority of the top 10 most downloaded apps were social media platforms, with Meta and ByteDance owning six of the top 10.
| Rank | App | Category |
| --- | --- | --- |
| 1 | TikTok | Entertainment |
| 2 | Instagram | Photo and video |
| 3 | Facebook | Social networking |
| 4 | WhatsApp | Messaging |
| 5 | Shopee | Shopping |
| 6 | Telegram | Messaging |
| 7 | Snapchat | Photo and video |
| 8 | Messenger | Messaging |
| 9 | CapCut | Photo and video |
| 10 | Spotify | Music |
Meta's four platforms on the list are Instagram, Facebook, WhatsApp, and Messenger, while ByteDance owns TikTok and video-editing platform CapCut.
Just outside the top 10 are Zoom and WhatsApp Business (yet another Meta-owned app).
TikTok's Winding Road to the Top
In Q1 2021, TikTok exceeded 3.5 billion all-time downloads, becoming the fifth app (and the first non-Meta app) to reach this milestone. This is impressive considering the app has been banned in India as of June 2020. Prior to the ban, India accounted for 30% of TikTok's downloads.
India's not the only country that's banned the use of TikTok. Pakistan has blocked TikTok multiple times because of concerns over "inappropriate" content. However, it's worth noting that the bans in Pakistan only lasted a few days before being lifted, and currently, Pakistanis are able to access the platform.
Top 10 Highest Grossing Apps
TikTok isn't just the most downloaded app in the world—it's also the highest-grossing non-game app, based on Q1 2022 revenue from the App Store and Google Play:
| Rank | App | Category |
| --- | --- | --- |
| 1 | TikTok | Entertainment |
| 2 | YouTube | Photo and video |
| 3 | Disney+ | Entertainment |
| 4 | Google One | Productivity |
| 5 | Tinder | Lifestyle |
| 6 | Piccoma | Books |
| 7 | Tencent Video | Entertainment |
| 8 | iQIYI | Entertainment |
| 9 | HBO Max | Entertainment |
| 10 | LINE Manga | Entertainment |
TikTok generated an impressive $821 million in consumer spending in the last quarter. The video-sharing platform was the top-grossing app on the App Store, and the second-highest-grossing on Google Play, coming just after Google One.
While none of Meta's platforms made it onto the top 10 list for gross revenue, these platforms make a ton of money that doesn't necessarily flow through app stores. In 2021, Meta generated more than $117.9 billion in revenue, with over 97% of that coming from ads.
Growth's on the Horizon
The pandemic had a massive impact on the app market.
In 2020, app spending on things like premium access, in-app purchases, and subscriptions surged by 30% year-over-year to reach $111 billion.
And while COVID-19 restrictions are easing in most places around the world, app spending isn't likely to taper off anytime soon. By 2025, spending is expected to grow to $270 billion.
Synthetic Biology: The $3.6 Trillion Science Changing Life as We Know It
The field of synthetic biology could solve problems in a wide range of industries, from medicine to agriculture—here's how.
How Synthetic Biology Could Change Life as we Know it
Synthetic biology (synbio) is a field of science that redesigns organisms in an effort to enhance and support human life. According to one projection, this rapidly growing field of science is expected to reach $28.8 billion in global revenue by 2026.
Although it has the potential to transform many aspects of society, things could go horribly wrong if synbio is used for malicious or unethical reasons. This infographic explores the opportunities and potential risks that this budding field of science has to offer.
What is Synthetic Biology?
We've covered the basics of synbio in previous work, but as a refresher, here's a quick explanation of what synbio is and how it works.
Synbio is an area of scientific research that involves editing and redesigning different biological components and systems in various organisms.
It's like genetic engineering but done at a more granular level—while genetic engineering transfers ready-made genetic material between organisms, synbio can build new genetic material from scratch.
The Opportunities of Synbio
This field of science has a plethora of real-world applications that could transform our everyday lives. A study by McKinsey found over 400 potential uses for synbio, which were broken down into four main categories:
Human health and performance
Agriculture and food
Consumer products and services
Materials and energy production
If those potential uses become reality in the coming years, they could have a direct economic impact of up to $3.6 trillion per year by 2030-2040.
1. Human Health and Performance
The medical and health sector is predicted to be significantly influenced by synbio, with an economic impact of up to $1.3 trillion each year by 2030-2040.
Synbio has a wide range of medical applications. For instance, it can be used to manipulate biological pathways in yeast to produce an anti-malaria treatment.
It could also enhance gene therapy. Using synbio techniques, the British biotech company Touchlight Genetics is working on a way to build synthetic DNA without the use of bacteria, which would be a game-changer for the field of gene therapy.
2. Agriculture and Food
Synbio has the potential to make a big splash in the agricultural sector as well—up to $1.2 trillion per year by as early as 2030.
One example of this is synbio's role in cellular agriculture, which is when meat is created from cells directly. The cost of creating lab-grown meat has decreased significantly in recent years, and because of this, various startups around the world are beginning to develop a variety of cell-based meat products.
3. Consumer Products and Services
Using synthetic biology, products could be tailored to suit an individual's unique needs. This would be useful in fields such as genetic ancestry testing, gene therapy, and age-related skin procedures.
By 2030-2040, synthetic biology could have an economic impact on consumer products and services to the tune of up to $800 billion per year.
4. Materials and Energy Production
Synbio could also be used to boost efficiency in clean energy and biofuel production. For instance, microalgae are currently being "reprogrammed" to produce clean energy in an economically feasible way.
This, along with other material and energy improvements through synbio methods, could have a direct economic impact of up to $300 billion each year.
The Potential Risks of Synbio
While the potential economic and societal benefits of synthetic biology are vast, there are a number of risks to be aware of as well:
Unintended biological consequences: Making tweaks to any biological system can have ripple effects across entire ecosystems or species. When any sort of lifeform is manipulated, things don't always go according to plan.
Moral issues: How far we're comfortable going with synbio depends on our values. Certain synbio applications, such as embryo editing, are controversial. If these types of applications become mainstream, they could have massive societal implications, with the potential to increase polarization within communities.
Unequal access: Innovation and progress in synbio is happening faster in wealthier countries than it is in developing ones. If this trend continues, access to these types of technology may not be equal worldwide. We've already witnessed this type of access gap during the rollout of COVID-19 vaccines, where a majority of vaccines have been administered in rich countries.
Bioweaponry: Synbio could be used to recreate viruses, or manipulate bacteria to make it more dangerous, if used with ill intent.
According to a group of scientists at the University of Edinburgh, communication between the public, synthetic biologists, and political decision-makers is crucial so that these societal and environmental risks can be mitigated.
Balancing Risk and Reward
Despite the risks involved, innovation in synbio is happening at a rapid pace.
By 2030, most people will have likely eaten, worn, or been treated by a product created by synthetic biology, according to synthetic biologist Christopher A. Voigt.
Our choices today will dictate the future of synbio, and how we navigate through this space will have a massive impact on our future—for better, or for worse.