The Evolution of Higher Education: 5 Global Trends To Watch
Higher education has gone through tremendous change during the COVID-19 pandemic.
In the face of uncertainty, it's become evident that institutions with prior investment in digital technologies are emerging more agile and resilient. For example, online communities have helped 30% of students feel more connected with other students during this time.
Below we look at key data from the Global Higher Education Research Snapshot from Salesforce.org—in partnership with market research firm Ipsos—which reflects the new attitudes and priorities of 2,200 students and higher education staff worldwide.
To understand the shifting landscape across higher education, the survey explores five key trends: connection, trust, wellbeing, flexibility, and career.
1. Communications Help Students Feel Connected
In a typically isolating time, 75% of students wanted to receive weekly (or even more frequent) pandemic-related updates.
Why? These consistent communications from institutions actually help students feel more close and connected than in previous years.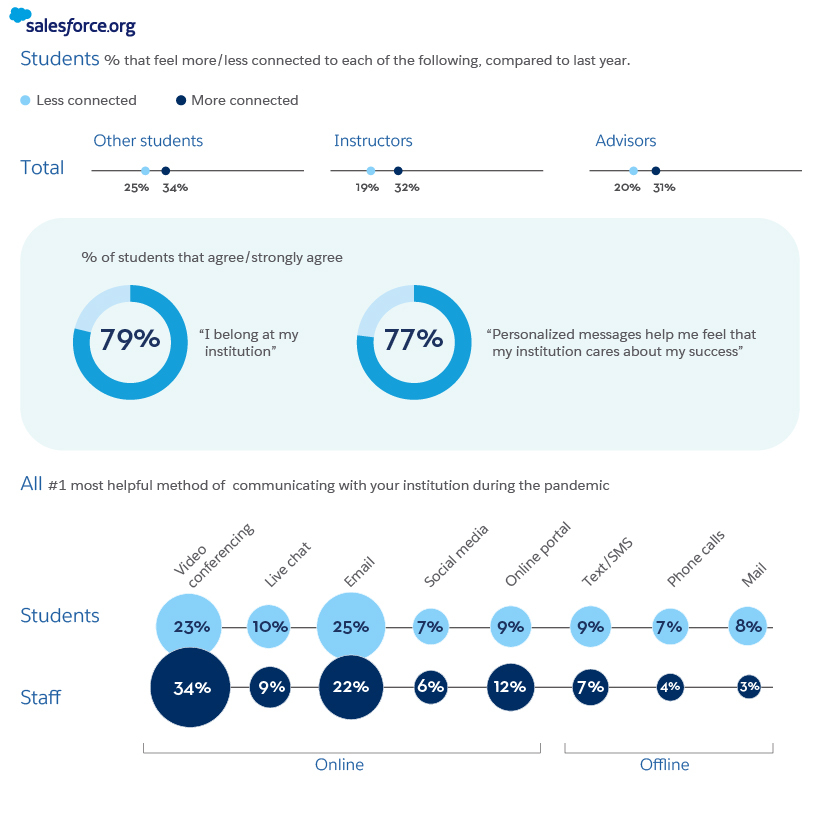 This valuable sense of belonging is increasingly happening through online communities and other digital channels, but institutions have significant room left to grow in this area.
2. Has The Pandemic Fractured Trust?
The pandemic has worsened existing trust gaps that exist between university leadership, students, and staff. Part of this may be due to a lack of resources provided during imposed COVID-19 restrictions.
From personal protective equipment such as masks/hand sanitizer to transparent COVID-19 response plans, students also expect a myriad of resources from their universities to help put them at ease.
3. Juggling Wellbeing Concerns
Months of lockdowns and persistent social distancing have understandably shaken up students' university experiences.
This is further compounded by various well-being challenges, from financial anxieties to juggling familial responsibilities.
On the bright side, such demand creates an opportunity for institutions to provide more tailored well-being support through digital-first channels.
4. Students Are Drawn to Online Learning
As the pandemic seemingly creates new challenges by the day, many students are seeking more flexible options for when and how they learn.
The good news? There's already evidence of this shift. Over half (57%) of staff say their institutions are investing in new modalities or revenue streams to attract new students, including more flexible learning options.
5. Uncertainties Remain Around Future Plans
Economic changes are causing over half (51%) of students to reconsider their education plans. In addition, of the staff that expect to see an increase in adult learners' enrollment, a majority believe it will come from pandemic-influenced needs to reskill or upskill in this climate.
This uncertainty also affects students' future plans—60% are concerned about finding employment after graduation. They want to be set up for career success in all areas, yet only a handful of them have the appropriate resources available.
How The Trends Intersect
These above trends aren't disparate to the student and staff experience. Rather, they are intricately linked with one another, as the following question illustrates.
The pandemic has reshaped expectations of higher education—but it's also created an opportunity for institutions to accelerate their digital transformation.
By providing more wellbeing resources, career support, and flexibility, universities can drive trust and support their students' needs in the new normal.
Want more details?
Visit Salesforce.org's Global Higher Education Research Snapshot to learn more.

Forex Market: Unlocking Opportunities for Investors
What are the advantages of the forex market? Individual investors can access this expansive, global market—largely unknown to many.
Forex Market: Unlocking Opportunities for Investors
In 2019, the global foreign exchange market (forex) was valued at a jaw-dropping $2.4 quadrillion.
In fact, this is equal to more than 50 times China, Japan, Germany, India and the U.S.'s economic output combined. Institutional investors, such as investment banks, pension funds, and large corporations have typically dominated this space, but there are avenues for individuals to enter the market as well.
This infographic from Compare Forex Brokers breaks down the world's most interconnected financial market, and how individual investors can start trading.
The Forex Market: A Global Landscape
Across the forex market, 170 major, minor, and exotic currency pairs can be traded as contracts for difference (CFDs). A CFD enables you to speculate on whether the price of an asset will rise or fall.
Here, trades are conducted on over the counter (OTC) markets—non-centralized markets made up of a network of participants. This is different from traditional markets, such as the S&P 500 and the Nasdaq, which operate on formal, centralized exchanges.
While the forex market is by nature, decentralized, these core regions show where forex transactions are most concentrated by market participants including banks, commercial businesses, or individual investors.
Globally, the majority of forex trading takes place within the following hubs.
| Forex Trading Centers (2019) | Country | Share of Global Over the Counter (OTC) Forex Turnover |
| --- | --- | --- |
| 1 | UK | 43.1% |
| 2 | U.S. | 16.5% |
| 3 | Singapore | 7.6% |
| 4 | Hong Kong | 7.6% |
| 5 | Japan | 4.5% |
| 6 | Switzerland | 3.3% |
| 7 | France | 2.0% |
| 8 | China | 1.6% |
| 9 | Germany | 1.5% |
| 10 | Australia | 1.4% |
Source: BIS
The UK accounts for over 43% of global forex trading, averaging $2.7 trillion daily according to the 2019 Triennial Central Bank Survey by the Bank for International Settlements. London's geographic location between the U.S. and Asia makes it an optimal forex trading centre—a trend that has held strong over the last 50 years.
With forex trading in the U.S. jumping over 50% in the last decade, the U.S. is the next most active forex market. Meanwhile, averaging $633 billion in trading volumes in 2019, Singapore is Asia's largest forex trading center, with Hong Kong following close behind.
The Top Seven Currency Pairs
What are the most highly-traded currency pairs?
Overall, 68% of global forex trading falls into seven major currency pairs.
| | Top Seven Currency Pairs | Percentage of Total |
| --- | --- | --- |
| 1 | United States Dollar vs Euro | 24.0% |
| 2 | United States Dollar vs Japanese Yen | 17.8% |
| 3 | United States Dollar vs Great British Pound | 9.3% |
| 4 | United States Dollar vs Australian Dollar | 5.2% |
| 5 | United States Dollar vs Canadian Dollar | 4.3% |
| 6 | United States Dollar vs Chinese Yuan | 3.8% |
| 7 | United States Dollar vs Swiss Franc | 3.6% |
Source: BIS
Currency prices are impacted by factors including inflation, international trade, political stability, among other macroeconomic factors.
Breaking Down Institutional and Retail Trading
While commercial and central banks, hedge funds, and investment managers make up most of the forex market, only 5.5% are individual investors.
Importantly, they differ in a few key ways.
Institutional Forex Trading
Retail Forex Trading
- Buy and sell the physical currency


- Interdealer market: Large institutions trade on an interdealer market, which is a non-centralized network of dealers


- Less formal: Often trades are conducted by phone, email or instant message.


- Non-transparent: Execution prices and buy/sell orders are not visible to the market.
- Buy and sell contracts for difference (CFD)


- Contracts for Difference (CFD): CFDs allow traders to speculate on the price of an underlying asset. Traders do not own the underlying asset.


- Long and Short Trades: Traders can take a long or short position:


- Long position: buying a CFD with the expectation the asset's market price will increase.


- Short position: selling a CFD with the expectation the asset's market price will decrease.
For various reasons, retail forex trading increases in popularity year after year. However, before diving in, it is important to know the stakes involved in this speculative market.
Understanding the High Risk of Forex Trading
Retail forex trading is, at is core, very risky.
In 2019, 71% of all retail forex trades lost money. One explanation is the highly leveraged nature of the market—many investors trade using borrowed money. But while trading with leverage can magnify losses, it also applies to gains.
Key Benefits of the Forex Market
While there is risk inherent in the market, what are some of the advantages in forex trading?
Low transaction costs: No exchange or regulatory fees. Overall trading costs are low with both commission and no commission pricing structures available.
High liquidity: Along with being the largest market globally, it is also the most liquid with $6.6 trillion in daily trading volume.
24-hour market: Trading is not confined to limited hours or time zones.
Leverage: Forex brokers offer retail traders leverage which allows the to increase their exposure
Unlike equities, currency trading is all about relativity. A currency can depreciate overall, but can also appreciate relative to a currency that has depreciated even more.
Connect to New Markets
While big gains are possible, many trades lose money, but regulatory improvements have helped build trust in the market.
Meanwhile, multiple digital platforms provide a link to global currencies, allowing retail forex traders to enter the market and trade from any location. For those comfortable taking more risk, currency markets offer opportunities with outsized potential.

Investing in the Impending E-commerce Future
E-commerce is already massive, but COVID-19 has proven to be an unexpected catalyst in driving the use of digital marketplaces.
Investing in the Impending E-commerce Future
The rise of e-commerce has been a long time coming, but the market's progressive size and impact has caught many by surprise.
Tied initially to the advent of the internet and the Dot-com boom, online shopping saw companies like Amazon and eBay become well-known billion-dollar names. Digital commerce was a big market, but only for a few players.
Fast forward to today, and more companies than ever are launching their own marketplaces or embracing online retail. The shift was happening before COVID-19, but the pandemic has sped things up dramatically.
Today's infographic from eToro highlights the increasing relevance of e-commerce in the modern economy and how investors can enter the market.
The Digital Marketplace Footprint
How big is modern e-commerce? While multiple sectors are experiencing their own online revolutions, retail is leading the way.
Total global retail e-commerce sales already numbered $3 trillion in 2018, and are expected to more than double to $6.5 trillion in 2023.
The increasing ease and security of online payments have encouraged many businesses to embrace B2C sales, especially in light of a pandemic that forced many brick and mortar stores to close. But less documented is the boom of digital marketplaces, which accounted for 57% of global online retail sales in 2019.
The biggest marketplaces are well-known leaders like Amazon and China's Taobao and Tmall, but more and more companies are capturing a slice of the online distribution market.
| Largest U.S. Marketplaces | Gross Merchandise Value |
| --- | --- |
| Amazon | $339B |
| Ebay | $90B |
| Walmart | $49B |
| Wish | $10B |
| Houzz | $9B |
Source: DigitalCommerce360
Walmart and Best Buy have both launched marketplaces for third-party product sales, with Walmart recently seeing a 79% increase of e-commerce sales alone.
The E-commerce Transformation
The growth of e-commerce in retail by itself is staggering, but its growing availability in other sectors is the bigger story.
Groceries and restaurants are a key marker, with home-delivery of takeout, groceries, and ready-to-prepare meal-kits all ordered digitally. Companies like Doordash, Just Eat, and Uber Eats have experienced massive growth, with Doordash positioning for a 2020 IPO, while grocery retailers including Walmart and Safeway are embracing delivery sales.
Online services are likewise rising in popularity, including everything from streaming services to virtual meetings, healthcare and assistance. Just as with the retail sector, e-commerce is making its way into sectors previously thought to be "un-digitizable."
That type of transformation is usually slow, but the result of COVID-19 restrictions forcing thousands of businesses to go digital sped up the schedule. U.S. e-commerce penetration experienced 10 years of growth in the first quarter of 2020 alone.
| Year | U.S. E-commerce Penetration |
| --- | --- |
| 2016 | 11.8% |
| 2017 | 13.2% |
| 2018 | 14.4% |
| 2019 | 16.0% |
| 2020 (Q1) | 33.0% |
Source: McKinsey
A Widening Landscape for Future Growth
It might be hard to believe, but even with the headway made by e-commerce over the past year, the industry is slated for massive future growth.
One big reason is the rising demand for digital goods and services. As the global pandemic has reimagined virtual business, many companies have also come face-to-face with the decreased costs of operating remotely, while retailers are seeing higher margins by cutting out the distributor (or the lease).
At the same time, another massive shift is the increase in technological capabilities. Alongside the rollout of 5G, blockchain, and improved AI, companies are looking for tech to streamline their processes and keep customers online where possible.
That includes the use of drones for delivery by Amazon, augmented and virtual reality for product testing by Ikea and Wayfair, and improved payment platforms by Shopify.
While 100% online shopping is still a ways away from becoming a reality, the wave of e-commerce is set to continue rising.