The Evolution of Higher Education: 5 Global Trends To Watch
Higher education has gone through tremendous change during the COVID-19 pandemic.
In the face of uncertainty, it's become evident that institutions with prior investment in digital technologies are emerging more agile and resilient. For example, online communities have helped 30% of students feel more connected with other students during this time.
Below we look at key data from the Global Higher Education Research Snapshot from Salesforce.org—in partnership with market research firm Ipsos—which reflects the new attitudes and priorities of 2,200 students and higher education staff worldwide.
To understand the shifting landscape across higher education, the survey explores five key trends: connection, trust, wellbeing, flexibility, and career.
1. Communications Help Students Feel Connected
In a typically isolating time, 75% of students wanted to receive weekly (or even more frequent) pandemic-related updates.
Why? These consistent communications from institutions actually help students feel more close and connected than in previous years.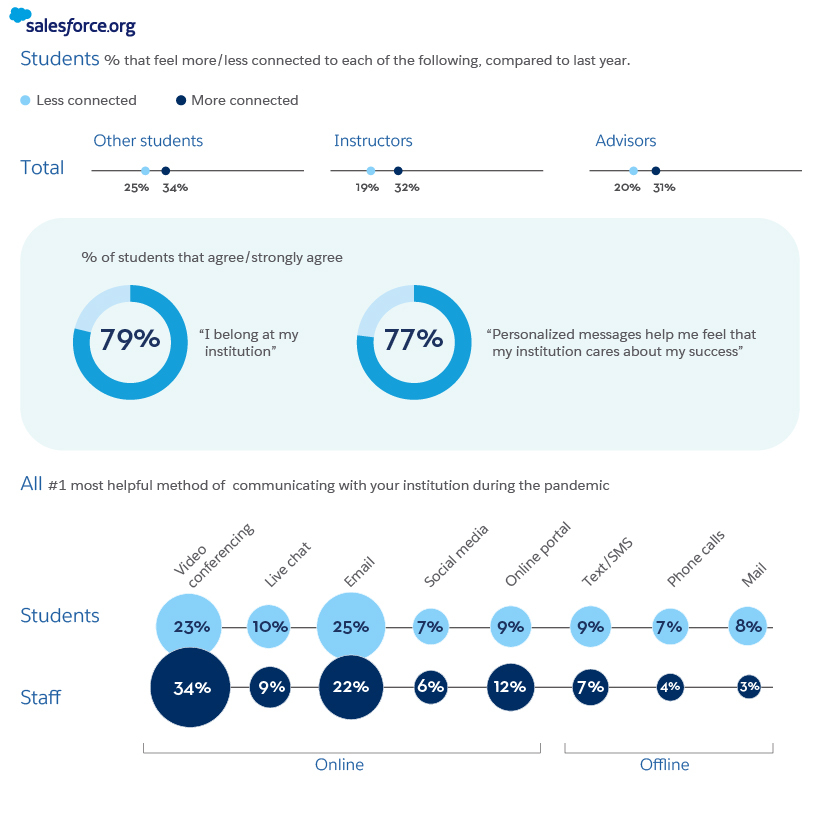 This valuable sense of belonging is increasingly happening through online communities and other digital channels, but institutions have significant room left to grow in this area.
2. Has The Pandemic Fractured Trust?
The pandemic has worsened existing trust gaps that exist between university leadership, students, and staff. Part of this may be due to a lack of resources provided during imposed COVID-19 restrictions.
From personal protective equipment such as masks/hand sanitizer to transparent COVID-19 response plans, students also expect a myriad of resources from their universities to help put them at ease.
3. Juggling Wellbeing Concerns
Months of lockdowns and persistent social distancing have understandably shaken up students' university experiences.
This is further compounded by various well-being challenges, from financial anxieties to juggling familial responsibilities.
On the bright side, such demand creates an opportunity for institutions to provide more tailored well-being support through digital-first channels.
4. Students Are Drawn to Online Learning
As the pandemic seemingly creates new challenges by the day, many students are seeking more flexible options for when and how they learn.
The good news? There's already evidence of this shift. Over half (57%) of staff say their institutions are investing in new modalities or revenue streams to attract new students, including more flexible learning options.
5. Uncertainties Remain Around Future Plans
Economic changes are causing over half (51%) of students to reconsider their education plans. In addition, of the staff that expect to see an increase in adult learners' enrollment, a majority believe it will come from pandemic-influenced needs to reskill or upskill in this climate.
This uncertainty also affects students' future plans—60% are concerned about finding employment after graduation. They want to be set up for career success in all areas, yet only a handful of them have the appropriate resources available.
How The Trends Intersect
These above trends aren't disparate to the student and staff experience. Rather, they are intricately linked with one another, as the following question illustrates.
The pandemic has reshaped expectations of higher education—but it's also created an opportunity for institutions to accelerate their digital transformation.
By providing more wellbeing resources, career support, and flexibility, universities can drive trust and support their students' needs in the new normal.
Want more details?
Visit Salesforce.org's Global Higher Education Research Snapshot to learn more.

Decarbonization 101: What Carbon Emissions Are Part Of Your Footprint?
What types of carbon emissions do companies need to be aware of to effectively decarbonize? Here are the 3 scopes of carbon emissions.
What Carbon Emissions Are Part Of Your Footprint?
With many countries and companies formalizing commitments to meeting the Paris Agreement carbon emissions reduction goals, the pressure to decarbonize is on.
A common commitment from organizations is a "net-zero" pledge to both reduce and balance carbon emissions with carbon offsets. Germany, France and the UK have already signed net-zero emissions laws targeting 2050, and the U.S. and Canada recently committed to synchronize efforts towards the same net-zero goal by 2050.
As organizations face mounting pressure from governments and consumers to decarbonize, they need to define the carbon emissions that make up their carbon footprints in order to measure and minimize them.
This infographic from the National Public Utility Council highlights the three scopes of carbon emissions that make up a company's carbon footprint.
The 3 Scopes of Carbon Emissions To Know
The most commonly used breakdown of a company's carbon emissions are the three scopes defined by the Greenhouse Gas Protocol, a partnership between the World Resources Institute and Business Council for Sustainable Development.
The GHG Protocol separates carbon emissions into three buckets: emissions caused directly by the company, emissions caused by the company's consumption of electricity, and emissions caused by activities in a company's value chain.
Scope 1: Direct emissions
These emissions are direct GHG emissions that occur from sources owned or controlled by the company, and are generally the easiest to track and change. Scope 1 emissions include:
Factories
Facilities
Boilers
Furnaces
Company vehicles
Chemical production (not including biomass combustion)
Scope 2: Indirect electricity emissions
These emissions are indirect GHG emissions from the generation of purchased electricity consumed by the company, which requires tracking both your company's energy consumption and the relevant electrical output type and emissions from the supplying utility. Scope 2 emissions include:
Electricity use (e.g. lights, computers, machinery, heating, steam, cooling)
Emissions occur at the facility where electricity is generated (fossil fuel combustion, etc.)
Scope 3: Value chain emissions
These emissions include all other indirect GHG emissions occurring as a consequence of a company's activities both upstream and downstream. They aren't controlled or owned by the company, and many reporting bodies consider them optional to track, but they are often the largest source of a company's carbon footprint and can be impacted in many different ways. Scope 3 emissions include:
Purchased goods and services
Transportation and distribution
Investments
Employee commute
Business travel
Use and waste of products
Company waste disposal
The Carbon Emissions Not Measured
Most uses of the GHG Protocol by companies includes many of the most common and impactful greenhouse gases that were covered by the UN's 1997 Kyoto Protocol. These include carbon dioxide, methane, and nitrous oxide, as well as other gases and carbon-based compounds.
But the standard doesn't include other emissions that either act as minor greenhouse gases or are harmful to other aspects of life, such as general pollutants or ozone depletion.
These are emissions that companies aren't required to track in the pressure to decarbonize, but are still impactful and helpful to reduce:
Chlorofluorocarbons (CFCs) and Hydrochlorofluorocarbons (HCFCS): These are greenhouse gases used mainly in refrigeration systems and in fire suppression systems (alongside halons) that are regulated by the Montreal Protocol due to their contribution to ozone depletion.
Nitrogen oxides (NOx): These gases include nitric oxide (NO) and nitrogen dioxide (NO2) and are caused by the combustion of fuels and act as a source of air pollution, contributing to the formation of smog and acid rain.
Halocarbons: These carbon-halogen compounds have been used historically as solvents, pesticides, refrigerants, adhesives, and plastics, and have been deemed a direct cause of global warming for their role in the depletion of the stratospheric ozone.
There are many different types of carbon emissions for companies (and governments) to consider, measure, and reduce on the path to decarbonization. But that means there are also many places to start.
National Public Utilities Council is the go-to resource for all things decarbonization in the utilities industry. Learn more.

The Paris Agreement: Is The World's Climate Action Plan on Track?
This graphic shows how close we are to achieving the Paris Agreement's climate action plan, and what happens if we fail to reach its goal.
Keeping Tabs on the World's Climate Action Plan
When the Paris Agreement came into force in 2016, it was considered by many to be a step forward in the world's climate action plan. In the five years that have followed, more and more countries have established carbon neutrality targets.
Has it been enough to keep us on track? This graphic from MSCI shows where we are in relation to the Paris Agreement goal, and what may happen if we fail to reach it.
What is the Paris Agreement?
The Paris Agreement is a legally binding international treaty that lays out a climate action plan. Its goal is to limit global warming to well below 2 degrees Celsius (3.6 degrees Fahrenheit), and preferably to 1.5 degrees Celsius (2.7 degrees Fahrenheit), compared to pre-industrial levels.
A total of 191 countries have solidified their support with formal approval.
Tracking Our Progress
To date, signing nations are not close to hitting the goal set five years ago.

| Scenario | Global Mean Temperature Increase by 2100 |
| --- | --- |
| Pre-industrial baseline | 0℃ (0℉) |
| Paris Agreement goal range | 1.5-2.0℃ (2.7-3.6℉) |
| Government pledges | 3.0-3.2℃ (5.4-5.8℉) |
| Current policies | 3.5℃ (6.3℉) |
Source: UN Environment Programme
Based on policies currently in effect, we are on track for 3.5 degrees Celsius global warming by 2100—far beyond the maximum warming goal of 2 degrees. Even if we take government pledges into account, which is the amount by which countries intend to reduce their emissions, we are still far from achieving the Paris Agreement goal.
What about the impact of reduced emissions due to COVID-19 lockdowns? The temporary dip is expected to translate into an insignificant 0.01 degree Celsius reduction of global warming by 2050. Without significant policy action that pursues a more sustainable recovery, the UN Environment Programme projects that we will continue on a dangerous trajectory.
"The pandemic is a warning that we must urgently shift from our destructive development path, which is driving the three planetary crises of climate change, nature loss and pollution."
—Inger Andersen, Executive Director, United Nations Environment Programme
The World Economic Forum agrees with this viewpoint, and identified climate action failure as one of the most likely and impactful risks of 2021.
The Potential Consequences
If we fall short of the climate action plan, our planet may see numerous negative effects.
Reduced livable land area: Due to rising sea levels and increased heat stress, low-lying areas and equatorial regions could become uninhabitable.
Scarce food and water: Global warming may increase water and food scarcity. In particular, fisheries and aquafarming face increasing risks from ocean warming and acidification.
Loss of life: The World Health Organization projects that climate change will cause 250,000 additional deaths per year between 2030 and 2050.
Less biodiversity: About 30% of plant and animal species could be extinct by 2070, primarily due to increases in maximum annual temperature.
Economic losses: At 4 degree celsius warming by 2080-2099, the U.S. could suffer annual losses amounting to 2% of GDP (about $100B). If global warming is limited to 2 degrees, losses would likely drop to 0.5% of GDP.
What steps can we take to reduce these risks?
Advancing Our Climate Action Plan
Everyone, including investors, can support green initiatives to help avoid these consequences. For example, investors may consider company ESG ratings when building a portfolio, and invest in businesses that are contributing to a more sustainable future.
In Part 2 of our Paris Agreement series, we'll explain how investors can align their portfolio with the Paris Agreement goals.