The Evolution of Higher Education: 5 Global Trends To Watch
Higher education has gone through tremendous change during the COVID-19 pandemic.
In the face of uncertainty, it's become evident that institutions with prior investment in digital technologies are emerging more agile and resilient. For example, online communities have helped 30% of students feel more connected with other students during this time.
Below we look at key data from the Global Higher Education Research Snapshot from Salesforce.org—in partnership with market research firm Ipsos—which reflects the new attitudes and priorities of 2,200 students and higher education staff worldwide.
To understand the shifting landscape across higher education, the survey explores five key trends: connection, trust, wellbeing, flexibility, and career.
1. Communications Help Students Feel Connected
In a typically isolating time, 75% of students wanted to receive weekly (or even more frequent) pandemic-related updates.
Why? These consistent communications from institutions actually help students feel more close and connected than in previous years.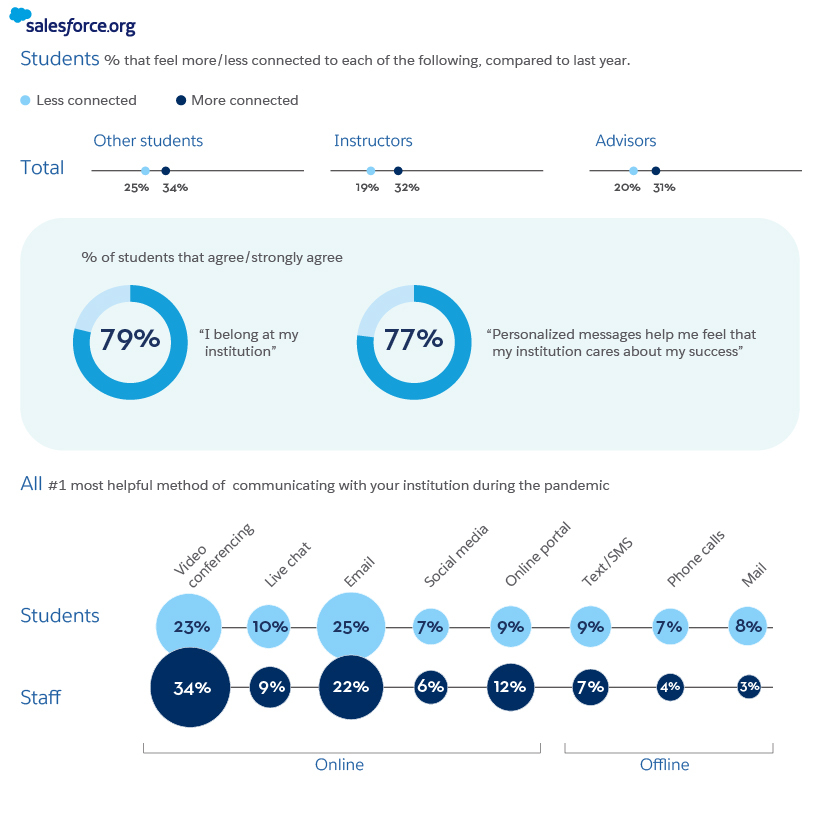 This valuable sense of belonging is increasingly happening through online communities and other digital channels, but institutions have significant room left to grow in this area.
2. Has The Pandemic Fractured Trust?
The pandemic has worsened existing trust gaps that exist between university leadership, students, and staff. Part of this may be due to a lack of resources provided during imposed COVID-19 restrictions.
From personal protective equipment such as masks/hand sanitizer to transparent COVID-19 response plans, students also expect a myriad of resources from their universities to help put them at ease.
3. Juggling Wellbeing Concerns
Months of lockdowns and persistent social distancing have understandably shaken up students' university experiences.
This is further compounded by various well-being challenges, from financial anxieties to juggling familial responsibilities.
On the bright side, such demand creates an opportunity for institutions to provide more tailored well-being support through digital-first channels.
4. Students Are Drawn to Online Learning
As the pandemic seemingly creates new challenges by the day, many students are seeking more flexible options for when and how they learn.
The good news? There's already evidence of this shift. Over half (57%) of staff say their institutions are investing in new modalities or revenue streams to attract new students, including more flexible learning options.
5. Uncertainties Remain Around Future Plans
Economic changes are causing over half (51%) of students to reconsider their education plans. In addition, of the staff that expect to see an increase in adult learners' enrollment, a majority believe it will come from pandemic-influenced needs to reskill or upskill in this climate.
This uncertainty also affects students' future plans—60% are concerned about finding employment after graduation. They want to be set up for career success in all areas, yet only a handful of them have the appropriate resources available.
How The Trends Intersect
These above trends aren't disparate to the student and staff experience. Rather, they are intricately linked with one another, as the following question illustrates.
The pandemic has reshaped expectations of higher education—but it's also created an opportunity for institutions to accelerate their digital transformation.
By providing more wellbeing resources, career support, and flexibility, universities can drive trust and support their students' needs in the new normal.
Want more details?
Visit Salesforce.org's Global Higher Education Research Snapshot to learn more.

More Than Precious: Silver's Role in the New Energy Era (Part 3 of 3)
Long known as a precious metal, silver in solar and EV technologies will redefine its role and importance to a greener economy.
Silver's Role in the New Energy Era (Part 3 of 3)
Silver is one of the first metals that humans discovered and used. Its extensive use throughout history has linked its name to its monetary value. However, as we have advanced technologically, so have our uses for silver. In the future, silver will see a surge in demand from solar and electric vehicle (EV) technologies.
Part 1 and Part 2 of the Silver Series showcased its monetary legacy as a safe haven asset as a precious metal and why now is its time to shine.
Part 3 of the Silver Series comes to us from Endeavour Silver, and it outlines silver's role in the new energy era and how it is more than just a precious metal.
A Sterling Reputation: Silver's History in Technologies
Silver along with gold, copper, lead and iron, was one of the first metals known to humankind. Archaeologists have uncovered silver coins and objects dating from before 4,000 BC in Greece and Turkey. Since then, governments and jewelers embraced its properties to mint currency and craft jewelry.
This historical association between silver and money is recorded across multiple languages. The word silver itself comes from the Anglo-Saxon language, seolfor, which itself comes from ancient Germanic silabar.
Silver's chemical symbol, "Ag", is an abbreviation of the Latin word for silver, argentum. The Latin word originates from argunas, a Sanskrit word which means shining. The French use argent as the word for money and silver. Romans bankers and silver traders carried the name argentarius.
While silver's monetary meanings still stand today, there have been hints of its use beyond money throughout history. For centuries, many cultures used silver containers and wares to store wine, water, and food to prevent spoilage.
During bouts of bubonic plague in Europe, children of wealthy families sucked on silver spoons to preserve their health, which gave birth to the phrase "born with a silver spoon in your mouth."
Medieval doctors invented silver nitrate used to treat ulcers and burns, a practice that continues to this day. In the 1900s, silver found further application in healthcare. Doctors used to administer eye drops containing silver to newborns in the United States. During World War I, combat medics, doctors, and nurses would apply silver sutures to cover deep wounds.
Silver's shimmer also made an important material in photography up until the 1970s. Silver's reflectivity of light made it popular in mirror and building windows.
Now, a new era is rediscovering silver's properties for the next generation of technology, making the metal more than precious.
Silver in the New Energy Era: Solar and EVs
Silver's shimmering qualities foreshadowed its use in renewable technologies. Among all metals, silver has the highest electrical conductivity, making it an ideal metal for use in solar cells and the electronic components of electric vehicles.
Silver in Solar Photovoltaics
Conductive layers of silver paste within the cells of a solar photovoltaic (PV) cell help to conduct the electricity within the cell. When light strikes a PV, the conductors absorb the energy and electrons are set free.
Silver's conductivity carries and stores the free electrons efficiently, maximizing the energy output of a solar cell. According to one study from the University of Kent, a typical solar panel can contain as much as 20 grams of silver.
As the world adopts solar photovoltaics, silver could see dramatic demand coming from this form of renewable energy.
Silver in Electric Vehicles
Silver's conductivity and corrosion resistance makes its use in electronics critical, and electric vehicles are no exception. Virtually every electrical connection in a vehicle uses silver.
Silver is a critical material in the automotive sector, which uses over 55 million ounces of the metal annually. Auto manufacturers apply silver to the electrical contacts in powered seats and windows and other automotive electronics to improve conductivity.
A Silver Intensive Future
A green future will require metals and will redefine the role for many of them. Silver is no exception. Long known as a precious metal, silver also has industrial applications metal for an eco-friendly future.

Visualizing All the Known Copper in the World
Are we running out of copper? This graphic from Trilogy Metals paints a clear picture of all the copper in the world, above and underground.
Visualizing All the Known Copper in the World
Copper has many important applications in the modern economy. From smartphones and cars, to homes and hospitals, we use the metal almost everywhere, especially with renewable energy.
Often, consumers take for granted the accessibility to modern technology without the thought of where the materials come from or their impact on the environment. The world and its resources are finite and confined by both geography and the technology used to extract resources.
As governments and economies struggle to achieve a sustainable balance between humanity's material impact and the health of the planet, knowing the availability of resources will become a critical pivot for achieving and maintaining that balance.
Copper is one such resource—and today's graphic from Trilogy Metals outlines all the copper ever mined and what known resources still exist on Earth.
Are we running out of copper?
Above Ground Copper Resources
The production of mined copper has increased dramatically over the last two decades, From 9.8 million metric tons in 1995 to 20 million metric tons in 2019, a 104% rise over 25 years.
A total of 700 million metric tons of copper have been mined throughout history. Based on the 2019 average price of $6,042/metric ton, that's worth $4.2 trillion—more than the value of Apple and Amazon combined.
Chile has been the source of the majority of the world's copper and the biggest copper mining nation. Together, Chile, Peru, and China account for 48% of current global copper production.
| Ranking | Country | Mine Production 2019 (Ktons) | Country | Reserves 2019 (Ktons) |
| --- | --- | --- | --- | --- |
| #1 | Chile | 5,600 | Chile | 200,000 |
| #2 | Peru | 2,400 | Peru | 87,000 |
| #3 | China | 1,600 | Australia | 87,000 |
| #4 | United States | 1,300 | Russia | 61,000 |
| #5 | Congo | 1,300 | Mexico | 53,000 |
| #6 | Australia | 960 | United States | 51,000 |
| #7 | Zambia | 790 | Indonesia | 28,000 |
| #8 | Mexico | 770 | China | 26,000 |
| #9 | Russia | 750 | Kazakhastan | 20,000 |
| #10 | Kazakhastan | 700 | Congo | 19,000 |
| #11 | Indonesia | 340 | Zambia | 19,000 |
| | Other Countries | 3,800 | Other Countries | 220,000 |
| | World Total | 20,000 | World Total | 870,000 |
Source: USGS
As we enter the era of renewable energy, electric vehicles, and see more global economic growth, the demand for copper will continue to rise. In fact, the Copper Alliance projects an increase of 50% in just the next 20 years.
Are We Running Out of Copper? Not So Soon
Although a large chunk of the Earth's copper is already above ground, there's still more to mine.
According to the USGS, identified copper resources amount to 2.1 billion metric tons, with a further 3.5 billion metric tons in undiscovered resources.
At current production rates, it would take about 105 years for us to use all of it and this does not even account for recycling or new discoveries. Copper is 100% recyclable, and nearly all of the 700 million metric tons of mined copper is still in circulation. With this in mind, it's safe to say that we won't be running out of copper anytime soon.
Despite copper's apparent abundance, the red metal is expensive to actually get out of the ground. As a result, the supply of copper has often fallen short in meeting its rising demand. This, in addition to falling resource grades in Chile, the largest producer of copper, emphasizes the need for new discoveries and mines.
While there are known reserves of copper above the ground, the Earth remains largely unexplored because of the inability to explore for minerals in the depths of the oceans and other planets. As the readily available supply of copper becomes scarce, the incentive to mine currently uneconomic copper increases.
A Mineral Intense Future
Most consumers take the immediate availability of materials such as copper and other metals for granted, with little thought about whether there is enough.
But it's important to remember that these materials are as finite as the dimensions of the Earth. In this material world, understanding what is and what is not available is critical for a sustainable future here on Earth.