The Dollar is Slowly Losing its Status as the Primary Reserve Currency
The Dollar is Slowly Losing its Status as the Primary Reserve Currency
The dollar has been a stalwart of international trade over the majority of the last century. Around the time of the formation of the Eurozone, it reached its recent peak at 71.0% of official foreign exchange reserves. Since then, its composition of global reserves has more recently dropped to a more modest 62.9% in 2014.
However, the dollar is slowly losing its status as the world's undisputed reserve currency. This is not an unusual event as far as history goes. In fact, about every century or so since the Renaissance, the global reserve currency has shifted. Portugal, Spain, The Netherlands, France, and Britain have had dominant currencies at different times.
Today's infographic shows that the wind is shifting in international trade. With less countries and organizations using the dollar to settle international transactions, it slowly chips away at its hegemony of the dollar. China is at the epicenter and the country is making continued progress in cutting deals outside of the U.S. dollar framework. Deals shown in the graphic are currency flows between countries that have abandoned the dollar in bilateral trade, as well as countries that are considering such measures.
The most recent culmination of these trends is the creation of the Asian Infrastructure Investment Bank (AIIB), a China-led rival to the World Bank and IMF that includes 57 founding countries and $100 billion of capital. The United States is not a member and has actively lobbied its allies to avoid joining due to perceived governance issues.
Other recent deals by China include: a 30-year $400 billion energy alliance with Russia, a second energy deal focusing on natural gas worth $284 billion with Russia, and a deal removing tariffs on 85% of Australian commodity exports to China. Further, China and Russia have agreed to pay each other in domestic currencies in order to bypass the U.S. dollar.
It is not only the Chinese that are starting to question the viability of the dollar. A report in 2010 by the United Nations called for the abandonment of the U.S. dollar as the single reserve currency. The Gulf Cooperation Council has also expressed desires for an independent reserve currency.
In the short term, especially with a crashing Chinese stock market and fledgling Eurozone, the dollar will likely reign supreme. It's still a stretch for the yuan to make its way into foreign reserve coffers so long as capital controls remain in place and the country's bond market is not open or transparent to offshore investors. However, Beijing is currently mulling ways to internationalize the yuan, and each step it takes will take China closer to challenging dollar hegemony.
With more bilateral trade transactions bypassing the dollar, and the increasing internationalization of the Chinese financial system, the yuan is eventually going to give the dollar a run for its money.
Original graphic by: Sputnik
Visualizing California's GDP Compared to Countries
California's GDP makes the state one of the most powerful economies in the world. This graphic compares it to the GDP of 10 select countries.

Creator Program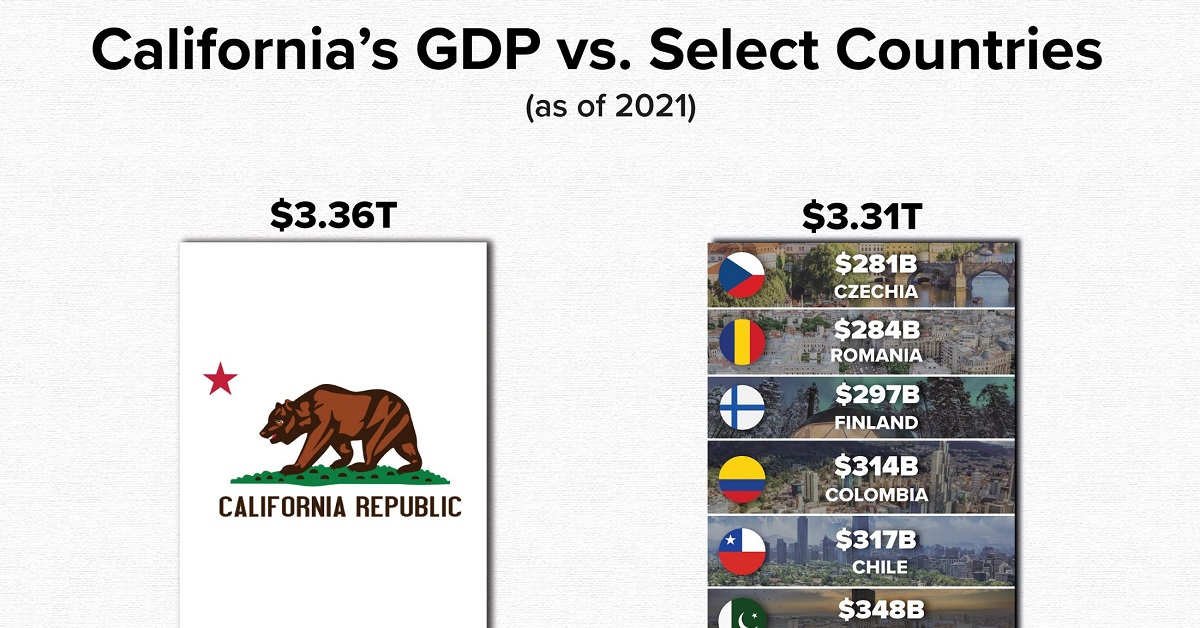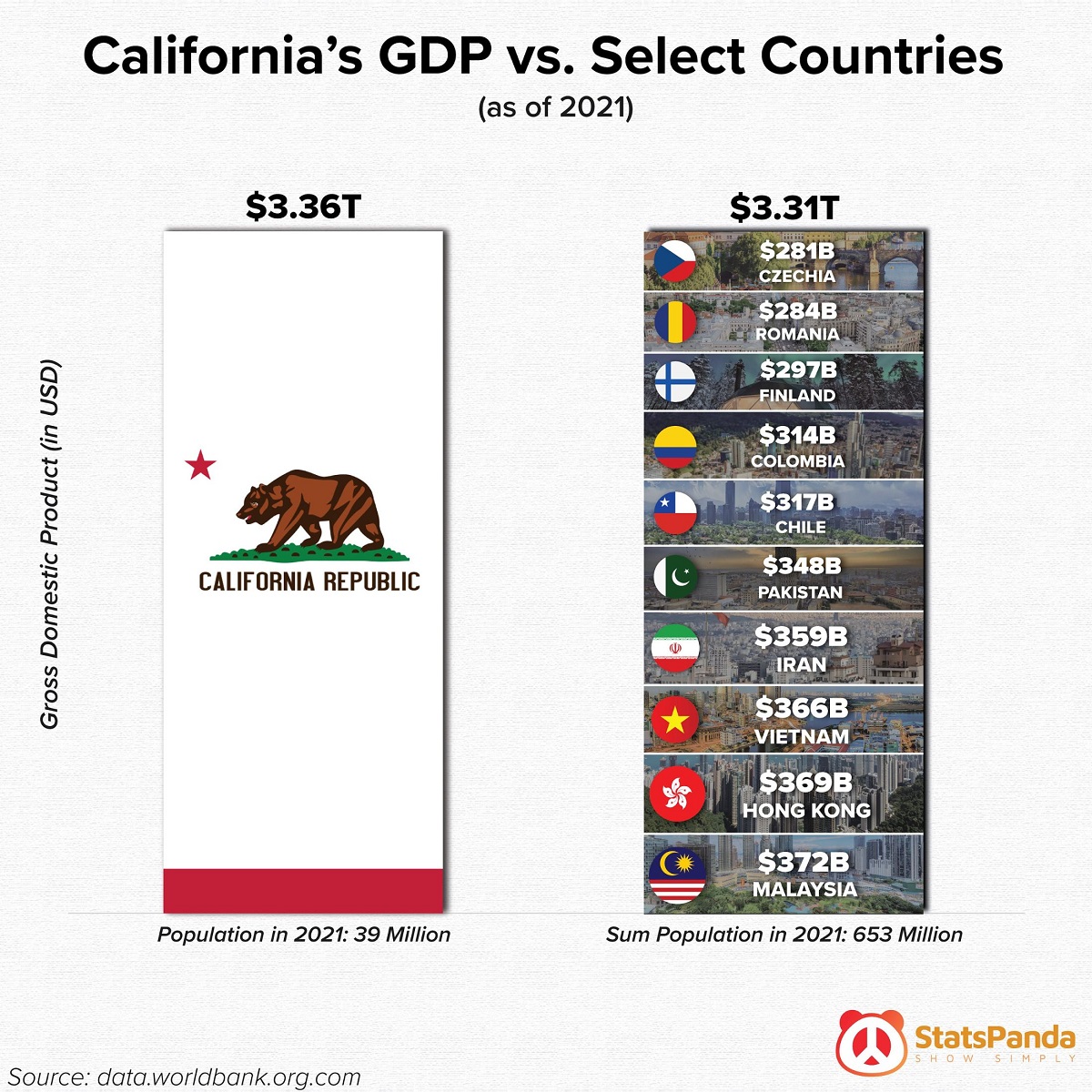 California's GDP Compared to Countries
Comedian Trevor Noah once said America is fifty little countries masquerading as one.
From an economic sense, this might carry some truth. When looking at the economic output of each state, especially the largest and wealthiest ones, they often compare to or even exceed the GDPs of entire nations.
To illustrate, this visual from StatsPanda looks at California's $3.36 trillion GDP using data from The World Bank and compares it to 10 sizable country economies. Let's take a closer look.
Sizing Up California's GDP in 2021
California's $3+ trillion GDP is an enormous figure in its own right, so it's no surprise that it is larger than certain nations' economic output.
But even when comparing with economies like Malaysia, Colombia, and Finland, all among the top 50 countries by GDP, California stands tall.
| Country | GDP (2021 USD) |
| --- | --- |
| 🇲🇾 Malaysia | $372B |
| 🇭🇰 Hong Kong | $369B |
| 🇻🇳 Vietnam | $366B |
| 🇮🇷 Iran | $359B |
| 🇵🇰 Pakistan | $348B |
| 🇨🇱 Chile | $317B |
| 🇨🇴 Colombia | $314B |
| 🇫🇮 Finland | $297B |
| 🇷🇴 Romania | $284B |
| 🇨🇿 Czechia | $281B |
| Total | $3,307B |
| California | $3,357B |
What's more, these 10 countries are quite densely populated, with a combined population of 653 million compared to California's 39 million total.
A Closer Look At California's Economy
What makes California's GDP so vast and their economy so powerful?
Relative population is a big factor, as the state is the most populous in the U.S. with roughly 12% of the country's population calling it home. But since California's GDP makes up over 15% of the country's economic output, there must be something else at work.
One key driver is the technology sector. Not only does Silicon Valley generate massive amounts of technological output, this also translates directly to wealth and economic activity. Many tech markets follow winner-take-all dynamics, bringing large revenues back to the state. In addition, smaller technology companies are frequently gobbled up by larger competitors, adding wealth back into the mix through M&A.
This might partly explain why California's GDP is actually estimated to overtake Germany's in the coming years and become the world's 4th largest economy.