Tech Startup Ecosystem Rankings for 2015 [Chart]
Tech Startup Ecosystem Rankings for 2015 [Chart]
Canadian cities get decimated; NYC, Austin, Singapore, and Berlin shoot up startup ecosystem rankings
The Chart of the Week is a weekly Visual Capitalist feature on Fridays.
The Global Startup Ecosystem Ranking 2015 report ranks the top 20 technology startup ecosystems in the world based on Performance, Funding, Market Reach, Talent, and Startup Experience.
Performance is based on the funding and exit valuations of startups headquartered in the ecosystem, and Funding represents the amount of investments by venture capitalists and the time it takes to raise capital. Talent is based on the quality of technical talent, availability, and cost. Market Reach is the local system's GDP and ease of reaching customers internationally, while Startup Experience is a qualitative measure based on surveying veteran startup mentors and local founders on the success of startups in that particular region.
The report had several significant findings since its last iteration in late 2012. Particular stories that stand out: Canadian cities are dropping drastically, cities outside of North America such as Berlin and Singapore are climbing the rankings, and the United States remains strong with four of the top five ecosystems.
Despite having many companies in the Narwhal Club, home to companies valued at more than $1 billion such as Slack, Hootsuite, and Avigilon, the Canadian market has struggled relative to the rest of the world. Waterloo, home of the once-mighty RIM, has fallen out of the Top 20 altogether. Toronto and Vancouver each dropped nine spots, more than any other ecosystem on the list, claiming the #17 and #18 spots respectively. Vancouver had the third slowest growth out of all cities in the index, and continues to struggle as far as funding goes. Toronto had the fifth slowest growth and also needs to expand growth to venture capital.
In good news for Canada, Montreal debuted on the list, but only at #20.
Slower growth in Canada has been met with exploding markets in Berlin and Singapore. Both of these international centers have had recent success stories that have moved them up the startup ecosystem rankings.
Berlin jumped an impressive six spots to #9 overall and had 20x the average growth of all startup markets. Zalando, Europe's largest online-only fashion retailer raised $668 million in an IPO to value the company at $6.8 billion overall. Meanwhile, Rocket Internet had the biggest IPO since 2007 in Germany, raising $2 billion.
Singapore moved up seven places, more than any other ecosystem, to round out the Top 10. Growth was relatively average, but the government's support of the ecosystem and Singapore's strong financial community helped out its ranking in the Funding category. Garena, a social gaming platform, is valued at $2.5 billion and is one of Singapore's bright stars.
Lastly, the United States remained on top of the leaderboard with four cities in the Top 5. Silicon Valley remains at the top of the list with the best rankings in all categories (except Market Reach). New York jumped up three spots to finish #2, having the best Market Reach of all cities in the index. Los Angeles and Boston are right behind with the #3 and #4 spots. Austin is also notable, as it debuted on the rankings this year at 14th place.
Charted: What are Retail Investors Interested in Buying in 2023?
What key themes and strategies are retail investors looking at for the rest of 2023? Preview: AI is a popular choice.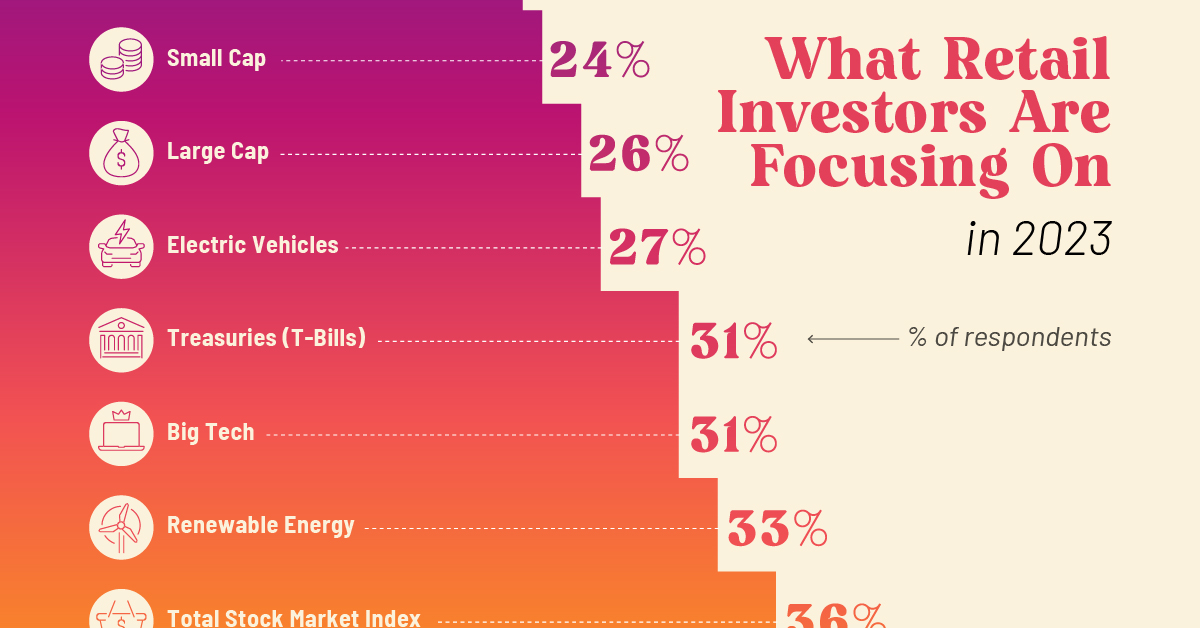 Charted: Retail Investors' Top Picks for 2023
U.S. retail investors, enticed by a brief pause in the interest rate cycle, came roaring back in the early summer. But what are their investment priorities for the second half of 2023?
We visualized the data from Public's 2023 Retail Investor Report, which surveyed 1,005 retail investors on their platform, asking "which investment strategy or themes are you interested in as part of your overall investment strategy?"
Survey respondents ticked all the options that applied to them, thus their response percentages do not sum to 100%.
Where Are Retail Investors Putting Their Money?
By far the most popular strategy for retail investors is dividend investing with 50% of the respondents selecting it as something they're interested in.
Dividends can help supplement incomes and come with tax benefits (especially for lower income investors or if the dividend is paid out into a tax-deferred account), and can be a popular choice during more inflationary times.
| Investment Strategy | Percent of Respondents |
| --- | --- |
| Dividend Investing | 50% |
| Artificial Intelligence | 36% |
| Total Stock Market Index | 36% |
| Renewable Energy | 33% |
| Big Tech | 31% |
| Treasuries (T-Bills) | 31% |
| Electric Vehicles | 27% |
| Large Cap | 26% |
| Small Cap | 24% |
| Emerging Markets | 23% |
| Real Estate | 23% |
| Gold & Precious Metals | 23% |
| Mid Cap | 19% |
| Inflation Protection | 13% |
| Commodities | 12% |
Meanwhile, the hype around AI hasn't faded, with 36% of the respondents saying they'd be interested in investing in the theme—including juggernaut chipmaker Nvidia. This is tied for second place with Total Stock Market Index investing.
Treasury Bills (30%) represent the safety anchoring of the portfolio but the ongoing climate crisis is also on investors' minds with Renewable Energy (33%) and EVs (27%) scoring fairly high on the interest list.
Commodities and Inflation-Protection stocks on the other hand have fallen out of favor.
Come on Barbie, Let's Go Party…
Another interesting takeaway pulled from the survey is how conversations about prevailing companies—or the buzz around them—are influencing trades. The platform found that public investors in Mattel increased 6.6 times after the success of the 'Barbie' movie.
Bud Light also saw a 1.5x increase in retail investors, despite receiving negative attention from their fans after the company did a beer promotion campaign with trans influencer Dylan Mulvaney.
Given the origin story of a large chunk of American retail investors revolves around GameStop and AMC, these insights aren't new, but they do reveal a persisting trend.