The Evolution of Higher Education: 5 Global Trends To Watch
Higher education has gone through tremendous change during the COVID-19 pandemic.
In the face of uncertainty, it's become evident that institutions with prior investment in digital technologies are emerging more agile and resilient. For example, online communities have helped 30% of students feel more connected with other students during this time.
Below we look at key data from the Global Higher Education Research Snapshot from Salesforce.org—in partnership with market research firm Ipsos—which reflects the new attitudes and priorities of 2,200 students and higher education staff worldwide.
To understand the shifting landscape across higher education, the survey explores five key trends: connection, trust, wellbeing, flexibility, and career.
1. Communications Help Students Feel Connected
In a typically isolating time, 75% of students wanted to receive weekly (or even more frequent) pandemic-related updates.
Why? These consistent communications from institutions actually help students feel more close and connected than in previous years.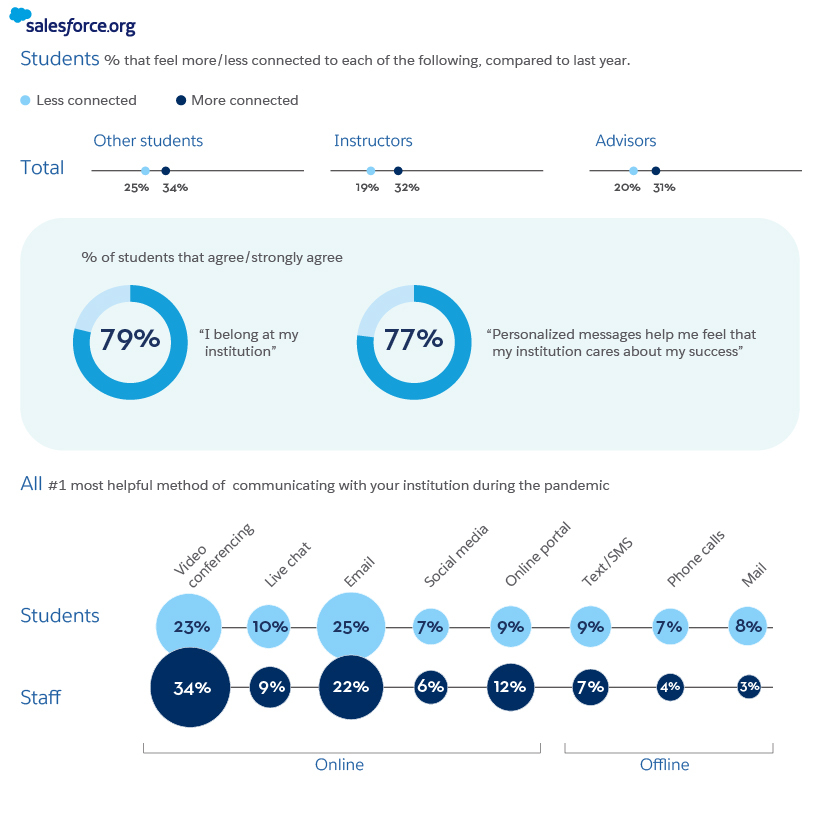 This valuable sense of belonging is increasingly happening through online communities and other digital channels, but institutions have significant room left to grow in this area.
2. Has The Pandemic Fractured Trust?
The pandemic has worsened existing trust gaps that exist between university leadership, students, and staff. Part of this may be due to a lack of resources provided during imposed COVID-19 restrictions.
From personal protective equipment such as masks/hand sanitizer to transparent COVID-19 response plans, students also expect a myriad of resources from their universities to help put them at ease.
3. Juggling Wellbeing Concerns
Months of lockdowns and persistent social distancing have understandably shaken up students' university experiences.
This is further compounded by various well-being challenges, from financial anxieties to juggling familial responsibilities.
On the bright side, such demand creates an opportunity for institutions to provide more tailored well-being support through digital-first channels.
4. Students Are Drawn to Online Learning
As the pandemic seemingly creates new challenges by the day, many students are seeking more flexible options for when and how they learn.
The good news? There's already evidence of this shift. Over half (57%) of staff say their institutions are investing in new modalities or revenue streams to attract new students, including more flexible learning options.
5. Uncertainties Remain Around Future Plans
Economic changes are causing over half (51%) of students to reconsider their education plans. In addition, of the staff that expect to see an increase in adult learners' enrollment, a majority believe it will come from pandemic-influenced needs to reskill or upskill in this climate.
This uncertainty also affects students' future plans—60% are concerned about finding employment after graduation. They want to be set up for career success in all areas, yet only a handful of them have the appropriate resources available.
How The Trends Intersect
These above trends aren't disparate to the student and staff experience. Rather, they are intricately linked with one another, as the following question illustrates.
The pandemic has reshaped expectations of higher education—but it's also created an opportunity for institutions to accelerate their digital transformation.
By providing more wellbeing resources, career support, and flexibility, universities can drive trust and support their students' needs in the new normal.
Want more details?
Visit Salesforce.org's Global Higher Education Research Snapshot to learn more.