Rare Earth Elements: Where in the World Are They?

Subscribe to the Elements free mailing list for more like this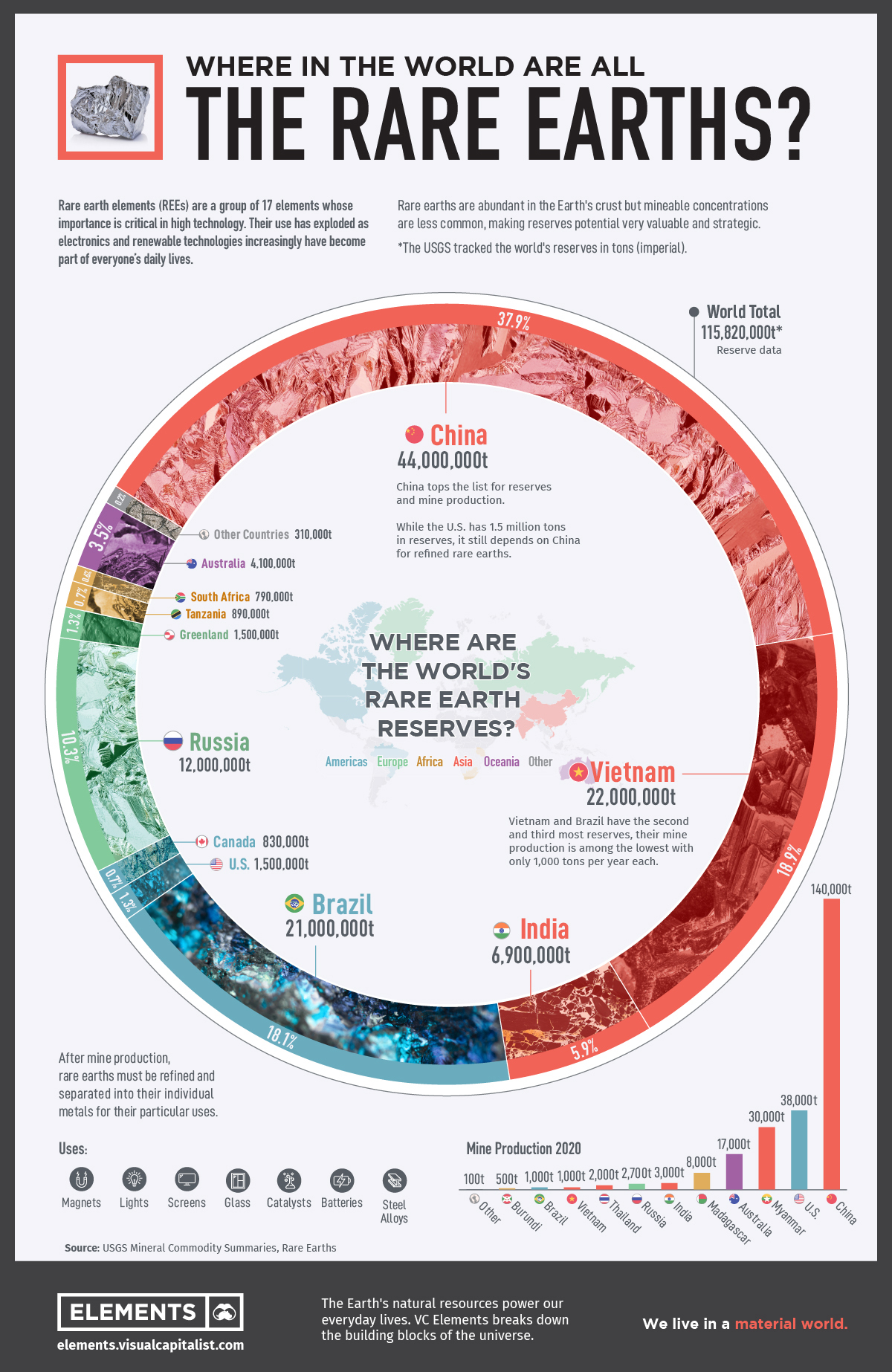 Rare Earths Elements: Where in the World Are They?
This was originally posted on Elements. Sign up to the free mailing list to get beautiful visualizations on natural resource megatrends in your email every week.
Rare earth elements are a group of metals that are critical ingredients for a greener economy, and the location of the reserves for mining are increasingly important and valuable.
This infographic features data from the United States Geological Society (USGS) which reveals the countries with the largest known reserves of rare earth elements (REEs).
What are Rare Earth Metals?
REEs, also called rare earth metals or rare earth oxides, or lanthanides, are a set of 17 silvery-white soft heavy metals.
The 17 rare earth elements are: lanthanum (La), cerium (Ce), praseodymium (Pr), neodymium (Nd), promethium (Pm), samarium (Sm), europium (Eu), gadolinium (Gd), terbium (Tb), dysprosium (Dy), holmium (Ho), erbium (Er), thulium (Tm), ytterbium (Yb), lutetium (Lu), scandium (Sc), and yttrium (Y).
Scandium and yttrium are not part of the lanthanide family, but end users include them because they occur in the same mineral deposits as the lanthanides and have similar chemical properties.
The term "rare earth" is a misnomer as rare earth metals are actually abundant in the Earth's crust. However, they are rarely found in large, concentrated deposits on their own, but rather among other elements instead.
Rare Earth Elements, How Do They Work?
Most rare earth elements find their uses as catalysts and magnets in traditional and low-carbon technologies. Other important uses of rare earth elements are in the production of special metal alloys, glass, and high-performance electronics.
Alloys of neodymium (Nd) and samarium (Sm) can be used to create strong magnets that withstand high temperatures, making them ideal for a wide variety of mission critical electronics and defense applications.
| End-use | % of 2019 Rare Earth Demand |
| --- | --- |
| Permanent Magnets | 38% |
| Catalysts | 23% |
| Glass Polishing Powder and Additives | 13% |
| Metallurgy and Alloys | 8% |
| Battery Alloys | 9% |
| Ceramics, Pigments and Glazes | 5% |
| Phosphors | 3% |
| Other | 4% |
Source
The strongest known magnet is an alloy of neodymium with iron and boron. Adding other REEs such as dysprosium and praseodymium can change the performance and properties of magnets.
Hybrid and electric vehicle engines, generators in wind turbines, hard disks, portable electronics and cell phones require these magnets and elements. This role in technology makes their mining and refinement a point of concern for many nations.
For example, one megawatt of wind energy capacity requires 171 kg of rare earths, a single U.S. F-35 fighter jet requires about 427 kg of rare earths, and a Virginia-class nuclear submarine uses nearly 4.2 tonnes.
Global Reserves of Rare Earth Minerals
China tops the list for mine production and reserves of rare earth elements, with 44 million tons in reserves and 140,000 tons of annual mine production.
While Vietnam and Brazil have the second and third most reserves of rare earth metals with 22 million tons in reserves and 21 million tons, respectively, their mine production is among the lowest of all the countries at only 1,000 tons per year each.
| Country | Mine Production 2020 | Reserves | % of Total Reserves |
| --- | --- | --- | --- |
| China | 140,000 | 44,000,000 | 38.0% |
| Vietnam | 1,000 | 22,000,000 | 19.0% |
| Brazil | 1,000 | 21,000,000 | 18.1% |
| Russia | 2,700 | 12,000,000 | 10.4% |
| India | 3,000 | 6,900,000 | 6.0% |
| Australia | 17,000 | 4,100,000 | 3.5% |
| United States | 38,000 | 1,500,000 | 1.3% |
| Greenland | - | 1,500,000 | 1.3% |
| Tanzania | - | 890,000 | 0.8% |
| Canada | - | 830,000 | 0.7% |
| South Africa | - | 790,000 | 0.7% |
| Other Countries | 100 | 310,000 | 0.3% |
| Burma | 30,000 | N/A | N/A |
| Madagascar | 8,000 | N/A | N/A |
| Thailand | 2,000 | N/A | N/A |
| Burundi | 500 | N/A | N/A |
| World Total | 243,300 | 115,820,000 | 100% |
While the United States has 1.5 million tons in reserves, it is largely dependent on imports from China for refined rare earths.
Ensuring a Global Supply
In the rare earth industry, China's dominance has been no accident. Years of research and industrial policy helped the nation develop a superior position in the market, and now the country has the ability to control production and the global availability of these valuable metals.
This tight control of the supply of these important metals has the world searching for their own supplies. With the start of mining operations in other countries, China's share of global production has fallen from 92% in 2010 to 58%< in 2020. However, China has a strong foothold in the supply chain and produced 85% of the world's refined rare earths in 2020.
China awards production quotas to only six state-run companies:
China Minmetals Rare Earth Co
Chinalco Rare Earth & Metals Co
Guangdong Rising Nonferrous
China Northern Rare Earth Group
China Southern Rare Earth Group
Xiamen Tungsten
As the demand for REEs increases, the world will need tap these reserves. This graphic could provide clues as to the next source of rare earth elements.
How Gold Royalties Outperform Gold and Mining Stocks
Gold royalty companies shield investors from inflation's rising expenses, resulting in stronger returns than gold and gold mining companies.
How Gold Royalties Outperform Gold and Mining Stocks
Gold and gold mining companies have long provided a diverse option for investors looking for gold-backed returns, however royalty companies have quietly been outperforming both.
While inflation's recent surge has dampened profits for gold mining companies, royalty companies have remained immune thanks to their unique structure, offering stronger returns in both the short and long term.
After Part One of this series sponsored by Gold Royalty explained exactly how gold royalties avoid rising expenses caused by inflation, Part Two showcases the resulting stronger returns royalty companies can offer.
Comparing Returns
Since the pandemic lows in mid-March of 2020, gold royalty companies have greatly outperformed both gold and gold mining companies, shining especially bright in the past year's highly inflationary environment.
While gold is up by 9% since the lows, gold mining companies are down by almost 3% over the same time period. On the other hand, gold royalty companies have offered an impressive 33% return for investors.
In the graphic above, you can see how gold royalty and gold mining company returns were closely matched during 2020, but when inflation rose in 2021, royalty companies held strong while mining company returns fell downwards.
Returns since the pandemic lows
(Mid-March 2020)
Returns of the past four months
(July 8-November 8, 2022)
Gold Royalty Companies
33.8%
1.7%
Gold
9.1%
-1.7%
Gold Mining Companies
-3.0%
-8.6%
Even over the last four months as gold's price fell by 1.7%, royalty companies managed to squeeze out a positive 1.7% return while gold mining companies dropped by 8.6%.
Gold Royalty Dividends Compared to Gold Mining Companies
Along with more resilient returns, gold royalty companies also offer significantly more stability than gold mining companies when it comes to dividend payouts.
Gold mining companies have highly volatile dividend payouts that are significantly adjusted depending on gold's price. While this has provided high dividend payouts when gold's price increases, it also results in huge dividend cuts when gold's price falls as seen in the chart below.
Rather than following gold's price, royalty companies seek to provide growing stability with their dividend payouts, adjusting them so that shareholders are consistently rewarded.
Over the last 10 years, dividend-paying royalty companies have steadily increased their payouts, offering stability even when gold prices fall.
Why Gold Royalty Companies Outperform During Inflation
Gold has provided investors with the stability of a hard monetary asset for centuries, with mining companies offering a riskier high volatility bet on gold-backed cash flows. However, when gold prices fall or inflation increases operational costs, gold mining companies fall significantly more than the precious metal.
Gold royalty companies manage to avoid inflation's bite or falling gold prices' crunch on profit margins as they have no exposure to rising operational expenses like wages and energy fuels while also having a much smaller headcount and lower G&A expenses as a result.
Along with avoiding rising expenses, gold royalty companies still retain exposure to mine expansions and exploration, offering just as much upside as mining companies when projects grow.
Gold Royalty offers inflation-resistant gold exposure with a portfolio of royalties on top-tier mines across the Americas. Click here to find out more about Gold Royalty.

The Next Generation of Uranium Deposits
Canada's Athabasca Basin has the highest-grade uranium deposits in the world.
The Next Generation of Uranium Deposits
Government policies are shifting in favor of nuclear energy as countries try to reduce carbon emissions.
Unlike coal, oil, or gas, nuclear power plants produce little to no CO₂. As a result, nuclear is the second largest source of low-carbon electricity in the world, behind hydropower.
In this infographic from Skyharbour Resources, we look closely at the next generation of uranium deposits necessary to power up the nuclear sector.
The Uranium Supply Squeeze
Roughly 440 nuclear reactors operating worldwide generate around 10% of the world's electricity annually.
In the United States, for example, nuclear energy provides 52% of carbon-free electricity, and in the European Union, it accounts for 43%. In three European countries, the share of nuclear energy in the electricity mix exceeds 50%.
| Rank | Country | Nuclear Share of Electricity Mix |
| --- | --- | --- |
| 1 | France 🇫🇷 | 70.6% |
| 2 | Slovakia 🇸🇰 | 53.1% |
| 3 | Ukraine 🇺🇦 | 51.2% |
| 4 | Hungary 🇭🇺 | 48.0% |
| 5 | Bulgaria 🇧🇬 | 40.8% |
| 6 | Belgium 🇧🇪 | 39.1% |
| 7 | Slovenia 🇸🇮 | 37.8% |
| 8 | Czechia 🇨🇿 | 37.3% |
| 9 | Armenia 🇦🇲 | 34.5% |
| 10 | Finland 🇫🇮 | 33.9% |
| 11 | Switzerland 🇨🇭 | 32.9% |
| 12 | Sweden 🇸🇪 | 29.8% |
| 13 | South Korea 🇰🇷 | 29.6% |
| 14 | Spain 🇪🇸 | 22.2% |
| 15 | Russia 🇷🇺 | 20.6% |
| 16 | Romania 🇷🇴 | 19.9% |
| 17 | United States 🇺🇸 | 19.7% |
| 18 | Canada 🇨🇦 | 14.6% |
| 19 | United Kingdom 🇬🇧 | 14.5% |
| 20 | Germany 🇩🇪 | 11.3% |
All of the world's nuclear reactors are powered by uranium. They require approximately 67,500 tonnes of uranium annually. However, the uranium market has been in a growing deficit since 2015, with the widening demand-supply gap being filled by civil stockpiles and secondary sources.
The World Nuclear Association expects a 27% increase in demand between 2021 and 2030.
In addition, the recent energy crisis following Russia's invasion of Ukraine has led investors to the uranium market, betting on nuclear energy to shift away from fossil fuels. In this scenario, new uranium mines are expected to come online in the next decade to meet the demand.
The World's Richest Uranium Region
Canada is the world's second-largest producer of uranium, accounting for roughly 13% of total global output.
The country's Athabasca Basin has the highest-grade uranium deposits in the world, with grades that are 10 to 100 times greater than the global average. The Northern area covers almost a quarter of Saskatchewan and a small portion of Alberta.
The region— sometimes described as the "Persian Gulf of uranium" — is home to Cameco's Cigar Lake, the world's richest uranium mine.
According to the Fraser Institute, Saskatchewan ranks as the second-best mining jurisdiction in the world. The province appears only behind Western Australia regarding geologic attractiveness, government policy, and attitudes toward exploration investment.
In recent years, many uranium companies have made uranium discoveries in the basin, with Skyharbour Resources among them. The company holds an extensive portfolio of fifteen uranium exploration projects, ten of which are drill-ready, covering 450,000 hectares of mineral claims.
The U.S. Nuclear Future
While the Biden Administration is urging lawmakers to pass a $4.3 billion plan to purchase enriched uranium from domestic producers, the country's production is still considered small in scale.
For this reason, Athabasca Basin and companies like Skyharbour Resources are expected to play a key role in the U.S.' nuclear future.
Skyharbour Resources is becoming an industry leader in high-grade Canadian uranium exploration needed for nuclear power and clean energy.