Ranking U.S. Generations on Their Power and Influence Over Society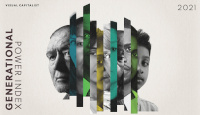 The Generational Power Index
Introducing our new index, which ranks U.S. generations on their economic, political, and cultural influence.
Which U.S. Generation has the Most Power and Influence?
We're on the cusp of one of the most impactful generational shifts in history.
As it stands, the Baby Boomers (born 1946-1964) are America's most wealthy and influential generation. But even the youngest Boomers are close to retirement, with millions leaving the workforce every year. As Baby Boomers pass the torch, which generation will take their place as America's most powerful?
In our inaugural Generational Power Index (GPI) for 2021, we've attempted to quantify how much power and influence each generation holds in American society, and what that means for the near future.
Download the Generational Power Report (.pdf)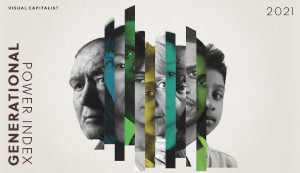 Generation and Power, Defined
Before diving into the results of the first GPI, it's important to explain how we've chosen to define both generations and power.
Here's the breakdown of how we categorized each generation, along with their age ranges and birth years.

| Generation | Age range (years) | Birth year range |
| --- | --- | --- |
| The Silent Generation | 76 and over | 1928-1945 |
| Baby Boomers | 57-75 | 1946-1964 |
| Gen X | 41-56 | 1965-1980 |
| Millennials | 25-40 | 1981-1996 |
| Gen Z | 9-24 | 1997-2012 |
| Gen Alpha | 8 and below | 2013-present |
The above age brackets for each generation aren't universally accepted. However, since our report largely focuses on U.S. data, we went with the most widely cited definitions, used by establishments such as Pew Research Center and the U.S. Federal Reserve.
To measure power, we considered a variety of factors that fell under three main categories:
Economic Power
Political Power
Cultural Power
We'll dive deeper into each category, and which generations dominated each one, below.
Overall Power, By Generation
Baby Boomers lead the pack when it comes to overall generational power, capturing 38.6%.

| Generation | Overall Power Share |
| --- | --- |
| The Silent Generation | 12.8% |
| Baby Boomers | 38.6% |
| Gen X | 30.4% |
| Millennials | 14.5% |
| Gen Z | 3.7% |
| Gen Alpha | 0.0% |
| Total | 100.0% |
While Boomers hold the largest share of power, it's interesting to note that they only make up 21.8% of the total U.S. population.
Gen X comes in second place, capturing 30.4% of power, while Gen Z ranks last, snagging a mere 3.7%. Gen Alpha has yet to score on the ranking, but keep in mind that the oldest members of this generation will only be eight years old this year—they haven't even reached double digits yet.
Generational Power: Economics
Considering that Baby Boomers hold nearly 53% of all U.S. household wealth, it makes sense that they dominate when it comes to our measurement of Economic Power.
At 43.4%, the GPI shows that Boomers hold more economic influence than Gen X, Millennials, and Gen Z combined. They make up a majority of business leaders in the U.S., and hold 42% of billionaire wealth in America.
Timing plays a role in the economic prosperity of Baby Boomers. They grew up in a post-WWII era, and spent their primary working years in a relatively stable, prosperous economy.
In contrast, Millennials entered the workforce during the Great Recession and have seen only tenuous economic and wage growth, impacting their ability to accumulate wealth. Combine this with crippling amounts of student debt, and it's no surprise that Millennials have nearly 50% less wealth than other generations (Boomers, Gen X) at a comparable age.
Generational Power: Political
In addition to holding the most Economic Power in the GPI, Baby Boomers also rank number one when it comes to Political Power.

Boomers capture 47.4% of political influence. This generation accounts for 32% of all U.S. voters, and holds the majority of federal and state positions. For instance, 68% of U.S. senators are Baby Boomers.
Political spending on election campaigns and lobbying predominantly comes from Boomers, too. When it comes to money spent on lobbying, we found that 60% of the top 20 spenders were from organizations led by Baby Boomers.
In contrast, Millennials and Gen Zers barely make a splash in the political realm. That said, in the coming years, it's estimated that the combined voting power of Millennials and Gen Z will see immense growth, rising from 32% of voters in 2020 up to 55% by 2036.
Cultural Power
There is one category where other generations gave Boomers a run for their money, which is in Cultural Power.
In this category, it's actually Gen X that leads the pack, capturing 36.0% of Cultural Power. Gen X is especially dominant in press and news media—over half of America's largest news corporations have a Gen Xer as their CEO, and a majority of the most influential news personalities are also members of Gen X.
Despite a strong showing in our culture category, Gen X falls short in one key variable we looked at—the digital realm. On digital platforms, Millennials dominate when it comes to both users and content creators, and Gen Z has growing influence here as well.
The Future of Generational Power
Generational power is not stagnant, and it ebbs and flows over time.
As this process naturally plays out, our new Generational Power Index and the coinciding annual report will aim to help quantify future shifts in power each year, while also highlighting the key stories that exemplify these new developments.
For a full methodology of how we built the Generational Power Index, see pages 28-30 in the report PDF. This is the first year of the report, and any feedback is welcomed.
Mapped: Top Trending Searches of 2021 in Every U.S. State
From presidential elections, to cryptocurrencies and billionaires, here are the trending searches in every U.S. state in 2021.
The Trending Searches in 2021
Google's data editor Simon Rogers once said, "You're never as honest as you are with your search engine. You get a sense of what people genuinely care about and genuinely want to know."
This look at trending searches for every U.S. state is a window into the topics people were truly curious about in 2021. From political tensions to meme stocks, and from Elon Musk to a devastating tornado, we saw a wide range of trending searches throughout the year.
In the above animated video, Reddit user u/V1Analytics pulls together the top trending search terms from Google's 2021 Year in Search summary (for the period before mid-November 2021) and Google's Daily Search Trends page (from mid-November to December 20th) to illustrate the daily trends for each state.
It's fascinating to see what Americans were looking up this year.
Trending Searches Offer a Glimpse of American Psyche
In the year when COVID-19 vaccines became widely available, many Americans turned to the world's most popular search engine to figure out how to come back to a life of normalcy.
In 2021, the search entries spoke to people's interest in alternative assets like cryptocurrencies and NFTs, as well as persistent economic insecurity, evidenced by questions about when they would get their stimulus checks.
Entertainers and billionaires trended throughout the year, and so did topics of significant cultural impact at those moments in time.
Here is a look at the trending searches of 2021 and when they were searched most:
| Topic | Trending Months | Category |
| --- | --- | --- |
| Biden | January | Political Figure |
| Capitol | January | Monuments |
| Mega Millions | January | Culture |
| GME | January | Gaming |
| Dogecoin | January, April, May | Cryptocurrency |
| The Weeknd | February | Entertainment |
| Valheim | February | Gaming |
| Power Outage | June, July, August | Society |
| Stimulus Check | March | Society |
| Lil Nas X | March | Entertainment |
| DMX | April | Entertainment |
| Prince Philip | April | Famous Personalities |
| Jake Paul | April, August | Content Creator |
| AMC Stock | May, June, August | Entertainment |
| Jeff Bezos | July | Businessman |
| Simone Biles | July | Athlete |
| Afghanistan | August, September | Country |
| Hurricane Ida | August | Climate Change |
| Gabby Petito | September | Crime |
| Squid Game | October | TV Shows |
| Alec Baldwin | October | Actor |
| Travis Scott | November | Entertainment |
| Kyle Rittenhouse | November | Crime |
| Adele | November | Entertainment |
| Tornado | December | Climate Change |
| Elon Musk | December | Businessman |
Notable Trending Searches in 2021
Here's a look at a few of the notable searches that trended across the U.S. in 2021:
President Biden and Capitol
Unsurprisingly, the year started with news of the presidential election and the U.S. Capitol riot, as President Biden was set to take office.
In six states, however, the top trending search was still related to the Mega Millions jackpot, even as individuals stormed the Capitol Building.
Valheim
One of the most sought-after games of the year, Valheim, came on the market in February, 2021. By August, it had garnered over 8 million users. The developing company's new Hearth and Home patch has skyrocketed the game's appeal even more.
Stimulus Check
In March, the U.S. government unveiled their plan to distribute the third stimulus check to Americans.
People started looking for more information about when they would be getting their checks and if there had been any changes in the amount they would receive.
Dogecoin
Created in 2013 as a parody of Bitcoin, Dogecoin saw record trading levels in May 2021. This was in part due to Elon Musk supporting the cryptocurrency.
The Dogecoin market capitalization surged to a peak of $88 billion, worth more than three-quarters of the companies in the S&P 500.
AMC Stock
After suffering significant losses due to the pandemic-related shuttering of theaters across the country, AMC Entertainment became a fan favorite of Reddit-based retail traders who drove the share price up beyond what most analysts considered reasonable.
AMC's stock price rose by 95% in a couple of days, reaching a record high of $63 per share. This was the latest phase of the meme stock frenzy.
Afghanistan
President Biden decided to completely withdraw U.S. troops from Afghanistan by September 11th, 2021, ending the longest war the country has ever fought.
As an immediate consequence of the withdrawal, the Taliban militia took over the country and the government. The event, which was broadcast in near real-time, caused widespread panic among the citizens as some attempted to flee the country.
What's in Store for 2022
It's going to be everyone's best guess as to what the trending searches for 2022 will be. Based on the events that dominated the news throughout the year, a few predictions could be made.
Experts predict that we will be moving to an endemic stage of the pandemic, which is bound to profoundly impact how we live in 2022.
New trends, movies, TV shows, and even newer gadgets will surely catch everyone's attention next year. It will be fascinating to see what's on the minds of people in the coming 12 months.
Animated Chart: China's Aging Population (1950-2100)
See why China is facing a demographic crisis in this animated chart.

Creator Program
China's Aging Population Problem
The one-child policy defined China's demographic transition for over three decades.
But to combat an aging population and declining birthrates, the government scrapped the policy for a new two-child policy in 2016. Despite this massive change, China still faces a growing demographic crisis.
The above animated population pyramid from James Eagle looks at the distribution of China's population by age group since 1950, with projections up to the year 2100.
How the One-Child Policy Created a Gender Imbalance
Until 2016, the Chinese government strictly enforced the one-child policy since 1979 with hefty fines for any breach of rules. According to the government, the policy reduced 400 million births over the years.
However, it also led to sex-selective abortions due to a deep-rooted cultural preference for boys. As a result, China's gender balance tilted, with a sex ratio of 111 males to 100 females in the population aging from 0 to 4 years old in 2020.
Often termed "the missing women of China", this shortage of women is expected to worsen over time. According to the U.N.'s World Population Prospects, China is projected to have around 244 million fewer women than men in 2050.
Additionally, the country faces another impending consequence of the one-child policy—a rapidly aging population.
Why China's Population is Aging
In 2020, China's fertility rate—the number of children a woman is expected to have over her lifetime—stood at 1.3.
Generally, fertility rates drop as economies develop. However, China's fertility rate is now lower than that of the U.S. (1.64 in 2020) and on par with countries like Japan and Italy, both of which are facing aging populations. Consequently, fewer newborns are entering the population, while many in the workforce approach retirement.
Most Chinese workers retire by age 60. Here's how China's retirement-age population is expected to shape up by the year 2100:
| Year | 60+ Population | % of Total Population |
| --- | --- | --- |
| 1980 | 74,899,385 | 7.5% |
| 2000 | 129,460,648 | 10.0% |
| 2021 | 258,371,810 | 17.9% |
| 2050 | 485,489,066 | 34.6% |
| 2070 | 454,270,458 | 36.1% |
| 2100 | 402,780,972 | 37.8% |
In 2021, people aged 60 and over made up nearly one-fifth of the Chinese population. As the country's population begins declining around 2030, over 30% of all Chinese people are expected to be in this age group.
China's aging population threatens long-term economic growth as its workforce shrinks and low fertility rates result in fewer newborns that would later enter the working-age population. Fewer working people means lower overall consumption, a higher burden on elderly care, and slowing economic growth.
So, how will China respond to the oncoming crisis?
The Three-child Policy
According to the 2020 national census, Chinese mothers gave birth to 12 million children in 2020—the lowest number of births since 1949.
In response to these results, the government passed a new law allowing each couple to have up to three children. Despite the change, the high cost of raising a child may deter couples from having a third child.
It remains to be seen how the three-child policy helps combat China's demographic crisis and which other policies the government chooses to deploy.