Ranked: The World's Most Surveilled Cities
Ranked: The World's Most Surveilled Cities
This may come as a surprise, but it wasn't until 2007 that the global urban population overtook the rural population. At that time, the two groups were split nearly 50/50, with around 3.3 billion people apiece.
Today, the percentage of people living in urban areas has grown to over 55%, and is expected to reach 68% by 2050. Due to this trend, many of the world's largest cities have become home to tens of millions of people.
In response to such incredible density, governments, businesses, and households have installed countless security cameras for various purposes including crime protection. To grasp the scale of this surveillance, we've taken data from a recent report by Comparitech to visualize the most surveilled cities in the world.
The List (Excluding China)
Excluding China for the time being, these are the world's 10 most surveilled cities.
City
Population
Number of Cameras
Cameras per
1,000 people
🇮🇳 Indore, India
3.2M
200,600
63
🇮🇳 Hyderabad, India
10.5M
440,299
42
🇮🇳 Delhi, India
16.3M
436,600
27
🇮🇳 Chennai, India
11.5M
282,126
25
🇸🇬 Singapore
6.0M
108,981
18
🇷🇺 Moscow, Russia
12.6M
213,000
17
🇮🇶 Baghdad, Iraq
7.5M
120,000
16
🇬🇧 London, UK
9.5M
127,373
13
🇷🇺 St. Petersburg, Russia
5.5M
70,000
13
🇺🇸 Los Angeles, U.S.
3.9M
34,959
9
Figures rounded
The top four cities all belong to India, which is the world's second largest country by population. Surveillance cameras are playing a major role in the country's efforts to reduce crimes against women.
Further down the list are cities from a variety of countries. One of these is Russia, which has expanded its use of surveillance cameras in recent years. Given the country's track record of human rights violations, activists are worried that facial recognition technology could become a tool of oppression.
The only U.S. city on the list is Los Angeles, which contains some of the country's wealthiest neighborhoods and municipalities. That includes Beverly Hills, which according to the Los Angeles Times, has over 2,000 cameras for its population of 32,500. That translates to about 62 cameras per 1,000 people, meaning that Beverly Hills would finish at #2 in the global ranking if it were listed as a separate entity.
Surveillance in China
IHS Markit estimates that as of 2021, there are over 1 billion surveillance cameras installed worldwide. The firm also believes that 54% of these cameras are located in China.
Because of limited transparency, it's impossible to pinpoint how many cameras are actually in each Chinese city. However, if we assume that China has 540 million cameras and divide that amongst its population of 1.46 billion, we can reasonably say that there are 373 cameras per 1,000 people (figures rounded).
A limitation of this approach is that it assumes everyone in China lives in a city, which is far from reality. The most recent World Bank figures suggest that 37% of China's population is rural, which equates to over 500 million people.
With this in mind, the number of cameras per 1,000 people in a Tier 1+ Chinese city (e.g. Shanghai) is likely far greater than 373.
More About China
China's expansive use of cameras and facial recognition technology has been widely documented in the media. These networks enable the country's social credit program, which gives local governments an unprecedented amount of oversight over its citizens.
For example, China's camera networks can be used to verify ATM withdrawals, permit access into homes, and even publicly shame people for minor offences like jaywalking.
This might sound like a dystopian nightmare to Western audiences, but according to Chinese citizens, it's mostly a good thing. In a 2018 survey of 2,209 citizens, 80% of respondents approved of social credit systems.
If you're interested in learning more about surveillance in Chinese cities, consider this video from The Economist, which explores the opportunities and dangers of comprehensive state control.
Visualizing Population Density Patterns in Six Countries
These maps show the population density of several countries, using 3D spikes to denote where more people live.

Creator Program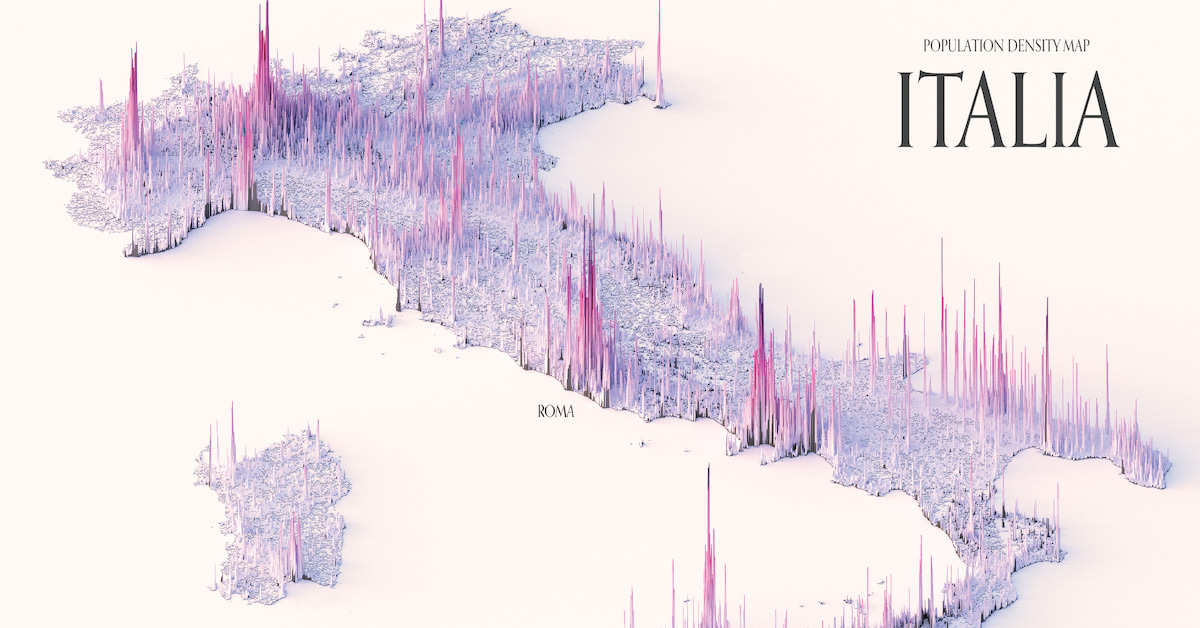 As of 2022, Earth has 8 billion humans. By 2050, the population is projected to grow to 10 billion.
In the last 100 years, the global population more than quadrupled. But none of this growth has been evenly spread out, including within countries.
This series of 3D maps from Terence Teo, an associate professor at Seton Hall University, renders the population density of six countries using open-source data from Kontur Population. He used popular programming language R and a path-tracing package, Rayshader, to create the maps.
France and Germany: Population Density Spikes and Troughs
Let's take a look at how the population spreads out in different countries around the world. Click the images to explore higher-resolution versions.
France is the world's 7th largest economy and second-most-populous country in the EU with 65 million people. But a staggering one-fifth of the French population lives in Paris and its surrounding metro—the most populous urban area in Europe.
Many residents in the Paris metropolitan area are employed in the service sector, which makes up one-third of France's $2.78 trillion gross domestic product.
Unlike France, Germany has many dense cities and regions, with Berlin, Munich, Stuttgart, and Cologne all having over a million residents. Berlin is the most populated at 3.5 million residents in the city proper, and 6 million in the wider urban area.
That said, the relatively recent reunification of West and East Germany in 1991 meant that post-WWII growth was mostly concentrated in West Germany (and West Berlin).
Italy and Chile: Coast to Coast
In Italy, another phenomenon affects population density and urban development—a sprawling coastline.
Despite having a large population of 59 million and large metropolitan areas throughout, Italy's population spikes are closer to the water.
The port cities of Genoa, Napoli, and Palermo all have large spikes relative to the rest of the country, as does the capital, Rome. Despite its city center located 15 miles inland from the sea, it extends to the shore through the district of Ostia, where the ancient port of Rome existed.
Meanwhile in Chile, stuck between the Andes to the east and the Pacific Ocean to the west, population spikes corroborate with its many port towns and cities.
However, the country is more concentrated than Italy, with 40% of its residents congregating around the capital of Santiago.
Turkey and Canada: Marred by Mountains and Climes
Though Chile has difficulties with terrain, it is relatively consistent. Other countries have to attempt to settle many different climes—regions defined by their climates.
Mountains to the south and east, a large, semi-arid plateau, and even a small desert leave few centers of urban growth in Türkiye.
Predictably, further west, as the elevation comes down to the Aegean and Mediterranean Seas, population spikes begin to heighten. The largest of course is the economic and cultural hub of Istanbul, though the capital Ankara is also prominent with more than 5 million residents.
In Canada, the Rocky Mountains to the west and freezing cold temperatures in the center and north account for the large country's relative emptiness.
Though population spikes in Western Canada are growing rapidly, highly populous urban centers are noticeably concentrated along the St. Lawrence River, with the Greater Toronto Area accounting for more than one-sixth of the country's 39 million people.
Increasing Urbanization
According to the World Bank, more than half of the world's population currently lives in cities, and that trend is only growing.
By 2050, 7 out of 10 people are projected to live in cities. This congregation makes cities a beehive of productivity and innovation—with more than 80% of the world's GDP being generated at these population centers.
It's in this context that mapping and studying urban development becomes all the more important, particularly as policymakers try their hand at sustainable urban planning.
As Teo puts it:
"By showing where people are (and are not), they show us where political and economic power is concentrated, and perhaps where and who our governments represent."