Ranked: The 35 Vehicles With the Longest Production Runs
Visualizing the Longest Vehicle Production Runs
Over the automotive industry's 100+ year history, companies such as Ford, Chevrolet, and Mercedes-Benz have produced some truly iconic cars.
Whether they're designed for excitement, luxury, or just simple transportation, these vehicles offer a set of features that make them highly desirable to consumers. The most successful models will undergo numerous revisions over time, sometimes sticking around for many decades.
To learn more, this graphic from Alan's Factory Outlet lists the 35 vehicles with the longest production runs of all time. Here are the top 10 below.
| Brand | Model Name | Class | Production Run (years) |
| --- | --- | --- | --- |
| 🇺🇸 Chevrolet | Suburban | SUV | 86 |
| 🇺🇸 Ford | F-Series | Pickup truck | 74 |
| 🇩🇪 Volkswagen | Transporter | Van | 71 |
| 🇯🇵 Toyota | Land Cruiser | SUV | 70 |
| 🇺🇸 Chevrolet | Corvette | Sports car | 68 |
| 🇩🇪 Mercedes-Benz | S-Class | Sedan | 67 |
| 🇯🇵 Toyota | Crown | Sedan | 66 |
| 🇯🇵 Nissan | Skyline | Sedan | 64 |
| 🇬🇧 Mini | Mini | Hatchback | 62 |
| 🇩🇪 Porsche | 911 | Sports car | 58 |
As we can see, successful models come in many shapes and sizes, and from a variety of manufacturers. Below, we'll take a deeper dive to learn more about what makes these cars special.
Ford F-Series
Ford began selling its first pickup truck in 1925, which was essentially a Model T with a flatbed in the rear. This layout was very useful because it enabled people to transport cargo, raw materials, and other items with relative ease.
Then, in 1948, Ford introduced the F-series pickup. The truck became one of Ford's most well-known and profitable models, and is currently in its 14th generation.
While the fundamental shape of the F-series hasn't changed, Ford's best-selling model owes much of its success to its constant innovation and technological improvements.
In 2015, the F-150 became the first fullsize pickup to feature an all-aluminum body. This reduced the truck's weight by as much as 500 pounds, resulting in better fuel economy and driving dynamics.
Ford is also credited with bringing turbocharged engines into the mainstream (within the pickup segment). This first-mover advantage gave the F-Series a competitive edge in terms of fuel efficiency and torque.
Chevrolet Corvette
First introduced in 1953, the Chevrolet Corvette is regarded as America's most iconic sports car. It has a reputation for offering similar performance as its more expensive foreign rivals, and combines unique styling elements with a successful motorsport background.
For most of its history, the Corvette was a rear-wheel drive coupe with a V-8 engine placed in the front. It also featured pop-up headlights for several generations, but the design was eventually phased out due to stricter regulations.
Chevrolet drastically changed the formula of the Corvette for its eighth generation, which launched in 2020. The engine is no longer in the front of the car, but instead, placed directly behind the occupants.
This mid-engine layout results in a Corvette with significantly different proportions than its predecessors. Because a bulk of the car's weight is now located more centrally, the C8 should (in theory) offer better traction and balance.
Few cars have undergone such large changes to their fundamental design philosophy, but the move appears to have worked—production is far from meeting demand.
Mercedes-Benz S-Class
The S-Class from Mercedes is widely recognized as the global benchmark for full-size luxury sedans. Since its introduction in the 1950s, the S-Class has continuously introduced new innovations that improve comfort and safety.
The 1959 S-Class (dubbed W111) was the first production car with crumple zones front and rear. Crumple zones are structural elements that absorb the impact of a collision.
The 1978 S-Class (W116) introduced electronic anti-lock brakes (ABS). This system prevents tires from locking up under sudden braking and is included on every modern car.
The 1991 S-Class (W140) was the first car to feature double-glazed windows, which improves insulation while reducing road noise.
The 2021 S-Class (W223) introduced the world's first rear-seat airbag.
One of the most important aspects of a luxury car is its interior, and the S-class has come a long way since its first iteration.
The interior of the latest S-Class features active ambient lighting that can visually reinforce any warnings generated by the car's driving assistance systems. The cabin also features MBUX Interior Assist, which can read motion commands (such as hand movements) by the driver.
The car's center console is dominated by a single large screen—a trend that was first introduced by the Tesla Model S.
Big Changes in Store
Global governments have announced a ban on the sale of new gasoline cars by as early as 2030. This foreshadows a great shift towards battery power and gives automakers the opportunity to reimagine their most iconic models.
For example, the Ford Mustang Mach-E is an all-electric SUV that borrows both the name and styling of the brand's famous pony car. The company also recently launched an electric version of the F-150, called the F-150 Lightning.
German brands are taking a different approach by creating a completely new range for their EV models. This includes the Audi e-tron, BMW i, and Mercedes EQ lineups. This implies that their existing gasoline-powered models could be coming to an end.
Visualizing Population Density Patterns in Six Countries
These maps show the population density of several countries, using 3D spikes to denote where more people live.

Creator Program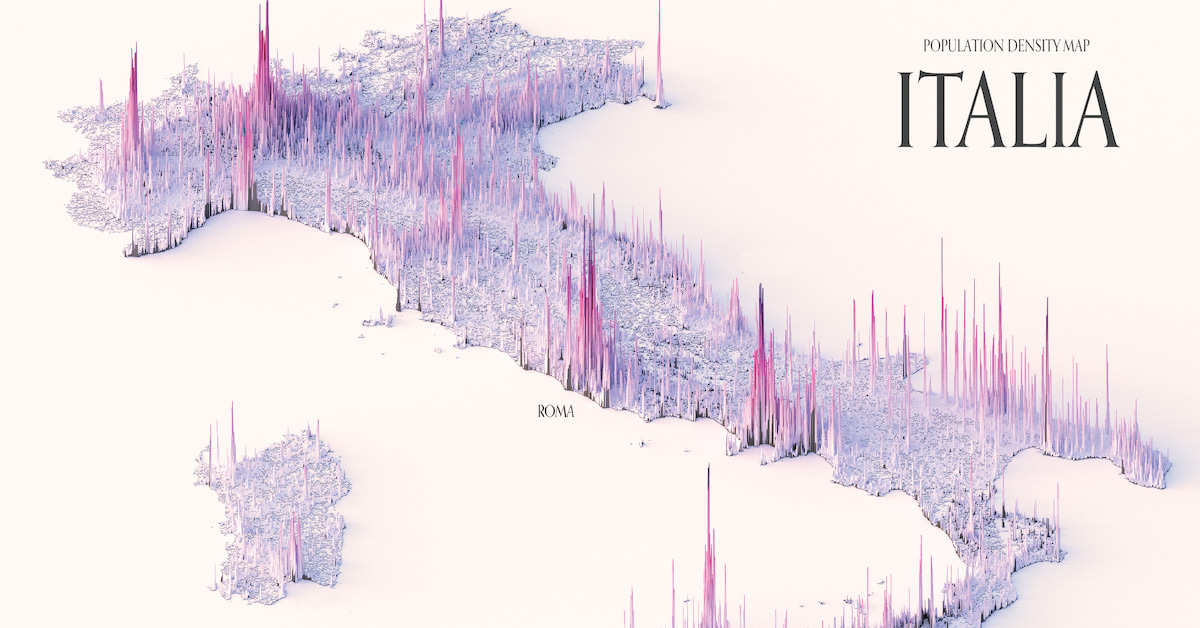 As of 2022, Earth has 8 billion humans. By 2050, the population is projected to grow to 10 billion.
In the last 100 years, the global population more than quadrupled. But none of this growth has been evenly spread out, including within countries.
This series of 3D maps from Terence Teo, an associate professor at Seton Hall University, renders the population density of six countries using open-source data from Kontur Population. He used popular programming language R and a path-tracing package, Rayshader, to create the maps.
France and Germany: Population Density Spikes and Troughs
Let's take a look at how the population spreads out in different countries around the world. Click the images to explore higher-resolution versions.
France is the world's 7th largest economy and second-most-populous country in the EU with 65 million people. But a staggering one-fifth of the French population lives in Paris and its surrounding metro—the most populous urban area in Europe.
Many residents in the Paris metropolitan area are employed in the service sector, which makes up one-third of France's $2.78 trillion gross domestic product.
Unlike France, Germany has many dense cities and regions, with Berlin, Munich, Stuttgart, and Cologne all having over a million residents. Berlin is the most populated at 3.5 million residents in the city proper, and 6 million in the wider urban area.
That said, the relatively recent reunification of West and East Germany in 1991 meant that post-WWII growth was mostly concentrated in West Germany (and West Berlin).
Italy and Chile: Coast to Coast
In Italy, another phenomenon affects population density and urban development—a sprawling coastline.
Despite having a large population of 59 million and large metropolitan areas throughout, Italy's population spikes are closer to the water.
The port cities of Genoa, Napoli, and Palermo all have large spikes relative to the rest of the country, as does the capital, Rome. Despite its city center located 15 miles inland from the sea, it extends to the shore through the district of Ostia, where the ancient port of Rome existed.
Meanwhile in Chile, stuck between the Andes to the east and the Pacific Ocean to the west, population spikes corroborate with its many port towns and cities.
However, the country is more concentrated than Italy, with 40% of its residents congregating around the capital of Santiago.
Turkey and Canada: Marred by Mountains and Climes
Though Chile has difficulties with terrain, it is relatively consistent. Other countries have to attempt to settle many different climes—regions defined by their climates.
Mountains to the south and east, a large, semi-arid plateau, and even a small desert leave few centers of urban growth in Türkiye.
Predictably, further west, as the elevation comes down to the Aegean and Mediterranean Seas, population spikes begin to heighten. The largest of course is the economic and cultural hub of Istanbul, though the capital Ankara is also prominent with more than 5 million residents.
In Canada, the Rocky Mountains to the west and freezing cold temperatures in the center and north account for the large country's relative emptiness.
Though population spikes in Western Canada are growing rapidly, highly populous urban centers are noticeably concentrated along the St. Lawrence River, with the Greater Toronto Area accounting for more than one-sixth of the country's 39 million people.
Increasing Urbanization
According to the World Bank, more than half of the world's population currently lives in cities, and that trend is only growing.
By 2050, 7 out of 10 people are projected to live in cities. This congregation makes cities a beehive of productivity and innovation—with more than 80% of the world's GDP being generated at these population centers.
It's in this context that mapping and studying urban development becomes all the more important, particularly as policymakers try their hand at sustainable urban planning.
As Teo puts it:
"By showing where people are (and are not), they show us where political and economic power is concentrated, and perhaps where and who our governments represent."