Ranked: The 20 Easiest Countries for Doing Business
Ranked: The 20 Easiest Countries for Doing Business
Contrary to popular belief, the hardest part about running a business may not be finding customers, it's getting one started.
Depending on the public policies and application processes of your country, you might struggle or succeed in opening and operating a business.
If you live in New Zealand, for example, you can get a new enterprise up and running in half a day. If you live in Luxembourg or Argentina, however, it's a different story─with the process sometimes taking over a year.
Today's chart uses data from the World Bank's annual Doing Business 2020 report, which delves into the ease of doing business in countries around the world.
Measuring the Ease of Doing Business
Now in its 17th year, the Doing Business (DB) report measures how easy it is for someone to start and run a company in an economy, using 12 key factors throughout a business lifecycle:
Starting a business
Employing workers
Dealing with construction permits
Getting electricity
Registering property
Getting credit
Protecting minority investors
Paying taxes
Trading across borders
Contracting with the government
Enforcing contracts
Resolving insolvency
Of the 190 countries reviewed last year, only 115 made it easier for entrepreneurs to do business.
Note to readers: this year's DB score did not factor in Employing Workers or Contracting with the Government when ranking economies.
Top 20 Easiest Countries to Run a Business
| Rank | Country | DB Score |
| --- | --- | --- |
| #1 | 🇳🇿 New Zealand | 86.8 |
| #2 | 🇸🇬 Singapore | 86.2 |
| #3 | 🇭🇰 Hong Kong | 85.3 |
| #4 | 🇩🇰 Denmark | 85.3 |
| #5 | 🇰🇷 South Korea | 84 |
| #6 | 🇺🇸 United States | 84 |
| #7 | 🇬🇪 Georgia | 83.7 |
| #8 | 🇬🇧 United Kingdom | 83.5 |
| #9 | 🇳🇴 Norway | 82.6 |
| #10 | 🇸🇪 Sweden | 82 |
| #11 | 🇱🇹 Lithuania | 81.6 |
| #12 | 🇲🇾 Malaysia | 81.5 |
| #13 | 🇲🇺 Mauritius | 81.5 |
| #14 | 🇦🇺 Australia | 81.2 |
| #15 | 🇹🇼 Taiwan | 80.9 |
| #16 | 🇦🇪 United Arab Emirates | 80.9 |
| #17 | 🇲🇰 North Macedonia | 80.7 |
| #18 | 🇪🇪 Estonia | 80.6 |
| #19 | 🇱🇻 Latvia | 80.3 |
| #20 | 🇫🇮 Finland | 80.2 |
In the top spot for the fourth year in a row, New Zealand only requires half a day to start a business. Singapore also stands out for having the shortest timeframe when it comes to paying business taxes and enforcing business contracts.
Only two African nations─Rwanda and Mauritius─are listed in the top 50 countries, with Mauritius being the only one to crack the top 20 list.
Latin American economies are noticeably missing from the rankings, as many countries in this region are fraught with bureaucracy and prolonged processes.
Most Improved Scores
Several developed and developing economies made significant strides in 2019 to implement reforms that opened doors for new business owners.
The Doing Business 2020 report shows that the cost of starting a business has fallen over time, particularly in developing economies.
Top 10 Most Improved Economies, 2018-2019
Saudi Arabia made the greatest improvement overall, adding 7.7 points to its score.
Bahrain also made improvements over the most number of factors (9). While Jordan showed improvement in the fewest factors (3), it showed the second highest jump in DB Score.
Gains Among Low-Income Countries
The DB 2020 study also shows that developing economies are making progress: it's now cheaper than ever before to run a business in developing economies.
However, a significant disparity still remains when we consider the difference in business costs between high-income and low-income economies.
An entrepreneur starting a company in a low-income economy will spend about 50% of per capita income (PCI) to launch a venture, whereas an entrepreneur in a high-income economy spends only 4% PCI to accomplish the same task.
Put another way, entrepreneurs located in the bottom 50 economies spend an average six times more to open a new company as those in a high-income economy.
Entrepreneurship and Economic Growth
Generally, more entrepreneurs will enter a market where they can easily conduct business─adding more value to local economies.
While the rankings clearly illustrate the link between ease of doing business and economic growth, there are still significant barriers in place that not only deter entrepreneurship but also inhibit a relatively simple strategy for growth.

The New Rules of Leadership: 5 Forces Shaping Expectations of CEOs
This infographic delves into five major forces reshaping our world and the new rules of leadership that CEOs should follow as a result.
It's common knowledge that CEOs assume a long list of roles and responsibilities.
But in today's world, more and more people rely on them to go beyond their day-to-day responsibilities and advocate for broader social change. In fact, a number of external forces are changing how leaders are now expected to behave.
How can leaders juggle these evolving expectations while successfully leading their companies into the future?
The New Rules of Leadership
This infographic from bestselling author Vince Molinaro explores five drivers reshaping our world that leaders must pay attention to in order to bring about real change.
How is the World Being Reshaped?
Leaders need to constantly stay one step ahead of the transformative forces that impact businesses on a broader scale.
Below we outline five key drivers that are changing what it means to be a leader in today's world:
1. Transformative Technologies
Over the last number of decades, several technologies have emerged that could either accelerate the disruption of companies, or provide them with new opportunities for growth. According to KPMG, 72% of CEOs believe the next three years will be more critical for their industry than the previous 50 years.
For example, artificial intelligence (AI), can now provide companies with insights into what motivates their employees and how they can help them succeed. IBM's AI predictive attrition program can even predict when employees are about to quit—saving them roughly $300 million in retention costs.
Leaders must accept that the future will be mediated by technology, and how they respond could determine whether or not their organization survives entirely.
2. Geopolitical Instability
Geopolitical risks—such as trade disputes or civil unrest—can have a catastrophic impact on a business's bottom line, no matter its industry. Although 52% of CEOs believe the geopolitical landscape is having a significant impact on their companies, only a small portion say they have taken active steps to address these risks.
By being more sensitive to the world around them, leaders can anticipate and potentially mitigate these risks. Extensive research into geopolitical trends and leveraging the appropriate experts could support a geopolitical risk strategy, and alleviate some of the potential repercussions.
3. Revolutionizing the Working Environment
As the future of work looms, leaders are being presented with the opportunity to reimagine the inner workings of their company. But right now, they are fighting against a wide spectrum of predictions around what they should expect, with estimations surrounding the automation risk of jobs ranging from 5% to 61% as a prime example.
While physical, repetitive, or basic cognitive tasks carry a higher risk of automation, the critical work that remains will require human interaction, creativity, and judgment.
Leaders should avoid getting caught up in the hype regarding the future of work, and simply focus on helping their employees navigate the next decade.
By creating an inspiring work environment and investing in retraining and reskilling, leaders can nurture employee well-being and create a sense of connectedness and resilience in the workplace.
4. Delivering Diversity
Diversity and inclusion can serve as a path to engaging employees, and leaders are being asked to step up and deliver like never before. A staggering 77% of people feel that CEOs are responsible for leading change on important social issues like racial inequality.
But while delivering diversity, equity, and inclusion seems to be growing in importance, many companies are struggling to understand the weight of this issue.
An example of this is Noah's Ark Paradox, which describes the belief that hiring "two of every kind" creates a diverse work environment. In reality, this creates a false sense of inclusion because the voices of these people may never actually be heard.
Modern day leaders must create a place of belonging where everyone—regardless of gender, race, sexual orientation, ability, or age—is listened to.
5. Repurposing Corporations
The drivers listed above ladder up to the fact that society is looking to businesses to help solve important issues, and leaders are the ones being held accountable.
With 84% of people expecting CEOs to inform conversations and policy debates on one or more pressing issues, from job automation to the impact of globalization, CEOs have the potential to transform their organization by galvanizing employees on the topics that matter to them.
For a long time, the purpose of corporations was purely to create value for shareholders. Now, leaders are obligated to follow a set of five commitments:
Deliver value to customers
Invest in employees
Deal fairly and ethically with suppliers
Support communities
Generate long-term value for shareholders
Ultimately, these five commitments build currency for trust, which is critical for sustained growth and building a productive and satisfied workforce.
Lead the Future
If leaders understand the context they operate in, they can identify opportunities that could fuel their organization's growth, or alternatively, help them pivot in the face of impending threats.
But organizations must invest in the development of their leaders so that they can see the bigger picture—and many are failing to do so.
By recognizing the new rules of leadership, CEOs and managers can successfully lead their organizations, and the world, into a new and uncertain future.

29 Psychological Tricks To Make You Buy More
This graphic looks at 29 different psychological tricks that marketers use to try and influence consumer behavior.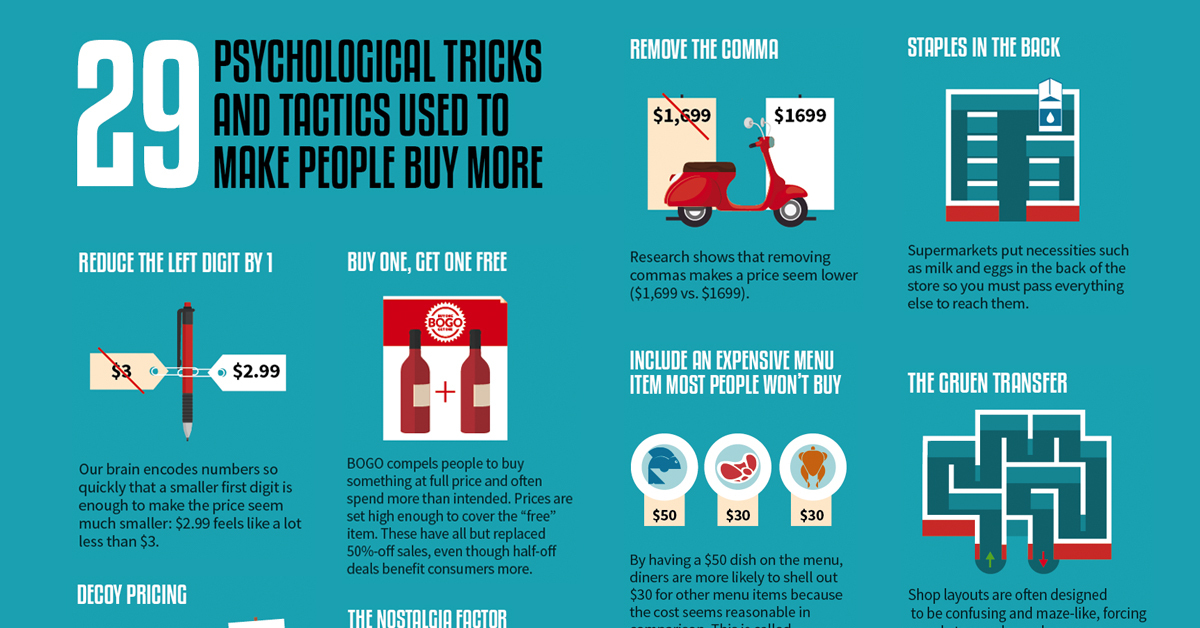 29 Psychological Tricks To Make You Buy More
Ever suffered from buyer's remorse? You're not alone.
According to a recent survey, only 5% of people have never felt guilty about buying something. That means the majority of us, at some point in our lives, have regretted a purchase.
But consumers aren't necessarily only to blame for impulse buys. After all, we're constantly bombarded with advertisements and marketing tactics specifically tailored to try and get us to spend more money.
Today's graphic by TitleMax explains 29 different psychological tactics that marketers try to get consumers to buy more.
Tricks are for Marketers
While this list isn't exhaustive, it provides some key examples of the ways that marketers are attempting to influence your subconscious mind.
We noticed some high-level trends among the 29 tactics, which we compiled into four overarching sections:
Visual Pricing Tricks
These tricks aim to intentionally minimize the appearance of the price, so it's more palatable to consumers. For instance, a store will price something at $9.99 instead of $10.00, or label a product as "buy-one-get-one" rather than 50% off.
Intentional Language Tricks
It's not what you say, but how you say it. Making products seem costly to manufacture, offering exclusivity, and using words associated with small amounts fall under this category. These tricks use semantics to position a product in an appealing way.
Brick-and-Mortar Tricks
A store's layout is less arbitrary than you may realize. Having a bright and colorful entrance, playing calm and slow music, and putting the essential items at the back of the store are a few tactics that fall into this section. These tricks use displays and product placement to influence consumer behavior.
Urgency Tricks
A false sense of urgency and phase-out discounts are included in this category. If a consumer believes they might miss out on a deal, they're more likely to buy.
The Theories in Practice
While most retailers are guilty of using at least a few of these tactics, several big companies are notorious for their use of psychological tricks to boost sales.
For instance, Ikea is well known for its confusing, maze-like layout. This is no accident, as an Ikea store's architecture is designed specifically to maximize product exposure—it's mastered what's called the Gruen effect, a term named after architect Victor Gruen, whose elaborate displays were proven to convert browsers into buyers.
Another example is Walmart's rollback pricing, which uses visual contrast to make the sale price more appealing. It's clearly served the company well—in 2019, Walmart made $524 billion in revenue, making it the world's largest retailer.
Costco uses a few tactics on the list, but one it's notorious for is putting fresh produce in the back of the store. That means customers need to pass through the electronics, clothing, and household goods sections before they can get to the necessities.
While the above tactics are in a gray area, other tricks are flat out dishonest. Makeup brand Sunday Riley was caught writing fake Sephora reviews to boost sales. Employees were encouraged to write outstanding reviews for the company, and the CEO even provided instructions on how to avoid getting caught.
The Influencer Era
As consumers become aware of certain marketing tactics, retailers are forced to switch up their game in order to remain effective.
A relatively recent phenomenon is influencer marketing, which is when brands partner with vloggers or influencers to endorse a product. And these partnerships tend to work—a recent survey revealed that 40% of people have purchased something based on an influencer's recommendation.
But how long will influencer marketing—or any of these tactics—stay effective? Some of the more subtle pricing tactics might stay relevant for longer, but it's unlikely that all of these tricks will stand the test of time.