Ranked: The Best and Worst Pension Plans, by Country
Ranked: Countries with the Best and Worst Pension Plans
The global population is aging—by 2050, one in six people will be over the age of 65.
As our aging population nears retirement and gets closer to cashing in their pensions, countries need to ensure their pension systems can withstand the extra strain.
This graphic uses data from the Melbourne Mercer Global Pension Index (MMGPI) to showcase which countries are best equipped to support their older citizens, and which ones aren't.
The Breakdown
Each country's pension system has been shaped by its own economic and historical context. This makes it difficult to draw precise comparisons between countries—yet there are certain universal elements that typically lead to adequate and stable support for older citizens.
MMGPI organized these universal elements into three sub-indexes:
Adequacy: The base-level of income, as well as the design of a region's private pension system.
Sustainability: The state pension age, the level of advanced funding from government, and the level of government debt.
Integrity: Regulations and governance put in place to protect plan members.
These three measures were used to rank the pension system of 37 different countries, representing over 63% of the world's population.
Here's how each country ranked:
| Country | Overall Value | Adequacy | Sustainability | Integrity |
| --- | --- | --- | --- | --- |
| Argentina | 39.5 | 43.1 | 31.9 | 44.4 |
| Australia | 75.3 | 70.3 | 73.5 | 85.7 |
| Austria | 53.9 | 68.2 | 22.9 | 74.4 |
| Brazil | 55.9 | 71.8 | 27.7 | 69.8 |
| Canada | 69.2 | 70 | 61.8 | 78.2 |
| Chile | 68.7 | 59.4 | 71.7 | 79.2 |
| China | 48.7 | 60.5 | 36.7 | 46.5 |
| Colombia | 58.4 | 61.4 | 46 | 70.8 |
| Denmark | 80.3 | 77.5 | 82 | 82.2 |
| Finland | 73.6 | 73.2 | 60.7 | 92.3 |
| France | 60.2 | 79.1 | 41 | 56.8 |
| Germany | 66.1 | 78.3 | 44.9 | 76.4 |
| Hong Kong | 61.9 | 54.5 | 54.5 | 86.9 |
| India | 45.8 | 39.9 | 44.9 | 56.3 |
| Indonesia | 52.2 | 46.7 | 47.6 | 67.5 |
| Ireland | 67.3 | 81.5 | 44.6 | 76.3 |
| Italy | 52.2 | 67.4 | 19 | 74.5 |
| Japan | 48.3 | 54.6 | 32.2 | 60.8 |
| Korea | 49.8 | 47.5 | 52.6 | 49.6 |
| Malaysia | 60.6 | 50.5 | 60.5 | 76.9 |
| Mexico | 45.3 | 37.5 | 57.1 | 41.3 |
| Netherlands | 81 | 78.5 | 78.3 | 88.9 |
| New Zealand | 70.1 | 70.9 | 61.5 | 80.7 |
| Norway | 71.2 | 71.6 | 56.8 | 90.6 |
| Peru | 58.5 | 60 | 52.4 | 64.7 |
| Philippines | 43.7 | 39 | 55.5 | 34.7 |
| Poland | 57.4 | 62.5 | 45.3 | 66 |
| Saudi Arabia | 57.1 | 59.6 | 50.5 | 62.2 |
| Singapore | 70.8 | 73.8 | 59.7 | 81.4 |
| South Africa | 52.6 | 42.3 | 46 | 78.4 |
| Spain | 54.7 | 70 | 26.9 | 69.1 |
| Sweden | 72.3 | 67.5 | 72 | 80.2 |
| Switzerland | 66.7 | 57.6 | 65.4 | 83 |
| Thailand | 39.4 | 35.8 | 38.8 | 46.1 |
| Turkey | 42.2 | 42.6 | 27.1 | 62.8 |
| UK | 64.4 | 60 | 55.3 | 84 |
| U.S. | 60.6 | 58.8 | 62.9 | 60.4 |
The Importance of Sustainability
While all three sub-indexes are important to consider when ranking a country's pension system, sustainability is particularly significant in the modern context. This is because our global population is increasingly skewing older, meaning an influx of people will soon be cashing in their retirement funds. As a consequence, countries need to ensure their pension systems are sustainable over the long-term.
There are several factors that affect a pension system's sustainability, including a region's private pension system, the state pension age, and the balance between workers and retirees.
The country with the most sustainable pension system is Denmark. Not only does the country have a strong basic pension plan—it also has a mandatory occupational scheme, which means employers are obligated by law to provide pension plans for their employees.
Adequacy versus Sustainability
Several countries scored high on adequacy but ranked low when it came to sustainability. Here's a comparison of both measures, and how each country scored: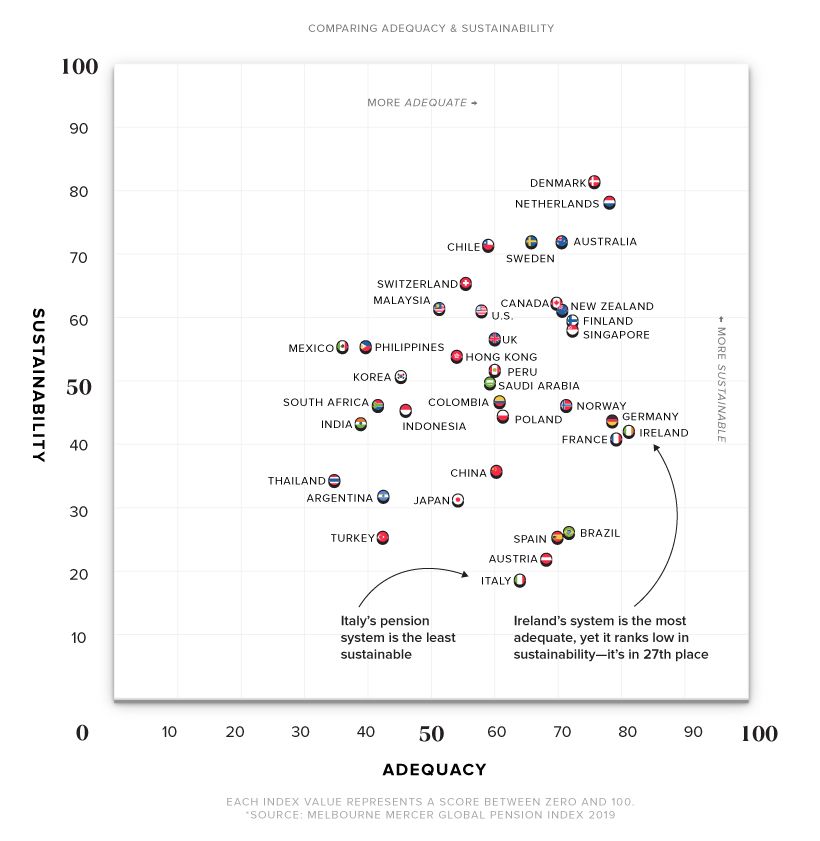 Ireland took first place for adequacy, but scored relatively low on the sustainability front at 27th place. This can be partly explained by Ireland's low level of occupational coverage. The country also has a rapidly aging population, which skews the ratio of workers to retirees. By 2050, Ireland's worker to retiree ratio is estimated to go from 5:1 to 2:1.
Similar to Ireland, Spain ranks high in adequacy but places extremely low in sustainability.
There are several possible explanations for this—while occupational pension schemes exist, they are optional and participation is low. Spain also has a low fertility rate, which means their worker-to-retiree ratio is expected to decrease.
Steps Towards a Better System
All countries have room for improvement—even the highest-ranking ones. Some general recommendations from MMGPI on how to build a better pension system include:
Increasing the age of retirement: Helps maintain a more balanced worker-to-retiree ratio.
Enforcing mandatory occupational schemes: Makes employers obligated to provide pension plans for their employees.
Limiting access to benefits: Prevents people from dipping into their savings preemptively, thus preserving funds until retirement.
Establishing strong pension assets to fund future liabilities: Ideally, these assets are more than 100% of a country's GDP.

Pension systems across the globe are under an increasing amount of pressure. It's time for countries to take a hard look at their pension systems to make sure they're ready to support their aging population.
The World's Biggest Real Estate Bubbles in 2021
According to UBS, there are nine real estate markets that are in bubble territory with prices rising to unsustainable levels.
Ranked: The World's Biggest Real Estate Bubbles in 2021
Identifying real estate bubbles is a tricky business. After all, even though many of us "know a bubble when we see it", we don't have tangible proof of a bubble until it actually bursts.
And by then, it's too late.
The map above, based on data from the Real Estate Bubble Index by UBS, serves as an early warning system, evaluating 25 global cities and scoring them based on their bubble risk.
Reading the Signs
Bubbles are hard to distinguish in real-time as investors must judge whether a market's pricing accurately reflects what will happen in the future. Even so, there are some signs to watch out for.
As one example, a decoupling of prices from local incomes and rents is a common red flag. As well, imbalances in the real economy, such as excessive construction activity and lending can signal a bubble in the making.
With this in mind, which global markets are exhibiting the most bubble risk?
The Geography of Real Estate Bubbles
Europe is home to a number of cities that have extreme bubble risk, with Frankfurt topping the list this year. Germany's financial hub has seen real home prices rise by 10% per year on average since 2016—the highest rate of all cities evaluated.
Two Canadian cities also find themselves in bubble territory: Toronto and Vancouver. In the former, nearly 30% of purchases in 2021 went to buyers with multiple properties, showing that real estate investment is alive and well. Despite efforts to cool down these hot urban markets, Canadian markets have rebounded and continued their march upward. In fact, over the past three decades, residential home prices in Canada grew at the fastest rates in the G7.
Despite civil unrest and unease over new policies, Hong Kong still has the second highest score in this index. Meanwhile, Dubai is listed as "undervalued" and is the only city in the index with a negative score. Residential prices have trended down for the past six years and are now down nearly 40% from 2014 levels.
Note: The Real Estate Bubble Index does not currently include cities in Mainland China.
Trending Ever Upward
Overheated markets are nothing new, though the COVID-19 pandemic has changed the dynamic of real estate markets.
For years, house price appreciation in city centers was all but guaranteed as construction boomed and people were eager to live an urban lifestyle. Remote work options and office downsizing is changing the value equation for many, and as a result, housing prices in non-urban areas increased faster than in cities for the first time since the 1990s.
Even so, these changing priorities haven't deflated the real estate market in the world's global cities. Below are growth rates for 2021 so far, and how that compares to the last five years.
Overall, prices have been trending upward almost everywhere. All but four of the cities above—Milan, Paris, New York, and San Francisco—have had positive growth year-on-year.
Even as real estate bubbles continue to grow, there is an element of uncertainty. Debt-to-income ratios continue to rise, and lending standards, which were relaxed during the pandemic, are tightening once again. Add in the societal shifts occurring right now, and predicting the future of these markets becomes more difficult.
In the short term, we may see what UBS calls "the era of urban outperformance" come to an end.
Mapped: Distribution of Global GDP by Region
Where does the world's economic activity take place? This cartogram shows the $94 trillion global economy divided into 1,000 hexagons.
Mapped: The Distribution of Global GDP by Region
Gross domestic product (GDP) measures the value of goods and services that an economy produces in a given year, but in a global context, it is typically shown using country-level data.
As a result, we don't often get to see the nuances of the global economy, such as how much specific regions and metro areas contribute to global GDP.
In these cartograms, global GDP has been normalized to a base number of 1,000 in order to show a more regional breakdown of economic activity. Created by Reddit user /BerryBlue_Blueberry, the two maps show the distribution in different ways: by nominal GDP and by GDP adjusted for purchasing power parity (PPP).
Methodology
Before diving in, let us give you some context on how these maps were designed. Each hexagon on the two maps represents 0.1% of the world's overall GDP.
The number below each region, country or metropolitan area represents the number of hexagons covered by that entity. So in the nominal GDP map, the state of New York represents 20 hexagons (i.e. 2.0% of global GDP), while Munich's metro area is 3 hexagons (0.3%).
Countries are further broken down based on size. Countries that make up more than 0.95% of global GDP are broken down into subdivisions, while countries that are smaller than 0.1% of GDP are grouped together. Metro areas that account for over 0.25% of global GDP are featured.
Finally, it should be noted that to account for some outdated subdivision participation data, the map creator calculated 2021 estimates for this using the formula: national GDP (2021) x % of subdivision participation (2017-2020).
Nominal vs. PPP
The above map is using nominal data, while the below map accounts for differences in purchasing power (PPP).
Adjusting for PPP takes into account the relative value of currencies and purchasing power in countries around the world. For example, $100 (or its exchange equivalent in Indian rupees) is generally going to be able to buy more in India than it is in the United States.
This is because goods and services are cheaper in India, meaning you can actually purchase more there for the same amount of money.
Anomalies in Global GDP Distribution
Breaking down global GDP distribution into cartograms highlights some interesting anomalies worth considering:
North America, Europe, and East Asia, with a combined GDP of nearly $75 trillion, make up 80% of the world's GDP in nominal terms.
The U.S. State of California accounts for 3.7% of the world's GDP by itself, which ranks higher than the United Kingdom's total contribution of 3.3%.
Canada as a country accounts for 2% of the world's GDP, which is comparable to the GDP contribution of the Greater Tokyo Area at 2.2%.
With a GDP of $3 trillion, India's contribution overshadows the GDP of the whole African continent ($2.6 trillion).
This visualization highlights the economic might of cities better than a conventional map. One standout example of this is in Ontario, Canada. The Greater Toronto Area completely eclipses the economy of the rest of the province.
Inequality of GDP Distribution
The fact that certain countries generate most of the world's economic output is reflected in the above cartograms, which resize countries or regions accordingly.
Compared to wealthier nations, emerging economies still account for just a tiny sliver of the pie.
India, for example, accounts for 3.2% of global GDP in nominal terms, even though it contains 17.8% of the world's population.
That's why on the nominal map, India is about the same size as France, the United Kingdom, or Japan's two largest metro areas (Tokyo and Osaka-Kobe)—but of course, these wealthier places have a far higher GDP per capita.