Visualized: A Snapshot of the Global Personal Tech Market
A Snapshot of the Global Personal Tech Market
For many, it's become difficult to function in day-to-day life without the use of a mobile phone. The average American checks their phone 96 times a day—that's once every 10 minutes.
But it's not just mobile phones that have become increasingly intertwined with our everyday lives. A plethora of accessories and devices, known as smartphone multipliers, have surged in popularity—this market is set to generate $459 billion in revenue by the end of 2020.
Which brands are capitalizing on this lucrative market? Today's graphic provides a snapshot of the leading tech brands currently dominating the personal tech space, based on the most recent global market share data on shipments and installs.
How the Brands Stack Up, by Personal Tech Device
Though far from exhaustive, we've selected a few popular devices to hone in on, providing key insights on some of the top players in the personal tech space as of 2020.
Smartphones
Smartphones are an essential part of the personal tech conversation—by 2025, there will be an estimated 5.8 billion smartphone users worldwide, or roughly 70% of the global population.
| Brand | Global Smartphone Shipments Market Share |
| --- | --- |
| Huawei | 20% |
| Samsung | 20% |
| Apple | 14% |
| Xiaomi | 10% |
| Oppo | 9% |
| Vivo | 8% |
| Lenovo | 3% |
| Other | 16% |
Currently, Huawei and Samsung hold the largest share of the global market, at 20% each. Chinese company Huawei's dominance is concentrated in its home country, where it captures almost half of smartphone sales. Like Huawei, Samsung's market dominance is amplified in its home country South Korea, where it makes up 67% of the market.
While Apple lags slightly behind Huawei and Samsung in global sales, the company rules in the U.S., where it captures 46% of market share.
Why isn't Apple as successful in other parts of the world? A big factor is price. For instance, 90% of smartphones in India cost around $300, while iPhones start at $999.
Smartphone Operating Systems
Of course, smartphones are useless without an operating system (OS). Each smartphone OS essentially acts as your phone's nervous system, running all applications and programs, as well as managing network and WiFi connectivity.
| Brand | Global Market Share (by units) |
| --- | --- |
| Android | 74.3% |
| iOS | 25.2% |
| Samsung | 0.2% |
| KaiOS | 0.1% |
| Unknown | 0.1% |
When it comes to the OS market, Google-owned Android dominates by a landslide, making up 74% of global market share. This makes sense, considering that both the leading smartphone companies, Huawei and Samsung, use Android OS on a number of their devices.
However, it's important to note that newer Huawei phones won't operate on Android. When the Chinese tech giant was blacklisted in the U.S., it was no longer able to license Android's OS. As a result, Huawei launched its own HarmonyOS to fill the gap.
Smartphone Application Processors
If a smartphone's OS acts like its nervous system, then the application processor (AP) functions like a brain. APs handle everything from image processing and graphics to powering your phone on and off.
| Brand | Global Market Share (by units) |
| --- | --- |
| Qualcomm | 29% |
| MediaTek | 26% |
| HiSilicon | 16% |
| Apple | 13% |
| Samsung | 13% |
| Unisoc | 4% |
Qualcomm is currently the largest provider of application processors, capturing almost 30% of the global market share. While it currently holds the top spot, its market share has declined since 2019, largely due to a decrease in usage in Huawei products.
After being banned in the U.S., Huawei shifted suppliers for this crucial part. Instead of buying from Qualcomm—an American company—it now relies on HiSilicon, which is based in China.
Wireless Headphones
The wireless headphone market is growing fast—in 2019, it was valued at $2.5 billion. Between 2020 to 2027, it's set to increase at a compound annual growth rate (CAGR) of 20.3%.
| Brand | Global Sales Units Market Share |
| --- | --- |
| Apple | 35% |
| Xiaomi | 10% |
| Samsung | 6% |
| Jabra | 3% |
| JBL | 3% |
| Other | 43% |
Apple currently dominates the wireless headphone space, making up over a third of global market share. The company is expected to sell 82 million units by the end of 2020.
Despite this, it's important to note that Apple's dominance has decreased significantly in 2020 compared to 2019, when it captured over 50% of the global market. Apple's decline is likely due to the emergence of cheaper alternatives from companies like Lypertek Tevi or 1More, which offer comparable products at about half the cost of Apple's AirPods.
Smartwatches
Health and wellness have been top priorities among consumers recently, which has had a positive impact on the global smartwatch market—in the first half of 2020, it's shown a 20% growth in revenue, compared to a year prior.
| Brand | Global Smartwatch Shipments Market Share |
| --- | --- |
| Apple | 30% |
| Huawei | 14% |
| Samsung | 7% |
| imoo | 7% |
| Other | 42% |
Like wireless headphones, Apple dominates the smartwatch market, in both volume and value. When looking at global shipments in Q2 2020, the company makes up 30% of the market share—however, in terms of revenue, Apple's piece of the pie rises to 50%.
The Only Constant is Change
It's clear that no matter who leads the list for each type of personal tech, these spots are never static—there's always room for disruption.
How long will Apple hold its top spot in the wireless headphone market? Will Qualcomm's dominance of the AP market continue to shrink?
Things are certain to change—the only question is, how?
Charted: What are Retail Investors Interested in Buying in 2023?
What key themes and strategies are retail investors looking at for the rest of 2023? Preview: AI is a popular choice.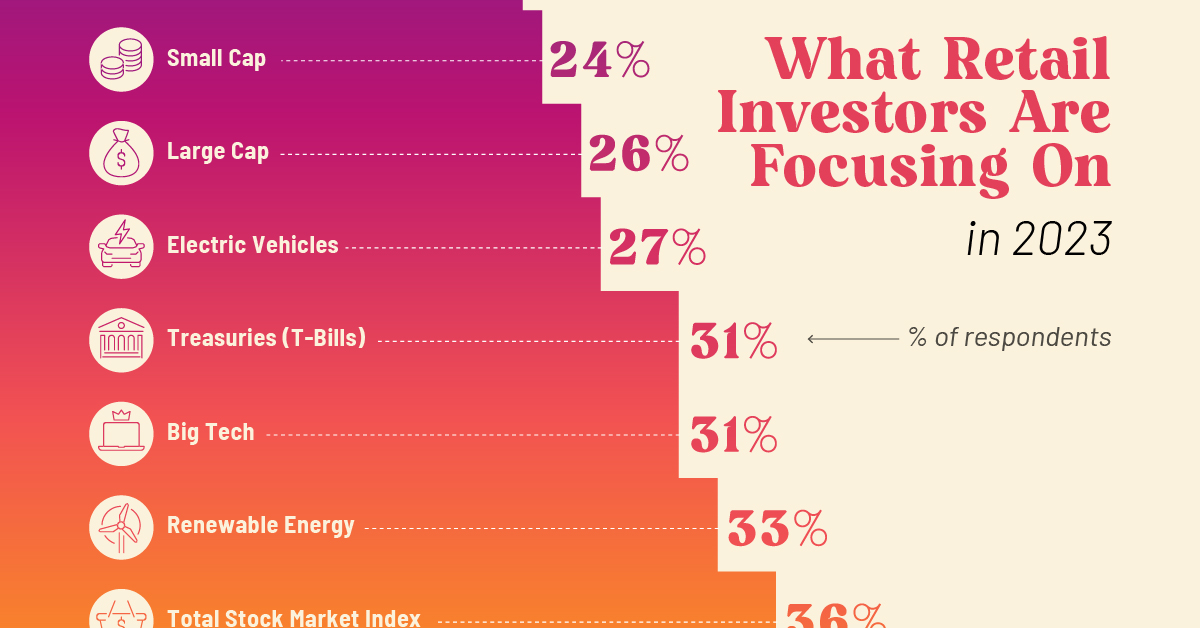 Charted: Retail Investors' Top Picks for 2023
U.S. retail investors, enticed by a brief pause in the interest rate cycle, came roaring back in the early summer. But what are their investment priorities for the second half of 2023?
We visualized the data from Public's 2023 Retail Investor Report, which surveyed 1,005 retail investors on their platform, asking "which investment strategy or themes are you interested in as part of your overall investment strategy?"
Survey respondents ticked all the options that applied to them, thus their response percentages do not sum to 100%.
Where Are Retail Investors Putting Their Money?
By far the most popular strategy for retail investors is dividend investing with 50% of the respondents selecting it as something they're interested in.
Dividends can help supplement incomes and come with tax benefits (especially for lower income investors or if the dividend is paid out into a tax-deferred account), and can be a popular choice during more inflationary times.
| Investment Strategy | Percent of Respondents |
| --- | --- |
| Dividend Investing | 50% |
| Artificial Intelligence | 36% |
| Total Stock Market Index | 36% |
| Renewable Energy | 33% |
| Big Tech | 31% |
| Treasuries (T-Bills) | 31% |
| Electric Vehicles | 27% |
| Large Cap | 26% |
| Small Cap | 24% |
| Emerging Markets | 23% |
| Real Estate | 23% |
| Gold & Precious Metals | 23% |
| Mid Cap | 19% |
| Inflation Protection | 13% |
| Commodities | 12% |
Meanwhile, the hype around AI hasn't faded, with 36% of the respondents saying they'd be interested in investing in the theme—including juggernaut chipmaker Nvidia. This is tied for second place with Total Stock Market Index investing.
Treasury Bills (30%) represent the safety anchoring of the portfolio but the ongoing climate crisis is also on investors' minds with Renewable Energy (33%) and EVs (27%) scoring fairly high on the interest list.
Commodities and Inflation-Protection stocks on the other hand have fallen out of favor.
Come on Barbie, Let's Go Party…
Another interesting takeaway pulled from the survey is how conversations about prevailing companies—or the buzz around them—are influencing trades. The platform found that public investors in Mattel increased 6.6 times after the success of the 'Barbie' movie.
Bud Light also saw a 1.5x increase in retail investors, despite receiving negative attention from their fans after the company did a beer promotion campaign with trans influencer Dylan Mulvaney.
Given the origin story of a large chunk of American retail investors revolves around GameStop and AMC, these insights aren't new, but they do reveal a persisting trend.