Our Top Infographics of 2019
This year, we published more than 300 posts on Visual Capitalist, getting well over 30 million views along the way.
Many of these graphics are visually stunning, but there's only room for 19 posts on the annual list of our best work. Below, you'll find the Top Infographics of 2019 list, which contains our most popular infographics, as well as a curation of staff favorites for the year.
New this year is our "Viewer's Choice" award, which is given to the best visualization, as chosen by our loyal VC+ readership.
Below are the top posts of 2019. But first, a few quick notes:
Images below are small preview images for each large infographic and article.
To view any post in full, click the image or link in the text. All links open in a new tab.
At the very end of the list, you can find our "Viewer's Choice" award winner.
Wishing you the best in the new year!
– The Visual Capitalist Team
---
Our Top Infographics of 2019
If you like what you see on the following list, don't forget to subscribe to our mailing list or connect via Facebook, Twitter, or LinkedIn to get our free content daily.
Let the countdown begin…
19. How Does Your Personality Type Affect Your Income?
When it comes to making money, not all personality types play on an even playing field.
This recent post breaks down Myers-Briggs personality types by average earning potential, including the specific facets that tend to correlate positively with money over the long term.
18. The 20 Internet Giants That Rule the Web
Digital media moves at a breakneck pace — and with almost no barriers to entry, it's no surprise to see the pecking order turn over every other year.
Even so, it's easy to forget that names like GeoCities, Lycos, and Ask Jeeves once dominated the internet landscape as we knew it. Our infographic from earlier this year balances the technological pace of change with nostalgia, to show how the web has changed over recent decades.
17. Where the World's Banks Make the Most Money
In 2018, the global banking industry raked in $1.3 trillion in after-tax profit.
In this infographic, we looked at where the money is in banking — as well as the upcoming geographic regions and segments that will fuel the future of banking.
16. A History of Revolution in U.S. Taxation
The American Revolution was born out of colonial dissent towards unfair taxation policies.
For this reason, it's no surprise that the evolution of U.S. taxation itself has been inextricably linked to contentious debate and even moments of rebellion. Our infographic on the history of U.S. taxation helps paint a picture of this story.
15. The History of Esports
Esports is already filling stadiums — and soon it could be lining investors' pockets as well.
Our recent infographic breaks down the history of this soon-to-be multi-billion dollar industry, while also showing you the five factors that will determine the pace of future growth in esports.
14. The Game of Life: Visualizing China's Social Credit System
Imagine a world where over a billion citizens are scored on how "good" they are, based on a set of criteria put forward by the government.
What could possibly go wrong?
13. Visualizing Corruption Around the World
Which countries are the most corrupt?
This colorful map breaks down the Corruptions Perception Index — an attempted measure of the perceived level of public sector corruption in over 180 countries.
12. The Race to Invest in the Space Economy
For decades, the space economy has been driven solely by government spending.
Of course, the government still plays an important role in the sector today, but the final frontier is also seemingly open for private business and sustained investment. In the near future, space tourism, resource extraction, and other segments could make space a trillion dollar industry.
11. Mapped: The World's Biggest Oil Discoveries Since 1868
Historically, oil and gas discoveries have been an unparalleled source of wealth for many countries around the world.
This recent post maps out the biggest oil discoveries ever made, while also highlighting the flipside to the story: in a global economy where dependency on fossil fuels is expected to diminish, is any new discovery a blessing or a curse?
10. Walmart Nation: Mapping America's Biggest Employers
Which company or organization is the largest employer in every state?
This animated map focuses in on employment statistics — but really, it gives perspective of the dominance of Walmart, the nation's largest brick-and-mortar retailer and private employer.
9. Mapped: The Countries With the Highest Housing Bubble Risks
This series of maps highlights several metrics that are used to evaluate housing markets, including the price-to-rent ratio, price-to-income ratio, real house prices, and credit to households as a percentage of GDP.
See which countries have ratios out of whack, and what it could mean for housing markets.
8. All of the World's Carbon Emissions in One Chart
Only 15 countries account for over 72.2% of global carbon emissions.
See it all visualized — and also see the percentage of fossil fuel emissions that have occurred in your lifetime.
7. Visualizing the Happiest Country on Every Continent
This series of maps provides a look at each individual continent, to identify the happiest (and unhappiest) country in each region.
6. 70 Years of China's Economic Growth In One Chart
It's been 70 years since the founding of the People's Republic of China.
This nifty graphic timeline contains an impressive amount of history and facts about the country's prolific rise and economic growth.
5. The Most Hyped Technology of Every Year From 2000-2018
It's not always easy to tell which new technologies will pan out, and which will fail to live up to society's expectations.
But hindsight is 20/20 — so in this graphic, we look back at almost 20 years of Gartner's hype cycle of emerging technologies, to see what amounted from many of the technological breakthroughs that have gained traction over the years.
4. Ranking the Top 100 Websites in the World
In this spectacular data visualization, we resize the world's top 100 websites according to the amount of traffic they receive.
The end result provides a fascinating snapshot of global web traffic, and the impressive scale of the internet.
3. The Entire History of Tesla in 5 Minutes
What is the origin story behind Tesla, and how did it end up becoming the innovative car company it is today?
We condense the history of Tesla into about five minutes, while also providing an outline of the future vision of Elon Musk.
2. $69 Trillion of World Debt in One Infographic
Did you know that government debt now adds up to $69 trillion globally?
The latest version of our famous world debt graphic breaks down the debt owed by each country as a proportion of world debt, as well as debt to GDP ratios.
1. How Tech Giants Make Their Billions
Tech giants are finding ways to play bigger roles in our digital lives, whether it's through computers, smartphones, smart devices, or apps.
As names like Facebook, Amazon, and Google have become even more ubiquitous, they've also leveraged network effects, scale, and winner-take-most marketplaces to build up powerful businesses as well.
Our #1 pick of 2019 showcases the Big Five Tech Giants and their various revenue streams – which, when combined together, add up to over $802 billion per year.
Viewer's Choice: The Largest Economies in 2030
Finally, it's time for our "Viewer's Choice" award.
We polled our VC+ members last week to get a tally for which visualization this year was their favorite, with this video on the largest projected economies in 2030 taking the cake.
Until next time, have a fantastic holiday season and a happy new year!
Our Top 21 Visualizations of 2021
In this eighth edition of our yearly round-up, we highlight visualizations that broke new ground in design and data-driven reporting.
Another tumultuous year is coming to a close. While volatility can be stressful at times, it does provide fertile ground for the Visual Capitalist team to explain what's happening using a mix of art, data, and storytelling.
In this eighth edition of our yearly round-up, we've curated a small selection of our most noteworthy work. Visualizations are highlighted because they reached a wide audience, sparked lively conversations, or broke new ground in design and data-driven reporting.
Let's dive in to our countdown of the top 21 visualizations of 2021.
Editor's note: Click on any preview below to see the full-sized version of a visualization.
#21
The World Leaders In Positions of Power (1970-Today)
Who were the world leaders when the Berlin Wall fell? How many women have been heads of state in prominent governments? And who are the newest additions to the list of world leaders?
The world's superpowers have had a myriad of leaders over the years, but at the same time, it's clear that some leaders have been able to stay in power longer than others.
For example, since 1970, Japan has had 25 different heads of state, while the U.A.E has had only two in the same period.
#20
Ranked: The World's Fastest Growing Cities
Urbanization is one of the megatrends shaping the future of the global economy. With the world's population expected to exceed 8 billion in the next 12 months or so, many cities, especially in Africa and Asia, are still growing rapidly.
This visualization looks at the 20 fastest-growing cities worldwide based on population growth.
#19
Visualized: Comparing the Titanic to a Modern Cruise Ship
It's been over 100 years since the sinking of the Titanic, but its tragic story continues to live on.
In this infographic, we compare the famous ship with Royal Caribbean's Symphony of the Seas, which is currently the world's largest cruise ship.
#18
The 50 Richest Women in the World in 2021
From L'Oréal S.A's Francoise Bettencourt Meyers and family (#1) to MacKenzie Scott (#3), we look at the fortunes of the wealthiest women, and where they are from.
Using data from Forbes in early January, we found that 17 of the richest women were from America, followed by 12 from China, and three from France.
As was the case with Bettencourt Meyers, many of the women on this list derived their wealth from a family business or inheritance.
For example, the richest woman in China, Yang Huiyan (#5) controls a 57% stake in a real estate development company founded by her father. Alice Walton (#2) is part of the Walton family of Walmart fame—the richest family in the world, while Australia's Gina Reinhart (#13) helped turn around her father's fledgling iron ore company.
#17
Razor Thin: A New Perspective on Earth's Atmosphere
The Earth's atmosphere extends 6,200 miles (10,000 km) past its surface, but less than one percent of that is habitable.
Inspired by Andrew Winter, this visual compares the Earth's atmosphere to the size of the state of Florida, illustrating how razor thin the "habitable zone" truly is.
As one example, Mount Everest stretches past this habitable region all the way up to the "death zone", which often requires humans to use bottled oxygen for survival.
#16
Map Explainer: Key Facts About Afghanistan
As the situation in Afghanistan grew more tense in the summer of 2021, people were looking for ways to understand what was happening in that part of the world.
While Afghanistan is oft-covered in headlines and news stories, the lion's share of this coverage is directly related to the decades of conflict that have occurred in the region. In this map explainer, we step back and examine Afghanistan from a structural point of view, taking a closer look at the geographic and population patterns that define the country.
#15
The 50 Most Visited Websites in the World
Over 2 trillion annual search queries drive Google's web traffic. It comes as no surprise that the search engine is the most visited website worldwide, with 92.5 billion monthly visitors.
But the big question is how does the rest of the internet compare?
In this piece, we looked at how social networks, search engines, and news sites dominate the internet, and how the pandemic has shifted web traffic patterns—from Zoom to Twitch.
#14
Timeline: 150 Years of U.S. National Debt
The U.S. has a lot of debt—$29 trillion as of Dec. 28, 2021. That's well over 100% of annual GDP, a level not seen since World War II.
The national debt quickly shrank after the war, but circumstances this time around are different. The COVID-19 pandemic is dragging on longer than most would have predicted, and the federal government is content with running massive deficits year over year.
Get the full history of U.S. debt (as well as predictions to 2050) in this interactive timeline.
#13
All the Biomass of Earth, in One Graphic
The human species' contribution to the total weight of living things on Earth is approximately 0.01%. Within the animal kingdom, we are outweighed by other animal groups such as arthropods (insects), fishes, mollusks, and livestock, to name a few.
Compared to the global biosphere, humans and the animal kingdom are greatly overshadowed by fungi and microbial organisms (bacteria, protists, and archaea). And by mass, plants are by far the most dominant lifeform on our planet.
#12
Mapped: Countries by Alcohol Consumption Per Capita
Alcohol might be one of the oldest and most frequently used recreational substances in the world, but examining countries by alcohol consumption shows that usage is not equal.
This unique interactive visualization breaks down per capita alcohol consumption into categories like beer, wine, or spirits, and then regenerates the map based on each country's total.
#11
Most Common Language in U.S. States (Excl. English or Spanish)
We typically operate under the assumption that Americans largely speak either English or Spanish. But the truth is, this culturally diverse country is home to a whole plethora of languages— more than you might expect.
In this map, we explore the most common language apart from English and Spanish that is spoken in every U.S state. From Mandarin and Cantonese being popular languages spoken across the country to Indigenous languages making a steady comeback, you'll learn something from this visualization.
#10
Tesla's R&D and Marketing Per Car vs. Other Automakers
Tesla was the world's fastest growing brand in 2021, despite spending $0 on conventional advertising. On average, traditional automakers spend about $495 on advertising per vehicle sold. Tesla, on the other hand, invests heavily in research and development, allowing for innovation and the development of cutting-edge technologies.
This chart compares Tesla's spending on marketing and R&D compares to giant automakers like Ford, Toyota, and General Motors.
#9 and #8
World's Richest Person: Elon Musk & Bernard Arnault
Since 2017, Jeff Bezos has been a fixture at the top of the global wealth leaderboard, but the first week of January in 2021 marked a change.
For the first time ever, Elon Musk took the top spot on the billionaire list after seeing Tesla's stock skyrocket 1,030% since the beginning of the pandemic.
However, this lead would not hold for long…
In May 2021, French billionaire Bernard Arnault briefly became the world's richest person with a net worth surpassing $186 billion. At this point in time, Arnault's fortune (largely tied to luxury conglomerate LVMH) had seen a staggering 145% increase since the beginning of the pandemic.
However, the luxury titan's lead over global billionaire rankings was short-lived, as Amazon stock would tick up just hours later, catapulting Bezos back on top of the leaderboard.
A seemingly more permanent shift would happen later in the year: as of time of publishing, Elon Musk is the world's richest person with a commanding lead of almost $80 billion over Jeff Bezos.
#7
Visualizing Countries by Share of Earth's Surface
We're used to seeing Earth in map form, but the continents and oceans as they're currently arranged make it difficult to gauge how much land and ocean there actually is on the planet's surface. Further complicating matters is the fact that distortions in common maps can skew our perceptions of how big certain countries are in relation to one another.
This visualization simplifies the world into a donut chart, so we can see the components of the Earth's surface in a more manageable format.
#6
The Richest People in the World in 2021
Who is the richest person in 2021?
That's a tough question, because this year was a dynamic one at the top of the leaderboard of the world's wealthiest. As noted above, Elon Musk, Bernard Arnault, and Jeff Bezos have all held the top spot at various points in time.
The above graphic, updated in November 2021, gives the most recent data on the topic. This includes highlighting newcomer Sam Bankman-Fried, founder of crypto derivatives trading company FTX, who is now the richest person in crypto, and one of the youngest billionaires globally at 29 years old.
#5
The Crazy World of Stonks Explained
At the end of January this year, electronic retail company Gamestop went on a wild roller coaster ride, seeing its share price rise by roughly 640% in just a few days.
The story involves frenzied posts on the Reddit community r/wallstreetbets, stock prices rising "to the moon", an epic short squeeze, hedge funds almost going bust, stock halts, and much more.
We highlight the crazy world of stonks in this graphic, showing that the rise of information sharing related to stock trading over the past year has undoubtedly changed how financial markets will be traded forever.
#4
Ranked: The Top 10 EV Battery Manufacturers
"In an electric future, batteries are as essential to transport as oil is today," tweeted Tesla founder Elon Musk when he saw this graphic about the top 10 EV battery manufacturers.
With an increasing interest in electric cars, the battery market is now a $27 billion per year business that could grow to $127 billion by 2027 as the world moves away from fossil fuels. This graphic breaks down the growing industry, totally dominated by Asian companies.
#3
All the Metals We Mined in One Visualization
The world's material appetite is growing with its population, and metals are an important part of it. While some metals are essential for infrastructure, others help power our phones and computers.
This chart shows the 3 billion tonnes of metals mined annually on a relative scale.
#2
The 20 Fastest Growing Jobs in the Next Decade
The employment landscape is constantly shifting. Some industries spring up seemingly out of nowhere, and new roles are created to help fuel the disruption. On the flip side, relentless automation and economic factors can result in widespread job cuts as factories close and roles are rendered obsolete.
This visualization looks at the fastest growing jobs from 2020 to 2030, as predicted by the U.S. Bureau of Labor Statistics.
#1
Visualizing the $94 Trillion World Economy in One Chart
What did the global economy look like in year two of the pandemic?
With a nominal GDP of $22.9 trillion, the U.S. made up roughly a quarter of global output based on estimates from the IMF. Following the U.S. is China, at $16.9 trillion and Japan at $5.4 trillion.
This Voronoi-style visualization, which has received millions of views on Visual Capitalist in the last couple of weeks, breaks down the global economy in a way that is digestible for anyone.
—
With 2021 now a wrap, what's in store for 2022? Join us as we dive into our 2022 Global Forecast, your cheat sheet for the coming year.
Visual Capitalist's Top 20 Visualizations of 2020
In a complex world, the combined forces of data and visual communication take on new importance. See our top 20 visualizations for 2020.
What can be said about 2020 that hasn't already been said? Simply put, it was a wild ride. Not only did these past few months provide a multitude of topics for us to dig into, our growing team produced far more original work than ever before.
This is now the seventh edition of our yearly round-up. One noteworthy change is in the name. It's no longer the "Top Infographics", which reflects a broader shift to different styles of visual communication. We live in a complex, volatile, multi-screen world, and our visualizations are becoming more nimble to keep up this fast pace.
Below is a selection of our most noteworthy work. Some pieces have been selected because of their wide reach, while others broke new ground in design and data-driven reporting. For the top picks, members of our team will provide some commentary on the concept and context.
Let's dive in to our list of the top visualizations of 2020.

Editor's note: Click on any preview below to see the full-sized version of a visualization.
---
Visual Capitalist's Top 20 Visualizations of 2020
#20
The Soaring Value of Intangible Assets in the S&P 500
The ascent of tech firms since the 1990s has brought about a massive change in the asset mix of publicly-traded companies, with the share of intangibles currently at unprecedented levels. This infographic charts the growth of intangible assets in the S&P 500 over time, providing a glimpse at how prevalent technology has become in our lives.
#19
Tech's Bizarre Beginnings & Lucrative Pivots
Imagine Samsung trading dehydrated fish and Nokia selling rubber boots. It's bizarre, but that's exactly how some tech giants started their journey. In this infographic, we show the unusual beginnings of recognizable tech brands and the pivots that helped earn their success.
#18
Charting the $1.7B Transfer of Military Equipment to Police Departments
From office supplies and thermal underwear to mine-resistant vehicles and helicopters, a plethora of outdated military equipment has been transferred to police forces through the 1033 program. This visualization tracks the flow of $1.7B worth of military equipment to law enforcement over the past decade at the state and department levels.
#17
Visualizing the Footprint of Highways in American Cities
Highways not only enabled a new era of connectivity, but also utterly changed the course of development in American cities. These animations show how highways reshaped the downtown cores of six American cities and provide background on the interstate highway system.
#16
How Many People Die Each Day?
COVID-19's daily death toll numbers have taken center stage in the media, with recent December numbers in the neighborhood of 10,000 to 15,000 deaths per day globally. But without any frame of reference, these numbers can be hard to put into perspective.
Which diseases are the most deadly, and how many lives do they take per day? This infographic visualizes average daily deaths by cause and country, showing how many lives are claimed by various diseases and instances on a daily basis.
#15
Visualizing the Countries Most Reliant on Tourism
Looking at which countries were most reliant on tourism was especially important in a year where travel changed dramatically. This chart breaks down the countries with travel and tourism sectors that make up more than 15% of national employment.
#14
Prediction Consensus: What the Experts See Coming in 2020
There was no lack of predictions from pundits and prognosticators as we approached the beginning of a new decade. As 2019 drew to a close, we compiled hundreds of predictions to get a broader sense of what the experts saw coming in the year ahead. (Spoiler alert: Nobody had global pandemic on their bingo card.)
#13
How COVID-19 Has Impacted Media Consumption, by Generation
COVID-19 changed a lot of things about daily life, but how did it impact the way we consume media? This graphic looks at the trends in media usage by generation and the type of media being consumed. Overall, Gen Z, Millennials, Gen X, and Boomers all increased their time looking at media in 2020.
#12
Mind-Bending Medicine: An Overview of Psychedelic Substances
With the growing awareness around mental health, the use of psychedelic substances for treating mental health disorders is becoming less speculative and more mainstream. This infographic is an eye-opening overview of seven of the most common psychedelic substances and examines the mind-bending ways in which they could transform mental health.
#11
Making Billions: The Richest People in the World
This graphic from September reveals the world's richest people across multiple categories. Peruse this graphic to see some familiar faces like Mark Zuckerberg, some of China's richest people, like Jack Ma, and, of course, the world's richest man, Jeff Bezos.
#10
The Race to Save Lives: Comparing Vaccine Development Timelines
This in-depth visualization showed us the historical rate of development for the world's vaccines. Understanding how the development process works was more important this year than usual as many people had questions about COVID-19 vaccines in the pipeline.
#9
Zooming In: Visualizing the Relative Size of Particles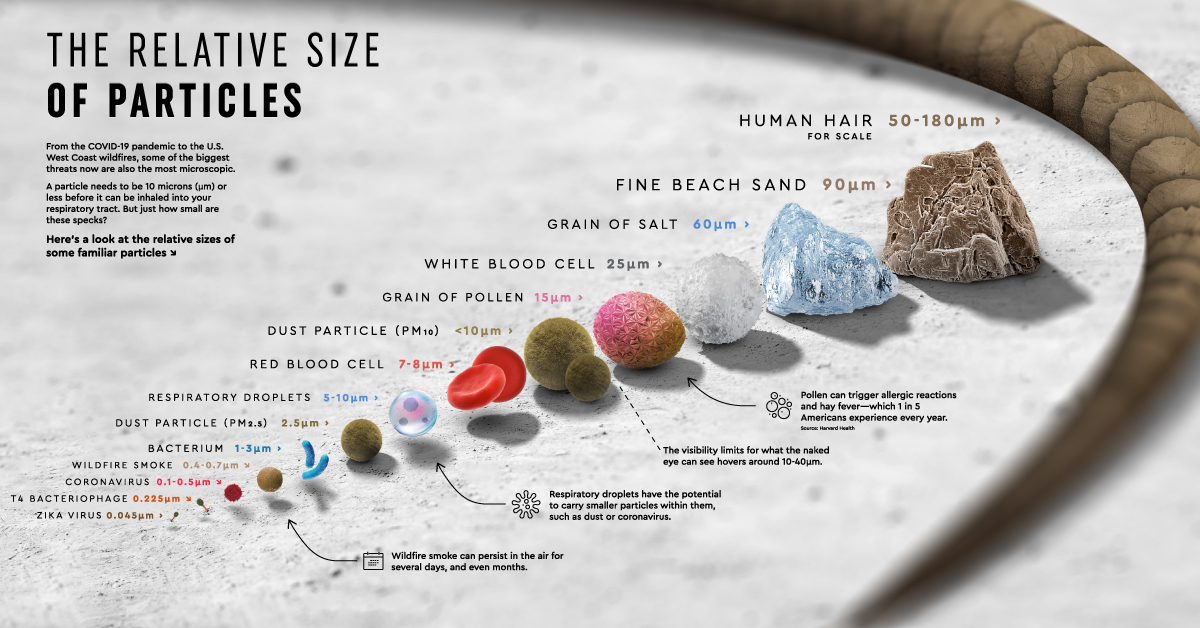 The coronavirus has made us well aware of the impact microscopic things can have on our lives. From virus particles and wildfire smoke to a grain of salt and fine beach sand, this infographic zooms in to visualize the relative size of particles that are often smaller than the eye can see.
#8
Visualizing the Length of the Fine Print, for 14 Popular Apps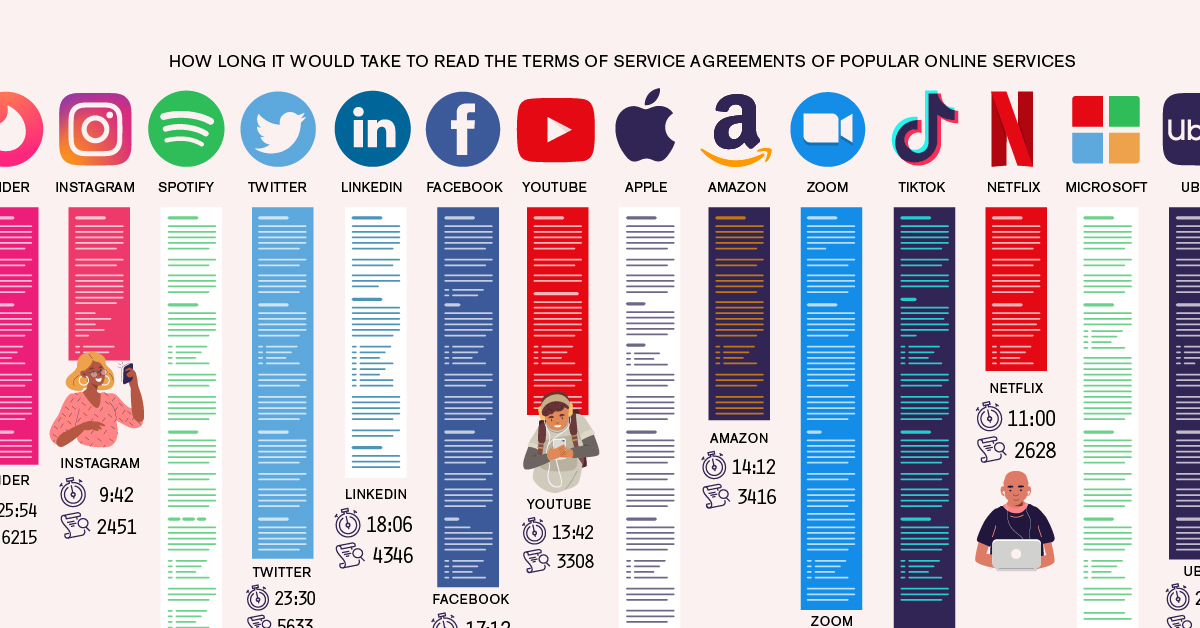 In a year with more people relying on technology than ever, how many of us truly know what we sign up for?
This infographic–which was inspired by an art exhibition by Dima Yarovinsky–revealed just how lengthy and arduous terms of service agreements are for some of the most popular apps, and how long it would take to read them.
#7
U.S. Dollar Performance After U.S. Elections
A turbulent election year for the U.S. meant many were examining the potential of the election on markets—both before and after November. Our recent look at U.S. dollar performance after U.S. elections took a closer look at the influence elections really have on the market.
#6
Visualizing the Expanse of the ETF Universe
Since the establishment of the first U.S. exchange-traded fund (ETF) in 1993, ETFs have gained traction as a convenient way of investing in multiple stocks. In terms of assets under management, the ETF universe is almost five times what it was just a decade ago.
In this visualization, we show the expanse of the $5.75 trillion ETF universe that covers almost every investing niche.
#5
The Economics of Coffee in One Chart
Words by Omri Wallach
If you've purchased even one cup of coffee this year from a nearby café, you've participated in the $200+ billion global coffee supply chain. Yet few of us understand the amazing journey coffee makes from beans to cup, nor the costs associated with them (and who profits).
This infographic breaks down the costs incurred by retail coffee production for one 16 oz (475ml) cup of brewed coffee. From growing and processing beans to a massive export and roasting market, it reveals the underlying costs that factor into every cup of coffee you consume.
#4
The Math Behind Social Distancing
Words by Nick Routley
Along with zoom and flatten the curve, the term social distancing entered our collective lexicon. While the benefits of avoiding extraneous human contact during a pandemic can be easily understood at the individual level, the downstream effects are harder to understand.
Our goal with this graphic—which was published just two weeks after the pandemic was declared—was to provide an impactful example of how a reduction in social exposure would theoretically contain the spread of infection. And time was of the essence. Previous research had shown that the sooner distancing measures were put in place, the more effective they were at curbing local outbreaks.
#3
The Front Line: Visualizing the Occupations with the Highest COVID-19 Risk
Words by Nick Routley
After the shock of the pandemic wore off, people began to ask more practical questions about how it would impact their day-to-day life. One of those questions was: will my job put me at risk for contracting coronavirus?
We looked to answer that complicated question by digging into the U.S. Department of Labor's massive O*Net database, which has classified nearly every type of occupation based on a number of attributes. We selected specific attributes and gave each job a score, making it easy for people to evaluate occupational risk in their own life.
There were a number of ways the information could be charted, but in the end we decided to plot risk against annual income.
#2
50 Years of Gaming History, by Revenue Stream
Words by Omri Wallach
The COVID-19 pandemic hit many sectors hard, but gaming was not one of them. The market continued growing its ever-rising tsunami of revenue, new consoles were launched, and tech giants entered the playing field to try their hands at capturing the cloud streaming market.
But how did 2020's estimated $165 billion gaming market come to be? This historical timeline examines the rise of gaming revenue from the arcade boom to the console and PC invasion, culminating in the rapid rise of mobile gaming. Considering revenues have been adjusted for inflation, it clearly demonstrates the upwards momentum of media's biggest earning sector.
#1
Visualizing the History of Pandemics
Words by Nicholas LePan
In 2020, the COVID-19 virus swept the world and forced nations to shutter their economies to protect their citizens. However unique this virus is to our current time, the world has faced pandemics before, so Visual Capitalist looked to the past.
The History of Pandemics infographic compared the death toll from the COVID-19 virus to other historic pandemics all the way back to Roman times. However, as time revealed the growing impact of the COVID-19, this infographic was updated to tally the growing death toll.
We are still in the midst of this pandemic and the final impact is still uncertain. But undoubtedly, COVD-19 defined 2020 and will continue to do so in 2021 and beyond.
---
Thanks for visiting our top visualizations of 2020 round-up. From our entire team at Visual Capitalist, we wish you a prosperous and safe 2021!
Previous Years:
See previous round-ups of top visualizations here: 2019, 2018, 2017, 2016, 2015