The Narwhal Club: Home to Canada's $1 Billion Dollar Tech Startups
The Narwhal Club: Home to Canada's $1 Billion Dollar Tech Startups
Created by Garibaldi Capital Advisors and Visual Capitalist
October 2015 Update:
The Narwhal Club is going strong with plenty of recent news concerning prominent Canadian startups. Working with Brent Holliday from Garibaldi Capital Advisors, we got the latest scoop on the sector and have updated the narwhal list accordingly.
The most recent notable event occurred in the summer of 2015, when Markus Frind sold his 100% owned Plentyoffish.com to Match Group for US$575 million. As a result, we have removed POF from the Narwhal list, and instead have inducted Markus to a new category called the Nar-Wall of Fame. Plentyoffish.com allowed Markus to amass a personal fortune from profits and sale of his business that makes his personal valuation Narwhal-esque.
Next, with its recent raise of $50 million from China's Tencent, a new narwhal was born. Kik Interactive is now valued at over the coveted $1 billion mark, and claims to have over 240 million users in 230 countries worldwide. Kik is a chatting application that competes directly with the likes of Snapchat among younger demographics.
Lastly, three new "emerging narwhals" have been added to the list. Enerkem uses proprietary technology to convert non-recyclable waste into clean energy products, and most recently raised C$152.6 million from financings. Intelex, a software company providing web-based management systems, is also now on the emerging list after securing C$160 in strategic growth funding. The third new entry is Lightspeed POS, a company that just raised US$61 million in September for its point-of-sales systems.
The Narwhal Club
Original writeup published December 2014
In 2013, Aileen Lee of Kleiner Perkins Caufield & Byers came up with the concept of the "Unicorn Club", for tech startups reaching valuations of $1 billion or more. For venture capitalists, this number is much like unicorns themselves – very magical. It resembles big potential exits that can make up for all the startup investments that don't pan out.
Brent Holliday at Garibaldi Capital Advisors, a Vancouver-based capital advisory with a focus on technology, thought there needed to be a Canadian equivalent. He created the concept of the "Narwhal Club", based on the uni-horned Canadian animal that actually exists and roams the frigid seas of the North. This club represents companies with $1B CAD valuations that started in 1999 or later.
While there are more than 40 unicorns in existence in the US, there are only four members of the Narwhal Club in Canada: Avigilon, Hootsuite, Slack, and Shopify. However, there are many companies getting close to breaking the ice – these are companies we consider to be emerging narwhals, with valuations in the hundreds of millions with great growth rates.
Some of these include Desire2Learn, Vision Critical, Redknee, Real Matters, iQmetrix, PointClickCare, BuildDirect, DWave, and Wattpad.
We will be updating this list quarterly based on the latest public financing round available. If you know of a company that could fit either category, contact us here. Alternatively, connect with us below.
Who Owns the Most Satellites?
Despite Starlink's dominance in the industry, the company is set to face intense competition in the coming years.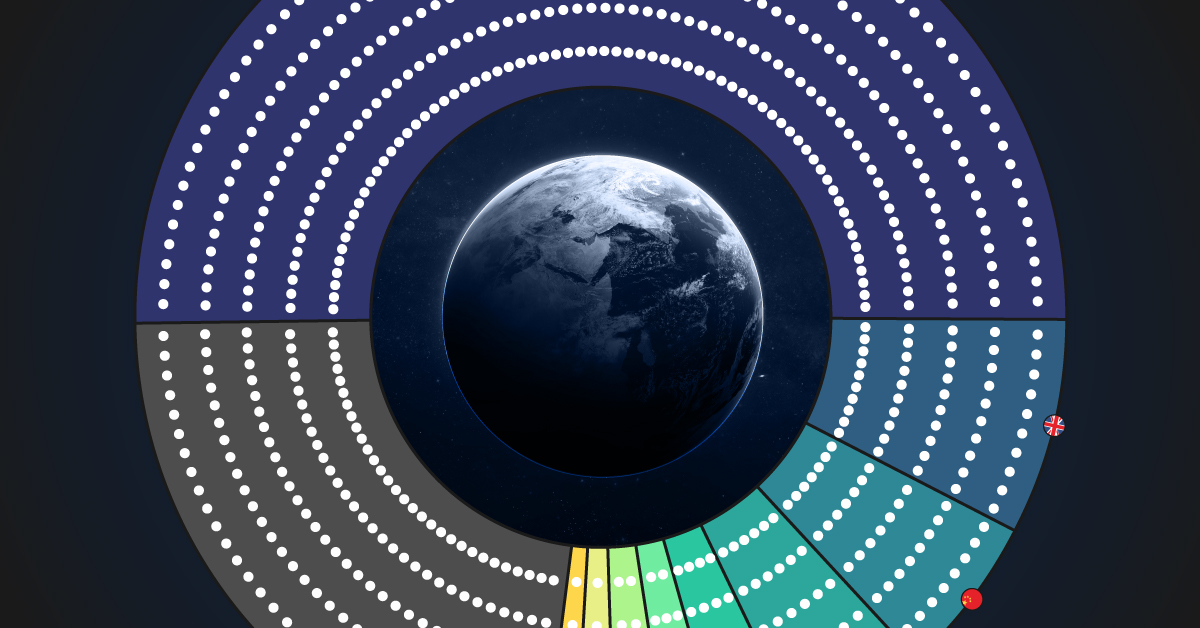 Who Owns the Most Satellites?
Nearly 7,000 satellites orbit the Earth, serving vital functions such as communication, navigation, and scientific research.
In 2022 alone, more than 150 launches took place, sending new instruments into space, with many more expected over the next decade.
But who owns these objects? In this graphic, we utilize data from the Union of Concerned Scientists to highlight the leaders in satellite technology.
SpaceX's Dominance in Space
SpaceX, led by Elon Musk, is unquestionably the industry leader, currently operating the largest fleet of satellites in orbit—about 50% of the global total.
The company has already completed 62 missions this year, surpassing any other company or nation, and operates thousands of internet-beaming Starlink spacecraft that provide global internet connectivity.
Starlink customers receive a small satellite dish that self-orients itself to align with Starlink's low-Earth-orbit satellites.
| Owner | Total | Share | Country |
| --- | --- | --- | --- |
| SpaceX | 3,395 | 50% | USA |
| OneWeb Satellites | 502 | 7% | UK |
| Chinese Government | 369 | 5% | China |
| U.S. Government | 306 | 4% | USA |
| Planet Labs, Inc. | 195 | 3% | USA |
| Russian Federation | 137 | 2% | Russia |
| Spire Global Inc. | 127 | 2% | USA |
| Swarm Technologies | 84 | 1% | USA |
| Iridium Communications, Inc. | 75 | 1% | USA |
| Other | 1,528 | 23% | |
Percentages may not add to 100 due to rounding

.
In second place is a lesser-known company, British OneWeb Satellites. The company, headquartered in London, counts the UK government among its investors and provides high-speed internet services to governments, businesses, and communities.
Like many other satellite operators, OneWeb relies on SpaceX to launch its satellites.
Despite Starlink's dominance in the industry, the company is set to face intense competition in the coming years. Amazon's Project Kuiper plans to deploy 3,236 satellites by 2029 to compete with SpaceX's network. The first of the fleet could launch as early as 2024.
The Rise of China's Space Program
After the top private companies, governments also own a significant portion of satellites orbiting the Earth. The U.S. remains the leader in total satellites, when adding those owned by both companies and government agencies together.
American expenditures on space programs reached $62 billion in 2022, five times more than the second one, China.
China, however, has sped up its space program over the last 20 years and currently has the highest number of satellites in orbit belonging directly to government agencies. Most of these are used for Earth observation, communications, defense, and technology development.
Satellite Demand to Rise Over the Decade
Despite the internet being taken for granted in major metropolitan areas and developed countries, one out of every three people worldwide has never used the web.
Furthermore, the increasing demand for data and the emergence of new, more cost-effective satellite technologies are expected to present significant opportunities for private space companies.
In this context, satellite demand is projected to quadruple over the next decade.