How Much Government Debt Rests Upon Your Shoulders?
How Much Government Debt Rests Upon Your Shoulders?
With the U.S. National Debt closing in on the $20 trillion mark, there has been a lot of conversation in Washington about debt and its role in government.
And most of that conversation right now revolves around President-elect Donald Trump.
On one hand, the Trump campaign had early rhetoric in the Presidential campaign that the elimination of the deficit and existing government debt would be paramount if elected. The Trump administration has also been highly critical of the Federal Reserve, saying that the Fed's policies create a "false economy". As a result, some see Trump embracing the unique opportunity to put his stamp on how the Federal Reserve does business in early 2017.
On the other hand, even many conservative think tanks are concerned about what Trump policies mean for government debt. Rebuilding infrastructure is not cheap, and widely-cited estimates see the national debt increasing by anywhere from $5.3 trillion to $11.5 trillion over the next 10 years.
How Much Government Debt is On You?
While giant numbers like $20 trillion sound abstract and meaningless, converting them to debt-per-capita can make things more intuitive. The per-capita amount shows the amount of debt that exists per citizen, and makes things plain and simple.
Today's infographic from HowMuch.net, a cost information site, shows government debt-per-capita in every country in the world, including the United States.
Here are the countries where people owe the most debt per person:
Japan: $85,694.87 per person
Ireland: $67,147.59 per person
Singapore: $56,112.75 per person
Belgium: $44,202.75 per person
United States: $42,503.98 per person
Canada: $42,142.61 per person
Italy: $40,461.11 per person
Iceland: $39,731.65 per person
Australia: $38,769.98 per person
United Kingdom: $36,206.11 per person
Of course, debt-per-capita isn't the only lens to view government debt.
We've previously shown global debt by percentage per country, government debt compared to tax revenues, accumulated debt compared to markets and the money supply, and a map scaled to debt-to-GDP ratios.
Ranked: Share of Global Arms Exports in 2022
The U.S. is the biggest weapons exporter in the world, but which other countries take up a significant share of global arms exports in 2022? And how has that share changed over time?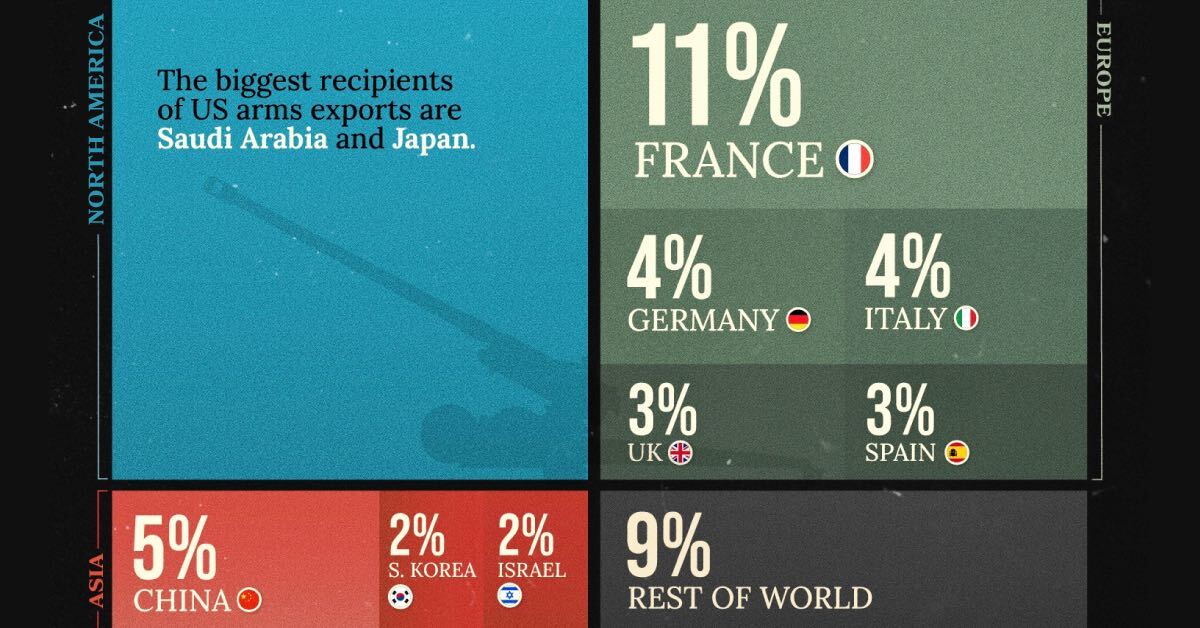 Ranked: Share of Global Arms Exports 2018–2022
In 2022, global military budgets hit $2.2 trillion, an eighth consecutive year of increase.
Part of those budgets were used for the procurement of arms, but which countries are major weapons suppliers, and how do they influence the global arms trade?
We chart out the top 10 countries with the biggest share of global arms exports using data from the Stockholm International Peace Research Institute (SIPRI).
Which Country Exports the Most Weapons?
The U.S. is the biggest weapons exporter, accounting for 40% of the total volume of international arms transfers between 2018–2022. Nearly one-fifth of these exports headed to Saudi Arabia, and other significant amounts went to Japan (8.6%) and Australia (8.4%).
Below we rank the biggest weapons exporters by share of total volume traded in 2018–2022, as well as their growth or decline from trends recorded in 2013–2017.
Rank
Country
% share of global arms exports
(2018-2022)
% change between
2013-17 & 2018-22
1
🇺🇸 U.S.
40%
+14%
2
🇷🇺 Russia
16%
-31%
3
🇫🇷 France
11%
+44%
4
🇨🇳 China
5%
-23%
5
🇩🇪 Germany
4%
-35%
6
🇮🇹 Italy
4%
+45%
7
🇬🇧 UK
3%
-35%
8
🇪🇸 Spain
3%
-4%
9
🇰🇷 South Korea
2%
+74%
10
🇮🇱 Israel
2%
-15%
N/A
🌐 Rest of World
9%
N/A
Russia (16%) and France (11%) rank close together, followed by China (5%) and Germany (4%) to round out the top five major arms exporters.
However France's export volumes grown considerably (+44%) from the previous five-year period, thanks to big sales to India, which included 62 combat aircraft and four submarines, one-third of all French weapons trade. This has resulted in France leapfrogging the U.S. as India's second-largest weapons supplier after Russia.
On the other hand, Russia's exports by volume has decreased (-31%) even before sanctions kicked in after the invasion of Ukraine. Its biggest trade partners, India and China, have prioritized developing their own weapons industries.
South Korea's Surging Weapons Exports
Another country whose arms sales are skyrocketing is South Korea, which ranks 9th in the overall share of global arms exports, but has seen a 74% increase in its export volumes. Key recipients include the Philippines, India, and Thailand.
South Korean president Yoon Suk Yeol has pledged to grow his country into the world's fourth largest arms exporter by 2027.
Interestingly, South Korea is one of three countries which is both a top-10 arms exporter and importer (along with China and the U.S.) as it has many takers for domestically produced military equipment, while simultaneously being reliant on American-produced long-range missiles and advanced combat aircraft.