The Most Valuable Companies of All-Time
Chart: The Most Valuable Companies of All-Time
The Chart of the Week is a weekly Visual Capitalist feature on Fridays.
Before speculative bubbles could form around Dotcom companies (late-1990s) or housing prices (mid-2000s), some of the first financial bubbles formed from the prospect of trading with faraway lands.
Looking back, it's pretty easy to see why.
Companies like the Dutch East India Company (known in Dutch as the VOC, or Verenigde Oost-Indische Compagnie) were granted monopolies on trade, and they engaged in daring voyages to mysterious and foreign places. They could acquire exotic goods, establish colonies, create military forces, and even initiate wars or conflicts around the world.
Of course, the very nature of these risky ventures made getting any accurate indication of intrinsic value nearly impossible, which meant there were no real benchmarks for what companies like this should be worth.
Speculative Peak
The Dutch East India Company was established as a charter company in 1602, when it was granted a 21-year monopoly by the Dutch government for the spice trade in Asia. The company would eventually send over one million voyagers to Asia, which is more than the rest of Europe combined.
However, despite its 200-year run as Europe's foremost trading juggernaut – the speculative peak of the company's prospects coincided with Tulip Mania in Holland in 1637.
Widely considered the world's first financial bubble, the history of Tulip Mania is a fantastic story in itself. During this frothy time, the Dutch East India Company was worth 78 million Dutch guilders, which translates to a whopping $7.9 trillion in modern dollars.
This is according to sources such as Alex Planes from The Motley Fool, who has conducted extensive research on the history of very large companies in history.
Modern Comparisons
The peak value of the Dutch East India Company was so high, that it puts modern economies to shame.
In fact, at its height, the Dutch East India Company was worth roughly the same amount as the GDPs of modern-day Japan ($4.8T) and Germany ($3.4T) added together.
Even further, in today's chart, we added the market caps of 20 of the world's largest companies, such as Apple, Microsoft, Amazon, ExxonMobil, Berkshire Hathaway, Tencent, and Wells Fargo. All of them combined gets us to $7.9 trillion.
At the same time, the world's most valuable company (Apple) only makes it to 11% of the peak value of the Dutch East India Company by itself.
Historic Heavyweights
Despite the speculation that fueled the run-up of Dutch East India Company shares, the company was still successful in real terms. At one point, it even had 70,000 employees – a massive accomplishment for a company born over 400 years ago.
The same thing can't be said for the other two most valuable companies in history – both of which were the subject of simultaneous bubbles occurring in France and Britain that popped in 1720.
In France, the wealth of Louisiana was exaggerated in a marketing scheme for the newly formed Mississippi Company, and its value temporarily soared to the equivalent of $6.5 trillion today. Meanwhile, a joint-stock company in Britain, known as the South Sea Company, was granted a monopoly to trade with South America. It was eventually worth $4.3 trillion in modern currency.
Interestingly, both would barely engage in any actual trade with the Americas.
The other historic heavyweights included in our chart?
Saudi Aramco, at $4.1 trillion, based on calculations by University of Texas finance professor Sheridan Titman in 2010, and adjusted for inflation.
PetroChina surpassed $1 trillion in market cap in 2007. Adjusted for inflation that's $1.4 trillion today.
Standard Oil, before its famous breakup due to monopolistic reasons, was worth at least $1 trillion. Adjusted for inflation it would likely be more, but we kept this conservative.
Microsoft reached its peak valuation in 1999, at the top of the Dotcom Bubble. Today, that would be equal to $912 billion.

5 Big Picture Trends Being Accelerated by the Pandemic
In some cases, COVID-19 has sped up societal and economic trends that were already in motion. Here we examine five examples.
As every email introduction has reminded us in 2020, we're living in "unprecedented times".
No doubt, even after a viable vaccine is released to the general public and things begin to return to some semblance of normalcy, there will be long lasting effects on society and the economy. It's been said that COVID-19 has hit fast forward on a number of trends, from e-commerce to workplace culture.
Today, we'll highlight five of these accelerating trends.
The following article uses charts and data from our new book Signals (hardcover, ebook) which covers the 27 macro trends transforming the global economy and markets. In some cases, where appropriate, we've added in the most recent projections and data.
#1: Screen Life Takes Hold
Smartphones have drastically altered many parts our lives – including how we spend time. In the decade from 2008 to 2018, screen time on mobile devices increased 12x.
Fast forward to today, and screen time is up across the board, with some of the most dramatic increases seen among kids and teenagers. 44% of people under the age of 18 now report four hours or more of screen time per day – up from 21% prior to the pandemic.
Gaming is another digital segment that has benefited from the pandemic. Video game revenue spiked in the springtime, and sales have remained strong going further into 2020. Companies are hoping that casual gamers won over during lockdown will continue playing once the pandemic has come to an end.
Acceleration signal: International bandwidth and internet traffic was already increasing steadily, but COVID-19 stay-at-home activity has blown away previous numbers.
Even as more workplaces and schools begin to operate normally again, it's doubtful that screen time will drop back down to pre-COVID levels.
#2: The Big Consumer Shake-Up
The consumer economy has been innovating on two fronts: making physical buying as "frictionless" as possible, and making e-commerce as nimble as possible. COVID-19 broke old habits and sped up that evolution.
Innovations in real world shopping appear to be moving in the direction of cashierless checkouts, but in order for that model to work, people first need to embrace contactless payment methods such as mobile wallets and cards with tap payment.
So far, the pandemic has been an accelerant in moving people away from cash and pin-and-swipe credit cards in lagging markets. Once people get used to the convenience of contactless payments, it's likely they'll continue using those methods.
Of course, no conversation about e-commerce is complete without talking about Amazon. The company has seen consistent growth in subscription revenue in recent years, and the company's actions have a wide-reaching effect on the rest of the industry.
Much like the gaming industry, e-commerce companies like Amazon are hoping that people who dabbled with online ordering during the pandemic months, will convert into lifelong customers.
Acceleration signal: E-commerce penetration projections have shifted upward.
In hindsight, 2020 could be an inflection point where e-commerce gained a much bigger slice of the overall retail pie.
#3: Peak Globalization
Globalization went on a tear starting from the mid-1980s until it hit a plateau during the financial crisis. Since that point, global trade as a percentage of GDP has flat-lined in the face of trade wars, and now COVID-19.
Trade was obviously impacted by the pandemic, and it's too early to say what the long-term effects will be. One thing that is clear is that the information component of globalization is becoming an even more important piece of the world's economic puzzle.
Even before COVID-19 took hold, the global services trade was growing 60% faster than the goods trade, and was valued at approximately $13.4 trillion in 2019.
Acceleration signal: The dip in merchandise trade looks eerily similar to the one that took place in 2008.
#4: The Wealth Chasm
On the high end of the wealth spectrum, billionaires are worth more than ever.
Meanwhile, in the broader economy, inequality has grown over the last few decades. Those in the top 50% wealth bracket have seen increasing gains, while the bottom 50% have seen stagnation.
This issue is sure to be compounded by economic turmoil brought on by COVID-19. Younger generations face the dual challenges of being more likely to be negatively impacted by the pandemic, while also being the least likely to have savings to cover an interruption in income.
In fact, nearly half of people in the 18–24 year old age group have nothing saved at all.
The longer the economy is affected by COVID-19 measures, the more of a wedge will be driven between people who have continued working and those who are employed in impacted industries (e.g. tourism, events).
Acceleration signal: Growth in the net worth of billionaires has been largely unaffected by COVID-19.
#5: The Flexible Workplace
As of 2019, over half of companies that didn't have a flexible or remote workplace policy cited "longstanding company policy" as the reason. In other words, that is just the way things have always worked.
Of course, the pandemic has forced many companies to rethink these policies.
This grand experiment in remote work and distributed teams will have an impact on office life as we know it, potentially reshaping the entire "office economy". The impact is already being felt, with global commercial property investment volume falling by 48% in Q3 2020.
Acceleration signal: Thousands of people are moving out of pricy urban areas, presumably because they are able to work remotely from a cheaper location.
If you like this post, find hundreds of charts
like this in our new book "Signals":
Bitcoin is Near All-Time Highs and the Mainstream Doesn't Care…Yet
As bitcoin charges towards all-time highs, search interest is relatively low. How much attention has bitcoin's recent rally gotten?
Bitcoin Near All-Time Highs vs. Search Interest
Just about every financial asset saw a huge drop in March, but few have had the spectacular recovery that bitcoin has had since then.
Up more than 300% from the March lows, bitcoin is within $1,000 of its all-time high ($19,891) established three years ago. While 2017's run-up saw a huge surge in Google searches, interest this time around is less than a quarter of what it was back then.
This graphic overlays bitcoin's price changes against Google search interest for "bitcoin" between 2017-Nov 2020, showing the muted relative search interest for its recent rally. Despite Google search interest being low, it is turning upwards, potentially hinting at a rise to cap off 2020.
Nobody's Searching? Maybe Bitcoin is Already Mainstream
Bitcoin's mainstream attention in 2017 was exceptional, and was likely the first time many people had even heard about the digital asset.
After doing all of their Google research back then, it's possible that the general population is now well aware of the cryptocurrency and doesn't need to search up the basics again. Add to this that bitcoin is now easily purchasable through popular services like Robinhood and Paypal, and you have fewer people who need Google to figure out the intricacies of bitcoin wallets and transactions.
While people might not be searching for information on bitcoin, the media has certainly picked up on its movement over the past year. Mainstream coverage regarding the cryptocurrency is currently at a relative all-time high for the past 12 months.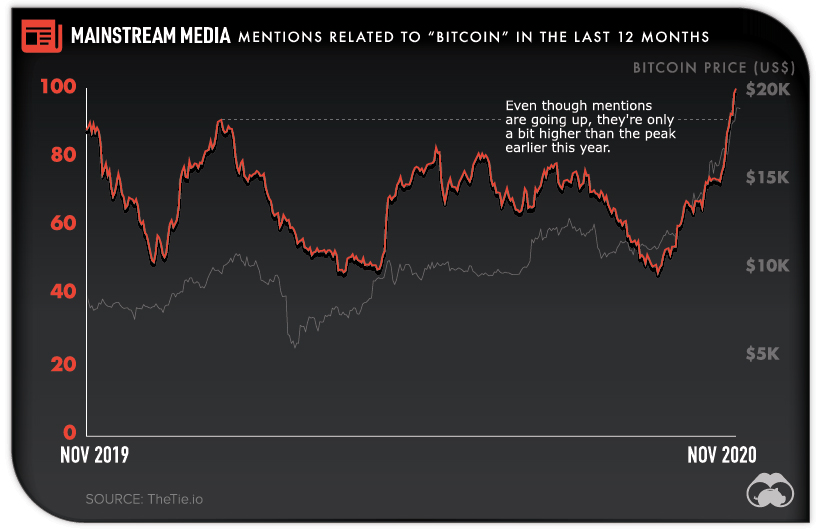 Even if current mainstream coverage isn't far from previous peaks, it's still likely that people are seeing an increase in bitcoin content in their news feeds following the recent surge.
This rally is also attracting increased talk on social media sites like Twitter. That said, while there has been a rise in the volume of bitcoin-related tweets in November 2020, numbers are still quite low compared to the amount of tweets in 2017.
Daily tweet volume reached above 60,000 recently, but is still far from the +100,000 daily tweets that were being sent at the top of 2017's bull run.
Where in the World is Google Search Interest for Bitcoin?
Even if worldwide search interest isn't as high as it was in 2017, there is one country where bitcoin is being googled more now: Nigeria.
Since 2015, the Nigerian Naira has lost more than 50% of its value against the U.S. dollar. This, coupled with the country's high share of unbanked citizens means that alternative currencies and payment methods have steadily risen in popularity and utility.
FinTech startups like Chipper Cash are providing Nigeria and other African nations with no-fee P2P payment services, along with the ability to trade bitcoin. The service is also beta testing the buying and selling of fractional shares of popular U.S. stocks.
Started up in 2018, Chipper Cash's monthly payment values are now over $100 million, and the company has attracted investment from top VC funds like Bezos Expeditions as they provide a valuable service in an emerging market.
If Bitcoin is Mainstream, Where Does It Go From Here?
While bitcoin is proving itself to be a useful medium of exchange around the world, it's still primarily a speculative asset. As 2020 saw massive increases in money supply across the board, bitcoin reacted best compared to other speculative assets, with its ascent to $19,000 almost completely uninterrupted since the $10,000 price area.
Time will tell if 2017 is set to repeat itself, or if bitcoin is getting ready to set new all-time highs going into 2021.