Millionaire to Billionaire: How Long Does it Take?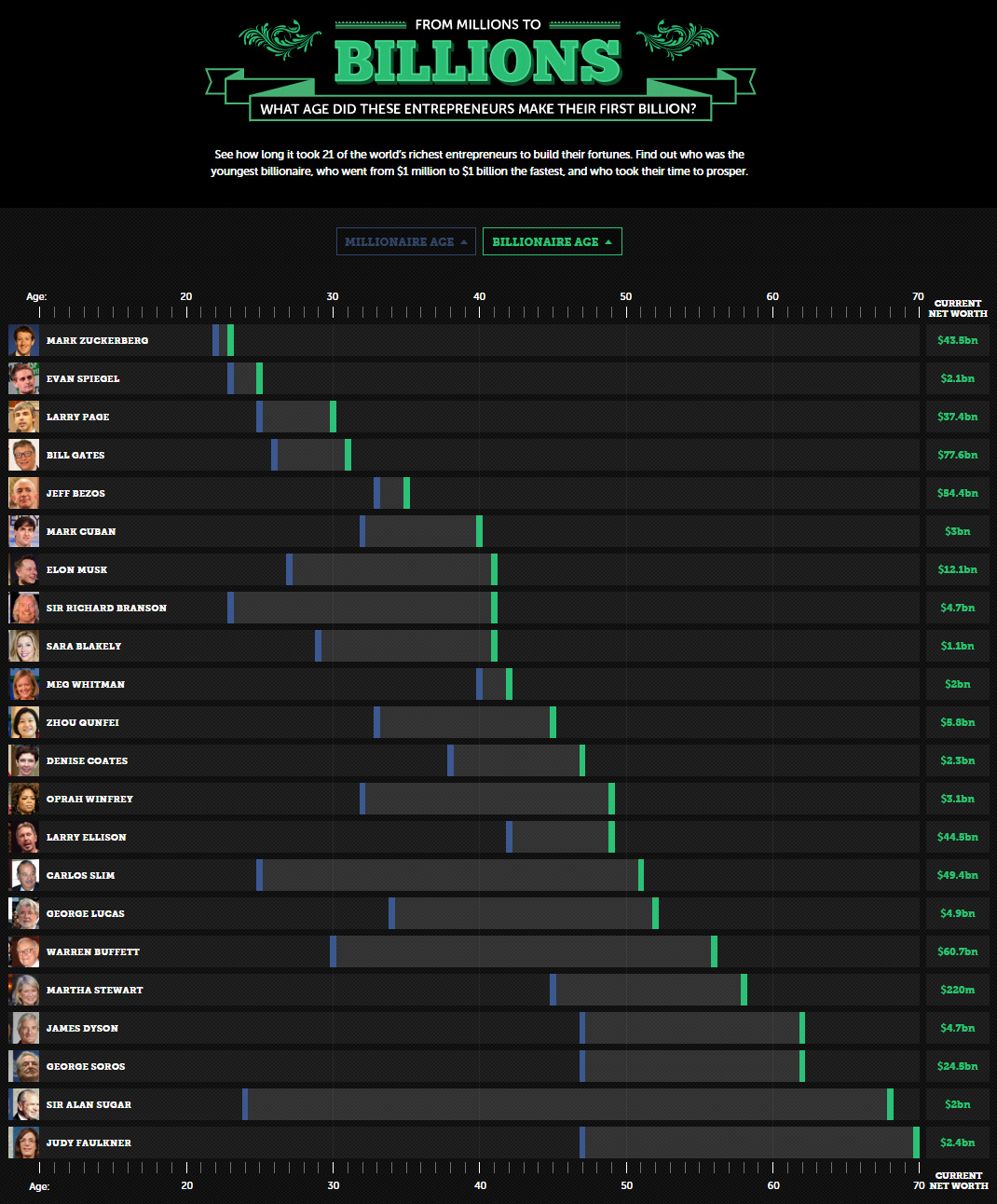 Millionaire to Billionaire: How Long Does it Take?
Years ago, a memorable exchange on Twitter took place after Canadian rapper Drake tweeted that "the first million is the hardest".
Moments after, an unexpected reply came from Texan oil tycoon T. Boone Pickens:
The first billion is a helluva lot harder RT @Drake: The first million is the hardest.

— T. Boone Pickens (@boonepickens) May 31, 2012
Today's infographic, also found here in interactive form, proves that Mr. Pickens may be on to something.
To get to a billion dollars, one has to make a million dollars at least 1000x over. While some people like Mark Zuckerberg have built companies that rapidly ascended the ranks, most people end up following the rule rather than the exception.
Credit Suisse says there are 33.7 million people that there were millionaires in 2015, and Forbes estimates that a mere 1,826 of these people are billionaires. That means only 0.0054% of millionaires become billionaires, making it quite a rare feat.
Whether you want to be the next Drake or the next Pickens, here's a list of regions where immense wealth creation is happening, as well as the cities and countries with the most millionaires to help guide you.
Original graphic by: Fleximize
h/t: Business Insider
Ranked: The World's Black Billionaires in 2021
Black billionaires make up fewer than 1% of all billionaires worldwide. Who are they, and how have they built their wealth?
The World's Black Billionaires in 2021
Black billionaires make up fewer than 1% of all billionaires worldwide. Who are the select few who made it into the ranks of the world's richest people?
In this graphic, we used the Forbes real-time billionaire list to highlight the most financially successful Black people, and the source(s) of their wealth.
Black Billionaires, Ranked
The data is as of February 24, 2021, and includes bi/multi racial individuals with Black ancestry. Altogether, there are 15 Black billionaires with a combined wealth of $48.9 billion.
Here is the how the full list breaks down:

| Rank | Name | Net Worth | Citizenship | Source |
| --- | --- | --- | --- | --- |
| 1 | Aliko Dangote | $11.5B | Nigeria | Cement, sugar |
| 2 | Mike Adenuga | $6.1B | Nigeria | Telecom, oil |
| 3 | Robert F. Smith | $5.2B | United States | Private equity |
| 4 | Abdulsamad Rabiu | $4.8B | Nigeria | Cement, sugar |
| 5 | David Steward | $3.7B | United States | IT provider |
| 6 | Patrice Motsepe | $3.1B | South Africa | Mining |
| 7 | Alexander Karp | $3.0B | United States | Software firm |
| 8 | Oprah Winfrey | $2.6B | United States | TV shows |
| 9 | Michael Jordan | $1.6B | United States | Charlotte Hornets, endorsements |
| 10 | Michael Lee-Chin | $1.5B | Canada | Mutual funds |
| 11 | Strive Masiyiwa | $1.4B | Zimbabwe | Telecom |
| 12 | Kanye West | $1.3B | United States | Music, sneakers |
| 13 | Mohammed Ibrahim | $1.1B | United Kingdom | Communications |
| 14 | Shawn Carter (Jay-Z) | $1.0B | United States | Music, multiple |
| 15 | Tyler Perry | $1.0B | United States | Movies, television |
Aliko Dangote is the richest Black billionaire, and has held the title since 2013. He owns 85% of publicly-traded Dangote Cement, Africa's largest cement producer. The company's stock price went up more than 30% over the last year. In addition, Dangote also has investments in salt and sugar manufacturing companies.
The fifth richest Black person, David Steward, owns the technology solutions provider World Wide Technology. Steward had decided he wanted to be part of the technological revolution and founded the company in 1990, before the first internet browser had even been created. The company has since grown to be the largest Black-owned business in America with over $13.4 billion in annual revenue and more than 7,000 employees.
Best known for his music career, Shawn Carter, more commonly known as Jay-Z, is number 14 on the list. However, the rapper's wealth goes far beyond his music. Jay-Z has built a diversified business empire, including investments in a fine art collection, an entertainment company, a clothing line, and alcohol brands. He recently sold half of his champagne brand to LVMH, the parent company of Dom Pérignon.
Unequal Representation
Unfortunately, little progress has been made with regards to the proportion of Black billionaires. Since 2011, Black billionaires have made up fewer than 1% of all billionaires worldwide.
In absolute numbers, the total number of billionaires rose by over 1,100 while the number of Black billionaires rose by just nine people.
The number of Black billionaires also falls very short of being representative of the general population. For example, only 8 or 1.2% of America's 665 billionaires are Black. By contrast, Black people make up 12.2% of the U.S. population.
Breaking Through Barriers
There is still a large racial wealth gap between Black people and White people—even at the highest levels of financial achievement. However, despite these racial and systemic barriers, 14 of the 15 Black billionaires are self-made, meaning they built their wealth from the ground up. Who will be next to join the ranks?
"Innovation doesn't happen without a person of color or a diversity of thought being at the table in order to challenge the status quo."
—David Steward

How Global Health and Wealth Has Changed Over Two Centuries
This unique animated visualization uses health and wealth measurements to chart the evolution of countries over time.
How Global Health and Wealth Has Changed Over 221 Years
At the dawn of the 19th century, global life expectancy was only 28.5 years.
Outbreaks, war, and famine would still kill millions of people at regular intervals. These issues are still stubbornly present in 21st century society, but broadly speaking, the situation around the world has vastly improved. Today, most of humanity lives in countries where the life expectancy is above the typical retirement age of 65.
At the same time, while inequality remains a hot button topic within countries, income disparity between countries is slowing beginning to narrow.
This animated visualization, created by James Eagle, tracks the evolution of health and wealth factors in countries around the world. For further exploration, Gapminder also has a fantastic interactive chart that showcases the same dataset.
The Journey to the Upper-Right Quadrant
In general terms, history has seen health practices improve and countries become increasingly wealthy–trends that are reflected in this visualization. In fact, most countries drift towards the upper-right quadrant over the 221 years covered in the dataset.
However, that path to the top-right, which indicates high levels of both life expectancy and GDP per capita, is rarely a linear journey. Here are some of the noteworthy events and milestones to watch out for while viewing the animation.
1880s: Breaking the 50-Year Barrier
In the late 19th century, Nordic countries such as Sweden and Norway already found themselves past the 50-year life expectancy mark. This was a significant milestone considering the global life expectancy was a full 20 years shorter at the time. It wasn't until the year 1960 that the global life expectancy would catch up.
1918: The Spanish Flu and WWI
At times, a confluence of factors can impact health and wealth in countries and regions. In this case, World War I coincided with one of the deadliest pandemics in history, leading to global implications. In the animation, this is abundantly clear as the entire cluster of circles takes a nose dive for a short period of time.
1933, 1960: Communist Famines
At various points in history, human decisions can have catastrophic consequences. This was the case in the Soviet Union (1933) and the People's Republic of China (1960), where life expectancy plummeted during famines that killed millions of people. These extreme events are easy to spot in the animation due to the large populations of the countries in question.
1960s: Oil Economies Kick into High Gear
During this time, Iran, Iraq, and Saudi Arabia all experience massive booms in wealth, and in the following decade, smaller countries such as the United Arab Emirates and Kuwait rocket to the right edge of the visualization.
In following decades, both Iran and Iraq can be seen experiencing wild fluctuations in both health and wealth as regime changes and conflict begin to destabilize the region.
1990s: AIDS in Africa
In the animation, a number of countries plummet in unison at the end of the 20th century. These are sub-Saharan African countries that were hit hard by the AIDS pandemic. At its peak in the early '00s, the disease accounted for more than half of deaths in some countries.
1995: Breaking the 65-Year Barrier
Global life expectancy reaches retirement age. At this point in time, there is a clear divide in both health and wealth between African and South Asian countries and the rest of the world. Thankfully, that gap is would continue to narrow in coming years.
1990-2000s: China's Economic Rise
With a population well over a billion people, it's impossible to ignore China in any global overview. Starting from the early '90s, China begins its march from the left to right side of the chart, highlighting the unprecedented economic growth it experienced during that time.
What the Future Holds
If current trends continue, global life expectancy is expected to surpass the 80-year mark by 2100. And, sub-Saharan Africa, which has the lowest life expectancy today, is expected to mostly close the gap, reaching 75 years of age.
Wealth is also expected to increase nearly across the board, with the biggest gains coming from places like Vietnam, Nigeria, and the Philippines. Some experts are projecting the world economy as a whole to double in size by 2050.
There are always bumps along the way, but it appears that the journey to the upper-right quadrant is still very much underway.