Generation Rent: How Millennials are Fueling the Rental Economy
It's long been said that millennials have the power to disrupt and reshape entire industries.
Most recently, this effect has been seen in the retail landscape, where millennial spending habits are setting the tone for the market's future.
Not only does the millennial generation demand the convenience of making instant purchases—but they can now rent almost anything they want, anytime, and anywhere.
Visualizing the Growth of the Rental Economy
Today's infographic from Adweek takes a deeper look at the consumer goods rental economy, and the potential long-term impact of this shift in buyer behavior.
Although the current market for rentals is still in its early stages, the sheer momentum that the industry has gained in the last year is enough to threaten even the largest retailers—forcing them to reconsider their own business models.
The data for the visualization above comes from market research company Lab 42. In a survey of 500 people, they found that 94% of the U.S. population has participated in the sharing economy in one way or another.
While the sharing economy spotlight typically shines on global behemoths like Airbnb and Uber, the research used to populate this infographic focuses on renting consumer goods for a short period of time, as a sub-segment of the sharing economy.
The Renting Revolution
Offerings within the rental sector have exploded over the last decade, with furniture being the number one category that consumers rent.
According to the infographic, reasons for renting furniture include:
Temporary housing: 45%
Expensive upfront costs: 43%
Testing products before committing: 41%
Hosting events at home: 35%
Moving into a new home: 29%
Redesigning a house: 27%
Other products that consumers rent include gaming systems, clothes, tools, and technology. Female renters are more likely to rent furniture, clothes, and jewelry, while male renters are more likely to rent tools and gaming systems.
Renting goods is predominantly done on an as-needed basis. The Lab 42 report states that for clothing, 77% of respondents indicate that they either rent, or would rent for a formal event.
The End of Ownership?
Despite the common misconception that millennials are driven by emotional needs, the reasons behind why they rent consumer goods are much more pragmatic.
Test things before purchasing: 57%
Need a temporary solution: 55%
Need an item or a service for a short time-frame : 52%
Less expensive than buying: 43%
More convenient than buying: 42%
Further, only 6% said that they rent because they do not like owning things. This tells us that the rental economy does not indicate the end of ownership, but rather, provides a strategy for consumers to try before they buy.
Attitudes Towards Sustainability
According to the research, very few millennials choose to rent consumer goods because it is better for the environment. However, Nielsen claim that 73% of millennials are willing to pay more money for sustainable offerings—impacting both retail and rental industries.
As evidence of this, Ikea will test a range of subscription-based leasing offers in all 30 of its markets by 2020 in a bid to appeal to environmentally conscious consumers and boost its sustainability credentials. If Ikea's evolving business model is a success, it could open the floodgates for others to follow suit.
A Promising Market
In the clothing rental space, brands like Rent the Runway pave the way, but there has also been an explosion of startups entering the market in the last year.
One example is the monthly subscription service Nuuly. The company offers consumers access to over 100 third-party brands and vintage items. Consumers can borrow up to six items a month for $88. Similarly, American Eagle's Style Drop program rents out the latest collections for a flat monthly fee of $49.95.
As more companies incorporate short-term rental services into their offerings, more millennials will shift their behavior from buying to renting—disrupting the traditional retail business model as we know it. With that being said, the impact of millennials having it all, and owning none of it, is yet to be determined.

Charted: The Gen Z Unemployment Rate, Compared to Older Generations
COVID-19 has impacted everyone, but one generation is taking it harder than the others. This graphic reveals the Gen Z unemployment rate.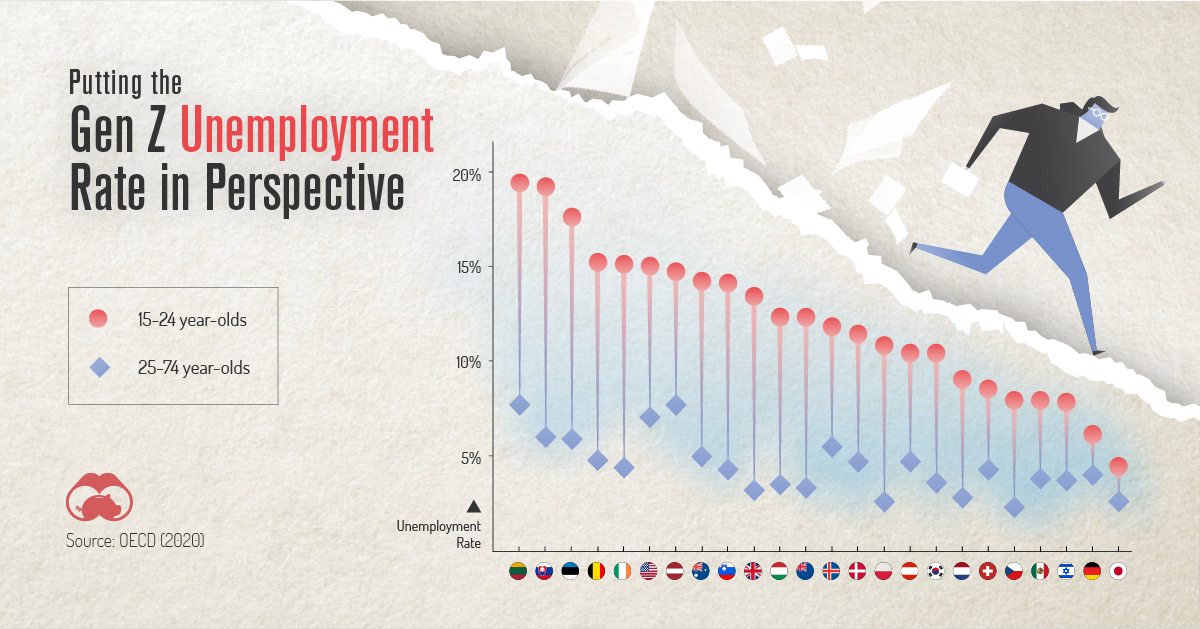 Putting the Gen Z Unemployment Rate in Perspective
There are more than 2 billion people in the Generation Z age range globally. These individuals, born between 1997 and 2009, represent about 30% of the total global population—and it's predicted that by 2025, Gen Z will make up about 27% of the workforce.
Due to the global pandemic, unemployment has been on the rise across the board—but Gen Z has been hit the hardest. This chart, using data from the OECD, displays the difference between the unemployment rate for Gen Zers and the rate for older generations.
Note: The OECD defines the 'unemployed' as people of legal working age who don't have work, are available to work, and have taken steps to find a job. The final figure is the number of unemployed people as a share of the total labor force.
The Generation Gap: Gen Z Unemployment
Compared to their older working-age counterparts, Baby Boomers, Gen X, and Millennials (Gen Y)—the most recent 2020 data shows that Gen Z has an unemployment rate of nearly 2x more in almost every OECD country.
| Country | Unemployment Rate (Gen Z) | Unemployment Rate (Millennial, Gen X, Boomer) |
| --- | --- | --- |
| 🇦🇺 Australia | 14.3% | 5.0% |
| 🇦🇹 Austria | 10.5% | 4.7% |
| 🇧🇪 Belgium | 15.3% | 4.8% |
| 🇨🇦 Canada | 20.0% | 7.9% |
| 🇨🇱 Chile | 24.8% | 9.6% |
| 🇨🇴 Colombia | 27.5% | 13.9% |
| 🇨🇿 Czech Republic | 8.0% | 2.3% |
| 🇩🇰 Denmark | 11.5% | 4.7% |
| 🇪🇪 Estonia | 17.7% | 5.9% |
| 🇫🇮 Finland | 21.0% | 6.0% |
| 🇫🇷 France | 20.1% | 6.8% |
| 🇩🇪 Germany | 6.2% | 4.0% |
| 🇭🇺 Hungary | 12.4% | 3.5% |
| 🇮🇸 Iceland | 11.9% | 5.5% |
| 🇮🇪 Ireland | 15.2% | 4.4% |
| 🇮🇱 Israel | 7.9% | 3.7% |
| 🇮🇹 Italy | 29.1% | - |
| 🇯🇵 Japan | 4.5% | 2.6% |
| 🇰🇷 South Korea | 10.5% | 3.6% |
| 🇱🇻 Latvia | 14.8% | 7.7% |
| 🇱🇹 Lithuania | 19.5% | 7.7% |
| 🇱🇺 Luxembourg | 22.4% | 5.6% |
| 🇲🇽 Mexico | 8.0% | 3.8% |
| 🇳🇱 Netherlands | 9.1% | 2.8% |
| 🇳🇿 New Zealand | 12.4% | 3.3% |
| 🇵🇱 Poland | 10.9% | 2.6% |
| 🇵🇹 Portugal | 22.9% | 5.9% |
| 🇸🇰 Slovakia | 19.3% | 6.0% |
| 🇸🇮 Slovenia | 14.2% | 4.3% |
| 🇪🇸 Spain | 38.3% | 14.0% |
| 🇸🇪 Sweden | 23.8% | 6.4% |
| 🇨🇭 Switzerland | 8.6% | 4.3% |
| 🇬🇧 United Kingdom | 13.5% | 3.2% |
| 🇺🇸 United States | 15.1% | 7.1% |
Note: For the purposes of this article, we are only considering the Gen Zers of legal working age—those born 1997-2006. The rest—Baby Boomers, Gen X, and Millennials—are those born between 1946–1996.
The timing for the youngest working generation could not be worse. Gen Z is just beginning to graduate college and high school, and are beginning to search for work and careers.
Gen Z is also an age group that is overrepresented in service industries like restaurants and travel–industries that were equally hard hit by the pandemic. In the U.S., for example, around 25% of young people work in the hospitality and leisure sectors. Between February and May 2020 alone, employment in these sectors decreased by 41%.
Countries like Spain are facing some of the biggest headwinds among OECD countries. The country already has a high unemployment rate for those aged 25-74, at 14%. But the unemployment rate for Gen Z is more than double that, at over 38%.
Implications For the Future
While it may be true throughout history that this age group is often less employed than older cohorts, the share of labor held by those aged 15-24 dropped significantly in 2020.
Note: This chart represents the data from G7 countries.
In terms of their future employment prospects, some economists are anticipating what they call 'scarring'. Due to longer periods of unemployment, Gen Z will miss out on formative years gaining experience and training. This may impact them later in life, as their ability to climb the career ladder will be affected.
Starting out slower can also hit earnings. One study found that long periods of youth unemployment can reduce lifetime income by 2%. Finally, it is also postulated that with the current economic situation, Gen Zers may accept lower paying jobs setting them on a track of comparatively lower earnings over their lifetime.
Overall, there are many future implications associated with the current unemployment rate for Gen Zers. Often getting your foot in the door after college or high school is one of the hardest steps in starting a career. Once you're in, you gain knowledge, skills, and the oh-so-coveted experience needed to get ahead.
The Kids are Alright?
One positive for Gen Z is that they have been found to be more risk averse and financially conscious than other generations, and were so even prior to COVID-19. Many of them were children during the 2008 Recession and became very cautious as a result.
They are also the first digital generation— the first to grow up without any memory of a time before the internet. Additionally, they have been called the first global generation. This could mean that they pioneer location-independent careers, create innovative revenue streams, and find new ways to define work.

Who Americans Spend Their Time With, by Age
Ever wondered who Americans spend the most time with? This chart assesses how many minutes per day Americans spend with different people.
Who Americans Spend Their Time With, by Age
If the global pandemic has taught us anything, it is that humans truly are social creatures. Most of us need community and connection to thrive.
But when people are not socially distancing and limiting their contacts, who do they choose to spend time with?
This interactive chart from Our World in Data reveals who Americans spend the most daily minutes with at different ages of their life, based on data collected between 2009 and 2019 through the Time Use Survey conducted by the U.S. Bureau of Labor Statistics (BLS).
Adolescence to Adulthood
In the average American's teenage years, they spend most of their time alone and with their family. This makes sense, as the majority of people under 18 still live in a home with their nuclear family unit, meaning parents and siblings.
Jumping forward to a person's early adulthood, 25-year-olds spend an average of 275 minutes per day alone, and 199 minutes with coworkers. This aligns with people in their twenties beginning to enter the workforce.
By age 35, people are still spending the most time with themselves, at 263 minutes per day. However, time spent combined with children and partners, the runner-ups, adds up to 450 minutes or around 7.5 hours a day.
| Age | Most Time Spent | Second | Third |
| --- | --- | --- | --- |
| 15 | Family - 267 Minutes | Alone - 193 Minutes | Friends - 109 Minutes |
| 25 | Alone - 275 Minutes | Coworkers - 199 Minutes | Partner - 121 Minutes |
| 35 | Alone - 263 Minutes | Children - 249 Minutes | Partner - 198 Minutes |
Although people are spending more time with kids and partners as they grow older, this trend may shift, as women are having fewer children. More women today are obtaining an education and are entering the workforce, causing them to delay or entirely put off having children.
Interestingly, the mid-thirties also tends to be the stage of life where time spent with friends levels off and remains steadily low throughout the rest of one's life, usually sitting around an average of 30-40 minutes per day.
Middle to Old Age
Upon turning 45, the average person spends 309 minutes a day alone, and in second place, 199 minutes with children. Time with coworkers remains relatively steady throughout someone's forties, which coincides with the middle of career for most workers.
At age 55, time spent alone is still the winner, but time spent with a partner goes up to 184 minutes, and time with coworkers also moves up, pushing out time spent with children.
| Age | Most Time Spent | Second | Third |
| --- | --- | --- | --- |
| 45 | Alone - 309 Minutes | Children - 199 Minutes | Partner - 184 Minutes |
| 55 | Alone - 384 Minutes | Partner - 184 Minutes | Coworkers - 163 Minutes |
| 65 | Alone - 444 Minutes | Partner - 243 Minutes | Family - 65 Minutes |
| 75 | Alone - 463 Minutes | Partner - 253 Minutes | Family - 56 Minutes |
Typically, time spent with children during the mid-fifties tends to see a sharp decline as children enter adulthood and begin to move out.
However, it will be interesting to see what impact COVID-19 has on future data. With implications such as job loss or reduced income, more children are staying at home longer or even moving back home. 52% of adult children in the U.S. today are living with their parents.
As people get closer to old age, around 65-years-old, they spend increasingly less time with coworkers as they begin to retire, and much more time alone or with a spouse. Then, from age 65-75, people consistently spend the most time alone, then with a partner and family.
Alone and Lonely?
One of the most significant trends on the chart is increased time spent alone.
By the time someone reaches 80, their daily minutes alone goes up to 477. This can be a problematic reality. As the population continues to age in many countries around the world, more elderly people are left without resources or social connection.
Additionally, while 1-in-4 elderly Americans live alone, the trend of solo living is going up across nearly every age group, and this trend applies globally.
But being alone does not necessarily equate to loneliness, as Our World in Data found that there was no direct correlation between living alone and reported feelings of loneliness.
It is not necessarily the amount of time spent with others, but the quality and expectations, that reduce loneliness.
Spending Time Together
Where and how we spend our time has a direct relationship to who we spend time with. More hours at home and off work can mean either more time spent with family, children, and partners, or more time spent alone.
Regardless of who we spend the most time with, the pandemic revealed the importance of human connection to our wellbeing. While many are still doing this through their screens or at a six-foot distance, 2021 could be the year we break out of our bubbles and get back to time spent together.